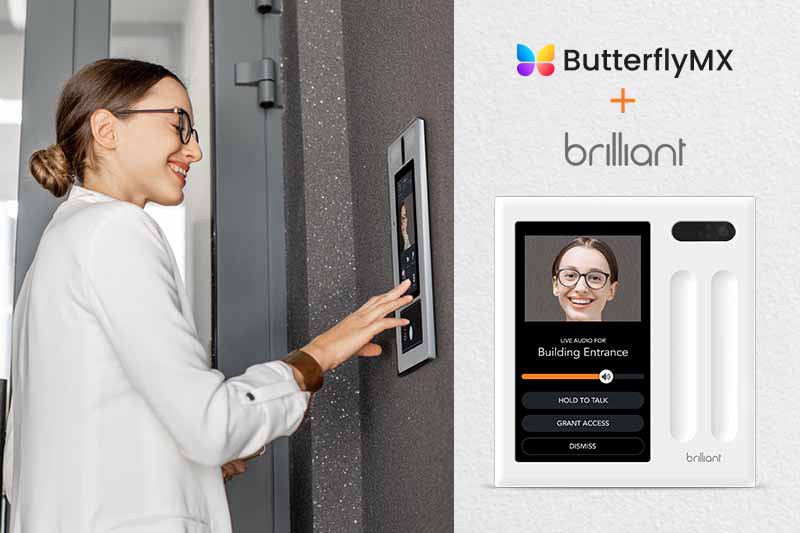 ButterflyMX allows you to open and manage entryways from your smartphone. However, there are instances in which your smartphone might not be available. For example, you might have left your phone in another room, maybe it died, or the ringer is off. Or maybe, you have a guest over while you're not home and they're expecting a food delivery.
To make sure you never miss a visitor or delivery, we've teamed up with Brilliant to provide another way to grant access to your property. This integration between ButterflyMX and Brilliant brings ButterflyMX's video calling feature to Brilliant's in-unit control panel so that you can always see who's at the door before letting them inside.
Read this post to learn:
How the ButterflyMX and Brilliant integration works
Brilliant is an award-winning smart home control system that transforms any apartment into a convenient smart apartment. Using the Brilliant Control Panels in conjunction with ButterflyMX helps ensure that you never miss the arrival of a visitor or delivery while home.
When a visitor requests access via the ButterflyMX video intercom, an audio notification is sent to your Brilliant Control Panel. That way, anyone in the apartment can accept or decline the call, see and speak with the visitor, and grant access to the property.
Benefits of the integration include:
See who's at your door on your in-unit panel
Anyone in the apartment can speak with the visitor or unlock the door
Never miss a call when your phone isn't available
How to connect ButterflyMX to your Brilliant Smart Home System
Follow these 4 steps to enable the integration:
Setup your in-unit Brilliant device.
From your Brilliant device, add ButterflyMX devices to the desired room by pressing the 'Add new device' button.
Select ButterflyMX and follow the instructions to sign in to your ButterflyMX account.
Connect your ButterflyMX door from the list of available devices
Your ButterflyMX video intercom and any internal doors you have are now connected to your Brilliant device, and you can grant access at any time from the Brilliant smart home controller.
For more information on setting up your Brilliant device with ButterflyMX, connect with our support team.