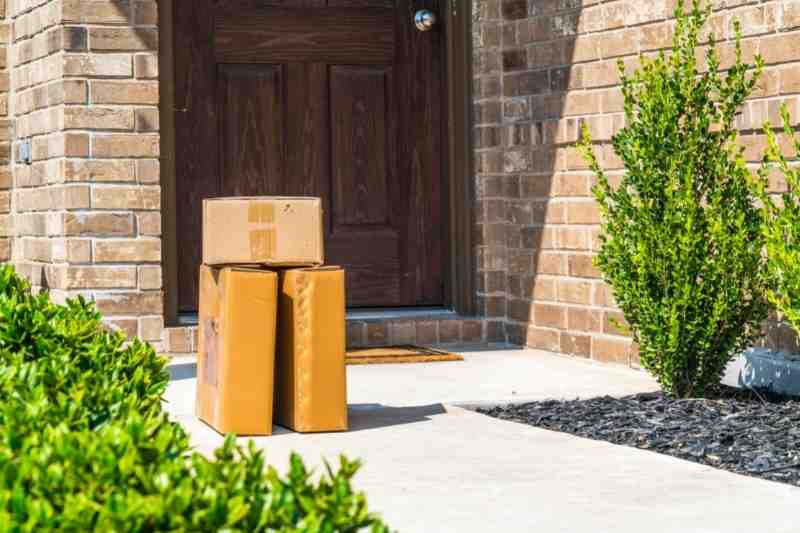 Dealing with porch pirates is a major concern for both residents and property managers. Every day, 1.7 million packages are stolen or lost in the United States — adding up to a loss of billions of dollars per year.
You might have heard some stories on the internet about some of the elaborate ways that residents are protecting their packages from porch pirates. And while homemade porch pirate traps that result in an explosion of confetti might startle an unsuspecting thief and make for a great viral video, you'll get a lot more utility out of a permanent solution that prevents package theft, even when there's nobody there to physically stand guard.
In this post, we'll explain what porch pirates are and how you can stop them. Then, we'll go over some of the ways you can prevent package theft as a property manager.
This post covers:
What is a porch pirate?
A porch pirate is a type of thief that targets unattended packages left on a front doorstep or a porch. Throughout human history, we've always had to deal with thieves. But the rise of online shopping and orders delivered right to your doorstep mean that residents have to deal with the threat of thieves on a regular basis.
Porch piracy is a serious problem that plagues residents — and property managers — around the country. In fact, one out of every three Americans has been the victim of porch pirates. Without a doubt, stolen packages are a common problem — but there are steps you can take as a property manager to reduce or even eliminate package theft in your building.
Watch how the ButterflyMX package room works: 
How can you keep your packages safe from porch pirates?
In recent years, porch pirates have been emboldened by the abundance of unattended packages. However, there are some solutions you can implement to protect your residents from package theft.
Here are three ways to keep your residents' packages safe from porch pirates:
1. Send special instructions to delivery couriers
Instead of having delivery couriers leave packages out in the open, your residents can simply instruct the couriers to leave the packages in a hidden spot or with a neighbor. While this method of package security doesn't cost your building anything, a neighbor might not be home or a package might still be visible even after a courier attempts to conceal it.
Additionally, by putting the burden of protecting packages on the courier, you increase the chances that something will go wrong. As a result, your residents might go looking for a different building with actual package management solutions when their leases are up. So, it's better to consider a purpose-built solution that is specifically designed to receive deliveries.
2. Package locker
Installing package lockers is a step in the right direction. A package locker is a security solution that allows couriers to leave their packages in lockers. The package locker itself is usually installed in a building's lobby. But once a package locker is installed, the drawbacks quickly become apparent.
Installation by itself is a massive hassle, as the package locker takes up space in your lobby that could otherwise be used by another amenity. Lockers are also problematic because they're a predetermined size that you can't change after installation. Since the lockers can't fit large or oddly shaped deliveries, they might irritate couriers into simply not using the package locker at all.
3. Amazon Key
Amazon Key is an addition to your existing access control system. When an Amazon driver wants to make a delivery, they use their Amazon app to unlock your access control system without needing outside assistance.
The Amazon Key is convenient under certain circumstances. However, your residents will certainly be ordering packages from more places than just Amazon. An Amazon Key only helps to simplify access for Amazon drivers and offers no property access solutions for other delivery drivers.
Read our full Amazon Key review here »
4. Package room
A package room is any room within your apartment building designated for deliveries and parcel storage. Couriers drop off packages in the room, where residents then pick them up. Most package rooms include shelving to keep deliveries organized.
A secure package room should have controlled access, meaning that couriers need a credential to enter the room. The simplest way to control access into the package room is with a video intercom or keypad. That way, delivery carriers can enter a PIN code to gain access.
Package rooms prevent porch pirates by ensuring that parcels are always placed inside the building, behind a locked door. Couriers never have to leave packages outside on a stoop or in an unlocked vestibule or mantrap door, so porch pirates will never be able to swipe them.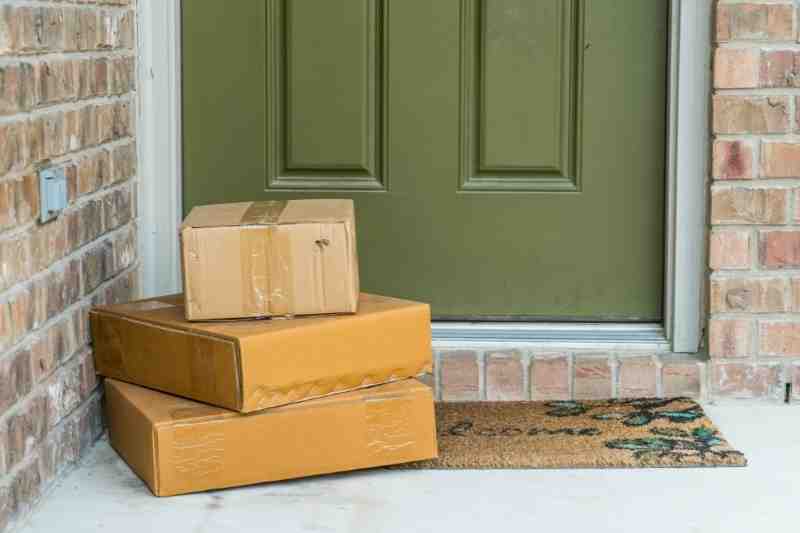 What's the best way to secure your packages?
The methods we've outlined above are all effective solutions to prevent porch pirates and protect your residents' packages. But most of them aren't perfect.
Telling your residents to leave instructions for couriers will result in residents forgetting to do so, or couriers ignoring instructions. Installing package lockers can be extremely expensive and many couriers may simply leave packages on the floor instead of actually using the lockers. And purchasing the Amazon Key will only protect Amazon deliveries, not packages from other carriers.
So, the best way to secure packages and prevent porch pirates is to install a package room.
A package room is a package delivery solution that considers every aspect of building and delivery management while improving the resident experience. And the best package room solution is ButterflyMX.
ButterflyMX and package management
Using the ButterflyMX package room is simple and convenient for residents, delivery couriers, and staff. Unlike complicated lockers, package rooms don't require busy couriers to make sure a package is properly sized for the locker they're putting it into. All a courier has to do to successfully deliver to a ButterflyMX package room is enter their preassigned PIN code. The ButterflyMX system then notifies residents about their deliveries.
One of the greatest features of a ButterflyMX package room is the Delivery Pass. Residents can create and send a Delivery Pass to any courier to guarantee they can enter the building and safely drop off packages inside. The Pass expires after use for added security.
In addition to one-time Delivery Passes, residents can also assign recurring PINs or Virtual Keys to common guests, simplifying access for every type of visitor beyond delivery couriers. And to increase your building's security, the ButterflyMX system takes photos each time access is granted.
The ButterflyMX suite of intercoms and keypads isn't just the best delivery management solution; it's the best access control solution. With an intercom to manage access at your front door and keypads that provide access to areas like indoor gyms or package rooms, you'll give your residents an intuitive experience that extends throughout the entire building.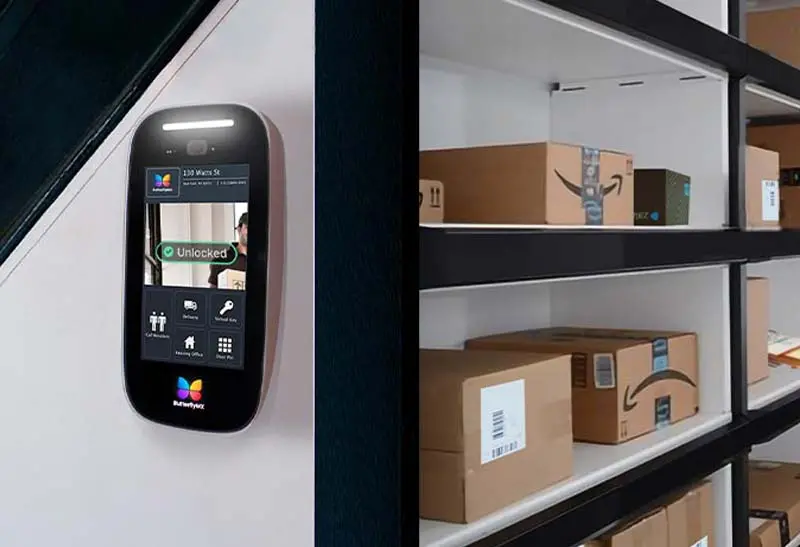 Takeaways
Porch piracy is a crime that constantly plagues the residents of multifamily buildings. As a property manager, there are a variety of steps you can take to combat porch piracy. But the most efficient one of them is a package room that runs on ButterflyMX technology.
Package rooms are a versatile and convenient package intake solution. And when your package room is powered by ButterflyMX, you ensure that it is part of a unified building ecosystem that improves the resident experience in more areas than package management.