In the last post in this series on proptech amenities, we highlighted three essential amenities millennials can't live without. But the world is filled with all different types of renters, so in this post we'll review four additional PropTech amenities that every resident (regardless of age) expects to find in their residential property:
1 and 2. Simplified entry for service providers
Ordering food and then having to go down to the lobby to meet the delivery person because they either can't get into the building or can't get up the elevator is an inconvenience. So is having to take personal time because the cable technician is coming on a Tuesday between 10 a.m. and 3 p.m. Residents want the convenience of ordering food and services online, and property managers want the security of knowing who is coming and going.
Delivery.com, Seamless, FreshDirect, UberEat, and Hello Alfred all deliver convenient at-home services. When these services are paired with the right PropTech amenities, they make it to your resident's door even on days when no one is home. In the near future, ButterflyMX will enable this seamless delivery experience by providing these vendors with virtual keys to your property. All virtual key permissions can be changed at any time and their use is recorded along with a time and date-stamped photo of the visitor, which is stored for 365 days.
3. Smart-home technologies
The primary goal with smart-home technology is to empower residents to use it to its full potential to create the most convenient, seamless living experience.  
Smart-home technologies represent the end goal of a sidewalk-to-sofa smart building experience. By next year, 85 percent of connected home devices will be part of a connected home ecosystem, according to the research firm Gartner.  Additionally, at the 2018 National Multi Housing Council (NMHC) Apartment Strategies Outlook Conference, 57 percent of property managers said they sometimes include smart-home features when developing or renovating properties, and 21 percent always do. 
While we may not be living in a Jetsons' world – yet – voice-enabled devices such as Alexa, Siri, and Google Assistant have already brought great value to millions of homes and have become the most popular way to deliver a smart-home experience.  By combining these voice-enabled devices with smart lighting, thermostats, kitchen appliances, video monitoring, door locks, and electrical outlets, your residents can control their apartments with just their voice. 
Companies such as Samsung and PointCentral create the hardware necessary to connect your appliances to the internet. However, without software, those appliances won't be able to talk to each other.
Dwelo and Vivint are among the popular software vendors that offer critical middleware to connect these devices. Without it, these smart devices will not work together to create a seamless living experience. The software also allows ButterflyMX to communicate with each unit at your property. Imagine your resident walking into your building, and their apartment air conditioning turns on, the oven preheats, and the blinds automatically lower all before they even make it to their floor. That future is closer than you think.
4. Package room
People shop online now. Not exclusively, of course, but the fact that parcel volume has increased by nearly 50 percent since 2017 demonstrates how much online shopping is conducted. It's only going to grow. That places great strain on property managers, who are now expected to manage deliveries in addition to everything else.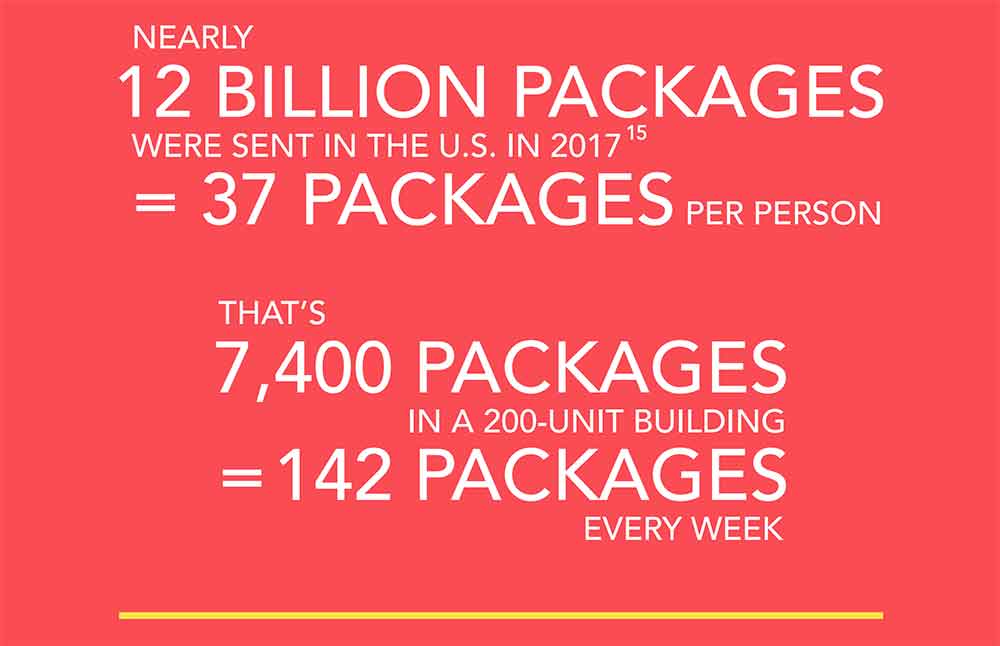 Package rooms are a simple way to manage deliveries. They allow couriers to quickly and securely store packages of any size without involving the on-duty property manager, and there is no need for additional hardware or designated space that can only fit small- and medium-sized packages. 
A designated package room provides the following benefits:
Reduced operational costs by not hiring additional staff during peak delivery or off-hours.

Improved building operations related to accepting, sorting, and distributing packages.

Improved resident experience in knowing their packages aren't going to go missing.
On that last point, a study conducted among residents by residential property ownership group Cortland Partners indicated that 76 percent strongly preferred designated package retrieval solutions over traditional pickup, and 40 percent said they were more likely to renew their leases if their property provided a package solution.
The investment in PropTech amenities is a sound one.  Retain existing residents and attract new ones. A smart decision for today's modern smart-homes!  Want to learn more? The next post in this series will highlight essential pro tips when investing in residential PropTech.