With more than 75 million people born between 1981 and 1996, millennials are America's largest demographic by age.
And though millennials still believe owning a home is part of the American Dream, their homeownership rate is approximately eight percentage points lower than Gen Xers and baby boomers at the same age. Given that millennials spend more on rent as a percentage of their income than any other generation, they want to get as much value from their rentals as possible
Here are some facts to keep in mind when renting to millennials, according to a
survey by Schlage
.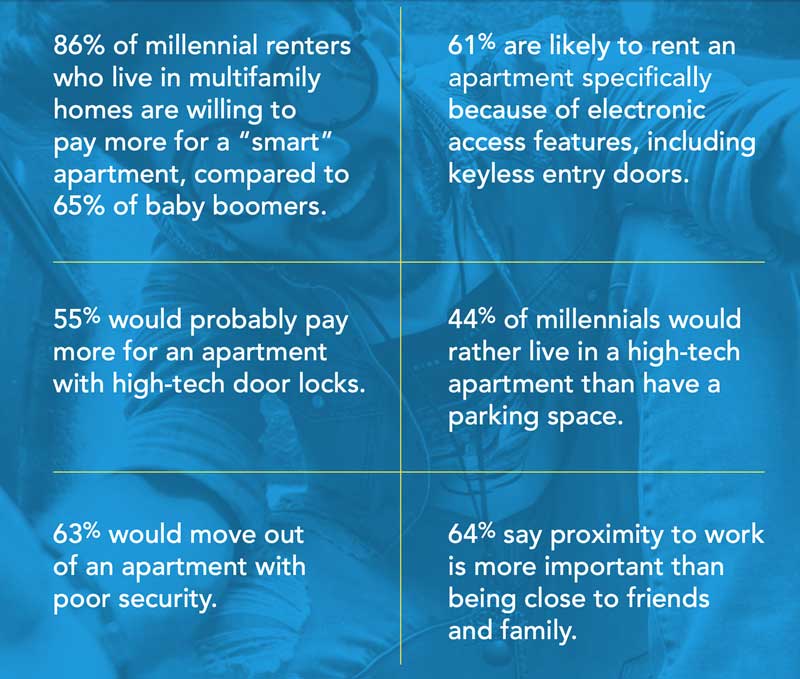 Conversely, millennials renting for the first time say they want in-house laundry, food-delivery options, the ability to pay rent electronically, and common areas. While baby boomers say they favor smart appliances and high-tech security systems.
While it may make good business sense to focus on the millennial generation's wants and needs, it's important not to ignore the other demographic groups. That's especially true if your property draws from a range of age groups. Do these other age groups favor common areas and in-unit washer/dryers, or are they more interested in smart appliances and security systems? Their income level also plays a role, especially with luxury amenities.
Renters in 59 of 70 major metropolitan areas aren't being offered the amenities they really want or live in places with amenities they aren't interested in.
Where the property is located also plays a pivotal role in determining which amenities to add/ include.
The National Apartment Association reports that 60% of survey respondents would pay more every month for a reserved parking spot – but that's only in areas where residents struggle with parking. According to a report by the National Multifamily Housing Council, renters in 59 of 70 major metropolitan areas are not being offered the amenities they really want – or living in apartments with amenities they aren't interested in.
Your ability to provide sought after amenities will not only differentiate your property during lease up but also ensure your tenant retention rates remain high.