Key takeaways
Swiftlane may be a poor choice for multifamily buildings because of its high cost, security issues, and lack of integrations.
A new company with limited customers, reviews, and funding.
Their video intercom solutions include an iPhone, which may pose security and durability risks.
Its intercom lacks necessary features such as delivery PINs, remote access, and property management integrations.
Pricing for its product is high, especially when installation and annual fees are added in.
They do not offer solutions for package management, elevators, amenity spaces, or other entryways.
More and more apartment buildings are upgrading their video intercom system to make life easier for tenants and property owners alike. A decade ago, a video intercom would've been considered a high-ticket luxury item, but today they are seen as more of a necessity than an amenity. Currently, dozens of brands offer video intercoms — and some even offer smartphone-enabled video intercoms.
A newcomer to the video intercom system industry is Swiftlane. In this article, we'll take a look at how their technology holds up when compared with the competition.
This review will cover: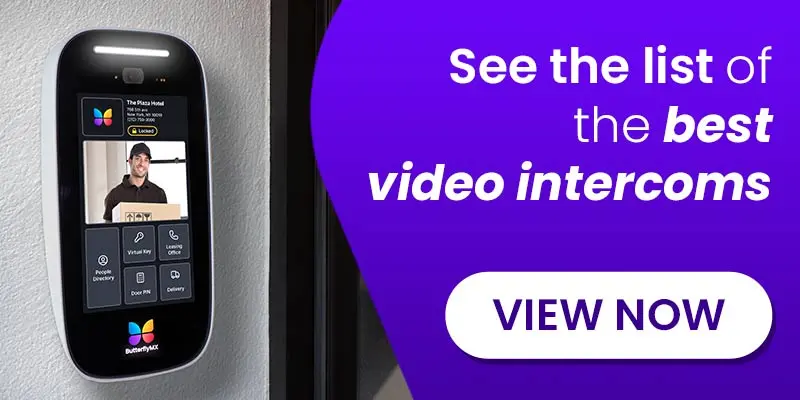 About Swiftlane
As one of the latest players in the touchless entry and video intercom industry, San Francisco-based Swiftlane is offering building access systems with mobile entry.
Like other access control providers, Swiftlane is attempting to reduce the need for key cards and fobs, decreasing the risk of unauthorized entry, and allowing tenants and property owners to grant entry.
Overview of the Swiftlane video intercom system
The Swiftlane video intercom display measures 5.8 inches, which is significantly smaller than the 11.6-inch video intercom display offered by competitors. This may cause frustration with residents and visitors who have a smaller display to interact with (especially when they're searching the directory of a 30+ unit building).
To cut costs, Swiftlane uses iPhones as their intercom hardware. This may raise concerns about their intercom's security & durability because iPhones are not weather- or vandal-resistant. iPhones are also not designed to be outside or in direct sunlight, rain, and cold weather. Lastly, iPhones are not built with high levels of physical security, which could result in the devices being tampered with or hacked at your property.
Unlike other video intercom systems, Swiftlane does not offer integrations with property management systems or popular smart locks, which means property owners and managers may have to spend time updating multiple systems when residents turnover. Finally, Swiftlane's video intercom lacks essential features such as single- and recurring-use PIN codes for deliveries or the ability to open the door through their mobile app.
Features
Video intercom and access control: Swiftlane's hardware installation and operation are in one door panel.
Smartphone-enabled intercom: The system operates via a cloud-based dashboard where users can see guests and let them in.
Grant property access: Swiftlane allows admins to provide users with access that can be set to a specific schedule.
Building safety and security: Touchless entry and video calling ensure safe and secure access to the property.
Watch how ButterflyMX works:
Swiftlane cost
Swiftlane's video intercom starts at $2,250 — a lot when compared to other video intercoms on the market today. There are also additional installation and ongoing service fees, which will increase your cost significantly.
For multifamily buildings, the installation fee can range from $1,500 to $7,500 depending on the complexity of the installation and wiring necessary. In addition, Swiftlane's annual service fee is between $24 and $30 per apartment, per year — with a minimum fee of $420 per year.
Annual fees for a Swiftlane video intercom are as follows:
| Number of apartment units | Swiftlane's annual fee |
| --- | --- |
| Fewer than 11 apartment units | $420 |
| 11 to 25 apartment units | $600 |
| 26 to 100 apartment units | $1030 to $3000 |
| More than 100 apartment units | $3030 to Infinity  |
Pros & cons
Pros:
Swiftlane video intercom users can accept calls from anywhere on their smartphones.
Swiftlane's property admin dashboard enables property managers and owners to review door entry logs.
Video intercom and door access features are combined into a single door panel.
Reduces the need for key cards, access badges, and key fobs.
Cons:
5.8-inch display which is smaller than competitors'
Lack of PIN codes for visitors and deliveries
May not offer integrations with property management or access control systems.
New company with low customer reviews
Little information about ongoing and additional maintenance costs
Does not have an 11.6-inch display with options for leasing office and self-guided tours
Facial recognition often does not work and poses legal risks for property owners and managers around tenant data privacy in major cities like New York.
Lacking delivery options including one-time delivery codes for Amazon
Security and durability concerns
No elevator integrations

Comparison of Swiftlane video intercom with the ButterflyMX video intercom
As far as a functional intercom system, Swiftlane's video intercom technology checks some of the boxes building owners, managers, and residents need. The ButterflyMX video intercom, however, delivers more features and a better value for anyone who would like to make their property accessible via a smartphone — from anywhere. What's more, the ButterflyMX system has been installed in more than 10,000 buildings and more than 1,000,000 units and is currently being relied upon by the most trusted names in multifamily and commercial real estate such as Greystar, Bozzuto, and Lincoln Property Company.
ButterflyMX has established itself as the brand in the real estate industry for secure, convenient, and affordable property access from a smartphone. ButterflyMX's top-rated mobile app with more than 20,000 five-star reviews and integrations with property management software makes it the clear choice for real estate professionals.
Watch Jonathan Scott's review of ButterflyMX:
ButterflyMX vs. Swiftlane
The Swiftlane video intercom may be a poor choice for multifamily and commercial buildings because of its high cost, security and durability issues, and lack of access control, property management, and smart lock integrations. In addition, real estate professionals may find that they're better off with a video intercom system that's designed to be outside. More established video intercom providers like ButterflyMX offer all the features and functions of Swiftlane's intercom but with greater functionality and durability.
| Feature | ButterflyMX | Swiftlane |
| --- | --- | --- |
| Built-in camera | Yes | Yes |
| Mobile app & smartphone-based access | Yes | Yes |
| Company and product reviews | Yes | No |
| IP65-rated against rain, cold, heat, and cleaning agents | Yes | No |
| Integrations with property management & access control systems | Yes | No |
| Single- and recurring-use access PINs | Yes | No |
| Multiple intercom sizes | Yes | No |
| Smart lock integrations | Yes | No |
| Amazon delivery codes | Yes | No |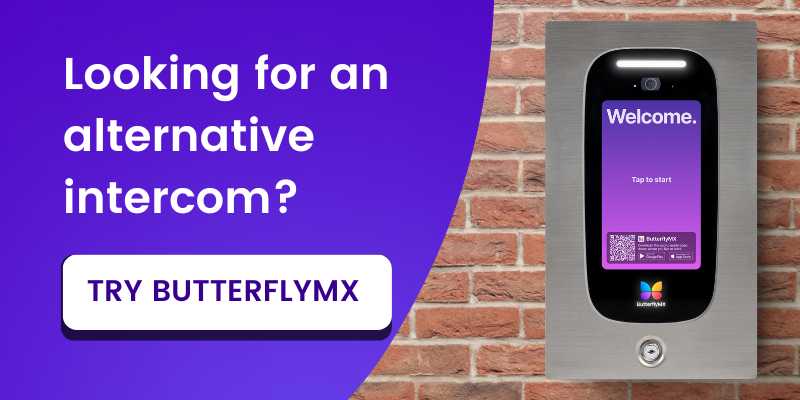 Disclaimer: ButterflyMX provides these blog posts to help our customers and potential customers make the right business decisions for them. Our blog posts are based on the information we have available to us at the time of writing.