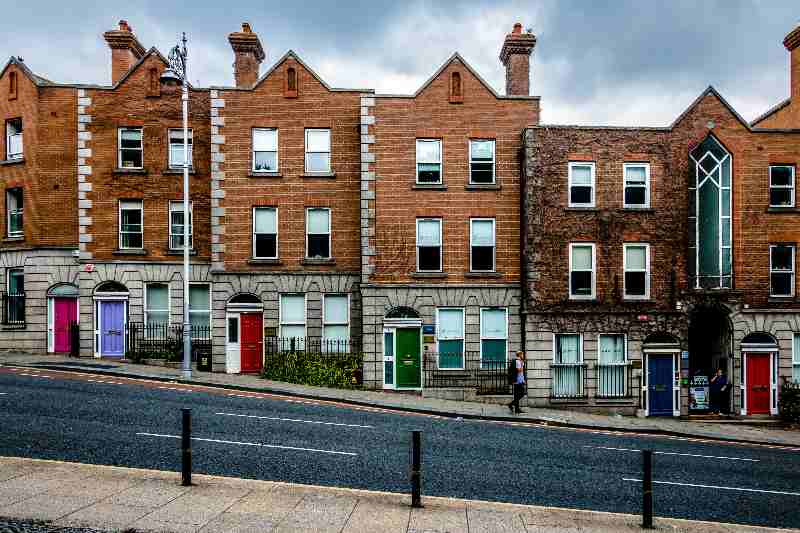 Unless someone stands outside your building 24/7 to open the door, you need an intercom system. Intercoms improve building security by allowing tenants to speak to visitors before letting them in. Additionally, the right intercom can make residents' lives more convenient – your residents will be able to easily grant access to visitors like family, friends, or delivery people.
Want to delight residents, secure your property, and streamline property management tasks? Invest in a smart intercom system for your apartment.
Smart intercoms offer:
Smart intercoms ensure simple and secure property access
A smart video intercom lets you open the door right from your smartphone, so residents don't have to deal with annoying keys and fobs. Additionally, property managers enjoy granting remote access for self-guided tours, maintenance workers, and service providers.
Today's smart intercoms are designed for modern living. Residents use a mobile app to receive video calls and open the door with one touch. The app is easy-to-use for residents, both young and old.
In an apartment building with a smart video intercom, you can:
Provide virtual keys to service providers like dog walkers and house cleaners
Open the door with a smartphone instead of your keys
Use Siri or Alexa to open the door when your hands are full
See who is at your door through live video
Review time- and date-stamped photos of everyone who has accessed the property
Give unique PINs to delivery people for easy access
Unlocking key fobbed elevators
Even after accessing the building, visitors still may get stuck at your key-fobbed elevator.
If they can't access the elevator, visitors must either:
Request access from property staff
Ask the resident to come downstairs to get them
Save your staff and residents the trouble by installing a smart video intercom system that connects to the elevator control system.
The ButterflyMX smart video intercom connects easily with elevator control systems. When you grant a visitor property access, the intercom automatically unlocks the elevator. The elevator stays unlocked for a certain amount of time. As an added security measure, it will only open for the resident's floor.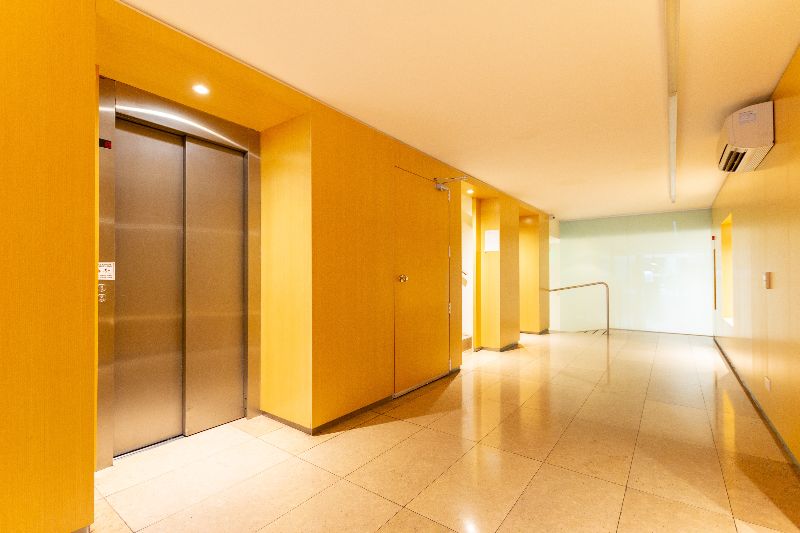 Smart intercoms streamline property management tasks
Property managers' to-do lists never end. Adding proptech solutions like a smart intercom can help by automating processes and streamlining tasks.
Choose a video intercom that integrates with your property management system, such as Yardi, Entrata, RealPage, or MRI. With these integrations, resident data syncs with the intercom automatically. When a resident moves in, their information is added to the intercom system. Conversely, when they move out, their information is taken off. With the right smart video intercom, you'll never have to go on-site to update the directory manually.
Additionally, you should choose a video intercom system that keeps a history of everyone who uses the intercom. With ButterflyMX's video intercom, this information is stored in an online dashboard where you can view date- and time-stamped photos of every entrance.
Smart intercoms ensure successful package delivery
In 2021, Americans shipped more than 21 billion packages. In-store shopping is on the decline, and as a result, e-commerce is booming. Furthermore, online services that grew in demand due to COVID-19 — such as grocery delivery — will continue gaining popularity.
With more deliveries comes more work for property managers. As a result, property staff needs to find new ways to manage delivery intake, store packages, and distribute them. Smart intercoms are the answer.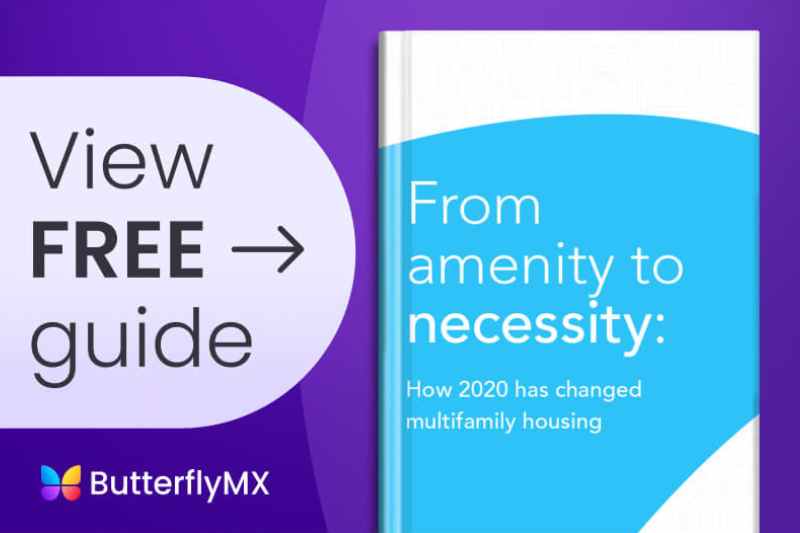 Secure package delivery
Nearly 40% of Americans have had a package stolen from them. As more people shop online, package theft is a serious concern for renters.
With smart video intercom systems, you can provide property access to delivery people while securing the building against package thieves. After all, it's usually strangers who commit package theft, not your neighbors.
The ButterflyMX video intercom allows you to create unique PINs for each delivery service. With these PINs, delivery people can easily enter the building and leave packages in a safe spot.
Simplified package management
The average American receives over 30 packages per year. As such, multi-tenant buildings oversee hundreds or thousands of package deliveries each year.
How does your building manage package intake, storage, and distribution? If you don't have front desk staff, delivery people may leave packages in insecure areas, like an open lobby. As a result, this leaves your residents vulnerable to package theft.
If your building has a doorman, they must accept packages and store them. Then, they have to retrieve packages when residents come to collect. This lengthy process prevents the doorman from focusing on more important tasks, like greeting residents and maintaining building security.
The solution: a package room.
With a package room, you can store packages of all sizes in a secure room to free up property staff's time. Delivery people can use their PIN to enter the package room without bothering front desk staff. Most importantly, residents can rest easy knowing their packages are safe until they pick them up.
Smart intercom systems give modern renters the smart building technology they actually want
For decades, high-touch amenities — like on-site cleaners or 24/7 concierge — separated luxury apartments from their competition. Now, as renters' priorities change, we see a transition from high-touch to high-tech amenities. Today's renters, which are largely comprised of millennials, care most about tech-forward amenities that offer security and convenience.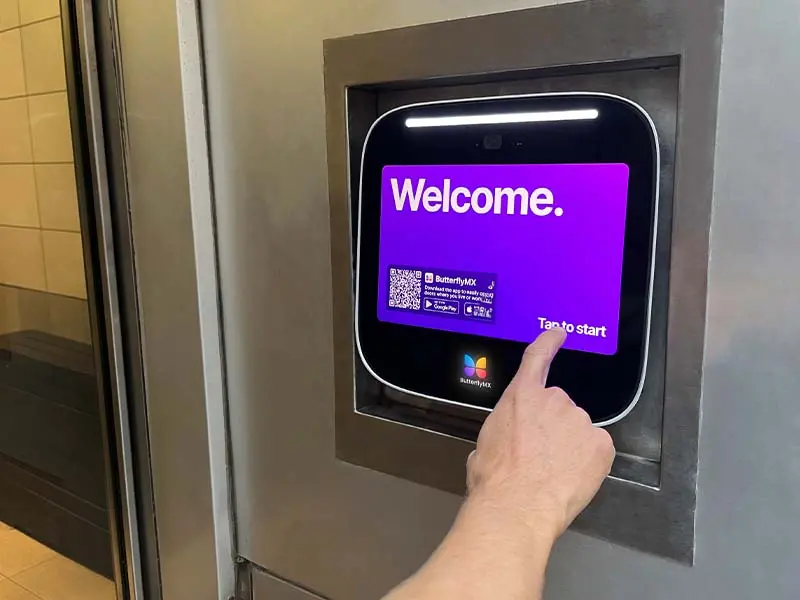 If you're thinking about adding smart home technology to your apartment building, keep in mind that:
86% of millennials and 65% of baby boomers who live in multifamily homes would pay more for a smart apartment.
63% of renters would move out of an apartment with poor security.
61% of renters would rent an apartment for electronic access features, such as keyless entry doors.
44% of millennials would rather live in a smart apartment than have a parking space.
By and large, smart intercoms are the perfect way to check every box on a renter's wishlist. The smart video intercom is a low-cost amenity that improves residents' living experience and decreases turnover — and, best of all, it can be retrofitted into existing older buildings, too. Although adding a pool or gym might seem like a good idea, the National Apartment Association and the National Multifamily Housing Council both report that renters prefer security-related amenities. In fact, many renters would even agree to a $20 per month rent increase for smart apartment features.
Choose the right smart video intercom system
Face it: It's time to replace your outdated intercom with a smart one! You'll future-proof your building, simplify property access, and delight residents with a smart intercom. The ButterflyMX smart video intercom system has been installed in more than 7,500 buildings and has more than 7,000 five-star reviews.