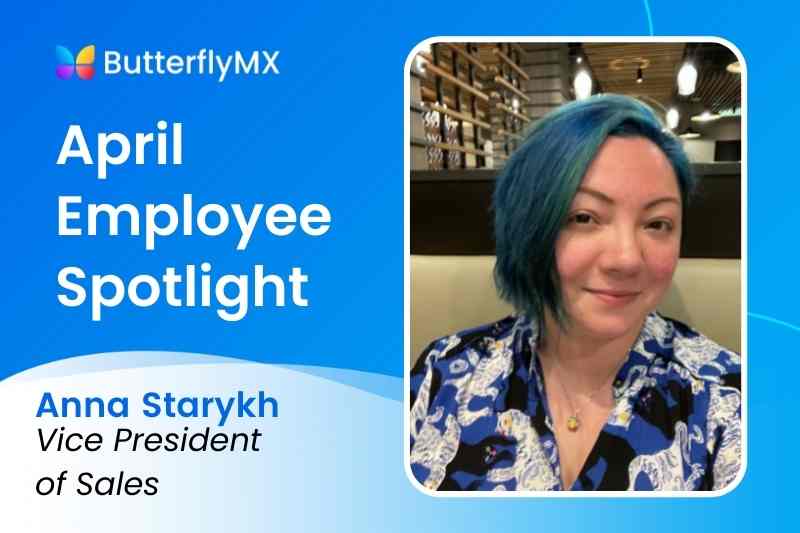 At ButterflyMX, we take pride in our employees — our company wouldn't be what it is today without their dedication and hard work.
In 2014, ButterflyMX began as a distributed workforce. And in 2022, we've got plans to hire plenty more people across the globe. So, now more than ever, supporting our growing team is paramount to the ongoing success of our company and the culture within.
Today, the ButterflyMX team consists of over 200 talented and hardworking engineers, designers, customer success, sales, and marketing people from across the United States, Ukraine, Croatia, Spain, Austria, and Montenegro.
To showcase the talent here at ButterflyMX, we'll spotlight an employee every month. And to kick off our Employee Spotlight series, we're introducing Anna Starykh, Vice President of Sales, who shares insight into her journey here at ButterflyMX.
This employee spotlight covers:
Meet Anna
Location: New York, NY
Position & Department: Vice President, Sales
Previous Position(s): Senior Director, Sales
Start Date: August 15, 2017
In a few sentences, tell us about what you do here at ButterflyMX.
I run and manage sales for Florida and Georgia. I am responsible for our quarterly sales targets in that region.
Additionally, I conduct product demos for prospective clients, attend various conferences and live events, and coordinate with other departments to ensure a smooth transition between the sales and onboarding processes.
What's your favorite part about working at ButterflyMX?
Definitely the people.
I've been with the company for almost five years and have seen very little turnover. In fact, quite the opposite has happened — we expanded so much since I started back in 2017! It's gratifying to share our passion for the company and ideas with my colleagues.
The pandemic made it very challenging to feel that connection, and it has been really nice reconnecting in person now that restrictions have been lifted. The energy and creativity that everyone brings to the table are exciting and motivating in a way that was absent when we worked from home full-time.
What's the most significant thing you've learned while working here?
Not everything brilliant has to be complicated.
What's your proudest accomplishment so far during your time at ButterflyMX?
ButterflyMX recognized the work and effort that I've put into the company by promoting me to the vice president of my department. I love utilizing my skills to help the company expand, innovate, and reach new heights.
Tell us about your favorite day/event at ButterflyMX. What makes it so special/memorable?
The most recent in-person sales meeting that was in early April.
We flew everyone into our New York City headquarters for two days. After being apart for almost two years, it was incredible to see my colleagues and to meet new sales directors we hired during the pandemic and whom I have never met face to face.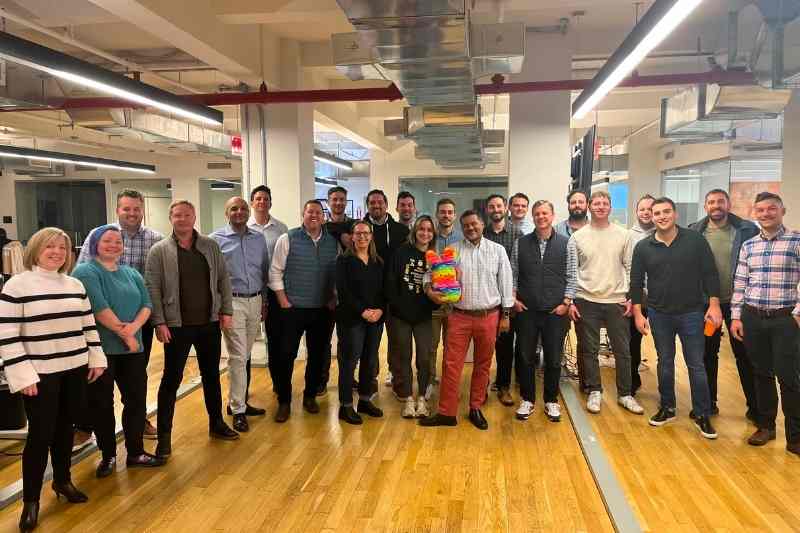 The energy was palpable, and I've really missed the collaborations that arise from these types of events. I look forward to having more of them in the future.
What has been the best part about working remotely? The most challenging?
The best part of working remotely has been the flexibility to move out of New York City and spend some time with my family in the Catskills. Getting to hang out with my mom's dog and take demos and calls out on the patio during warm, sunny days was lovely.
The most challenging has been to feel the same drive and energy that comes from being surrounded by like-minded people in a collaborative space.
So, a balance of the two is ideal.
Watch how ButterflyMX works:
Three fun facts about Anna
1. If you could live anywhere in the world, where would it be and why?
Maui, Hawaii. I fell in love with the island some years ago and would adore having a place there. The ocean, nature, and laid-back attitude are my main draws.
Plus: authentic mai tais are DELICIOUS!
2. Do you have a secret talent (*cough* superpower) you want people to know about?
Languages! I studied and spoke nine languages when I was younger:
Russian
Ukrainian
English
French
Italian
Spanish
German
Japanese
Arabic
Whenever someone asked me which superpower I would want, the answer has always been "to speak all the languages in the world." Communication is important to me, and I've been fascinated by other cultures.
Also, the ability to communicate when I travel has always been paramount to forging connections and making new friends! I'm pretty rusty on most of these languages, but I pick things up quickly when I travel. I'm looking forward to being able to do this again once things with the pandemic settle down!
3. What is your favorite thing to do after work or on the weekends?
I'm interested in a wide variety of activities, so there are always a lot of choices.
I particularly enjoy spending time with friends over dinner or just hanging out, visiting my family in the Catskills, playing video games or watching friends play, and attending music shows. I also write fiction for a Discord server that four of my friends and I have run together for the past few years!
Come fly under ButterflyMX's wings
Liked what you read here? Well, you're in luck! We constantly have job openings in nearly every department. Check out our careers page for the most up-to-date list of open roles.