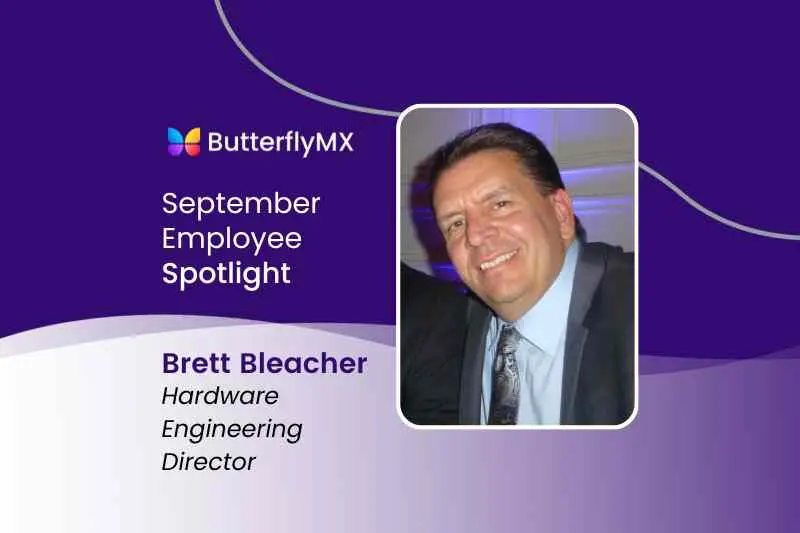 ButterflyMX is built on hardworking employees. In fact, we believe that our employees are the very thing that makes our company great and drives success. In order to thank them, each month we throw a spotlight on a different employee to show off their unbeatable contributions.
This month, get to know Brett Bleacher, Hardware Engineering Director. Learn more about Brett and what he does here at ButterflyMX, plus find out the perks of living in scenic sunny California!
Navigate this employee spotlight:
Meet Brett
Location: Lake Forest, CA
Position: Hardware Engineering Director
Previous Position(s): Hardware Engineering Manager
Start Date: June 21, 2021
In a few sentences, tell us about what you do here at ButterflyMX.
I manage both internal and external 3rd party Hardware Development teams for our intercom and access control products. I also drive collaboration and integration of our ButterflyMX software, product, and quality assurance teams. I passionately manage R&D (Research & Development) projects with support from project management teams and engineering interns from our Lake Forest Warehouse.
What's your favorite part about working at ButterflyMX?
I love working with all the internal and external development teams everyday and working with the latest video, audio and wireless technologies. I have a passion for R&D.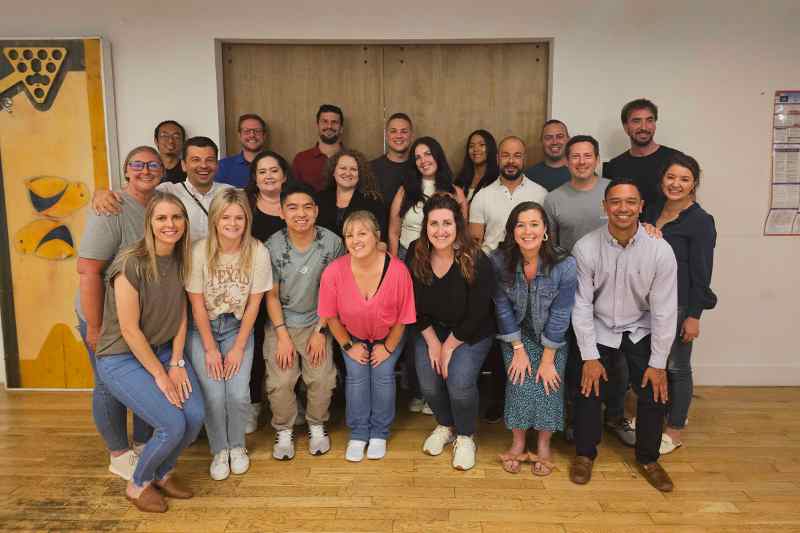 What's the most significant thing you've learned while working here?
Working with multiple teams very efficiently by having Zoom meetings every day and using Slack to communicate very expediently and effectively.
What's your proudest accomplishment so far during your time at ButterflyMX?
Achieving the successful product development of new intercom products.
Tell us about your favorite day/event at ButterflyMX. What makes it so special/memorable?
My favorite event was a CTO (Chief Technology Office) meeting in Lake Forest and in Los Angeles whereby I met all the CTO team working under Ben Trent and we collaborated on the latest challenges and plans for the future.
What has been the best part about working remotely? The most challenging?
I actually work at our Lake Forest Warehouse office everyday as I have lots of hardware in my office that needs tender loving care each day. The challenge is working closely with my engineering team in the office and closely with software and product teams, integrating our latest ButterflyMX software and application on to our new intercoms.
Watch a day in the life of a ButterflyMX employee: 
Fun facts about Brett
If you could live anywhere in the world, where would it be and why?
Either Hawaii or Catalina Island off the coast of California as I love the beach and ocean and would like to enjoy a little slower pace in life.
Do you have a secret talent (*cough* superpower) you want people to know about?
I do have a secret talent that only my family and close friends know about and will keep it a secret for now! 😉
What is your favorite thing to do after work or on the weekends?
My favorite thing to do after work and mostly on weekends is fly drones and take photos and video of my lake at my house, the ocean and regional parks close to my house.
Join the ButterflyMX team
Does Brett's role interest you? Are you a proactive, driven worker looking for a new position in a growing property access control company? Check out our open positions on the ButterflyMX careers page!