As we continue our discussion on the shift from high-touch to high-tech in multifamily, it's impossible to ignore package delivery and the impact it is having.
In traditional high-touch buildings, a doorman or concierge is primarily hired to greet residents, announce visitors, and maintain overall security at the property. As part of this duty, they will often sign for a package when a resident is at work or on vacation. But in the age of Amazon, DoorDash, and Wag, the activities of the modern doorman have completely changed.
Amazon shipped more than 5 billion items with Prime in 2017
Given that approximately 12 billion packages were delivered throughout the U.S. in 2017, doormen have much less time to do what they were hired for. Instead, they're now focused on managing the onslaught of delivery people and their endless stream of packages. What's more, as properties continue to partner with service providers such as house cleaning and dog walking, doormen are left coordinating access.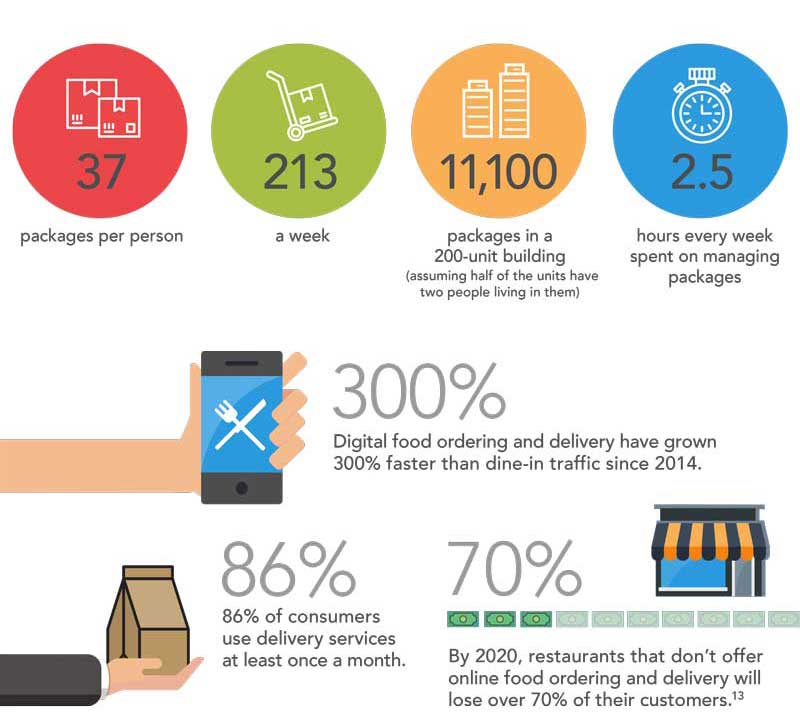 Managing the Ongoing Shift and Evolution
With technology advancing so quickly, it is difficult to predict exactly how development, ownership, and management will evolve over the next 10 years. Instead, by focusing on emerging trends, you will be better equipped to manage and take advantage of the shift from high-touch to high-tech.
You will need trained and knowledgeable people at the core of your business. These dedicated individuals should communicate with and receive input from every unit within your organization. The National Apartment Association, in fact, addressed the issue of technology preparedness in a March 2019 article titled "The Five Biggest Onsite Technology Mistakes" in which they discussed the following five topics:
Not providing enough upfront and ongoing training.
Not getting onsite buy-in.
Not having a point person to oversee it.
Not knowing the "why" behind the technology.
Not understanding that technology won't magically change how work is done.
Internal technology leadership should also help drive discussions to justify major investments, which will avoid even higher expenses later. For example, a $40,000 capital expense to install water sensors in a building with in-unit washers and dryers might seem high today, but it could save hundreds of thousands of dollars in water damage later.
Similarly, a $100-per-unit smart thermostat upgrade sounds expensive at scale, but the return on investment can last for years, as thermostats recognize the comings and goings of each resident and automatically lower the heat or air conditioning in each unit when no one is home.
The successful future of multifamily properties will ultimately live at the crossroads of high-tech and high-touch. Real estate professionals must assemble a sensible combination of onsite staff and innovative technologies to provide the type of security, convenience, and comfort that their residents want and will happily pay for. Now is the time for the multifamily world to anticipate and prepare in order to keep up with and meet changing renter demands.