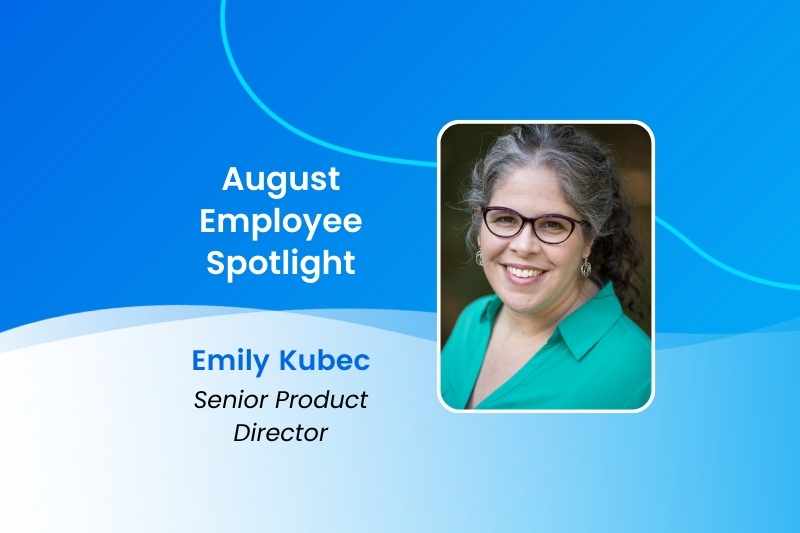 What sets ButterflyMX apart from other tech companies? Our outstanding employees!
In the last eight years, our team has grown to over 200 passionate, talented team members worldwide. Today, we're spread out across the United States, Austria, Ukraine, Croatia, Spain, and beyond. Our team thrives from anywhere because of our incredible work culture. In fact, supporting our workforce is at the forefront of our company's mission.
So, each month we celebrate one of our hardworking employees with our employee spotlight series. This month, we introduce Emily Kubec, a Senior Product Director who shares her favorite parts of working for ButterflyMX.
This employee spotlight covers:
Meet Emily
Location: Walpole, Massachusetts
Position: Senior Product Director
Start Date: April 26, 2021
In a few sentences, tell us about what you do here at ButterflyMX.
I lead the team that's responsible for the ButterflyMX web and mobile apps that property managers and tenants use every day.
As a product manager, I work with other teams across the company — from engineers and designers to sales, marketing, and support — to plan, build, and launch new software features and understand their impact on our customers.
What's your favorite part about working at ButterflyMX?
The collaboration! Everyone at ButterflyMX brings their own skills and is invested in delivering great work as a team. I love playing a role in joining all the pieces and perspectives together into a single, seamless solution. 
What's the most significant thing you've learned while working here?
Before coming to ButterflyMX, my background has been at pure software companies without their own hardware. Here, it's been interesting to consider how our software needs to flex to accommodate the conditions under which the full ButterflyMX system operates, including scenarios like variable network connectivity or a power outage. We want to keep the software experience as good as it can reasonably be, even in circumstances beyond our direct control.
What's your proudest accomplishment so far during your time at ButterflyMX?
I wish I could share!
I'm really excited about a couple of product launches coming soon that I've been trusted to oversee from concept to pilot, which our designers and engineers have built over the past few months. It's so rewarding to hear from customers — either directly in user feedback sessions or via colleagues in Sales and Customer Success — when we've successfully solved a problem for them.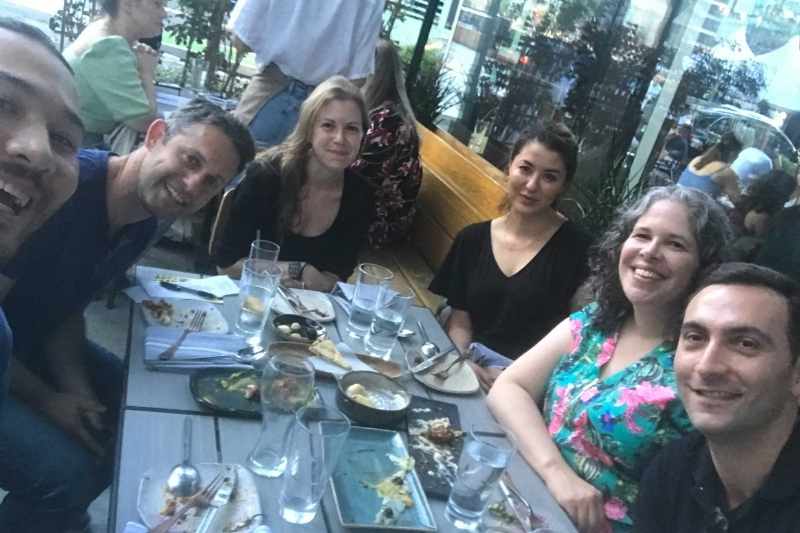 Tell us about your favorite day/event at ButterflyMX. What makes it so special/memorable?
What stands out to me is the Product & Design team's most recent meet-up onsite at our NYC headquarters.
Beyond the planned agenda, I found it worthwhile to spend time working in our office, running into colleagues I don't normally see, and having the watercooler conversations that don't happen over Zoom. That onsite was also my first detailed introduction to CloudKeyz, and it was energizing to consider the opportunities that acquisition opened up.
What has been the best part about working remotely? The most challenging?
Working remotely has come naturally at ButterflyMX because the vast majority of our company is doing so. It's just expected that people are at different places, in different time zones, with different obligations we're balancing, so no one person is at a disadvantage.
On the other hand, it can be challenging to build connections in a way that would happen in an office setting, so I find I need to be more intentional about it. It does make those rare in-person meet-ups that much more memorable and enjoyable.
Learn more about ButterflyMX:
3 fun facts about Emily
1. If you could live anywhere in the world, where would it be and why?
I had the good fortune to live and work overseas earlier in my career. I think it's been healthy to develop an outside perspective on my own home country.
Nonetheless, I am very satisfied with my return to the Boston area! I'll always be a New Englander at heart, especially with multiple generations of family nearby. But I'd never give up the opportunity to travel and experience new places.
2. Do you have a secret talent (*cough* superpower) you want people to know about?
Speaking of travel, I'm exceptionally good at packing way too much stuff into a car for a road trip, while still leaving plenty of room for passengers. This has come in particularly handy for family vacations off the coast of Maine, when everything and everyone needs to fit in a single vehicle, and that vehicle needs to fit on a packed ferry. Three-dimensional Tetris is very satisfying. As for the two-dimensional variety, I've never been very good.
3. What is your favorite thing to do after work or on the weekends?
Outside of work, I spend time with my family. I'm not outdoorsy, but I do enjoy country walks, and my twin daughters love anything nature. So our weekends often involve short hikes in the woods or along the water somewhere in eastern Massachusetts. As my girls get older, I especially enjoy seeing them take pride in leading the way.
Join the ButterflyMX family
Did you like what you read here and want to learn more? As a growing company, ButterflyMX constantly has job openings in nearly every department. Check out our careers page to view our latest open positions.