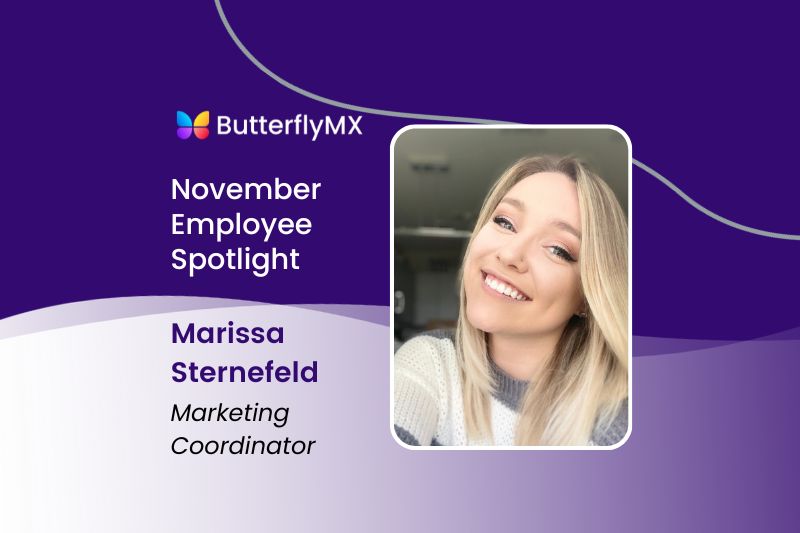 Our wonderful employees are what separates ButterflyMX from other tech companies! So, each month we celebrate one of our hardworking employees with our employee spotlight series.
Over the last eight years, our team has grown to over 200 talented team members across the United States, Austria, Ukraine, Croatia, Spain, and beyond. Our team makes great strides to promote an incredible work culture from anywhere in the world. In fact, supporting our workforce is one of the leading values of ButterflyMX's mission.
This month, we spotlight Marissa Sternefeld, a Marketing Coordinator who wants to share a few of her favorite things about working for ButterflyMX.
This employee spotlight covers:
Meet Marissa
Location: All over, but currently residing in Woodland Park, NJ
Position: Marketing Coordinator 
Start Date: August 16, 2021
In a few sentences, tell us about what you do here at ButterflyMX.
I work alongside the digital marketing team on marketing automation to streamline lead follow-ups and data enrichment.
What's your favorite part about working at ButterflyMX?
I love the cross-collaboration that happens within my department and other departments. It's amazing to see people coming together to complete a project, and I love working with new people and learning new things!
See what others are saying about ButterflyMX: 
What's the most significant thing you've learned while working here?
I came into this role with minimal marketing experience, so I have learned SO MUCH in the last year working here. The most significant thing would be how important it is to have clean data!
What's your proudest accomplishment so far during your time at ButterflyMX?
I would say my proudest accomplishment is seeing leads come in from the various email campaigns I send out. It's always good to see that the work you are doing is paying off!
Tell us about your favorite day/event at ButterflyMX. What makes it so special/memorable?
Getting to meet the team in New York City! I loved being able to see everyone I've been working with for months and get to know them outside of a work setting. I can't wait for our next meet-up!
What has been the best part about working remotely and the most challenging?
The best part about working remotely would be being able to work in comfy clothes and not having to leave my dog all day. The most challenging would probably be communication and brainstorming with team members — it is a lot easier to do that in a face-to-face session!
3 fun facts about Marissa
1. If you could live anywhere in the world, where would it be and why?
On a cruise ship (duh) — free housekeeping, unlimited food and drinks, and getting to travel to different destinations every week!
2. Do you have a secret talent (*cough* superpower) you want people to know about?
I was a ballerina for about 15 years. I can also recite the Gettysburg Address.
3. What is your favorite thing to do after work or on the weekends?
I like reading, binging trashy reality TV, going to the dog park. and I just started trying new cooking recipes! I also love shopping, but my bank account doesn't like that as much.
Join the ButterflyMX family
Interested in learning more about ButterflyMX and joining our team? As a growing company, ButterflyMX has plenty of job opportunities in nearly every department. Check out our careers page to view our available positions.