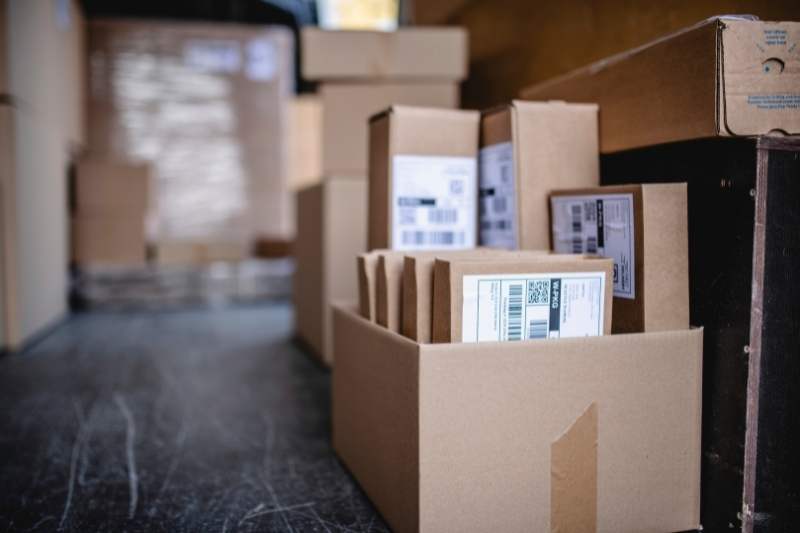 Every day, there are dozens of packages delivered to your building. So, you need a way to manage all those deliveries. From package rooms to package lockers, there are several package delivery systems designed to simplify the delivery management process for apartments and multifamily properties.
In this post, we explore the five most popular package delivery systems and discuss their pros and cons. We also outline why every apartment building needs a package delivery system, and highlight the best system for your property.
Read this post to learn: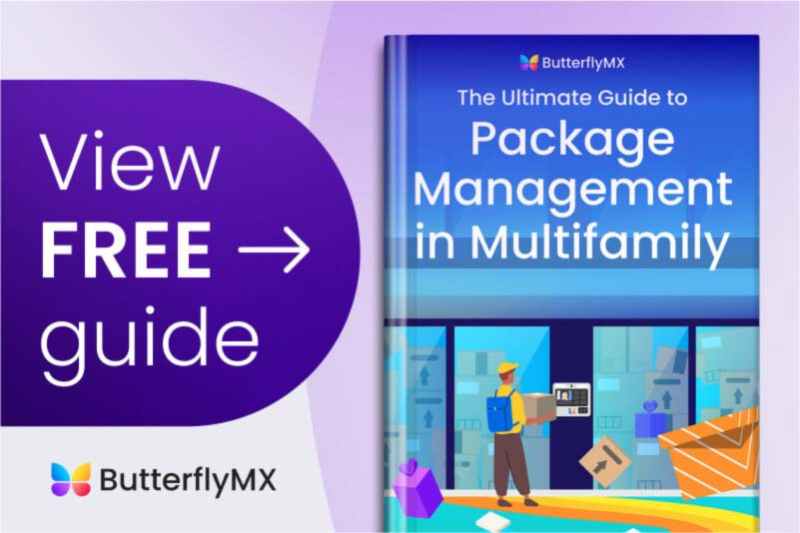 What is a package delivery system?
A package delivery system is a solution for buildings to better manage the intake, storage, and distribution of packages delivered for residents.
When delivery carriers drop off packages at a multifamily property, they need a place to safely leave the parcels. Additionally, property staff needs a way to organize those packages and distribute them to residents. And residents need a way to pick up or receive their packages.
Without an apartment package delivery system:
Couriers struggle to securely drop off parcels.
Property staff spend several hours each week accepting, storing, and distributing packages.
Residents suffer parcel theft or are stuck waiting for their packages.
Why you need a package delivery system
These days, every multifamily building needs a package delivery system to accommodate the growing number of packages being delivered. Online shopping is more popular than ever, and the ecommerce industry is only expected to grow. Plus, delivery rates skyrocket even higher during the holidays.
The process of managing deliveries at apartments involves accepting parcels from carriers, storing them somewhere, and distributing them to residents when they come to pick them up. Unfortunately, this process is tedious and time-consuming. But package delivery systems alleviate the burden placed on property managers by streamlining and automating much (or all) of the process.
Saving time isn't the only reason property managers love delivery solutions. If you don't have a package delivery system, you might be surprised by how much package management is costing you. With an effective package management solution in place, your staff members' salaries go toward more than just managing deliveries.
Finally, implementing a package delivery system improves the resident experience. By investing in the resident experience, you'll ultimately retain more residents and renew more leases — which is great for your bottom line.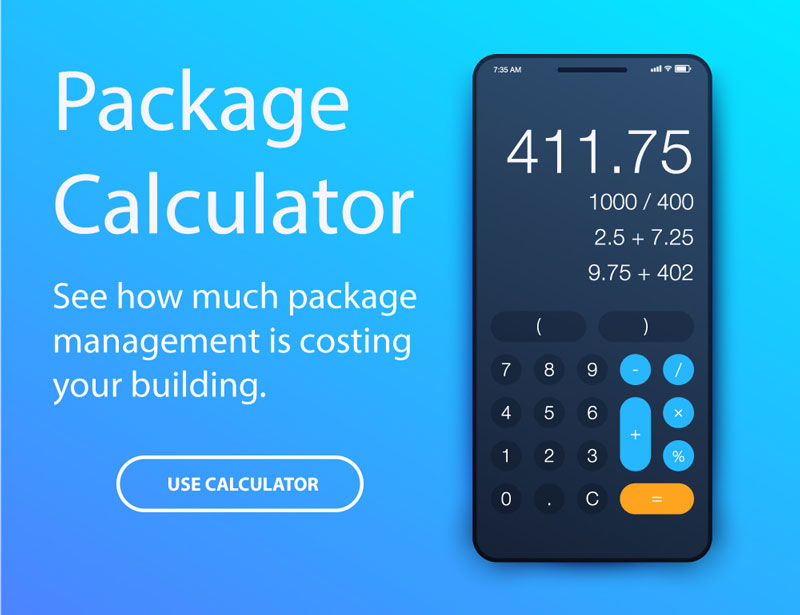 Top 5 package delivery systems
You know you need a solution to manage deliveries at your apartment — but what are your options? Read on to learn more about the five most common package delivery systems for multifamily properties.
The top five package delivery systems:
1. Package room
A package room is a designated room within a building where delivery carriers can drop off packages for residents to pick up at any time.
Usually, package rooms have controlled access so that only authorized couriers, residents, and building staff can enter. The best package rooms are controlled by a video intercom with a mobile app. That way, residents can access the mailroom through their smartphones, and couriers can access it by entering a PIN code. In addition, having a camera at the package room's entrance adds an extra layer of security.
The benefits of a package room include:
Reduce property staff's time spent accepting, organizing, and distributing packages.
Easy access and a quick delivery process for couriers.
Residents can pick up packages any time — even after business hours.
No need to spend money on lockers, storage containers, or additional staff members to manage deliveries.
Outside of installing some type of access control system, all you need to set up a package room is some shelving. Additionally, you can install security cameras and signs within the room to further discourage package theft.
How a package room works:
When a delivery carrier arrives at the package room, they gain access with an access credential — usually a PIN code — via the intercom or access control system.
Some package room systems require couriers to mark off which residents have received deliveries. This sends an automatic text or email notification to the resident, alerting them of the delivery.
After they get inside, carriers leave packages in the room.
Residents can pick up packages any time.
Watch how the ButterflyMX package room works:
2. Package lockers
Package lockers are storage systems with several compartments that enable delivery couriers to drop off packages by placing each parcel in a separate compartment. Usually, lockers for packages are installed in a convenient spot within the building, such as the lobby.
Most package delivery lockers contain compartments of varying sizes. However, not all packages fit in even the largest compartments — bulky deliveries, such as furniture, won't fit in the locker.
Some of the most popular smart lockers for packages are:
Amazon Hub
Package Concierge
Luxer One
Smiota
Parcel Pending
Package Nexus
How package lockers for apartment buildings work:
A delivery courier accesses the building via a separate access control system, then initiates the package drop-off process at the electronic parcel lockers. Usually, this includes entering a PIN code.
The courier selects the recipient, scans each package, and places them into separate locker compartments. When the compartment door shuts, it automatically locks.
The package locker system sends a notification to residents who received a delivery. In most cases, the notification includes a PIN number or QR code, which residents use to unlock the locker compartment.
Residents can retrieve packages at any time.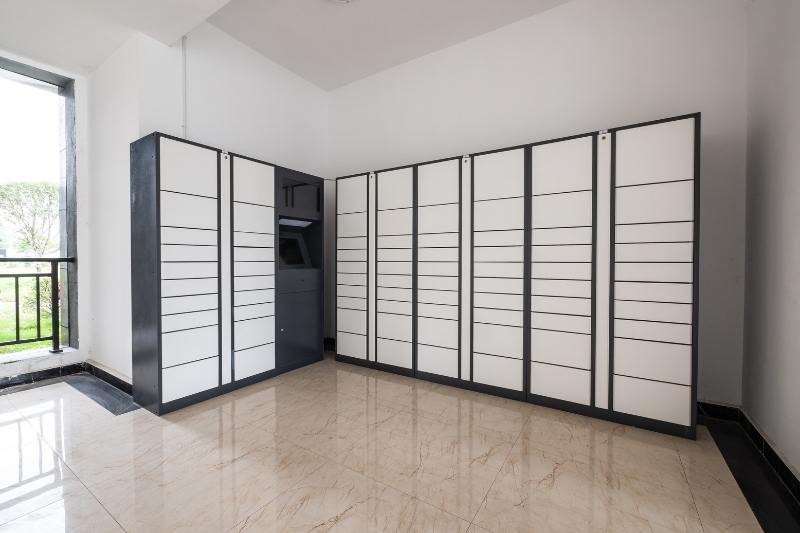 3. Off-site package storage & drop-off
One of the newest package delivery systems on the market is the off-site storage and drop-off service. Companies such as Fetch have introduced this concept, where residents have packages delivered to a third-party facility and schedule a drop-off time that's convenient for them. Fetch then delivers the package to the resident's door at that time.
The benefit of an off-site or third-party package drop-off service is that property staff doesn't have to manage deliveries. Additionally, these services help prevent package theft by ensuring items are delivered at a time when residents are home to accept them.
However, one drawback of third-party delivery services is the delay in delivery. Since residents must wait for items to be delivered to two different locations, it can take longer than usual for them to receive their packages. Plus, adding the extra delivery steps is inefficient and not the most eco-friendly solution.
How third-party package storage & drop-off systems work:
A building partners with a third-party package delivery company.
When residents order items online, they have packages sent to the partner company, not to their apartment.
Residents receive a notification after a package has been delivered to the partner company.
After receiving the notification, residents schedule a time for the company to deliver their package to the apartment. Most third-party package delivery companies offer deliveries during nights and weekends.
The company delivers the package, leaving it with the front desk staff or at the resident's door.
4. Package management software
Package management software doesn't provide a storage solution but instead strives to simplify the parcel intake and distribution process. This software — often in the form of an app — provides a way for property staff to scan packages, send automated delivery notifications to residents, and mark deliveries as complete.
Some popular package management software options include:
Notifii
PackageX
ReceivingRoom
ParcelTracker
A package management software platform may be a useful tool for building staff because it helps them keep deliveries organized and saves them the time of manually alerting residents of deliveries.
However, package management software still requires a significant amount of time and effort from staff. It also doesn't provide any solution for storing packages. Additionally, residents must retrieve packages from staff — which means they probably can't pick up parcels after business hours.
How package management software works:
Delivery carriers drop off packages with the front desk or building staff.
On-site staff uses the software — often an app on a smartphone or tablet — to scan each package.
The software reads each package's label and automatically sends a push notification to each resident who has a package.
Residents pick up packages from the front desk or staff member.
Finally, staff logs the package as delivered and picked up in the software.
5. Delivery doors
A delivery door is a box built into the door or wall of a building, Most delivery doors are fitted with a keypad lock for additional parcel protection.
Delivery doors work in three steps:
Delivery couriers arrive at your building.
The couriers use the keypad to unlock the delivery box that's retrofitted to your door or wall.
Couriers drop the parcels inside the delivery door.
What's the best package delivery system for apartments?
The best package delivery system for apartments is a package room because it ensures successful deliveries while maximizing security and convenience.
Here's why you should invest in a package room for your apartment building:
Keep residents happy and enjoy higher resident retention rates.
Staff have more time to focus on other tasks instead of spending hours on package management.
Package rooms prevent package theft while ensuring easy access for couriers, staff, and residents.
In contrast to other package delivery systems, package rooms are more affordable, more convenient, and more secure.
With package lockers, you face the problem of large or odd-shaped packages that don't fit in a compartment. In that case, couriers either leave packages at the front desk (which creates work for staff) or in the lobby (which leaves parcels susceptible to theft).
Package rooms are superior to third-party delivery services because they ensure faster deliveries and therefore happier residents. Plus, third parties may still leave packages in unsafe locations or need property access from staff.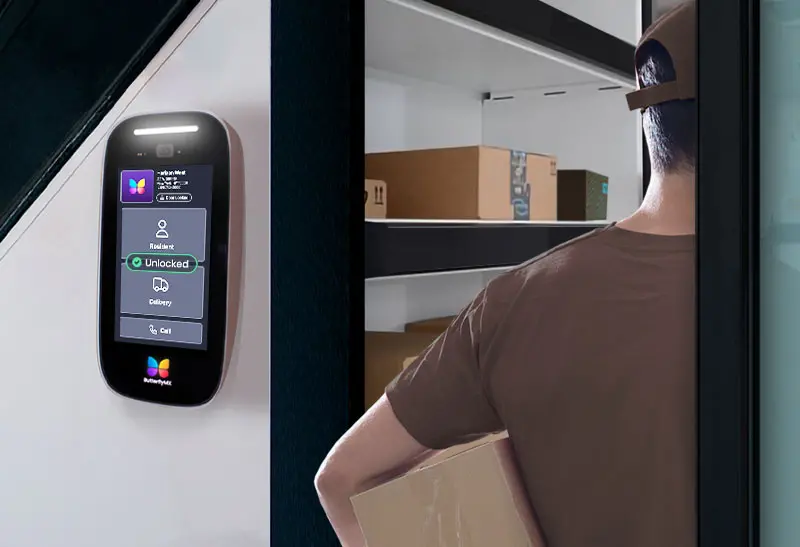 ButterflyMX package delivery system
If you're ready to invest in the best package delivery system, get the ButterflyMX package room. ButterflyMX saves time and money for property staff while adding convenience for residents.
With ButterflyMX, you get both an access control and package delivery system. With a video intercom at your property's entrance and the door to the package room, you'll ensure that couriers always have access to securely drop off parcels. So, your residents will never suffer missed deliveries or lost packages. Plus, residents get automatic notifications when they've received a delivery.
ButterflyMX makes deliveries simple with two key features:
Delivery PINs: Property managers can assign unique delivery PIN codes to each carrier so that couriers always have a way to access the building. And staff can change or revoke delivery PINs at any time.
Delivery passes: Residents can create and send delivery passes to any delivery provider for easy, secure, one-time access. To create a delivery pass, a resident simply generates a PIN code through the mobile app and pastes it in the delivery instructions upon check-out from an ecommerce provider.