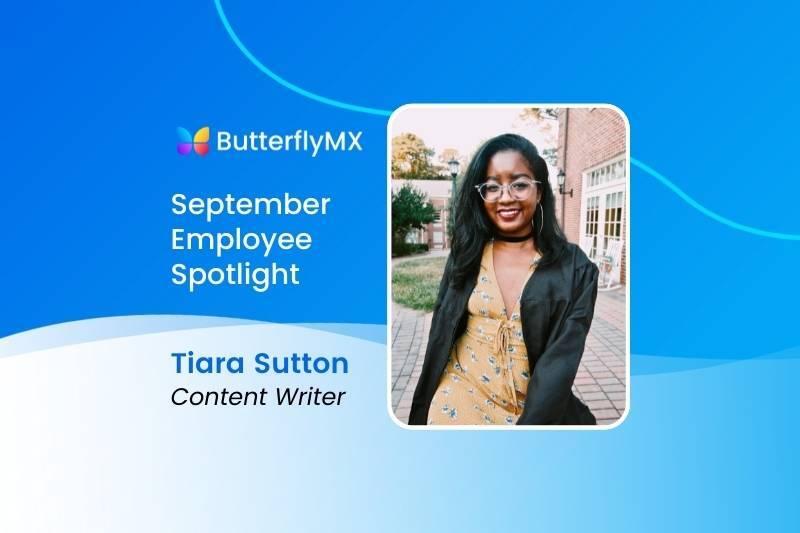 What separates ButterflyMX from other tech companies? Our wonderful employees!
Over the last eight years, our team has grown to over 200 motivated team members across the United States, Austria, Ukraine, Croatia, Spain, and beyond. Our team makes dynamic strides from anywhere because of our incredible work culture. In fact, supporting our workforce is one of the leading values of our company's mission.
So, each month we celebrate one of our hardworking employees with our employee spotlight series. This month, we introduce Tiara Sutton, a Content Writer who shares a few of her favorite things about working for ButterflyMX.
This employee spotlight covers:
Meet Tiara
Location: Atlanta, Georgia
Position: Content Writer
Start Date: June 24, 2022
In a few sentences, tell us about what you do here at ButterflyMX.
I write content that informs industry professionals about how proptech is changing and benefitting the real estate industry. I also write about emerging trends in the multifamily industry and give recommendations on the best smart technology to modernize property access.
What's your favorite part about working at ButterflyMX?
My favorite part about working at ButterflyMX is that there are plenty of opportunities to learn and grow every day. I also love collaborating with other members of the ButterflyMX team!
What's the most significant thing you've learned while working here?
One of the most important lessons I've learned while working here is that collaborating is a great way to develop new skills, and I love learning from everyone around me. I'm looking forward to continuing to learn and grow both individually and as a team.
What's your proudest accomplishment so far during your time at ButterflyMX?
Publishing my first post on the ButterflyMX blog was a great milestone, and I'm glad that the posts I've written are informing industry professionals about the benefits of proptech.
Tell us about your favorite day/event at ButterflyMX. What makes it so special/memorable?
Everyone was super helpful and kind when I started here. I've enjoyed getting to know everyone and look forward to building community with the team more in the future.
What has been the best part about working remotely? The most challenging?
The best part about working remotely is having the freedom and time to fully focus on tasks.
The most challenging part is that I haven't gotten an opportunity to meet this incredible team in person yet!
Learn more about ButterflyMX:
3 fun facts about Tiara
If you could live anywhere in the world, where would it be and why?
If I could live anywhere in the world, I would live in Brazil because of the beautiful beaches, food, and rich culture. I also love learning new languages, and I've always wanted to learn Portuguese.
Do you have a secret talent (*cough* superpower) you want people to know about?
I love astrology, and enjoy doing birth chart readings and coming up with fun horoscopes!
What is your favorite thing to do after work or on the weekends?
When I'm not working, I'm usually exploring local parks, seeing live music, and going on roadtrips.
Join the ButterflyMX family
Interested in learning more about ButterflyMX and joining our team? As a growing company, ButterflyMX has plenty of job opportunities in nearly every department. Check out our careers page to view our available positions.