PointCentral
PointCentral, an Alarm.com company, is an enterprise property automation platform that empowers property managers to operate more efficiently, protect their assets, and create positive resident experiences.

PointCentral creates vertical-focused smart building automation solutions for vacation rentals, rentals by owner, single-family homes, and multifamily properties. With PointCentral, property managers can easily control access, energy, and security while residents enjoy a smart living experience. 
To offer a frictionless "curb-to-couch" solution throughout the building for multifamily properties, PointCentral partnered with ButterflyMX. Together, PointCentral and ButterflyMX  enable simplified and secure property access for building staff, residents, guests, and vendors. The solution centers around smart keys, smartphone commands, and access codes — so that seamless access starts at the front entrance.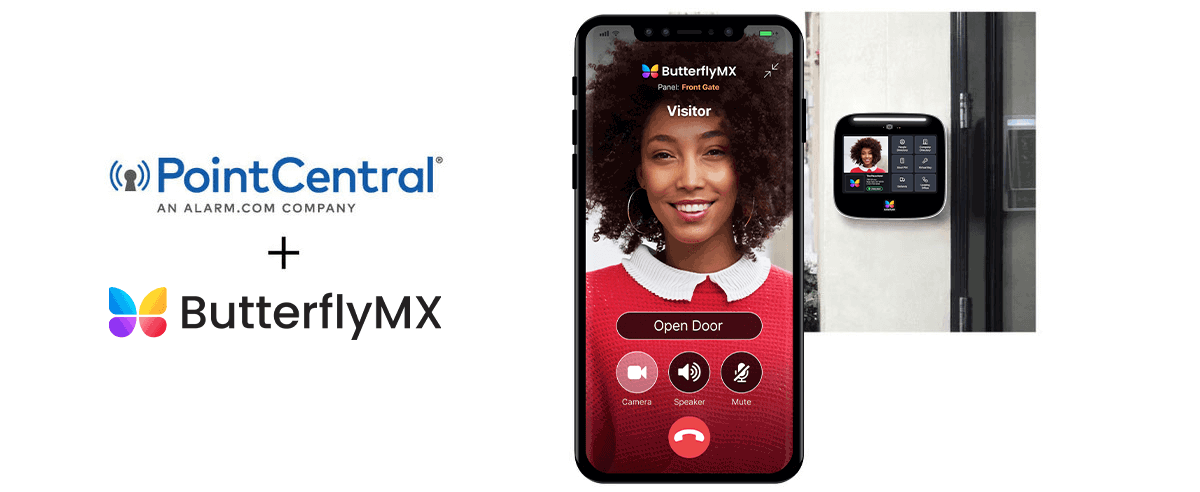 ButterflyMX + PointCentral
The integration between ButterflyMX and PointCentral brings the ButterflyMX functionality into the PointCentral app, allowing residents to manage their smart home from one place.
Now, residents can provide access for themselves, visitors, and deliveries from the same app they use to manage their smart home. By adding the functionality of ButterflyMX's smart video intercom, residents can see who is at the door before letting them in, both boosting resident satisfaction and helping keep the building secure.
Mobile App
PointCentral and ButterflyMX's partnership gives residents and property managers complete control on-the-go.
The PointCentral and ButterflyMX integration lets residents enjoy the best of smart home living by controlling lighting, thermostats, and access to their home and building for themselves or visitors from a single app.
With PointCentral's property management platform, building staff can control  every property from a single cloud-based dashboard. They  can also manage resident settings, enable and revoke access, and automate temperature settings for energy savings. And with more than 20 property management system integrations, managers can automate processes such as work orders and move-in & move-outs to boost operational efficiencies and delight residents.
ButterflyMX + PointCentral
Together, PointCentral and ButterflyMX offer a solution to boost resident satisfaction and improve NOI for multifamily developers and operators.
The benefits of using PointCentral and ButterflyMX in conjunction include increased rent, reduced resident churn, and shorter vacancy time. Residents can get started by adding their ButterflyMX account inside the PointCentral app.