Rent Manager
Ohio-based Rent Manager® is a leading Property Management Software with a powerful property management database, integrated accounting, contact management, work orders, marketing solutions, and more. 

Created in 1982, Rent Manager® was built to solve real-life problems and make the lives of property managers easier and less stressful. Its advanced software was designed to be self-contained, fully customizable, and an all-in-one solution for portfolios of any size. Available as a stand-alone or cloud-based product, Rent Manager is proven software for companies that manage all types of properties.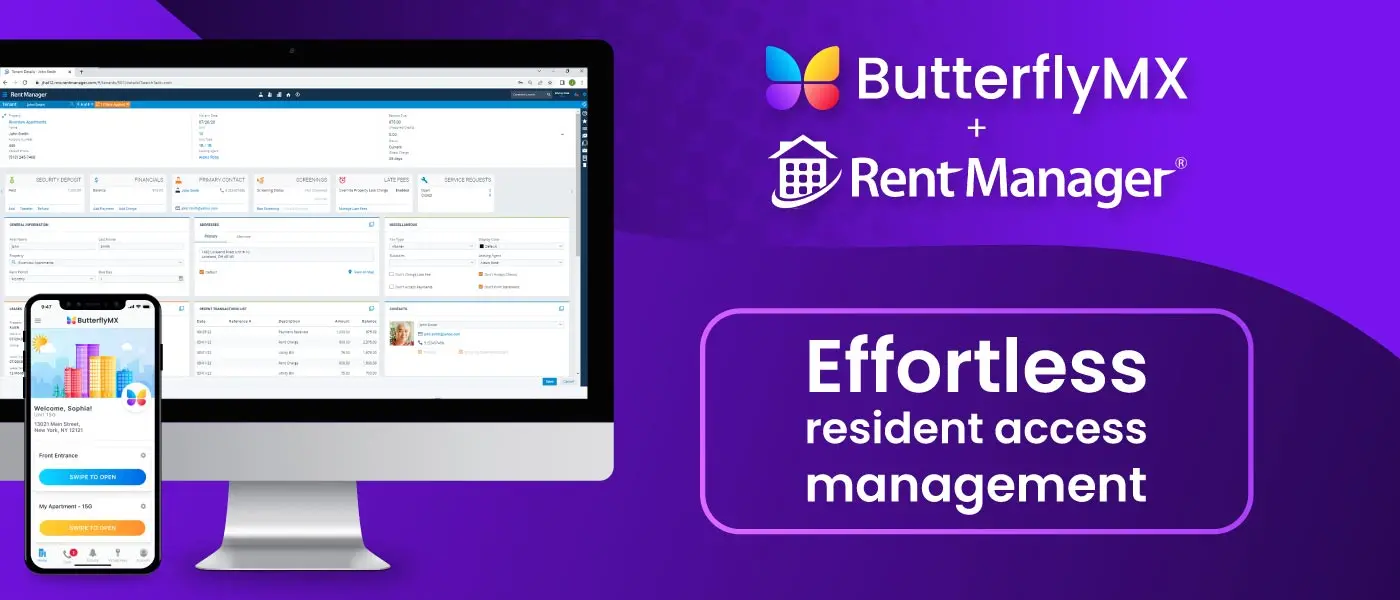 Connect ButterflyMX to Rent Manager so that you'll be able to spend more time managing your property and less time updating databases or handing out and collecting keys, keycards, and fobs.
Rent Manager offers a fully customizable solution allowing you to seamlessly integrate your resident data with other vendors, enhancing the power and agility of its robust platform with emerging technologies. When paired with ButterflyMX, all of the relevant data for your property is pulled into the ButterflyMX software. The data syncs daily to account for any added or removed residents, ensuring that your new residents are automatically granted property access permission on their move-in date, and that former residents' access permissions are automatically revoked upon move-out.
All-in-one-solution
Rent Manager is a complete property management software ideal for portfolios of every size.
In this robust solution, you'll find advanced property management and accounting software, work order management, website design & integration, and an open API to sync with any technology vendor. When you sync Rent Manager with ButterflyMX, you'll no longer have to spend time updating multiple databases, giving you back more time to spend delighting residents.
Rent Manager is continually updating its software to stay on top of the ever-changing world of property management. With their mobile app, rmAppsuite Pro, you can access key features from the comfort of your phone—manage service issues, perform inspections, add violations, enter meter readings, and more, all while on-the-go!
ButterflyMX + Rent Manager
Easily sync your database from Rent Manager to ButterflyMX
As a property manager at a building using Rent Manager, you'll be able to maintain a single database for resident information that will automatically push to the ButterflyMX system. When you add a resident to Rent Manager, they are automatically pushed to ButterflyMX. And when you remove a resident from Rent Manager, they are automatically removed from ButterflyMX.