The new funding will be used to provide the real estate industry with its first-ever unified property access solution.
In 2015, we revolutionized property access when we created the smart video intercom. Our goal was to make property access simple by enabling building staff, residents, and visitors to open entryway doors and gates from their smartphones. 
In the years since, our smart video intercom has been installed in more than 6,500 buildings and has opened over 100 million doors and gates. It has come to be loved by some of the most trusted names in real estate for the simple access experience that it provides at the entryway of their properties. In fact, our customers love it so much that they've been asking us to extend that access experience throughout their entire building.
Now, nearly seven years since launching the smart video intercom, we're expanding our product line to do just that. We're taking the simple, smartphone-powered access experience that ButterflyMX is known for and extending it to every door and gate throughout your property. And to help us achieve this, we're excited to announce that we've secured $50 million in Series D funding. 
Read on to learn more about our most recent round of funding and what it means for you.
Navigate this post:
Series D funding details
We closed a $50 million growth equity round led by JMI Equity, with participation from current investors including Volition Capital, Egis Capital, and RiverPark Ventures. JMI Equity has a long history of backing innovative software companies, and is known for helping turn growth businesses into industry leaders. We're ecstatic to have the firm's support as we continue our mission in making property access simple for all.
"ButterflyMX's rapid growth, impressive list of customers, and best-in-class property access solutions have cemented them as a leading company in the proptech industry. Our team of industry experts is excited to support ButterflyMX as they continue to create innovative products and services that transform the way people live, work, and play in buildings." 

— Suken Vakil, General Partner at JMI Equity
This round of Series D funding follows a $35 million Series C growth equity round led by Volition Capital that closed in 2020, bringing our total funding to $100 million.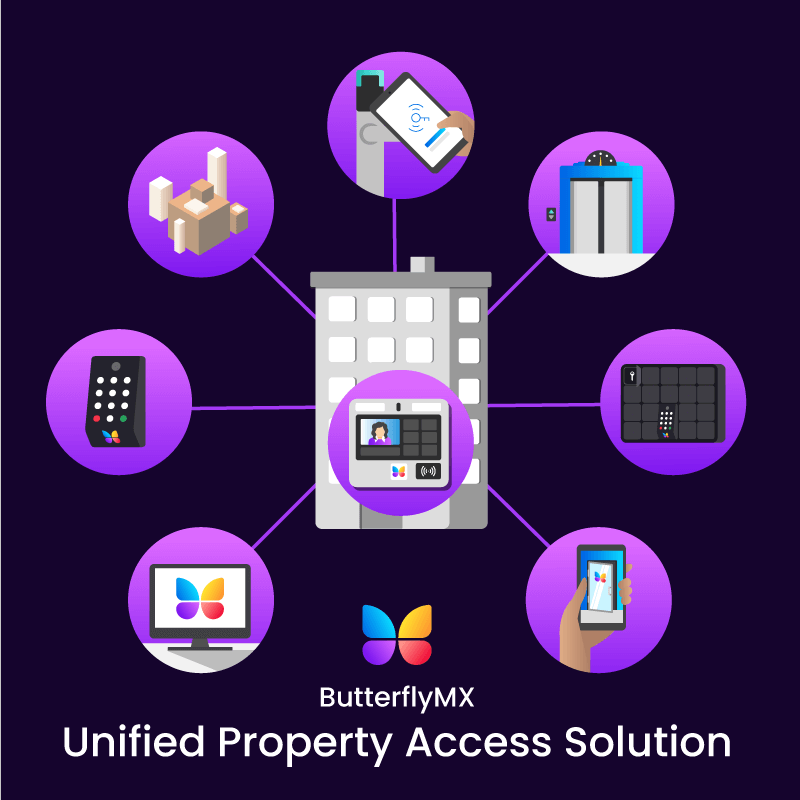 How we'll use this funding
While this new round of funding signifies our transition from startup to trusted and established provider, it's what we're doing with the money that truly excites us for the future.
With this funding, we're releasing the real estate industry's first-ever unified property access solution. Finally, property owners and managers will have a single platform to control access into and throughout their entire building. Consisting of sleek hardware and powerful software, our unified property access solution is easy to install, manage, and use.
Meet the products that power our unified property access solution:
Video intercom

to manage access into your property.

Keypad

to control access to amenity spaces, garages, and auxiliary doors.

Key locker

to enable access to apartment units for visitors, self-guided tours, and more.

Package room

to ensure seamless and safe deliveries.

Elevator controls

to manage access to each floor in your building.

Smart lock integrations

for access into apartment units with smart locks.
All of these devices are easily managed through our ButterflyMX OS, a user-friendly online platform where property administrators can adjust access permissions, view photos of every door entry, and integrate dozens of additional popular technology solutions such as property management systems, security cameras, and other access control devices. 

"ButterflyMX's continued growth, scale, and innovative new products have made us more excited than ever for its future. ButterflyMX revolutionized building entry with their smart video intercom and now it is doing it again with its unified access platform. We know that once real estate professionals can easily manage access throughout their entire building, they'll benefit from increased staff efficiency, improved operations, and better resident experiences."

— Roger Hurwitz, Managing Partner at Volition Capital
What this means for the real estate industry
Over the last decade, the ways we work, live, and play have changed dramatically. Today, with the boom in eCommerce, on-demand services, and remote work, secure and convenient access to our homes is essential to enabling our lifestyles. 
But current access providers only offer fragmented solutions that limit control to one door. As a result, property owners and managers must piece together disparate, unreliable systems to control access throughout their properties.
And that's why we developed the first unified property access solution. Our goal is to streamline your building operations by providing all the hardware and software you need to deliver a convenient property access experience.
Use our unified property access solution to:
Manage property-wide access from any smartphone, tablet, or computer.

Enhance security with live video and access photos.

Eliminate expensive building wiring, fobs, and unneeded hardware.
By simplifying your building's access experience with our unified system, you'll increase your staff's productivity, reduce your operating costs, and deliver an exceptional resident experience.
Join the property access revolution
At ButterflyMX, our goal has always been to provide our customers with the tools and services they need to truly simplify access at their properties. With that goal in mind, we're excited by the opportunity this new round of funding has given us.
"Since we first introduced the smart video intercom to the world in 2015, we've always focused on one thing: improving our customers' lives. And that focus is sharper than ever as we use this funding to expand our offerings and further improve the lives of property owners, managers, staff, residents, and visitors alike."

— Aaron Rudenstine, CEO at ButterflyMX
And while our new unified property access solution marks a milestone in real estate, it's just the beginning! We hope you'll join us on this journey as we continue revolutionizing property access.