Keeping your property safe and secure is stressful, but adding a building access control system makes it more manageable. Adding the right access control solution also adds convenience for residents and saves time for property staff.
If you're considering installing a new building access control system, it's essential to consider the unique needs of your property and assess all your options. This post will walk you through why a building access control system is necessary and how to select the best one.
This post covers:
How do you control access to buildings?
Security is necessary for all types of properties. From preventing theft at commercial locations to protecting apartment residents and their belongings, controlling access into your building is essential to maintaining security.
Access control is the act of selectively granting or restricting access into a building and the spaces within that building. For generations, it's been standard to control building access using traditional locks and keys. But these methods are inconvenient and inefficient for most multi-tenant buildings. So, many building owners and operators are turning to property technology for innovative ways to control access into their buildings.
Modern building access control solutions include:
Staff monitoring at entrances to review IDs or credentials
Passwords or PIN codes
Fingerprints or other biometric verification
Ticketing systems
Watch how ButterflyMX works:
What is a building access control system?
A building access control system is a way of controlling who comes into your building. And some of today's building access systems even allow you to manage access at doors into specific rooms at specific times.
Whether you're protecting residents at your multifamily property or guarding business assets, an access control system can help. Before deciding which building access system to install, there are some options to consider depending on your needs.
Common types of access control include:
Manual access control: With manual access control, a human monitors building entry. Examples of manual access control include the doorman at an apartment complex or a security guard checking IDs at the entrance to an office building.
Mechanical access control: Traditional locks are a form of mechanical control. This method is still popular. However, a key can be easily lost or stolen, which puts the security of your property at risk.
Electronic access systems: Some electronic access systems can be used offline as a standalone access point. Online systems are cloud-based so that you can manage permissions from anywhere.
Mechatronic access control: This is most common for high-security businesses. Mechatronic access combines electronic and mechanical building entry systems. Before using a key in the door, visitors first scan a key card or key fob.
Physical access systems: Building security access control systems can also be physical constructions like gates, turnstiles, and other barriers. Physical access systems use obstacles at the entrance to manage access.
Where to install a building access control system
Apartments: Let your residents manage access to your building by using an apartment access control system. Before opening the door, residents and staff can see who they're letting in for deliveries, personal visits, tours, and more.
Commercial buildings: Preventing crime is a top priority for all properties but especially retail and office locations. Installing an access control or badge entry system allows you to deter unauthorized visitors from entering your commercial property.
HOAs: Many HOAs and condo associations require controlled access within the building — like for amenity spaces — or HOA gate access control systems at gated entrances.
Gated communities: In a gated community, your residents value their privacy. Save money on staff by installing an access control system. Residents can let guests in by themselves from an app on their smartphone, which reduces labor costs for you.
Industrial facilities: From deliveries to on-site personnel, an access control system at your industrial property helps you manage traffic and customize access to restricted areas.
Self-storage facilities: Save on labor costs by installing a building access control system at your self-storage facility so customers can access their unit 24/7.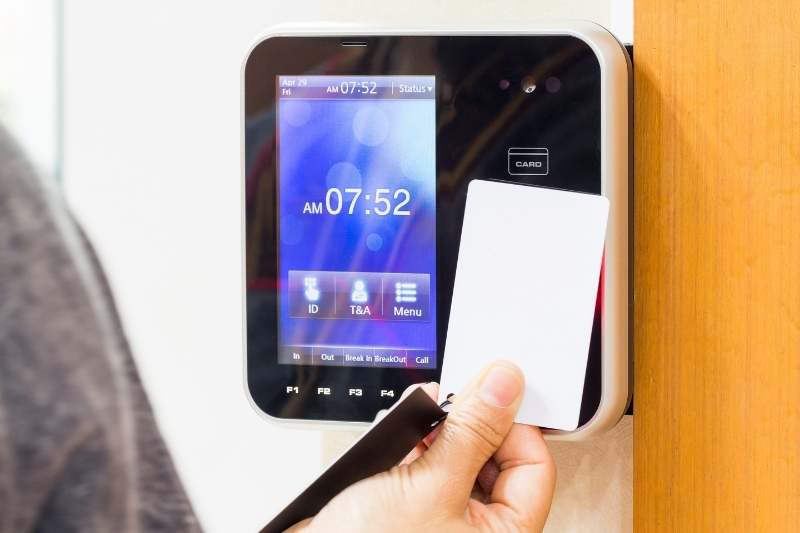 Top 5 reasons why you need a building access control system
You want your building to be secure for the safety of occupants, assets, and more. But is building access control necessary? In short, yes. Every property needs a form of access control.
Five reasons why you need a building access control system:
1. Prevent crimes
Installing an effective access control system can prevent crimes such as burglaries, package theft, and vandalism. You'll be able to keep entrances locked without hindering access for authorized tenants, staff, and visitors.
Additionally, many systems come with an alarm management platform to alert you of break-ins and monitor access from anywhere in the world.
To maximize security, consider an access control system with a camera, such as a video intercom. This way, tenants can see who's requesting building access before letting them in. Additionally, many video access control systems capture photos of every entry event to create an audit trail.
2. Reduce fire risk
Some access control systems have emergency protocols that automatically open all the doors when the sprinkler system has been triggered. Using one of these access control systems may allow first responders such as firefighters to quickly and easily access your entire building during an emergency.
3. Improve convenience
Without a modern access control system, building staff must spend hours cutting and replacing keys for occupants. A building access control system saves them time by replacing keys with more convenient credentials or even going completely keyless. Not only is this more convenient for staff, but for occupants as well.
Smartphone-based access control systems offer the most convenience, enabling tenants to unlock doors and control access from their phones. You should also seek out a system that offers features like virtual keys for visitors and delivery passes for couriers.
Watch how to open the door or gate with ButterflyMX:
4. Monitor traffic
With today's access control technology, it's easier than ever to keep track of who is coming and going in your building. Choose a system with an access management dashboard where administrators can assign access permissions and view an audit trail of everyone who enters the building.
5. Integrate with other property technology
To maximize convenience and enhance your building for residents and staff alike, choose an access control system that integrates with other proptech.
One of the most convenient integrations is between your access control system and your property management software. When you update information in your property management software, like Yardi or RentManager, it automatically updates the access control system's permissions. So, you and your staff save time on administrative tasks.
How to choose the best building access control system for your property
There are many ways to control access to your property, from traditional locks to security gates. But before deciding on an access control system for your building, consider the type of property you have and its needs.
For example, commercial properties, like self-storage facilities, can combine a security gate to control vehicles and mobile credentials to control access to storage units. Key fob entry systems for buildings are also a great way to manage access but require people to carry a fob. Building staff will also have to spend time programming fobs and replacing lost ones.
As you research building access control systems, look for the following features:
Cloud-based: There are many benefits to a cloud-based access control system. Not only can you manage access from anywhere, but your data is more protected as well.
Easy installation: You want a building access control system that saves your staff time — that applies to the installation process, too. Research the product to make sure it's quick and affordable to install.
Delivery management: If your tenants get many packages, make sure the solution you choose includes a package delivery system. This is most important for offices and multifamily properties where people have everything from furniture to lunch delivered.
Live video footage: For enhanced security, choose an access control system that allows you to see entrances in real-time. Video access lets you make sure only authorized people are entering the property.