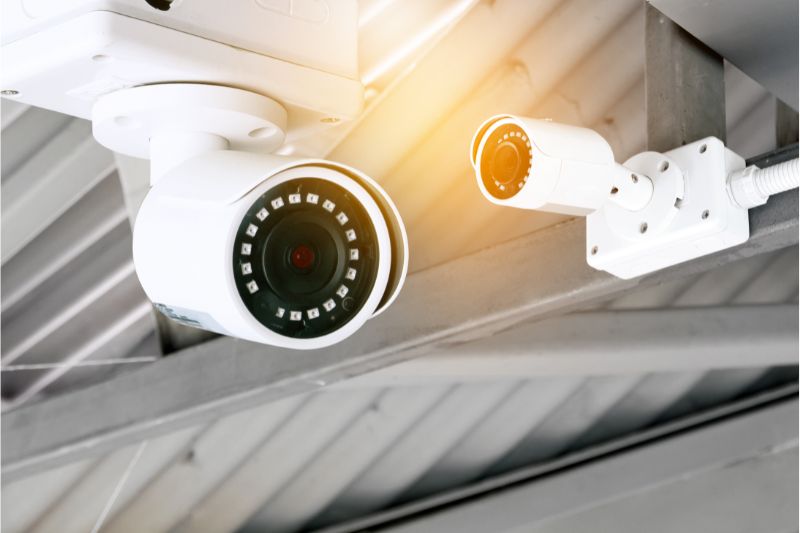 There's no better method of improving a property's security than by installing CCTV security cameras. However, CCTV installation can seem intimidating. Knowing which type of CCTV security camera will benefit your property is one problem, while navigating the installation process is another.
In this guide, we review what a CCTV security camera is and how it works. Next, we cover the three types of CCTVs. Finally, we walk you through the CCTV installation process.
This post covers:
What is a CCTV security camera?
A CCTV security camera, also known as closed-circuit television, is a video camera used to transmit a signal to a specific place. Unlike broadcast television, which openly transmits its video signals, CCTV footage is only sent to one specific location and typically produces recordings and images for surveillance purposes. Evidence from a CCTV security camera can be legally used in court. CCTV security cameras often serve as a deterrent to crime.
How do CCTV security cameras work?
A CCTV security camera is usually installed at a strategic viewpoint, often near the entrance to a building. Once in place, it monitors a wide area and records video footage.
The camera can send footage to either a physical storage device nearby or to the cloud to store data remotely. From there, the CCTV camera's owner can access and review recordings.
Most CCTV cameras can also be watched live while they record.
What are the components of a CCTV security camera?
A CCTV security camera consists of:
The camera
A storage device
Can I install CCTV on my own?
Yes, CCTV installation can be done independently. You don't need a technological background (though it helps). You only need to be capable of a bit of handiwork.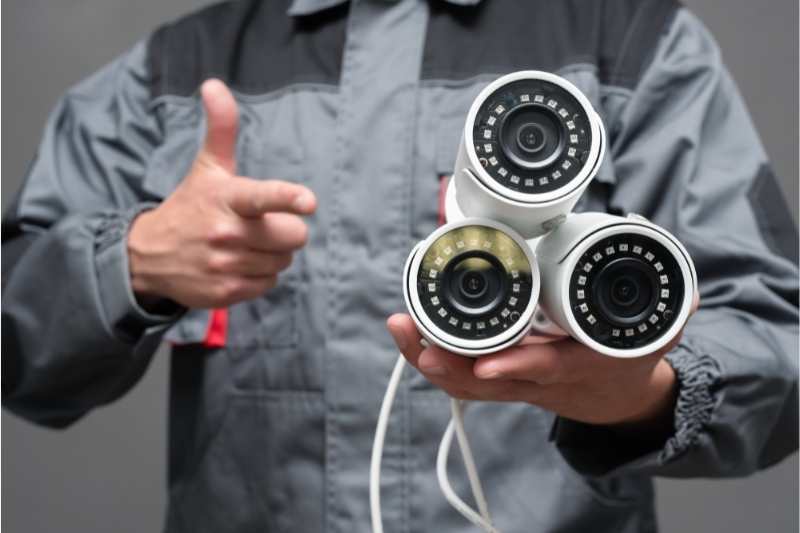 How hard is it to install a security camera system?
The difficulty of CCTV installation depends on a number of factors.
These include:
The building's infrastructure.
The type of CCTV security camera being installed.
Where the CCTV security camera is installed.
The particular abilities and educational background of the installer.
Pro tip: For best results, hire an installation professional. There are CCTV installation services that you can contact to help you or do it for you. These services are often associated with the hardware that you have purchased and can be found in the manual or through a company's website. Alternatively, you can look up local installers on the internet.
You can also choose to purchase an inexpensive ($15) CCTV installation course through a website such as Udemy.
How much is the installation of CCTV?
CCTV installation costs range between $600 and $1600 for a four-camera CCTV system. If you only want one camera, it will cost you between $100 and $400.
What are the 3 types of CCTV security cameras?
CCTV security cameras fall into three categories. CCTV installation requirements vary depending on the type of camera.
The three main types of CCTV systems are:
Digital video recording systems. These systems are wired and use analog cameras. They're usually the cheapest option and offer basic image quality.
Network video recording systems. These either connect wirelessly or via ethernet cables. They feature a high-resolution camera.
IP cameras. These cameras only require electricity and an internet connection. From there, they organize and store recordings on the internet. This information can then be accessed through an app or website.
Watch how ButterflyMX works:
What are the requirements for CCTV installation?
Now that you're familiar with the three types of CCTV security cameras, we can break down the requirements for installing a CCTV camera. Depending on the type of camera you choose, you may only need some of the following advice.
To cover everything you may need to know, we've included instructions for installing all three CCTV camera types.
CCTV installation requirements are:
1. Gather your gear
Organize everything you'll need before installing your device. Preparing in advance makes installation easier and faster.
Gear you'll likely need includes:
Ladder
Fish tape
Screwdriver
Screws
Power drill
Hammer
Some tools and equipment will likely come with your CCTV camera, but anything you own and are already familiar with could be of higher quality.
2. Choose the camera's location
Choosing the right angle for your camera is important. The most likely areas where crime or unwanted activity can occur are by the building's front, back, and side entrances.
Your goals here are to:
Minimize the camera's blind spots as much as possible.
Avoid interference from light sources.
Fix your camera up high by at least 10 feet or so (you did bring your ladder, right?). In addition to giving your camera a clearer vantage point, this will make it harder for anyone to mess with the device.
Be close to an active power source.
Choose the right mounting material (for example, you can't easily drill a screw into brick.)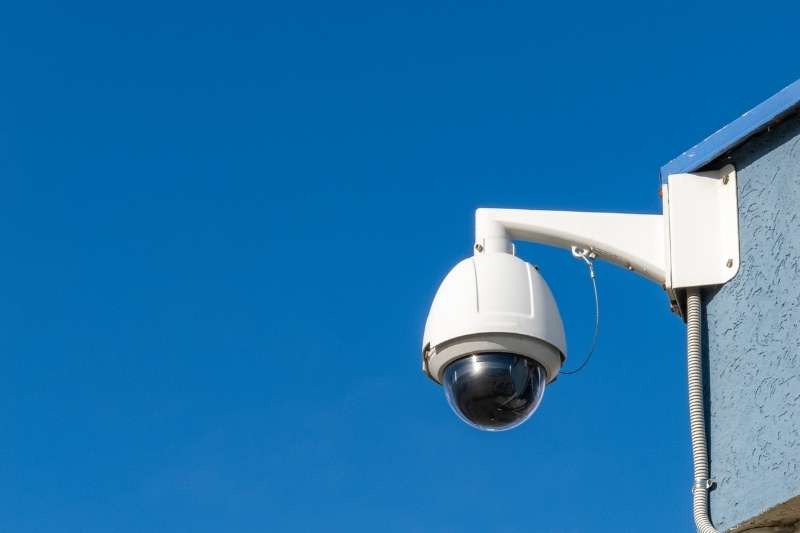 3. Attach the camera
Now comes the time to mount your camera to the wall. There will likely be screw holes on the device. So, all you have to do is drill holes into whichever surface you've placed your camera on (preferably wood) before fixing your camera in place. Make sure to utilize any mounting gear that comes with the camera.
This installation step heavily relies on:
Camera placement. Step 2 in this guide makes this step easy or difficult.
Physical camera body. We went over the types of CCTV cameras previously, but there are dozens of different CCTV body styles that you can also choose from. Some cameras are compact, while others look like a miniature R2-D2 from Star Wars. When choosing a camera, opt for one with a camera lens that you can easily attach to your building.
4. Run the wiring
You'll be making good use of your fish tape if your CCTV security camera features wiring. Your fish tape will hold the wiring in place and prevent it from bunching up or dangling away from the walls. In addition to looking visually appealing, this will prevent anybody from hurting themselves on the wiring.
You'll want to drill holes as needed to maneuver the wiring through walls. The goal for this step is to keep everything as tight and as organized together as possible until you can plug it into your power source and/or external storage device.
5. Operate the system
Now for the fun part:
Turn on your system and set up any passwords/personal preferences. From here, you should be able to monitor the access points of your building and access any features that your device has (such as zoom and freeze frame.)
Before packing up your installation gear, make sure to double-check your CCTV security camera's coverage zone is where you want it to be.
Takeaways
CCTV security cameras monitor a property by recording and capturing images.
You can install CCTV security cameras yourself.
The installation process will be easier depending on your experience and the type of building you are attempting to install them in.
The three types of CCTV cameras are digital video recording systems, network video recording systems, and IP cameras.
CCTV installation will require you to gather gear, choose a location for your camera, securely attach your camera, safely run your wiring, and then operate your system.