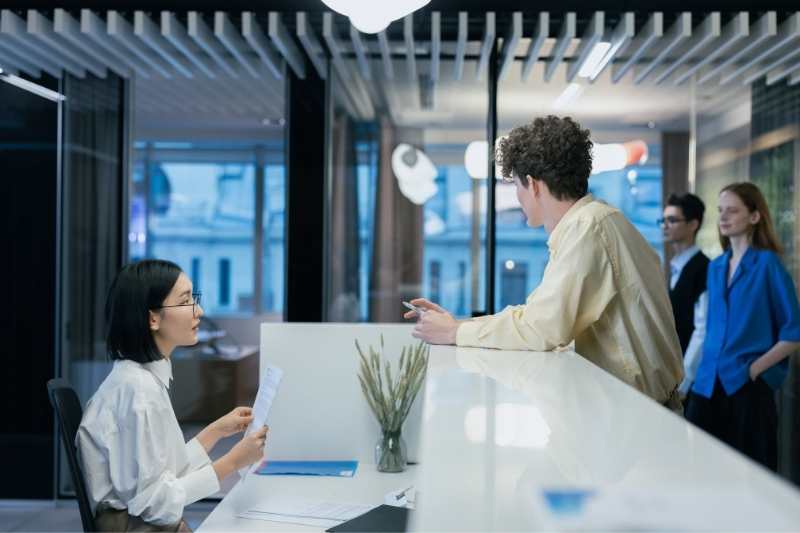 Your business needs a secure, accessible space to thrive. From installing a commercial intercom system to hiring security staff, the sky is the limit for physical security these days. But with so many different building security options available, you may feel overwhelmed developing a plan.
This guide will help you narrow down your security strategy into five simple steps so you can keep your business safe at all hours of the day.
To master building security you will need:
1. Property management
You can invest in the best security technology and still struggle with security management if you don't have the right staff on your side. Property management is about a lot more than just organizing leases and collecting rent. To master building security you'll need a property management strategy as well.
If your commercial building is already in use, talk to your existing property manager to learn more about their insights into day-to-day building security. However, if you're developing a new property then you'll need to anticipate security concerns in advance.
Plan a property management strategy for the following building security responsibilities:
Enforcing ID requirements: How will you make sure that, even on busy days, only authorized people are entering the building? Will you invest in IR sensors, cameras, or another robust access control model?
Addressing new security threats: As time passes, new building security issues will inevitably arise. So how will you conduct building audits and track these concerns?
Communication with tenants: Many building security solutions will require tenant participation. So, how will your property management communicate these details?
Security budget management: You want to make sure you're investing in the right security solutions for your building. Who will be responsible for monitoring expenses and the effectiveness of your investments?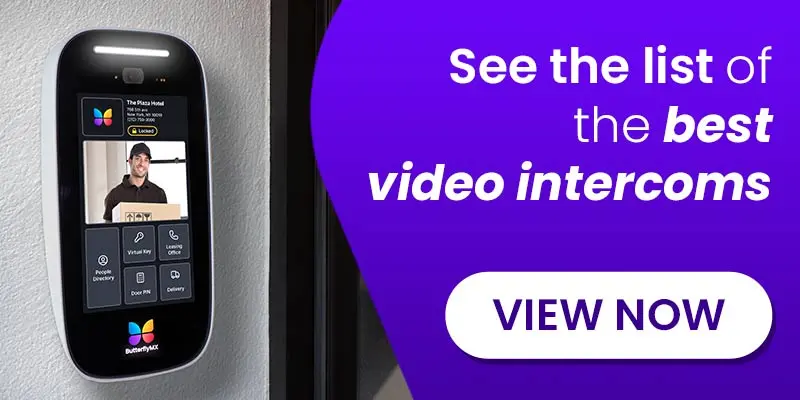 2. Access control
Access control is an essential part of any commercial building security system because it enables your staff to control who can enter the property and when. By adding or upgrading your access control system, your staff and tenants can easily enter the space using a credential assigned to them. This prevents unauthorized access while making it convenient for authorized people to come and go.
For building security, the most common types of commercial access control include:
Cloud-based: Any access control system can be cloud-based as long as it relies on an internet-connected device to remotely manage property access. These systems are wireless and can combine features of other access control systems such as video calling, PIN codes, and RFID key fobs.
Key fob and key card: Instead of using keys, tenants and staff are assigned a fob or a card to access the property. The user simply holds up their credentials to a reader at the entrance. If the key is recognized, then access is granted.
Mobile: Smartphones, tablets, and even devices like Apple Watches can be used as access credentials with a mobile access control system. These touchless systems allow tenants and staff to access the building using their personal devices instead of being assigned a key card or fob. Mobile-based access control systems are best for reducing wait times at parking garages.
Keypads: To use a keypad for access control, you simply assign a PIN code to each tenant and staff member that they can use to gain access. Keypads are a great solution for doors within the building such as individual units, supply closets, and more.
Video intercom: A commercial video intercom system is the best way to manage access at your building because it offers many building security solutions in one. For the most effective access control, invest in a cloud-based intercom system with a camera that allows tenants and staff to open the door from their smart devices.
Watch how ButterflyMX works:
3. Visitor management
One of the reasons why a video intercom is the best access control solution is because of the convenient and secure visitor management it offers. Chances are your building will welcome more than just staff and tenants. So, you need to prepare for guests who don't have assigned keys. While a commercial video intercom does it all, there are also several other ways to handle visitor management at your building.
Some of the solutions for visitor management include:
Hiring staff for on-site security services like processing guests
Assigning guest passes to tenants so guests can use card readers
Outsourcing to a building security company for help
Displaying a tenant directory at the entrance with contact information
Installing motion sensor alarms to prevent break-ins outside of visiting hours
All of these solutions could provide visitor management at your property. However, they're often more expensive and less secure than investing in an all-in-one access control system like a video intercom.
The best video intercoms on the market today make it easy for guests to request access. Tenants and staff can even answer video calls from their smartphones so they can grant access when they're not in the building.
4. Elevator control
One of the most common building security mistakes is forgetting to manage elevator access. You need to be prepared that some tenants will want to allow elevator access to visitors, but others will not. Managing these preferences should be part of your security management strategy. Building security services rarely include elevator controls, so do your research before committing to a provider.
To plan an elevator access control strategy, you'll need to do the following:
Consult your property staff and tenants: Ask your existing tenants how they feel about elevator controls at the building. Do they want guests to have elevator access? What steps are they willing to take to keep elevators secure?
List your elevator access control needs: Based on the feedback of your tenants and staff, determine how you'd like to configure your elevator controls. Do you want to allow free access to certain floors while restricting access to others? Are your tenants planning to personally escort visitors up from the lobby?
Research elevator control products: Once you've determined what you need your elevator controls to do, then it's time to narrow down your options. There are a variety of different products on the market today. The best solution for your building will be one that also integrates with your business intercom system.
Watch ButterflyMX elevator controls in action:
5. Delivery management
Offices, workplaces, and commercial buildings get more and more deliveries each day thanks to the popularity of e-commerce.
Unfortunately, many buildings aren't prepared for this, so deliveries aren't managed efficiently. Failed freight deliveries cost up to $1 billion a year so planning a delivery management strategy is vital for successful building security.
You want to make sure that delivery couriers can safely drop off packages, meals, and more without letting in unauthorized visitors. With a cloud-based video intercom, your tenants can grant access remotely, so they never miss another delivery. Additionally, package rooms are still one of the most popular amenities tenants want in their commercial buildings because they enable simple delivery management.
Takeaways
Security for buildings includes various components such as visitor management and elevator controls.
Your tenants may not all have the same security preferences. So make sure to consult them before making any significant investments.
Property management is just as important as investing in the right technology.
The best building security solution is a cloud-based video intercom system that includes access control for tenants, staff, visitors, and deliveries.