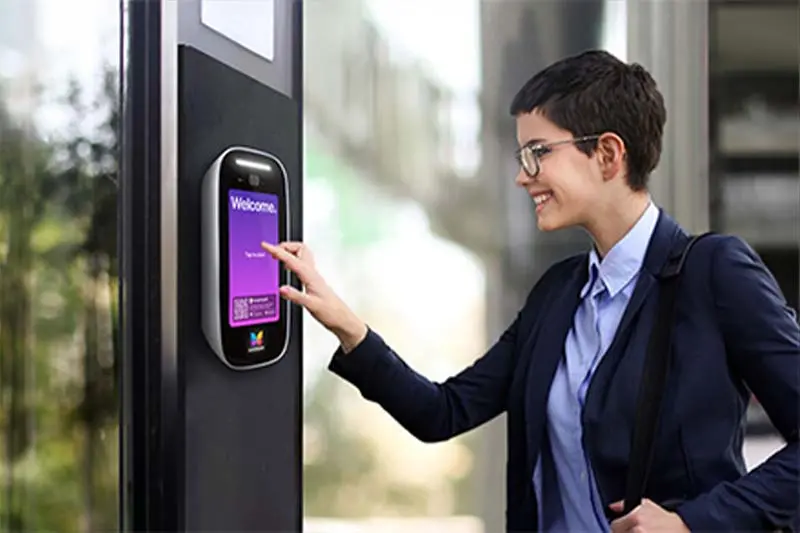 Whether you own a small business or manage a large commercial property, it's up to you to make sure your building is safe, efficient, and comfortable. One way you can do that is by choosing the best video security system for business.
But what exactly is a business security system, and how do you choose the right one for your building? In this post, we'll dive into the world of video security systems so you can protect not only your commercial building but also your tenants' assets.
This guide will cover:
What is a video security system for business?
Essentially, a video security system for business is a network of devices — including a video camera — that work together to keep your office, workplace, or other commercial property and assets safe. Building security is the ultimate goal of every video security system for business. However, the best solutions are also convenient and easy to use.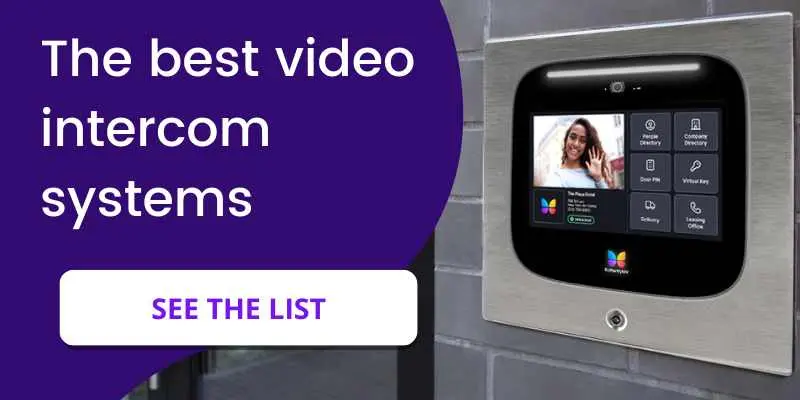 Some common components of a video security system include:
Locks for individual units and doors: Don't forget that even simple metal locks and keys count as part of your security system. As you design a security strategy for your business, consider upgrading to smart locks for easier management and higher security.
Visitor management to process guests: Your tenants aren't the only ones who will need to access the property. From business clients to prospective tenants, many people come and go who don't have their own security credentials. Visitor management solutions include hiring front desk staff or, better yet, investing in a business intercom system that guests can use to request access.
Security cameras for surveillance: Commercial security cameras are designed for business use and work for properties of all sizes. Ideally, your security cameras work 24/7 with live video so you can always keep track of what's going on at your property.
Access control for doors, garage gates, and elevators: Your tenants, staff, and visitors all need access to various parts of the property. The best way to manage access is with a multi-tenant intercom system that also doubles as a visitor management system. With the right solution, authorized people can easily move throughout the building. Choose an intercom that integrates with elevator controls to provide convenient yet secure access to each floor in the building.
Watch how ButterflyMX elevator controls work:
You may be noticing a pattern here.
You can solve multiple security issues with the same solution. If you're smart with your investment, the best video security system for business is also affordable and simple.
How do I choose a security camera for my business?
Every video security system must include security cameras. Whether you're shopping for small business security cameras or surveillance at a large industrial site, every business will need similar things.
Before you start shopping for security cameras, ask yourself the following questions:
Can I put security cameras in my business? In general, the law allows you to place security cameras in public areas around your business as long as employees are also notified. However, make sure to check surveillance legislation for your area first.
How many cameras will I need? Depending on the business, you may only need a camera at the front entrance or many throughout the property. If you only need one at the entrance, then choosing an access control solution with built-in video cameras is the most convenient and affordable option.
What security cameras do professionals use? If you need more video surveillance throughout the business, make sure to get the best quality cameras that you can afford. Some popular cameras for this purpose are Google Nest Cam, Ring Stick Up Cam, and Reolink Argus. These cameras are all wireless for easy installation and include high-definition video but don't cover all your business security needs by themselves.
How much can I budget for security cameras? Surveillance systems for businesses are often expensive. So, before you commit to a product, make sure to create a budget and consider it carefully.
Watch how ButterflyMX works:
What is the best video security system for business?
There are many commercial security systems on the market today so how do you choose the right one?
First of all, keep it simple.
The best video security system for business is versatile and covers everything from visitor management to access control. That's why we recommend investing in a commercial video intercom.
Although there are many intercom systems for business out there, none match the capability and convenience of ButterflyMX. Installed in over 8,500 properties with over 7,000 five-star ratings, ButterflyMX offers a state-of-the-art intercom system with a mobile-first experience.
With ButterflyMX, you get powerful building access control, visitor management, live video footage, and more all in one place. Not to mention, your ButterflyMX commercial intercom also integrates with other devices like smart locks and temperature controls throughout the building.