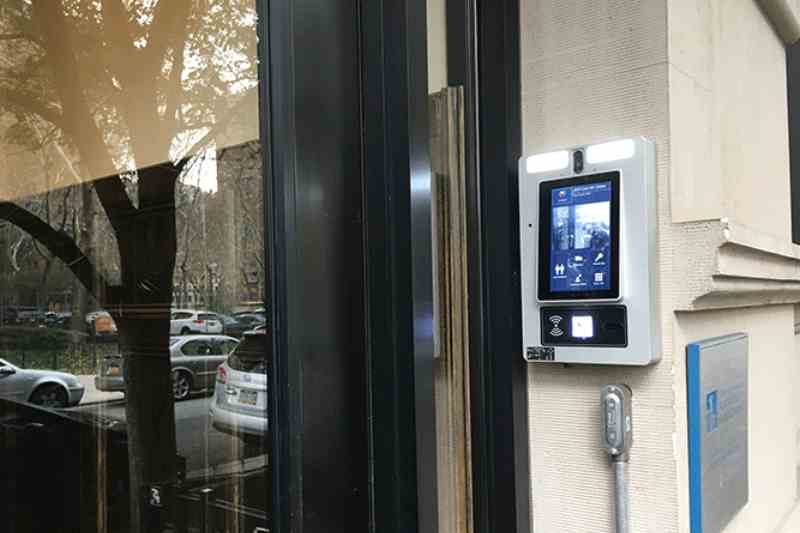 Every business needs a comprehensive business security system to monitor access at their commercial building. Commercial security systems help protect your building, staff, and clients from the risks associated with break-ins and theft. And they do this all while ensuring seamless access to your property for authorized tenants and employees.
In this guide, we cover what a commercial security system is and how it works. Then, we explore five popular commercial security systems. Finally, we help you discover the best commercial security system for your building.
In this post, we cover:
What's a commercial security system?
Commercial security systems consist of technologies that are designed to protect and provide real-time monitoring of businesses, offices, and commercial buildings. A security system is an important physical security measure that helps prevent theft, break-ins, and vandalism.
Commercial building security systems use a variety of technologies to keep people and assets safe, including
Alarm systems
Security cameras
Access control systems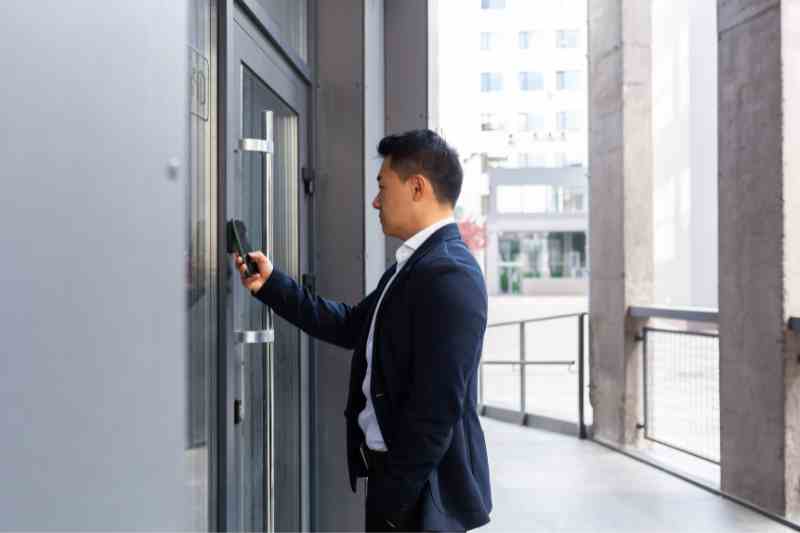 What are the most common types of security systems found on commercial properties?
There are several types of commercial security systems that can help protect your building from unauthorized entry.
​​Common business security systems include:
Door and window alarm systems. These business alarm systems use sensors to detect activity around entrances, exits, and windows. 
Video security system. Video security systems record live video footage that security officers and staff can watch in real-time or review later.
Access control system. An access control system is a must so that you can keep doors and gates locked for security without hindering access for authorized people. There are several types of popular business access control systems, from intercoms to key card readers.
Fire safety systems. Smoke sensors, carbon monoxide detectors, and fire detectors alert staff and clients of signs of fire.
Cybersecurity systems. Cybersecurity systems use a combination of hardware and software to protect your data from cyber threats.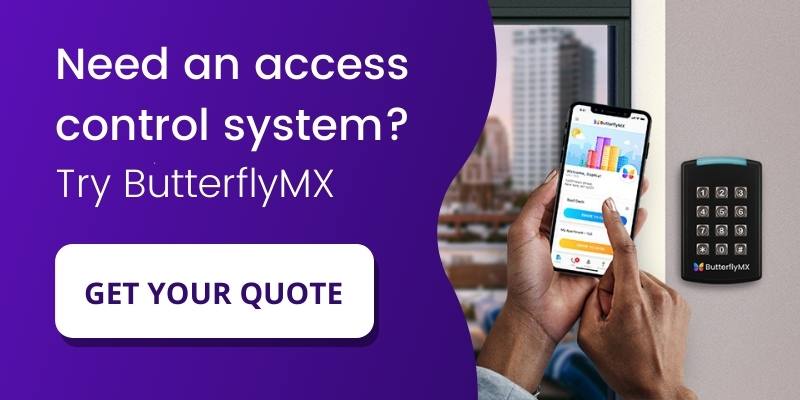 How do commercial security systems work?
Business security systems use standalone devices or a combination of security technologies to manage access, record video footage, and prevent crime at commercial buildings. Most systems rely on multiple hardware components that send data to one unified software platform. From this platform, building staff or management can review video footage, door entries, and other events. 
Every commercial security system operates differently depending on the devices and security measures involved in that particular system. Generally, security systems for businesses are highly customizable, meaning you can select which security measures are most important to your building.  
How much do commercial security systems cost?
The cost of commercial security systems varies depending on the type of system you choose.
However, the cost usually depends on three factors:
Hardware. The hardware for commercial security systems usually costs between $1,000-$2,500. However, this depends on the size of your building and the number of users. Typically, this includes hardware like security cameras and alarms.
Installation and activation. On average, business security system installation costs around $300-$500. But it can vary depending on the size of your building. We recommend you choose a certified installer through your security provider to complete the installation.
Business monitoring. Continuous 24/7 alarm and business monitoring usually costs around $40-$120. The cost increases if you opt for fire and burglary monitoring. Additionally, costs can increase even more depending on the number of sensors and cameras you have.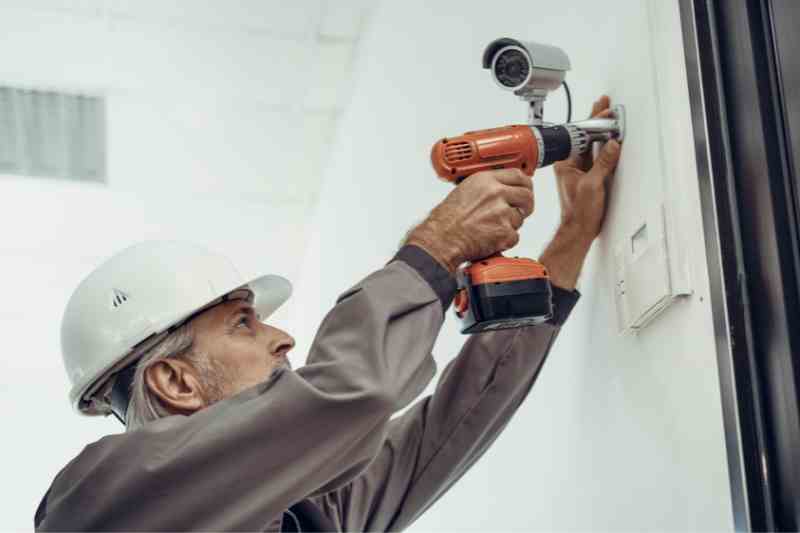 How much should you spend on security systems for small businesses?
Small businesses often lack the security measures that larger commercial businesses have. As a result, they're often more vulnerable to break-ins.
Small business security systems should offer a flexible solution without breaking the bank. So, small businesses need commercial building security systems that are effective as well as budget conscious.
Learn more about ButterflyMX:
5 commercial security system vendors to consider
Are you looking to replace or upgrade your commercial door entry security system? There are plenty of options on the market to consider. The best security systems are intuitive and easy to use, all while strengthening security at your commercial building.
Five popular commercial business security systems to consider are:
1. ADT
Google rating: 4.2/5
Pros:
User-friendly.
Offers professional installation by certified installers.
24/7 remote monitoring.
Has a mobile app.
Cons:
They may only offer a three-year contract, so there may not be much flexibility.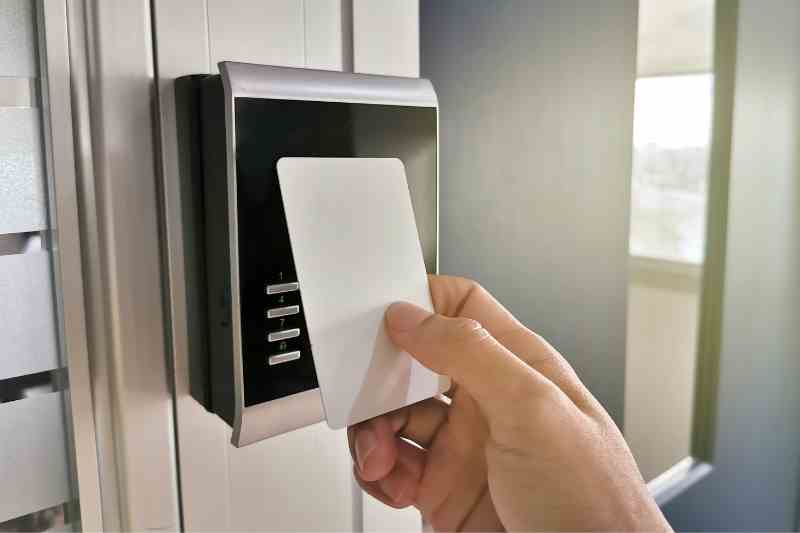 2. SimpliSafe
Google rating 4/5
Pros:
Offers affordable and customizable monitoring plans.
Choose between professional or DIY installation.
Easy to manage remotely through an app.
Integrated with Alexa and Google Assistant.
Cons:
May not be compatible with Apple HomeKit.
Cameras could malfunction when temperatures drop below 20°.
3. FrontPoint
Google rating: 4/5
Pros:
Easy DIY installation.
Has Alexa, Google Assistant, and Z-wave compatibility.
Comes with geofencing to create a virtual perimeter for your property.
ID theft protection.
Cons:
FrontPoint may not offer self-monitoring.
4. Vivint
Google rating 4/5
Pros:
Offers professional installation.
Has smart home connectivity with Google Assistant and Alexa integrations.
Professional monitoring services are offered.
Cons:
The 60-month contract may not be flexible.
Vivint may not offer self-monitoring.
You may have to pay a $129 moving fee if you move and the system needs to be reinstalled.
5. Honeywell
Google rating: 3.5/5
Pros:
Integrates well with Alexa.
Easy DIY installation.
Offers indoor and outdoor cameras.
Cons:
May not offer professional monitoring.
Might not offer many sensors, which could minimize security coverage.
Video storage plans may be pricey, especially for small businesses.
The best commercial security system
The best commercial security system starts with an access control solution. And ButterflyMX offers the ideal commercial access control system for commercial buildings and offices by allowing administrators to manage access permissions and review door entry events remotely.
ButterflyMX offers a robust suite of access control technologies that improve security, including:
Commercial video intercom: Tenants, employees, and building staff can see who's requesting access before letting anyone in.
Key card readers: Ensure easy access for tenants and employees while keeping access points locked.
Keypads: An alternative to a key card system, a keypad provides equally secure access control without requiring users to carry around a card or fob.
Vehicle reader: If your commercial property needs to control access at a vehicle entrance, you can use our vehicle reader and simple windshield tags.
And the best part? ButterflyMX is a completely cloud-based system, which means ownership, management, or building staff can easily manage the system and control access permissions from anywhere.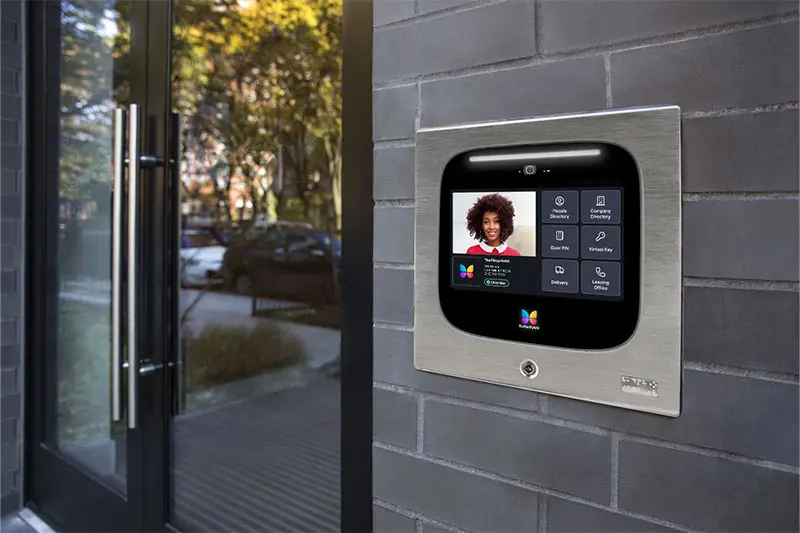 Takeaways
Commercial building security systems are designed to boost security and protect your building, staff, and visitors.
Business camera security systems like video intercoms are a great way to monitor access at your building and prevent unauthorized entry.
The best commercial security systems focus on comprehensive access control and enable remote system management.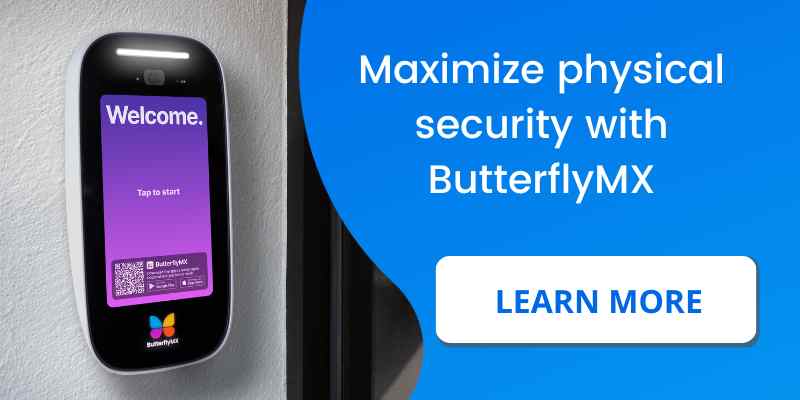 Disclaimer: ButterflyMX provides these blog posts to help our customers and potential customers make the right business decisions for them. Our blog posts are based on the information we have available to us at the time of writing.