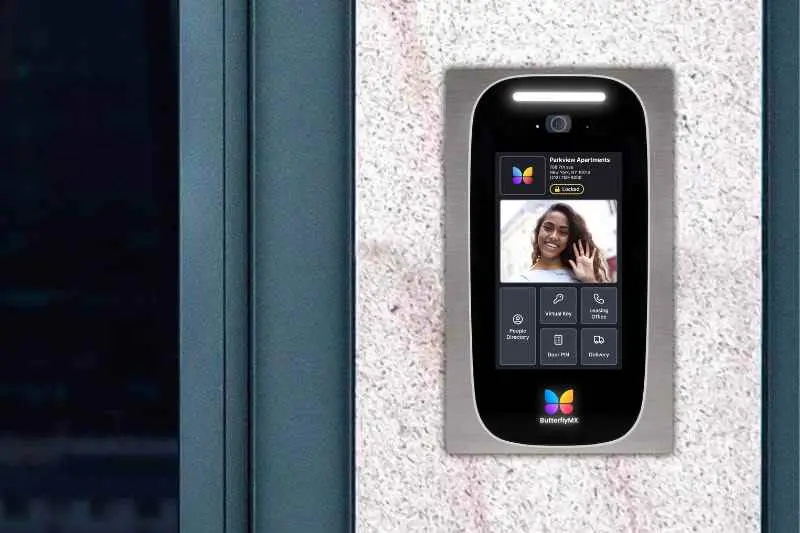 If you develop, own, or manage commercial properties, you know the importance of a commercial intercom system for your buildings. But did you know you can improve security and add convenience for staff and tenants by installing a commercial video intercom system?
Imagine you're visiting a vendor's office for a meeting. You arrive at the front door and… you can't get in. You're forced to fumble on your phone, searching for an email with the person's contact information so you can call them.
Now imagine you're an employee working in your office. Your building has a basic telephone entry system. A call comes through — it's someone at the front door to see you, but you weren't expecting anyone. To avoid letting in a stranger, you have to hike downstairs to see who's at the door.
We can all agree on how frustrating these situations are. But there's a simple solution to these problems: a commercial video intercom system. So if you're on the fence about an intercom system with a camera, read on to learn more about video intercoms, how they work in commercial buildings, and why they're the best building access systems.
In this post, we cover:
What is a commercial video intercom system?
A commercial video intercom system is an entry system designed for commercial buildings that transmits both video and audio, allowing tenants and visitors to communicate through a video call. Commercial intercom systems with a door release also empower tenants to open the door remotely for visitors.
Your commercial video intercom will either offer one-way or two-way video. An intercom with one-way video means that the tenant can see the visitor during a video call, but the visitor cannot see the tenant. With a two-way video intercom system, tenants and visitors can see each other.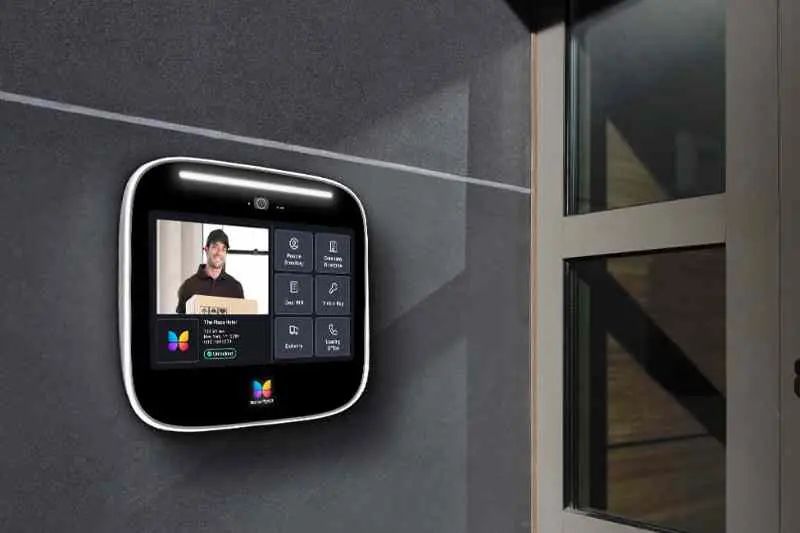 The components of a video intercom system for commercial buildings
We know that commercial door entry systems allow tenants to communicate with visitors and grant them access, but how are they constructed? There are two primary components.
The two components of a video intercom include:
Hardware
Commercial video intercoms have two hardware components:
A device installed at the building's entrance for visitors to call tenants (called the base station).
One or more devices installed within the building for tenants to answer calls and open the door or gate (known as substations).
Commercial intercoms with one-way video only require a camera on the base station and a monitor to display video footage on each substation. An intercom with two-way video requires a camera and a monitor on both pieces of hardware.
Wiring
Commercial video intercoms can be wired or wireless. Wired video intercoms require wiring between the base station and each substation to transmit video and audio. In contrast, wireless commercial intercoms transmit signals digitally and don't require wiring.
That said, both wired and wireless video intercoms need three other connections: power, internet, and an electronic or magnetic lock. You'll need physical wiring to power the intercom and connect it to the door, but your internet connection can be wired (with an ethernet cable) or wireless (via WiFi or a cellular connection).
Using a commercial video intercom with smartphones
Some modern commercial video intercom systems take advantage of a device that most people already have in their pockets: the smartphone.
Instead of installing substation hardware in every suite throughout the building, you can empower tenants to use their smartphones as substations. This way, tenants and employees enjoy all the features and functionality of an in-unit device right from their smartphones.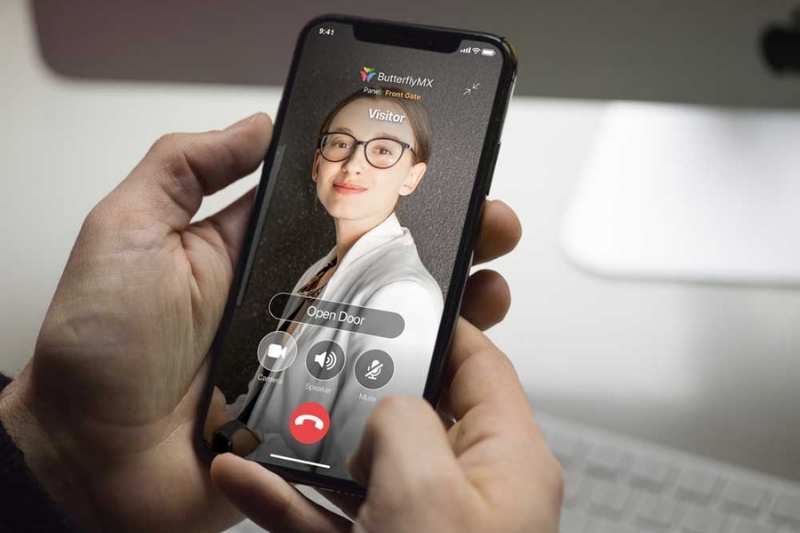 Here are some of the benefits of a smartphone-based commercial video intercom system:
Property owners and operators save money on hardware installation and maintenance costs.
Tenants and employees have more freedom, control, and flexibility by managing access and opening doors from anywhere.
Employees can grant access to guests without bothering front desk staff.
Tenants can come and go without a physical key — and get in the building even if they forget their keys.
Smartphones have a built-in camera to enable two-way video calling.
How does a commercial video intercom work?
Commercial video intercom systems work by allowing guests to video call a tenant they're visiting and request building access. Many modern systems also empower tenants to open the door for a guest remotely.
When a visitor arrives at the building, they use hardware outside the building to find the tenant in a directory and call them. Alternatively, they can call a front desk or another building administrator.
If your video intercom uses in-unit hardware as substations, the tenant must answer the visitor's video call through that device. Most systems notify tenants of a call with a buzzing or ringing sound. When the tenant answers the call, their substation monitor will display video footage of the visitor. If you install in-unit hardware with a camera, the visitor will also see the tenant when they answer the video call. During the call, the tenant can grant building access by pressing a button.
If your intercom system uses smartphones as substations, the tenant can answer the video call from a mobile app on their phone like they would answer a FaceTime or Skype call. If they want to grant the visitor access, they tap a button in the app to open the door.
Cost of video intercom system for business
Commercial video intercom systems cost anywhere from $1,000 to $6,000 for the base station hardware. Additionally, if you choose a video intercom system with in-unit hardware, expect to pay a couple of hundred dollars per device.
The cost of installing a video intercom in your commercial building depends on:
The complexity of the installation
The location where you're installing the base station
Whether the system is wired or wireless
Finally, if you purchase a cloud-based system, don't forget to factor in ongoing software or service fees.
Why you need a commercial video intercom system
Whether you're seeking an intercom for a new development or replacing the existing multi-tenant commercial intercom in your building, a video intercom is an ideal choice. Video capabilities add an extra layer of security and convenience, unmatched by traditional buzzer systems and telephone entry systems.
The benefits of a video intercom system for a commercial building include:
A security-enhancing audit trail. Multi-unit video intercoms can take a time- and date-stamped photo every time someone accesses the building, providing a handy audit trail that property staff can review any time.
Seeing who's at the door before letting them in. Video calling adds the benefit of seeing who's requesting access before opening the door for them.
Lower risk of vandalism: The best way to deter a would-be vandal is to make them feel like they're being watched. A video intercom's camera doubles as a great solution to reduce vandalism.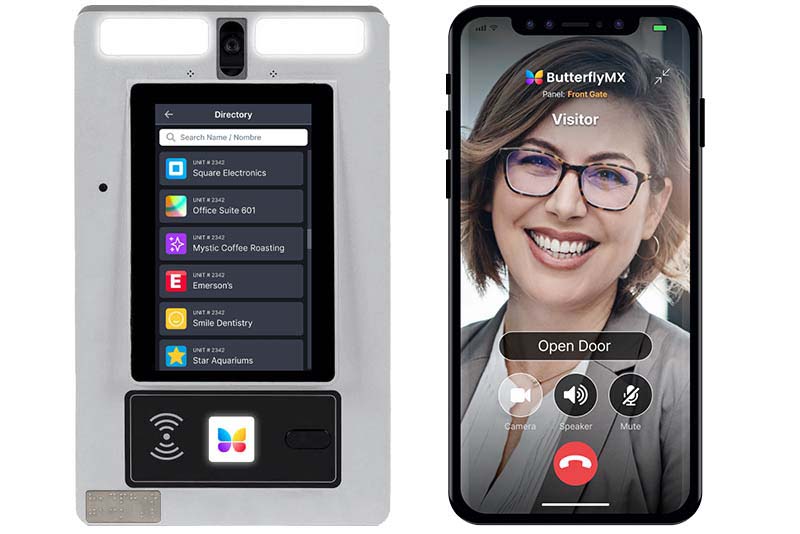 Replace old intercom systems with a commercial video intercom system
If you're replacing an old intercom with a video intercom system, you might be concerned about retrofitting the new system.
But have no fear — the right commercial video intercom is easy to install and retrofit without rewiring your building or undertaking other major construction projects.
When replacing old intercom systems, it's best to install a wireless video intercom without in-unit hardware. That way, you won't have to spend time rewiring your building or installing hardware in every suite. Installing a wireless, smartphone-based video intercom is as simple as connecting the base station to power, the internet, and the front door.
Best commercial video intercom system
Whether you're seeking a video intercom for a mixed-use building or an office intercom for a sprawling commercial complex, you need a system that's easy to install, intuitive to use, and convenient for tenants and building staff.
There are plenty of video intercom systems out there, but not all can accommodate commercial properties. Many video intercoms also require building wiring and in-unit hardware, which is expensive and difficult to install and maintain.
But one commercial video intercom system stands out among the rest: ButterflyMX.
ButterflyMX for commercial properties
ButterflyMX makes property access simple at all kinds of commercial properties, from offices to mixed-use buildings. Designed to meet the unique needs of commercial buildings, ButterflyMX adds security and convenience for developers, owners, managers, and tenants alike.
ButterflyMX's commercial video intercom system enables you to open and manage doors with a smartphone and remotely grant access to guests. Without building wiring and in-unit hardware, ButterflyMX is easy to install and retrofit. Plus, it integrates seamlessly with the leading property management systems, access control systems, keyless locks, and other proptech solutions.
With more than 7,000 five-star reviews, it's clear that ButterflyMX is the industry leader in commercial video intercoms.