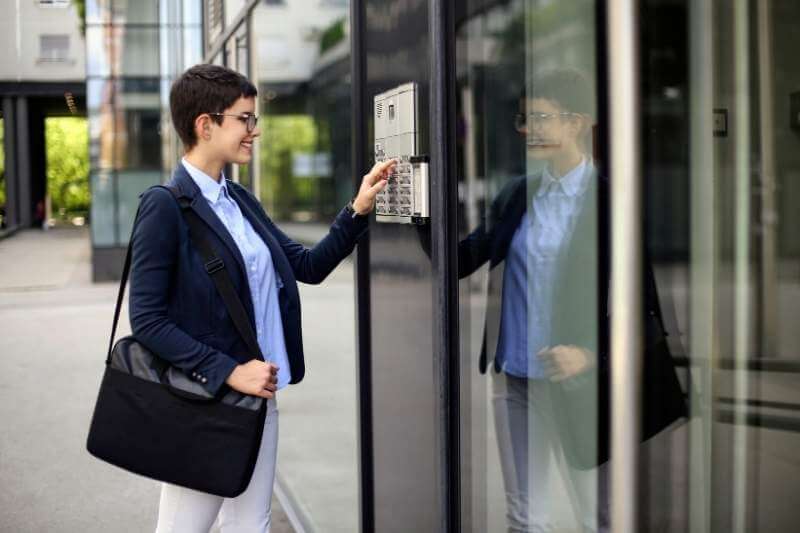 Whether you own a small business or manage a sprawling commercial office complex, you're tasked with making sure your building is safe, efficient, and comfortable. One way you can do that is by investing in an office intercom system for your business.
But what exactly is an office intercom system, and how do you choose the right one for your building? In this post, we'll dive into the world of intercoms for offices and how they improve tenant experience so you can sign long-term, top-dollar leases.

Read this post to learn:
What is an office intercom system?
An office intercom system is a device that enables communication between two people and — in some cases — manages property access. Office intercoms allow employees to talk to co-workers in other rooms or with visitors at the building's front door. Some intercom systems for offices allow tenants to open the front door remotely.
There are two types of office intercom systems: internal office intercoms and external office intercoms.
An internal office intercom is for communicating with people inside an office building, such as co-workers or employees. An external office intercom is for communicating with people outside the building, such as visitors and delivery people.
Components of intercom systems for offices
Office intercoms that let you talk to visitors and open the front door remotely require hardware and software.
Here are the four components of office intercom systems:
Intercom hardware: You'll need to install hardware at the front entrance of your office. Visitors and delivery carriers use this hardware to request access from tenants. You may also need hardware installed within the building for tenants to talk to visitors and open the door remotely. However, some intercoms for offices use tenants' smartphones instead of in-unit hardware.
Door release mechanism: Office intercoms require a door release mechanism to grant property access to visitors.
Electric or magnetic locks: You must connect the door release device to an electric strike or magnetic lock.
Software: You'll need software to manage the system, set access permissions, and update tenant information. Choose an office intercom that's cloud-based so that you can manage it from anywhere on any device.
Types of office intercom systems
There are two types of office intercom systems:
Internal office intercom system
If you need an intercom to communicate with employees inside your office — such as co-workers in another room — purchase an internal office intercom. These intercom systems have multiple 'substations,' or calling devices, that are installed throughout a building. Substations can be wall-mounted or placed on a desk or table.
Pro tip: Think of an internal office intercom system as a set of walkie-talkies. All you have to do is select which 'channel' to call. Then, speak into the intercom for the other person to hear and respond.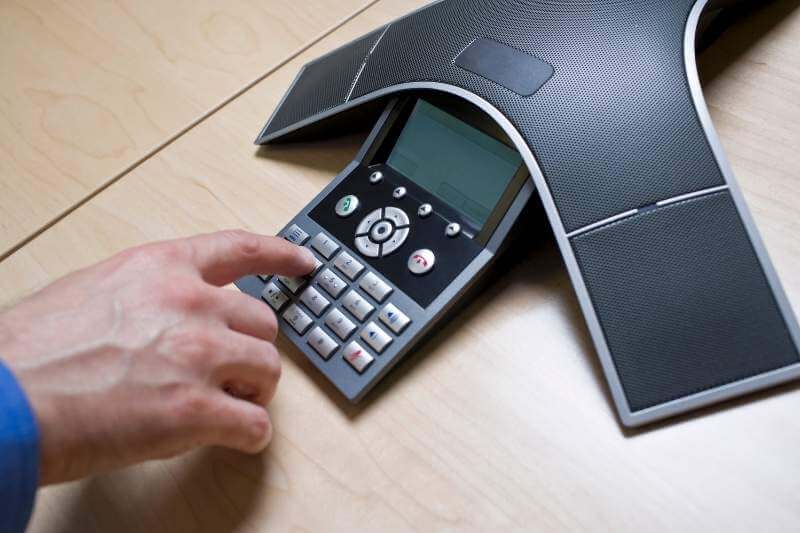 External office intercom system
If you're seeking an intercom that enables tenants to speak with visitors outside the building and open the door for them, you'll need an external office intercom.
Most office buildings need some sort of system to control visitor and guest access. These systems maintain security and enable building access for visitors and deliveries. If property access is important to you, select an external office intercom system with the following features.
Office intercoms for property access must have:
A base station with a directory so visitors can look up tenants in the office building.
Substations that tenants can use to answer calls from visitors. These substations can be hardware installed in the wall or mobile apps installed on their tablets or smartphones.
A door release mechanism so tenants can trigger an electric or magnetic lock to open the door for visitors.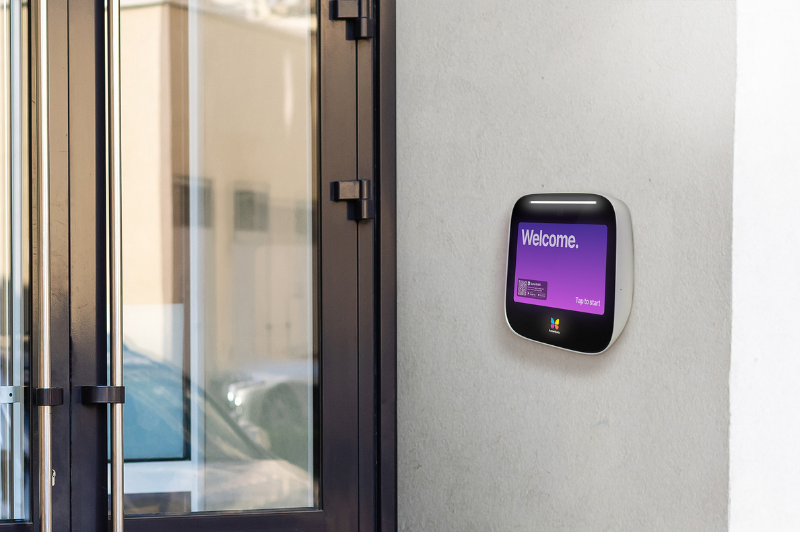 What to consider when buying an office intercom system for a business
If you're ready to invest in an intercom system for your business, you're probably wondering which one to purchase. Since every commercial building is different, it's important to consider your needs and goals before committing to one system.
Here are the top five factors to consider when purchasing an office intercom system:
1. Wiring requirements
Wiring is a crucial factor to consider because it affects the cost of your installation. It might also affect your tenants' and visitors' experience using the intercom system.
Choose an office intercom that:
Is wired directly to the internet
Does not require wiring between the base station and sub-station hardware
Installing an office intercom that requires wiring throughout the building is time-consuming and expensive. Plus, any future upgrades will require rewiring the entire building. That's why it's better to purchase a wireless intercom system for an office that relies on smartphone-based access instead of intercom hardware in every suite.
That said, your commercial wireless intercom system will ideally have a wired internet connection. A direct internet connection eliminates frustrating WiFi or cellular connectivity issues, which could prevent tenants and visitors from accessing your property.
2. Video capabilities
When purchasing an office intercom, consider a video intercom system. Video intercoms are safer and more convenient than audio-only systems because they let tenants see visitors before letting them in.
On top of that, most commercial video intercom systems capture photos or video footage every time someone enters the building for added security. Building staff and tenants can review this audit trail at any time.
3. Ease and cost of installation
Budget is understandably top of mind for any commercial property owner, manager, or developer. If you're investing in an office intercom, you want to choose a robust and reliable system that won't cost a fortune to install and maintain. Your best bet is to choose a wireless office intercom.
Wireless video intercoms let you enjoy useful features while cutting installation costs. Without running wiring throughout the building, you'll simplify the installation process and save money. And without installing sub-stations in every suite, you'll cut down on hardware costs and avoid the hassle of maintaining multiple devices.
4. Front desk vs. multi-tenant system
If you're buying an office intercom, you'll need to decide whether the intercom will place calls to a front desk, to each tenant in the building, or both. Even if your commercial building has a front desk or building staff in the lobby, it's better to invest in a multi-tenant office intercom system that can do both.
Not only is a multi-tenant system more convenient for tenants who can speak directly with visitors themselves, but it also saves time for front desk staff. When front desk staff doesn't have to assist every visitor or courier, they have more time for other important building maintenance tasks.
A multi-tenant office intercom is also more convenient for your tenants after business hours. For example: If the front desk team leaves and locks the building at 6 pm but some tenants work late, they can still order food for dinner. That's because with a multi-tenant office intercom at the front door, delivery people can place a call to the tenant directly to gain property access.
5. Facilitate deliveries
After-hours food orders aren't the only deliveries your commercial building receives. If you're purchasing an office intercom system for property access, you'll want one that can facilitate every delivery throughout the day.
Not only are your tenants ordering business supplies, but many employees are also having personal packages delivered to the office out of fear of package theft at home. Your building may already have a mailroom, but how do you accommodate the countless couriers coming and going each day?
A smart video intercom at the front entrance is key to maintaining building safety while ensuring deliveries. When couriers arrive at the building, all they have to do is enter their assigned delivery PIN or call a tenant directly.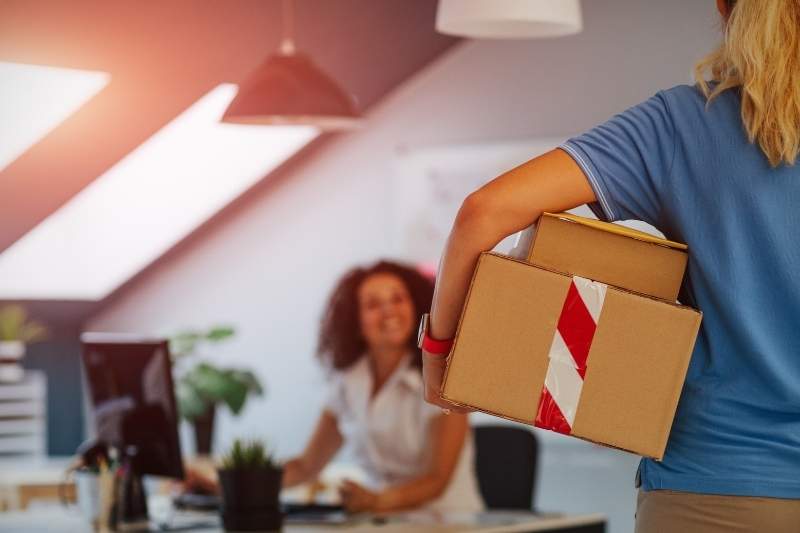 Why you need an office intercom system
From small business owners to managers of large commercial buildings with multiple tenants, everyone benefits from installing an office intercom system.
Whether you purchase an office intercom for internal communication or property access, you'll immediately appreciate the convenience. Streamlined communication and the ability to grant remote property access will make your and your tenants' lives easier. Overall, the biggest benefit of an office intercom is an enhanced tenant experience.
If you install an office intercom with a door release for your front entrance, you'll enjoy added benefits like:
Easier deliveries. Having an intercom at the entrance ensures that every tenant can receive deliveries — both traditional package deliveries and food delivery services.
Enhanced security. With an office intercom system at the front door, you'll secure your building from unauthorized visitors while ensuring that tenants and their authorized guests can access the building quickly.
Tenant retention: Tenants who work in a building that is both safe and efficient will never want to leave. An office intercom system can boost tenant retention at your building.
The best office intercom systems
Now that you know what to look for in an office intercom, it's time to choose one for your commercial building. But how do you know which product is best?
Best room-to-room intercoms for business
If you only need a solution to communicate with others inside the building, find a reliable room-to-room intercom. For ultimate convenience, choose a wireless system.
Consider the:
Wuloo Wireless Intercom System: Wuloo's intercom stations offer excellent sound quality and a 5280-foot range.
Hosmart Long-Range 7-Channel Security Wireless Intercom System: This Hosmart office intercom offers secure and crystal-clear communication with a half-mile range.
Samcom 20-Channel Intercom System: Since it offers up to 20 channels, this system is ideal for larger offices.
Best office intercom system for multi-tenant commercial buildings
If you want to enhance property access while improving the tenant experience, invest in an office amenity your tenants will love: a video intercom system.
ButterflyMX empowers commercial tenants to open and manage doors from their smartphones. As such, this office intercom system doesn't require cumbersome in-unit hardware or expensive wiring throughout the building.
Commercial tenants enjoy ButterflyMX because it facilitates seamless property access for themselves, their guests, and delivery couriers. The intercom features a sleek touchscreen and a mobile-first experience that elevates your tenants' experience. With over 6,000 five-star reviews, ButterflyMX proves itself as the top office intercom system on the market.