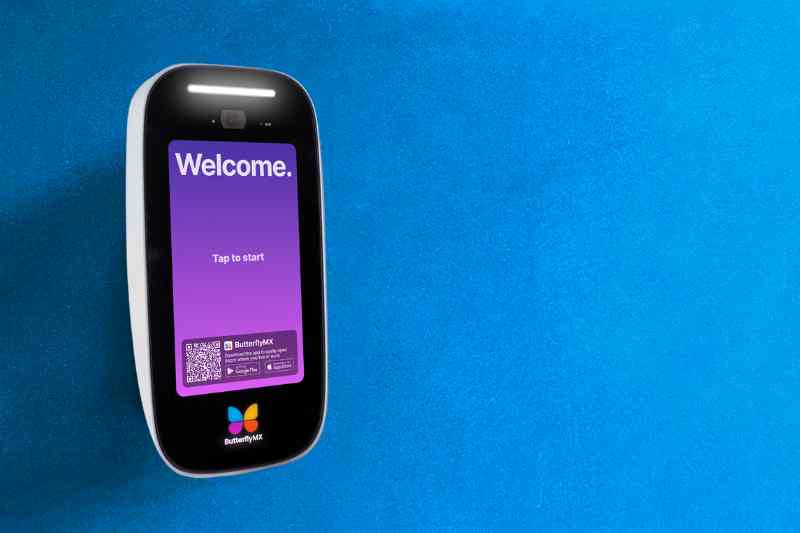 How do you control access at your business's front door? Chances are that you have an intercom system in your office or business property that's outdated and difficult to use. Having a robust commercial intercom system is the first step you can take to ensure your business's physical safety and security. But with so many options to choose from, it may be daunting to start looking for an intercom system for your business.
That's why we've created this guide to help you through the process. Read on to learn more about intercom systems for business, how they work, top features to seek out, and how to choose the best system.
Navigate this guide: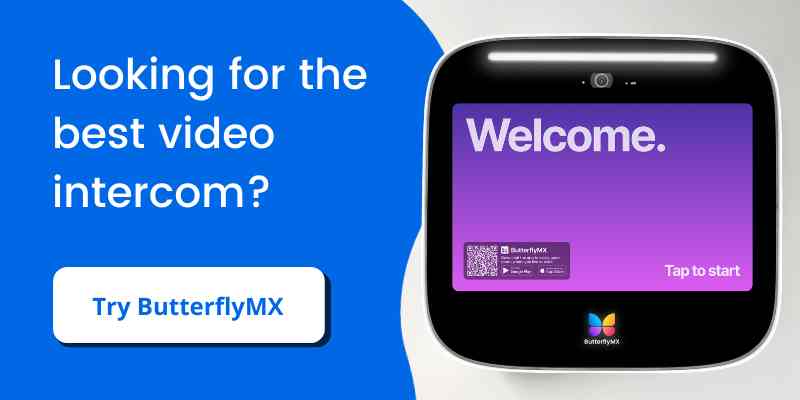 What's an intercom system for business?
An intercom system for business is a communication device that allows two people to speak with each other. Intercom systems have been a part of offices for decades.
The first systems – phone intercom systems for business – were solely for office tenants to communicate with each other from different rooms or suites. While some businesses still use those systems today, modern business intercom systems serve many more purposes. Many intercom systems for businesses also allow tenants to talk to visitors at the building's front door and grant them access remotely.
3 types of office and business intercom systems
The first step to choosing an intercom system for your business is to decide which type of system you need. The phrase "intercom system" has different meanings in different contexts, so do your homework and understand the different types of systems available.
The three most common types of intercom systems for businesses:
1. Office intercom for internal communication
Before the advent of smartphones and instant messaging apps, office colleagues communicated with each other within a building through a wired intercom system. Think back to your days in grade school when the school's receptionist would "page" you to report to the school principal's office via the overhead speaker. These are the same intercoms used inside commercial buildings for many years.
But these types of intercom systems only service the employees inside an office building. What about visitors to the building? How do they communicate with people inside? If you're looking for an intercom system that allows tenants and their employees to let guests into the building, then you're probably looking for a multi-tenant commercial intercom.
2. Building access system with door release
Another type of intercom is a building access system with door release. The door release component of the outdoor intercom system for business is crucial in allowing office tenants to unlock doors with the press of a button.
How commercial intercoms with door releases work:
Tenants enter their access credentials – as a key fob or key card, PIN code, or biometric identification.
If the information matches up with what's in the system, the access system signals the door release mechanism to unlock the door.
Visitors can also request access to a property. Once verified, the building staff or tenant can release the door for them.
3. Commercial video intercom systems
Today, office buildings more commonly use commercial video intercoms than internal overhead office intercoms. This is because, now, employees use email, texting, and messaging apps for internal communication. What's more, a video intercom system for business is equipped with a camera allowing tenants to video chat with visitors before granting them access to the building.
A commercial video intercom system may use in-unit hardware or tenants' smartphones as substations. In-unit hardware is either wired to the entrance intercom – known as the base station – or connect wirelessly to it through WiFi or Z-wave technology. Typically, every office suite has these in-unit devices installed, and tenants use them to grant visitors access.
However, today, tenants more commonly use their smartphones as substations. From a mobile app, residents can video chat with visitors and open the door for them remotely.
Overall, a commercial video intercom is the best type of video security system for businesses and offices.
See how ButterflyMX works in commercial buildings:
Components of an office intercom system for property access
There are three main components of an office intercom that you must know about when selecting a system. Regardless of which intercom you end up purchasing, these key components are crucial for ensuring you get the most out of the system.
Three main components of a commercial intercom to consider:
1. Wired vs. wireless hardware
A commercial intercom system is either wired or wireless. This refers to the connection between the base station (at the building's entrance) and substations (devices installed throughout the building). Hence, they can either be connected wirelessly or with wiring.
While traditional intercom systems require you to purchase and install additional in-unit substations, modern wireless intercom systems for business connect wirelessly with tenants' smartphones — saving you time and money. In addition, by using smartphones as the intercom's substations, tenants can video chat with visitors and open the gate or door for them no matter where they are.
When visitors need access to the property, they find tenant information on the directory in the wireless intercom system for offices. They then press the corresponding button for the tenant they're visiting, which notifies the tenant through their smartphone app of their guest's arrival.
2. Door release mechanism
Although intercoms don't come with locks or other door release mechanisms, they're still an essential part of the system. You'll need a door release to enable tenants to open the door remotely.
The intercom connects to either an electric or magnetic door lock, which releases when a tenant authorizes a guest to enter the building. Electric strike door locks work by receiving power when the door needs to be unlocked, while magnetic locks need electricity to keep the door locked.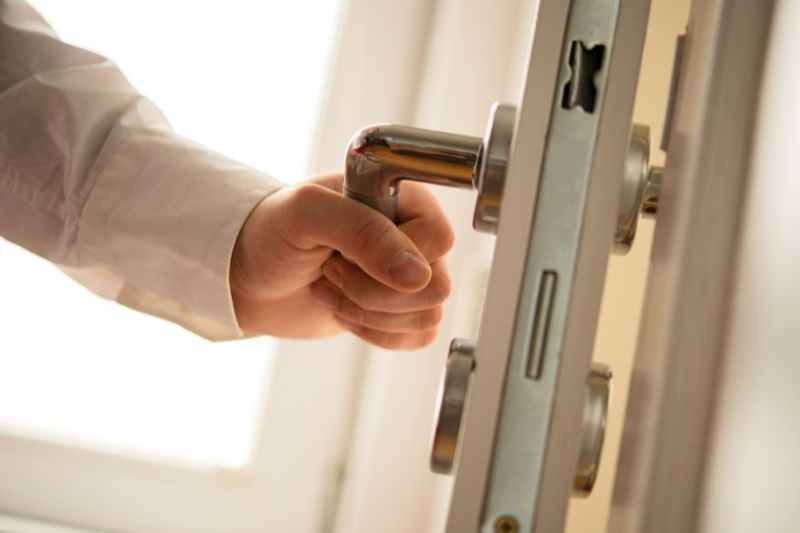 3. Intercom operating system
The operating system is the software component of the intercom. This software enables property staff to manage the tenant directory, grant or revoke building access permissions, and integrate with other proptech for building automation.
Pro-tip: Choose a commercial door entry system with a cloud-based operating system. That way, you can control it from anywhere in the world, rather than going on-site each time you need to update tenant information.
Why your business needs an intercom system
First and foremost, intercom systems give businesses and other commercial enterprises a way to ensure tenant safety and building security. But, there are many other benefits of having an intercom installed at the entrance of your commercial building. Today, many tenants seek high-tech building amenities that automate mundane tasks, like allowing guests access to offices.
Some of the benefits of having a commercial intercom system include:
1. Contactless sign-in and entry
Contactless entry has become more important than ever to buildings of all types. Gone are the days when tenants and visitors had to talk with front desk staff or sign themselves in on a piece of paper.
Furthermore, contactless entry ensures seamless access for tenants and their guests, which enhances the overall tenant experience. Tenants can come and go as they please without relying on a building staff member to let them in. Additionally, contactless entry empowers tenants to open the door for guests without having to leave their desks.
2. Visitor management
Today, commercial buildings oversee dozens of visitors each day, and the number will continue rising.
With an intercom system for business, tenants can easily manage visitor access 24/7 on the cloud-based operating system. Tenants can also send virtual keys to visitors for seamless access. And the intercom system keeps an audit trail of every door entry event, so you can rest assured that your building is protected.
3. Delivery management
As online shopping trends continue to rise, you'll see more and more packages being delivered to both urban and suburban office properties. These deliveries are essential to the operation of your tenants' businesses, so you need a way to prevent missed deliveries and stolen packages.
Additionally, tenants regularly order services and food delivery to their workplace, especially since on-demand services like Postmates and Grubhub have made it easier than ever before to do so.
With an intercom system for business, building staff can assign delivery PIN codes to each carrier for guaranteed access. Tenants can also send single-use delivery passes to couriers so they can leave packages or food inside the building.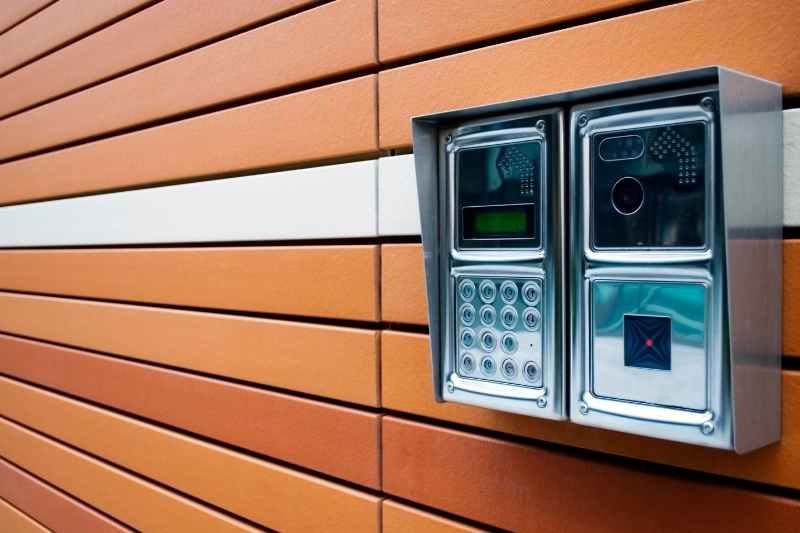 Top 4 features to look for in an intercom system for business
Not all business intercom systems were created equal. So, when choosing a solution for your building, there are a handful of features that you should seek out to ensure a flawless access experience.
Here are the top four commercial intercom system features to seek out:
1. Package management solution
You'll need a way to manage all the packages being delivered to your building. So, invest in an intercom that integrates with a package management solution.
Selecting a package management solution in your commercial property enables couriers to drop off packages securely without the involvement of building staff or tenants. All you need is a dedicated room or space for the package room or locker and an intercom system that grants access to the building. A delivery person enters their PIN at the intercom to get into the building. Then, they use the same PIN code to access the package room or locker.
Watch how ButterflyMX's package room works:
2. Built-in access control
Choose an intercom system that has built-in access control. Tenants have lists of their employees readily available, and programs such as Google Workspace seamlessly integrate with the intercom's operating system.
After syncing the company and tenant information with the intercom, every employee will automatically receive building access credentials. And since both systems operate on the cloud, the intercom immediately reflects any changes made to the employee database and updates access control settings accordingly. When a new employee starts, they receive access to the property via their smartphone. And if an employee resigns or is terminated, their access credentials are automatically revoked.
3. Mobile app feature
In the past, you had to install several substations throughout the building to use a door intercom system for business. But luckily, smartphones can now play the role of intercom substations. That's why you should look for a smartphone-enabled intercom that lets tenants video chat with visitors and open doors or gates from a mobile app.
Top benefits of a smartphone-based intercom for business:
Multiple ways to open doors and gates: The more access methods, the better. Examples of access methods include swiping or tapping a button in the app, using voice commands, and using 3D or haptic touch.
Door release logs: Most intercom apps come with door release logs. This way, you can review all door releases with time- and date-stamped photos from within the app.
Allow guests access from anywhere: Tenants should be able to let guests into the building even when they're away from the office. With mobile access control, tenants get notified when a visitor requests access, video call with them, and grant them access remotely from anywhere in the world.
4. Integrations with other property technologies (proptech)
Look for an intercom system for business that seamlessly integrates with other proptech, including property management software, smart locks, and more. By integrating all your building technologies, you'll simplify property management and make building access convenient for everyone.
What is the best intercom system for business?
Although there are many intercom systems for business out there, none match the capability, reliability, and convenience of ButterflyMX.
Installed in over 10,000 properties with over 20,000 five-star ratings, ButterflyMX offers a state-of-the-art intercom system with a mobile-first experience. Your tenants will love the system for its simplicity and user-friendliness, while your staff will appreciate how convenient it is for managing property access.
ButterflyMX was built with the modern office in mind. As such, it can adapt to any technological advances that the future brings. You can count on it to both simplify and safeguard property access at your commercial property.
Features of the ButterflyMX intercom include:
Bright LED screen that's easy to spot and intuitive — even to first-time visitors.
Camera with a 156º wide-angle view that takes in a majority of its surroundings for optimized security.
RFID present in the device that works with all RFID-enabled devices.
Easy installation that takes only an afternoon.
Integration with over 80 smart lock makes and models.
ButterflyMX is the only comprehensive access control solution on the market. So, you can provide access from the front door to every access point in your property with one seamless system.
Weatherproof and vandal-resistant.