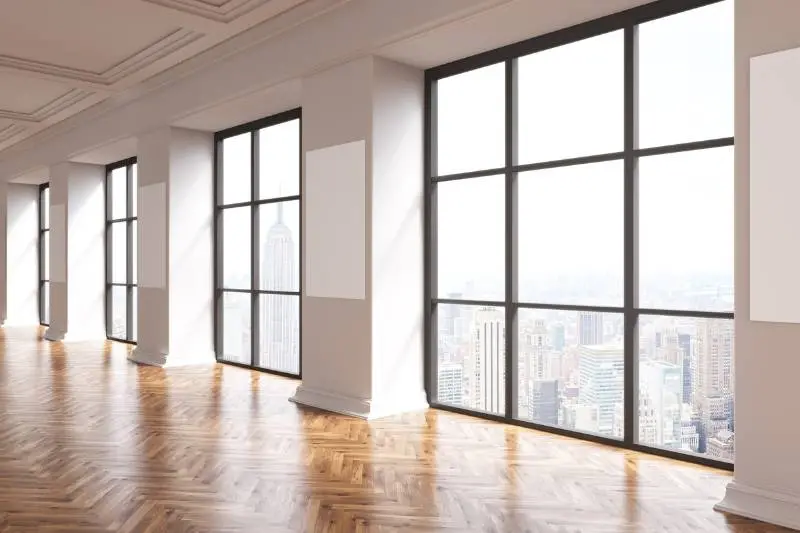 Disclaimer: This content is for informational purposes only, you should not construe any such information as legal, tax, investment, financial, or other advice. Nothing contained on our site constitutes a solicitation, recommendation, endorsement, or offer by ButterflyMX or any third-party service provider. ButterflyMX is not a financial adviser. You should always seek independent legal, financial, taxation, or other advice from a licensed professional.
Key takeaways
You can convert commercial to residential in NYC, but you must follow strict regulations.
The largest commercial-to-residential conversion in the United States is the 25 Water Street apartment project in New York City.
Office-to-apartment conversions are beneficial because they provide more housing, are potentially cost-effective, subject to tax breaks, have lower vacancy rates, and have a faster turnaround than new construction.
Disadvantages of converting commercial spaces include having similar returns to apartments, costly renovations, and strict regulations to maneuver.
To start converting a commercial property for residential use, you must find a suitable property, learn how rezoning works, speak with the community, and finally, research New York City conversion guidelines.
New York City's office market was impacted significantly by the COVID-19 pandemic and has yet to completely recover. So, many developers are looking at office-to-apartment conversions as a solution to fill the many empty commercial spaces.
But before converting commercial to residential in NYC, read on to know if it's possible. Additionally, you'll discover the pros and cons of converting commercial spaces and details regarding the country's biggest real estate conversion project. Most importantly, you'll learn the guidelines for office-to-apartment conversions in New York City.
This guide covers:
Can you convert a commercial property to a residential one in NYC?
Yes, commercial properties may be converted into residential spaces or "artist lofts" in specified areas of Manhattan, Brooklyn, and Queens.
Of course, you must adhere to the city's zoning law and building codes when converting from commercial use to residential. Since commercial and manufacturing properties are not designed to be lived in, these properties must be renovated to meet residential regulations.
As a result, commercial-to-residential conversions in NYC are challenging but possible.
Cost to convert office to residential in NYC
The cost to convert an office for residential use in NYC ranges from $100 to more than $500 per square foot.
However, costs will vary tremendously depending on the project.
Factors impacting the cost of an office-to-apartment conversion include:
Floor plan changes
Movement of plumbing and electrical systems
Rework of HVAC layout
Redesign of communal and amenity spaces
Age of the building
What is the largest commercial-to-residential conversion?
The largest commercial-to-residential conversion in the United States is 25 Water Street in New York City.
What was formerly the offices of Daily News and JP Morgan Chase, this 22-story office building in Manhattan's Financial District will soon be converted into approximately 1,300 high-rise apartments.
Newmark, the company to acquire the 1.1-million-square-foot office building, plans to gut the offices and add 10 stories. While residential plans have not been submitted yet, apartments are expected to be available in two years.
Pros and cons of commercial-to-residential conversions
In recent years, office-to-apartment conversions have increased greatly, meaning these types of projects are becoming more popular. While the pandemic was a major factor in pushing such conversions, why are they continuing to gain traction?
Well, there are many benefits associated with commercial-to-residential conversions in New York City. Of course, there are also drawbacks to keep in mind.
Find out what to expect going forward in real estate:
Pros of commercial-to-residential conversions
More housing. America has a serious housing shortage, especially in New York City. Fortunately, when you convert commercial to residential in NYC, you'll help combat the climbing housing crisis.
Potentially cost-effective. When it comes to older, mid-size commercial properties, conversions are cost-effective because they're already in need of updates. On the other hand, new and larger properties may not be worthwhile.
Tax breaks. Major cities, such as New York, are actively looking to create tax breaks for conversion projects. That way, developers are incentivized to convert commercial properties for residential use.
Lower vacancy rates. On average, apartments have fewer vacancies than commercial properties, such as office space.
Quick turnaround. Converting commercial properties for residential use in New York City is much faster than building from the ground up. As a result, you can rent out apartments — and start making money — faster.
Cons of commercial-to-residential conversions
Similar returns. Despite the different vacancy rates, the average office building and multifamily property have similar returns. Thus, spending the money to convert an office space may not be worth the investment.
Potentially costly. The cost to convert a commercial property varies drastically but can reach well over $500 per square foot. Of course, it relies heavily on the state of the property, the existing layout, and more. Nonetheless, you should closely analyze what type of work the building needs and the costs associated before tackling a conversion.
Strict regulations. While many cities are continuing to cut back on conversion regulations, there are still many to abide by. New York City conversion regulations and codes are difficult to navigate because of their complexities, but they are actively changing for the better.
How to convert commercial property into residential in NYC
If you're looking to convert commercial to residential in NYC, there are some unique challenges you'll need to overcome. Fortunately, there are many tips to help you advance your project toward success.
Here are some tips for a successful office-to-apartment conversion in NYC:
Find a suitable property
When converting a commercial property for residential use, you should always think of future residents. After all, they're the ones who will live there.
In other words, make sure the property is located in an area where people want to live. There should be entertainment, food, and other businesses or places of interest nearby to sustain residents' lifestyles. You can garner even more interest when located near major employers.
Otherwise, prospective residents won't find your apartment enticing despite the build quality and thoughtful amenities.
Know how rezoning works
When you're looking to convert a commercial property for residential use, it will likely require rezoning. In the event that your property's zoning is mixed-use, it's possible you won't have to take any additional steps.
On the other hand, you may need to follow the process of submitting a request to change the zone for that property. In this case, you must fully and clearly understand the rezoning process, as it will be long and complicated.
In New York City, rezoning goes through a process known as the Uniform Land Use Review Procedure (ULURP).
An overview of the NYC rezoning process is as follows:
Firstly, you must submit an application.
Then, The Department of City Planning (DCP) certifies the application has been completed.
Next, The Community Board reviews the application within 60 days by hosting a public hearing before writing their recommendations to DCP.
Then, the Borough President reviews the application within 30 days, in which they also give their recommendation to the DCP.
After that, the City Planning Commission (CPC) has 60 days to vote on the application. They may approve, approve with adjustments, or reject it.
Finally, The City Council reviews all the changes and maps approved by the CPC before holding a public hearing in which they'll approve, approve with modifications, or reject.
Important note: The mayor can veto the approval of plans within five days. However, the City Council gets the final say in the matter and can override the veto by a two-thirds majority vote within 10 days.
Speak with the community
During the rezoning process, your application will come under public scrutiny, meaning your neighbors could very well become your opposition. Because The Community Board and City Council hold public hearings, the community has a chance to speak their grievances about the proposal.
So, it's critical you start meeting and speaking with the community regarding your office-to-apartment conversion. Since the community can sway the decision of your rezoning application, you should meet with neighbors, educate them, and ultimately get them on your side.
Learn the city's conversion guidelines
New York City has an extensive list of guidelines developers must follow when converting commercial to residential. After complying with zoning regulations, you'll be required to renovate the property to residential standards.
Not to mention, residential and commercial building codes have varying regulations which you'll need to be knowledgeable of when converting a property. Fortunately, the city has created special regulations for certain types of conversions to address the discrepancies in building codes and zoning.
Despite these changes, you'll still need to know what New York City requires when converting a commercial building for residential use if you want your conversion to be successful.
NYC commercial-to-residential conversion guidelines
As mentioned above, for your commercial-to-residential conversion to be successful, you must adhere to strict NYC guidelines.
While the list below is not exhaustive, it does provide a brief overview of what types of guidelines to expect when converting a commercial property.
Here are some regulations to expect for commercial-to-residential conversions in NYC:
Zoning. As aforementioned, your property must meet a slew of zoning regulations. If not currently zoned in a residential area, you must apply to rezone the property, taking a lot of time, money, and effort for approval.
Lighting and HVAC. Adjusting lighting and HVAC systems will require a lot of work as each apartment unit requires adequate amounts of both. When partitioning interiors, ventilation must be rerouted to each unit to meet safety and health standards.
Plumbing. With the addition of new plumbing in each unit built, the entire plumbing system will need significant updates to meet high demand. These updates include backflow prevention, sprinkler head limits, boilers, and more.
Fire safety. To maintain a safe environment for residents, updates to the fire safety system are required, such as an increase in water sources, sprinkler head spacing, and smoke and carbon monoxide alarms.
Structure and foundation. For a building to be safe, one of the most important aspects includes the structure and foundation. And requirements vary when it comes to commercial and residential properties. Thus, developers should closely analyze the guidelines in this category, such as protection of public right-of-way, protection of adjoining or neighboring properties, and foundation depth.
Accessibility. It's essential for all buildings to be accessible to everyone. So, your residential conversion requires accessible bathrooms and kitchens, ramps and handrails, and doors and clearances wide enough for wheelchairs.