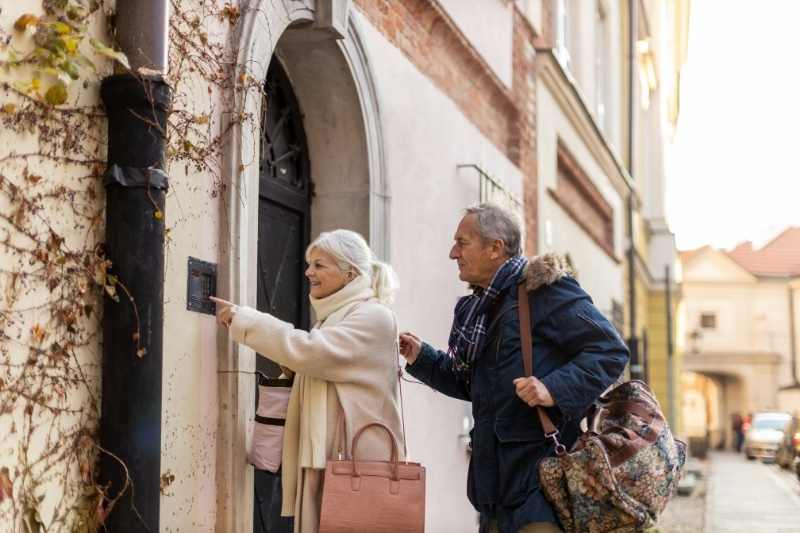 Key takeaways
Doorbell cameras with monitors are a good option if you're looking to increase security at your property. However, a smart video intercom system requires less hassle for more convenience.
By choosing a smart video intercom like ButterflyMX, you avoid in-unit hardware and excessive wiring. Additionally, you allow your residents to control property access from anywhere.
Rather than investing in a doorbell camera with monitor for every unit, consider a cloud-based intercom system.
Modern apartment residents want three things above all else: convenience, efficiency, and safety. To promise these at your property, you'll need to invest in a video intercom system. But is it possible to deliver all three demands in one device? That's exactly what a doorbell camera with monitor attempts.
In this post, we'll highlight some of the most popular doorbell camera systems. We'll also go over what exactly a doorbell camera with monitor is. Then, we'll identify the common limitations of video intercom doorbells. Lastly, we'll compare the doorbell camera with monitor system to a more streamlined, innovative entry system.
In this article, we cover:
Top 4 doorbell cameras with monitor systems
As more renters delay homeownership in favor of renting long-term, it's more important than ever to cater to their needs. And long-term renters prioritize security. A common way to offer enhanced building security is to install a doorbell camera with monitor.
Let's take a look at four of the top doorbell camera with monitor systems:
1. ButterflyMX
The ButterflyMX smart video intercom is a modern take on the doorbell camera with monitor system. This smart video intercom system empowers tenants to open their door with a simple tap on their smartphones. In addition to the convenience of opening doors with their phones, the ButterflyMX video intercom system allows tenants to remotely grant access to guests and service workers.
ButterflyMX can also integrate with your property management system. Furthermore, the system is cloud-based, so you don't have to worry about building wiring or in-unit hardware.
Features of ButterflyMX
Touchscreen interface is sleek and durable.
Powerful, highly-rated mobile app allows for smartphone-based door access and management.
Two-way video calling.
No wiring and no in-unit hardware.
Multiple access options, including delivery PINs, virtual keys, and door PINs for contactless entry.
Cloud-based property admin dashboard with tenant management tools.
Elevator controls.
Time- and date-stamped photos of every door entry available in the audit trail.
Integrations with property management systems, access control systems, keyless locks, and more.
Pros and cons of ButterflyMX
Pros:
Simple and affordable installation with no wiring and no in-unit hardware.
Smartphone-based access is more affordable than installing devices in every unit.
Time- and date-stamped audit trail provides an extra layer of security.
Elevator control integrations make for easy property access while ensuring guests can only access the floor of the unit they are visiting.
The cloud-based dashboard makes it easy to manage the tenant directory and integrate it with property management software.
Cons:
At this time, ButterflyMX doesn't cater to single-family homes.
Because the features are so robust, the system may be too much for small buildings with fewer than 10 units.
2. Echo Show 10 + Ring Video Doorbell 4
This dual-component video doorbell with monitor is among the most popular wireless doorbell camera intercom systems on the market. Your residents are likely already familiar with the brand. So, they may be willing to pay for installation and recurring service fees.
Pros:
The system is wireless, so installation is simple.
Brand familiarity means your residents will be comfortable with using Ring's technology.
The camera has 1280 x 800 pixel HD resolution and night vision.
Voice-activated camera with two-way talk feature.
A rechargeable battery means you won't need to provide or replace batteries.
If your resident has a smartphone, they can remotely connect to their Ring camera and access the two-way talk feature.
Cons:
One of the most expensive options. The Echo Show 10 starts at $249 per monitor and the Ring doorbell camera starts at $199 per device.
The system doesn't have a door release feature. Instead, your residents must be home to grant access.
You must buy and install both components in order for either to work.
3. Digitsea Digital Doorbell Peephole
The Digitsea Digital Doorbell Peephole is a wireless video doorbell with a monitor. Because it's the size and shape of a peephole, it blends into your door. This means it provides the safety of a video doorbell with a monitor without the bulky look.
Pros:
The camera is discreet and will not interfere with the aesthetic of your property.
When your resident's doorbell is pressed, Digitsea takes a photo and stores the image in an SD card. You can freely review and delete images.
The monitor displays a live HD video feed with night vision.
One of the cheapest options, starting at $42.99 for the whole system.
The system takes readily available AA batteries.
Cons:
Because the system is battery-powered and not rechargeable, you must provide batteries or have your tenants buy their own.
Despite its wireless design, Digitsea may require some installation. If your property's doors don't have peepholes, you'll have to hire installers to drill them. This will cause a longer, more disruptive installation.
The camera, while small and discreet, isn't wide-angle and doesn't have an adjustable view range.
4. AMOCAM Wired Video Doorbell
The Amocam Wired Video Doorbell is a less tech-savvy video doorbell with monitor. It's a mid-range priced system, starting at $81.99 for a camera and monitor package. Compared to its competitors, it's more antiquated, as it isn't wireless and doesn't incorporate WiFi or a smartphone connection.
Pros:
Good choice for a property with older tenants who don't want high-tech systems.
Doesn't require your resident to own a smartphone, or to have WiFi.
The wired design eliminates the need for batteries or recharging.
Is cased in waterproof aluminum.
Cons:
The monitor must be installed in one place to not disturb the wires.
Its wired design requires longer, more disruptive installation.
It may look outdated compared to its competitors.
Is best for senior living and may not appeal to younger renters.
How does a doorbell camera with monitor work?
A doorbell camera with monitor works by connecting a camera outside of your building or a resident's unit to a monitor inside. When a guest rings the doorbell, your resident can see a live video feed of their front door.
Depending on the system, your residents may speak to visitors through a two-way talk feature into their in-unit apartment monitors. However, some systems allow residents to connect their doorbell cameras to their smartphones. This allows them to speak to guests from anywhere.
There are two main types of doorbell camera with monitor systems:
Wireless: A wireless doorbell camera with monitor comprises two components: a video doorbell and an in-unit monitor. Residents can connect these components to your property's WiFi network. Additionally, many wireless doorbell cameras with monitor systems allow residents to view their doorbell cameras on their smartphones. As a result, wireless doorbell cameras with monitors are the more "high-tech" option.
Wired: A wired doorbell camera with monitor has three components: a video doorbell, an in-unit monitor, and a set of wires connecting the two. Unlike its wireless counterpart, a wired doorbell camera with monitor doesn't need an internet connection to function. This may make it a more reliable system, as it can operate regardless of internet connection. However, wired systems often don't give the option to connect to smartphones. This may make wired doorbell cameras with monitors less appealing to prospective residents.
Watch how ButterflyMX works:
What's the difference between a doorbell camera with monitor and a smart video intercom system?
If you're looking for a video entry system for your building, a smart video intercom is superior to the doorbell camera with monitor. Smart video intercom systems offer the benefits of doorbell cameras with more added perks.
Your residents want convenience over everything. Because of this, a doorbell camera with monitor that doesn't connect to a smartphone may turn off potential residents. Save money and keep your residents happy by investing in a smart video intercom instead.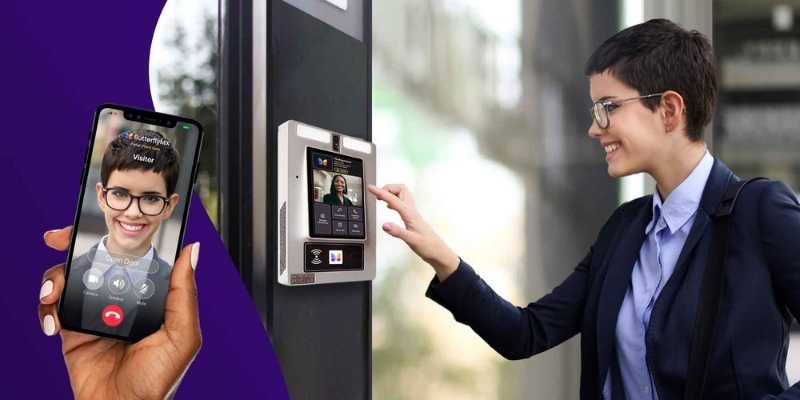 The advantages of choosing a smart video intercom system include:
Simple installation: Smart video intercom systems like ButterflyMX are wireless and don't require in-unit hardware. Additionally, it's easier to purchase and install an all-in-one video intercom system rather than several separate doorbells and monitors.
Efficient property access: Your residents can download an app to control property access directly from their smartphones. Within the app, they can video chat with their visitors, unlock the door remotely, and grant temporary virtual keys to trusted guests.
Logging visitor access: ButterflyMX's smart video intercom system takes a date and time-stamped photo every time your property's front door is opened. You and your residents will have access to these photos at any time, increasing security without spending excess money.
Remote doorbell monitoring: With a smart video intercom system, you eliminate the need for an in-unit monitor. Instead, your residents will have access to the front doorbell camera on their smartphone. This means they can monitor their homes even when they're not at home.
All things considered, your residents will be happier if you choose to invest in a smart video intercom system. Because they already use smartphones to work and socialize, they can easily incorporate their phones into your building's entry system.
What's more, you'll save money on installation, wiring, in-unit hardware, and ongoing maintenance of in-unit monitors.