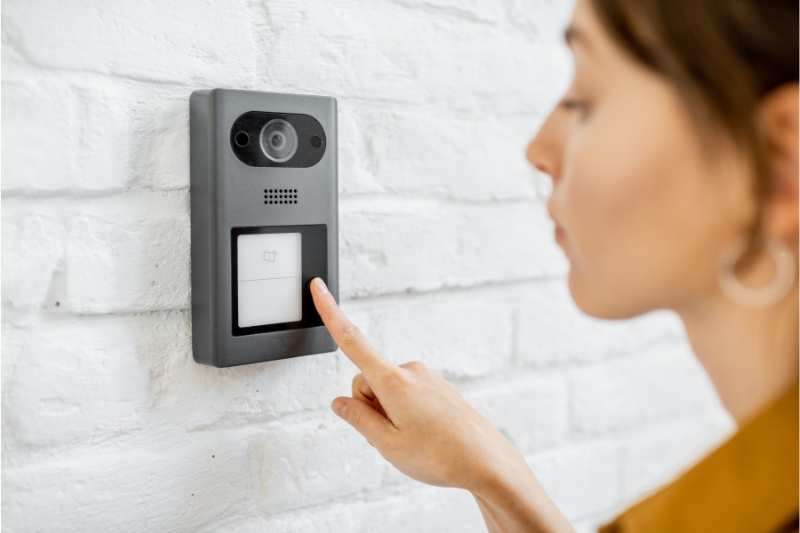 The traditional doorbell, similar to the standard apartment buzzer, is a relic of the past. So, installing a video intercom doorbell instead seems like an innovative way to modernize your property. But is it your best option?
If you're thinking about installing a video intercom doorbell at your building, read this guide first.
In this post, we'll define what a video doorbell intercom is and how it works. We'll also cover their benefits and limitations. Lastly, we'll go over the best alternatives to a video intercom doorbell that will benefit your property.
Read this post to learn:
What is a video intercom doorbell?
A video intercom doorbell is essentially a doorbell camera that may also allow a resident to remotely unlock the door. It provides audio and one-way video communication with a visitor seeking access to a unit or building.
Video intercom doorbell systems include:
Hardware at the entrance, which contains a camera, a microphone, and speakers
Either a mobile app or in-unit monitors
Wiring (depending on whether it's a wireless or wired video doorbell intercom system)
Door release mechanism
Video intercom doorbells are usually operated through an app on a mobile device. This isn't a guaranteed feature for all video doorbell systems, though. Instead, some come with monitors that have to be installed in each resident's unit. Residents use these in-unit monitors to see who's requesting access, talk to their visitors, and remotely open the door or gate.
Watch how ButterflyMX works:
How much do video doorbells cost?
Video doorbells range in price from $50 to $5,000. The wide price range is because some systems offer only basic functionality while more robust systems offer many additional features.
Video intercom doorbells with door release cost more than basic doorbell cameras, like the Ring doorbell, because they provide a way for residents to unlock the door remotely. Regular doorbell cameras usually only enable residents to monitor who's at the door and receive alerts when a visitor has arrived. However, some doorbell cameras do integrate with smart locks to enable remote door unlocking.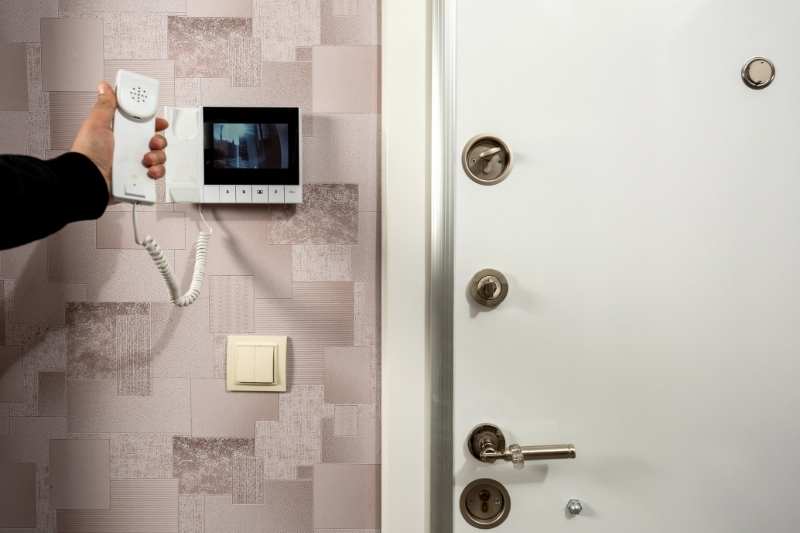 How does a video intercom doorbell work?
A video intercom doorbell works by allowing a resident to communicate with somebody outside the building and possibly remotely grant them access.
When a visitor approaches the doorbell video intercom, they press the resident's unit number (which they must know beforehand or look up in the system's directory). This sends an alert to the resident — either to their mobile app or their in-unit monitor, depending on the system.
Whether it's a friend, family member, or delivery person, the resident can see who's at the door. Then, they can chat with the visitor and decide whether to grant that person access to the building. If the system has a door release mechanism, the resident can remotely unlock the door with the push of a button.
What's the purpose of a video doorbell intercom?
The primary purpose of a doorbell intercom with a camera is to enhance security.
Here's how a video doorbell intercom improves property security:
The video camera is clear enough to visitors that it can serve as a deterrent to crime.
Residents don't have to leave the safety of their units when communicating with visitors requesting access.
Most video doorbell systems record video footage or take a photo of everyone who approaches the entryway or uses the doorbell. Residents and property staff can review this footage for added security.
In addition to enhancing security, video doorbell intercoms are also a type of visitor management system. They provide a way for visitors to request access, and certain doorbell systems empower residents to remotely unlock the door.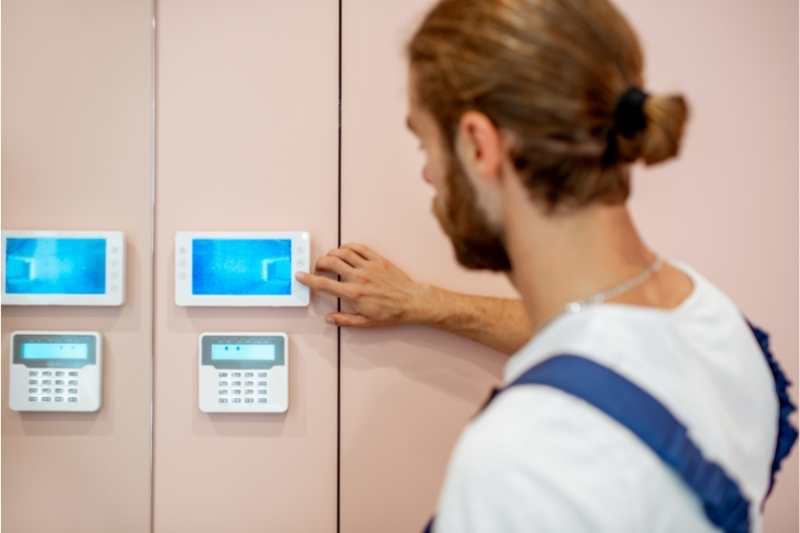 Limitations of video intercom doorbells
Video intercom doorbells are a big innovation in property tech, but they have a number of flaws that are directly addressed by better alternatives.
Some of the specific limitations of video intercom doorbells include:
Complex wiring. Wired video intercom doorbells require wiring that's both difficult and expensive to install. This could also lead to more maintenance calls for problems with in-unit monitors, creating a poor user experience.
Low storage. While most systems can record video footage, they're not designed as a 24-hour security system. Many don't log visitors, continuously record, or gather other data.
Missing features. Video intercom doorbell systems don't offer features like virtual keys and delivery passes to guarantee simple access for friends, family, service providers, and delivery carriers.
May require in-unit hardware. Many doorbell video intercoms require in-unit monitors for residents to talk to visitors and grant remote access. This means that residents risk missing visitors or deliveries if they're not at home.
No package management solution. With no system in place for package delivery when a resident isn't home, this device might as well be an old-fashioned buzzer.
Video intercom doorbells are on the fringe of smart access devices. They simply combine the basic functions of a camera, a doorbell, and an outdated intercom system.
But what they don't give you are convenience- and security-focused features that other smart access systems have today. Video intercom doorbells are better than your basic doorbell, but they're a half-measure towards innovation at best.
Instead, you should consider a close alternative.
The best video intercom doorbell alternative for your property
A cloud-based video intercom system is the best substitute for a video doorbell with intercom. It not only benefits your residents in their daily lives but makes your job easier as well.
Four reasons you should go with a cloud-based video intercom system include:
1. Cloud-based software
Building entry systems that operate with cloud-based software will benefit you and your residents immensely.
For one, building staff can easily update the system — including managing access permissions and adding or removing tenants — from anywhere, on any device. In contrast, installing a video doorbell intercom may require staff to download software and manage the entire system from only one device.
Additionally, storing your entry system's data in the cloud means you can easily access recorded footage or photos for added security. A cloud-based storage system means there's likely no limit to what is recorded. It also performs faster.
2. Keyless entry
Instead of a video doorbell, choose a cloud-based video intercom that pairs with a powerful mobile app to enable keyless building entry. That way, your residents can access the building with just their phones.
In fact, they can even use the mobile app to give guests and delivery carriers temporary PIN codes to access the building. These temporary PINs will expire at a time of your resident's choosing. This is especially handy for when residents are away from home and need a pet sitter or other service provider.
3. Easy installation & maintenance
Since residents can use the app on their phones to control access to your building, you can do away with cumbersome in-unit monitors.
Not only will that save you time and money installing in-unit devices, but it'll also eliminate the need for complex wiring from the intercom to each in-unit device. With a wireless system, all you need is to connect the intercom to power, internet, and the door release mechanism.
In addition to saving on maintenance fees, a cloud-based video intercom system will periodically update itself (similar to how apps on a smartphone update). This way, you'll always have up-to-date software.
4. Trustworthy security
The biggest security advantage of a cloud-based video intercom is that it stores a log of all visitors in the cloud for easy access. In the event of an incident at the property — such as package theft — staff can review that entry log to see who was at the property. This is the sort of security system that sets residents at ease not only concerning their wellbeing but their packages, too.
Having a robust video intercom system also offers a sharp resident retention incentive that other buildings may lack. And a better sense of security on your property not only attracts residents but will foster a more trusting community.
Takeaways
While a video intercom doorbell is better than not having any sort of visitor management or access control system, it does lack key features.
Smart video intercoms are the natural evolution of video intercom doorbells. They give both you and your tenants more control over property access, adding overall value to your property.