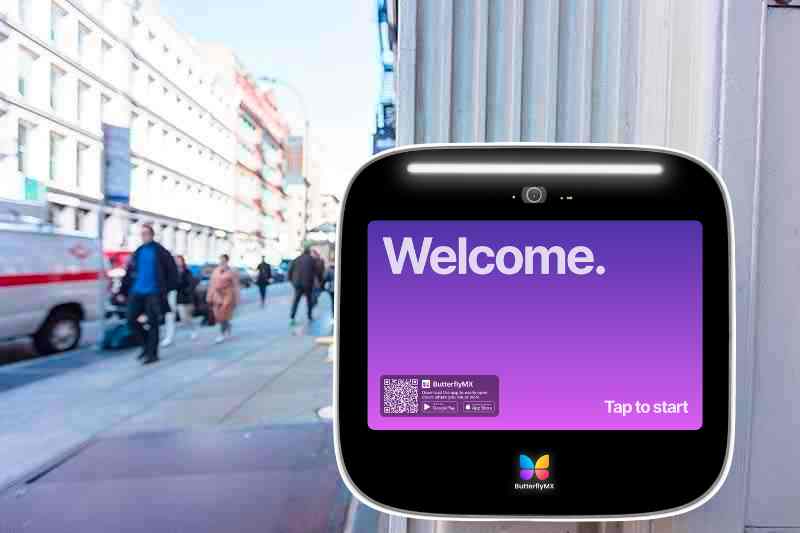 Whether you own or manage a multi-tenant property, your residents have high standards when it comes to access control. Your residents want to quickly and conveniently grant access to all kinds of visitors, from house cleaners and friends to dog walkers and delivery people — all the while, security must remain a high priority. An apartment intercom doorbell is one solution to achieve both. Read on to learn more about doorbell intercom systems.
This post covers:
What is an intercom doorbell?
An intercom doorbell is a type of door entry system that allows a visitor to alert a building resident of their presence. Intercom doorbells are a fusion of two common types of door entry technology: They give users the communication capabilities of an intercom and the notification capabilities of a doorbell.
While the visitor uses a doorbell device at the building's entrance to request access, a resident uses an in-unit monitor (or their smartphone if it's a mobile doorbell intercom) to talk to their guest and let them in without having to physically go to the door.
Intercom doorbell systems have been installed in all types of buildings, including single-family homes, apartments, and even commercial properties. And installation configurations differ depending on the type of building.
For example, an apartment doorbell intercom system in a multifamily building might require you to install hardware in every unit to allow each resident to open the door remotely. But in an office building, an intercom doorbell might instead direct all entry requests to a central point, like a front desk or a receptionist.
Intercom doorbells have three components:
Base station. Base stations are intercom hardware installed at the entryway of the building. Intercom doorbells designed for single-family homes only have one button, which visitors press to alert the resident of their presence. But doorbell intercoms designed for multi-tenant buildings have multiple call buttons. So, a visitor presses the button that corresponds with the resident they intend to visit.
Substation. Substations are smaller devices that residents use to answer visitors' entry requests and grant them access.
Electric lock. Electric locks allow a door to release and re-engage its lock at the direction of an electric signal. The doorbell system's substation contains a button that residents press to remotely unlock the door.
Using an intercom doorbell
A visitor uses an intercom doorbell by pressing a button on the device at the front door. And a resident uses an intercom doorbell by using their substation to speak to the visitor and grant entry.
Here's what happens when a visitor using an intercom doorbell wants to contact a resident:
Visitor uses base station to contact resident. When the guest has found the resident they want to visit, they press the doorbell button to request access.
Base station connects to substation. The substation then makes a noise to alert the resident about a visitor. This might be a traditional doorbell ring, a buzzer noise, or another sound.
Resident grants entry. When a resident wants to let their visitor in, they press a button on their substation. The substation sends a signal to the electric lock, which disengages and allows the visitor to open the door.
How an intercom doorbell works
Under the hood, intercom doorbells need to establish a way to communicate information between a base station and substation. To do that, an intercom doorbell might use a variety of technologies. Most intercom doorbells only transmit audio, but some intercom doorbells with cameras have video call capabilities.
Wired intercom doorbells depend on wiring to connect a substation and a base station. However, a wired intercom is much more expensive to install and maintain than its wireless counterpart. A wireless doorbell intercom depends on more convenient wireless technology, like a cellular network. WiFi intercom doorbells are another wireless option that use the internet to carry communications.
Watch how ButterflyMX works:
When and why you should replace your intercom doorbell
If your building currently has an intercom doorbell system to control property access, consider how it's working and whether it's meeting your access needs. Unfortunately, even the most advanced intercom doorbells lack all the features of a great building entry system.
Consider replacing your intercom doorbell if you notice residents or staff are still experiencing access issues. For example, are your system's in-unit devices constantly breaking down? Or are residents missing deliveries because couriers don't have a guaranteed way to access the building? You'll save time and money by upgrading to a more powerful intercom system with features that solve these problems.
Top four reasons you should replace your intercom doorbell:
1. Not cloud-based
Cloud-based intercoms are the most convenient option on today's market. Staff can manage a cloud-based intercom from anywhere and from any device, even if they're off-site. Administering an access control system is behind-the-scenes work far from a resident's mind. But an improperly managed access system can cause a lot of headaches if it's not kept up to date with the latest permissions for residents who have just moved in or have just been granted access to an amenity space. You can eliminate the chances of those headaches by storing data in the cloud.
In contrast, intercom doorbells that store data in an on-site server require an employee to be on-site to make system updates. Alternatively, they may be managed with software that you can only download to one machine.
2. System needs constant repairs
An intercom that consistently breaks down and needs maintenance is inconvenient for your residents and staff alike. Your residents will miss visitors or deliveries entirely, or they might burden staff who don't usually take on doorman or reception duties. This will also reflect poorly on your property and might be the factor that pushes a resident towards looking for another lease elsewhere.
If your intercom is wired, maintenance costs compound on your end. You'll need to tear down and rebuild walls and ceilings to reach wires when they need to be replaced. In the long run, it's cheaper and more efficient for you to replace your intercom with a more consistent, wireless model than to continue pouring money into repairs.
3. Doesn't have a mobile app
App-based intercom systems have many advantages compared to intercom doorbells with in-unit hardware. Residents have their smartphones on them at all times. So by giving your residents the option to control the intercom from their smartphones, you significantly improve the resident experience.
4. Limited video capabilities
Video doorbell intercom systems only allow for one-way video communication. This means that a resident can see a visitor, but a visitor can't see a resident. Today, tech-forward residents expect the convenience of a two-way video call.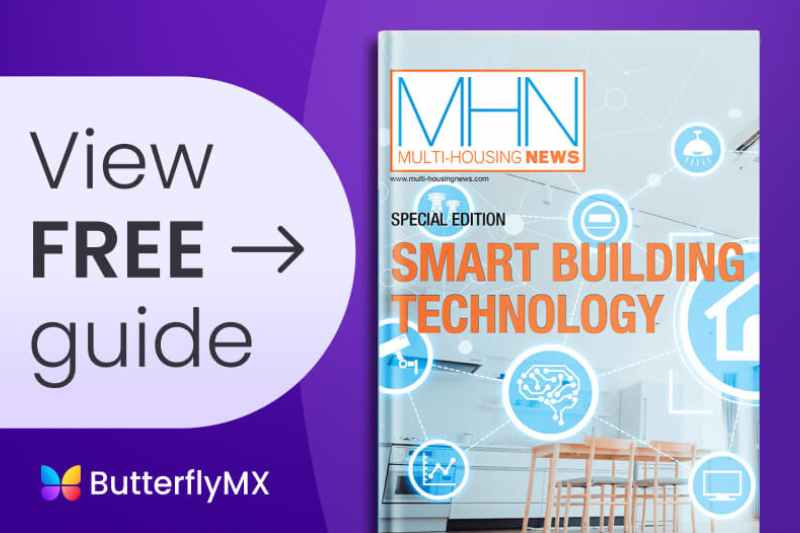 How to choose the best intercom doorbell
If you want to give your residents the best access experience, there are certain features you need to emphasize. When choosing a building entry system, first consider the features that are most important to you. Look for an intercom system that will bring the most convenience and security to your property.
Choose an intercom system with these features: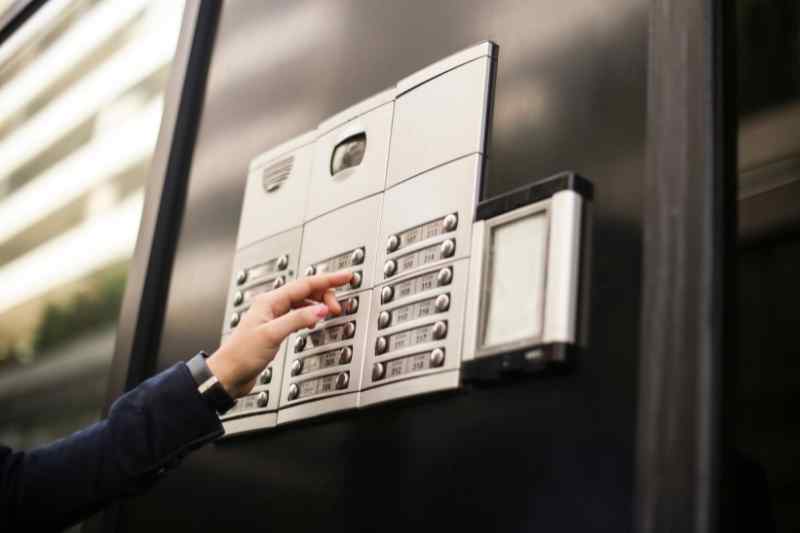 Wireless
A wireless door intercom has many advantages over a wired intercom. Wired intercoms are expensive to install and maintain. Both installation and maintenance require you to rip up walls and ceilings to completely wire every single substation to the base station.
No in-unit hardware
Wireless voice intercom doorbells are convenient and easy to install. However, they're still expensive and cumbersome if they require in-unit hardware.
Depending on the size of your property, you might need to install dozens or even hundreds of substations throughout your building. And then, you'll have to ensure that each substation is up-to-date and working properly. You'll also have to keep an eye on an increased amount of maintenance requests from residents.
Instead of adding more hardware to your property, consider a property access solution that lets residents use their smartphones as substations. That way, you'll save time and money while empowering residents to grant access from anywhere.
Integrations
Choose an intercom that integrates with other hardware and software.
One of the most helpful intercom integrations is with property management software. Your staff will appreciate this integration because they won't have to constantly update permissions as your rent roll changes and residents move in and out. Instead, the integration automatically pushes those changes from your PMS to the intercom.
If you already depend on internet-powered solutions like smart locks or elevator controls to manage access for other areas of your property, the right intercom can integrate with those devices, too. This creates one, unified access experience throughout your entire property.
Takeaways
Intercom doorbells aren't the most convenient access control option for your tenants. Even the best wireless doorbell with intercom fails to offer the features that residents are coming to expect, like two-way video or mobile applications. They're also not the most cost-effective or efficient option for your staff, either.
The best intercoms are smartphone-dependent because smartphones are more convenient for residents. Smart intercoms also free you from spending time and money installing hardware in every unit throughout your building.