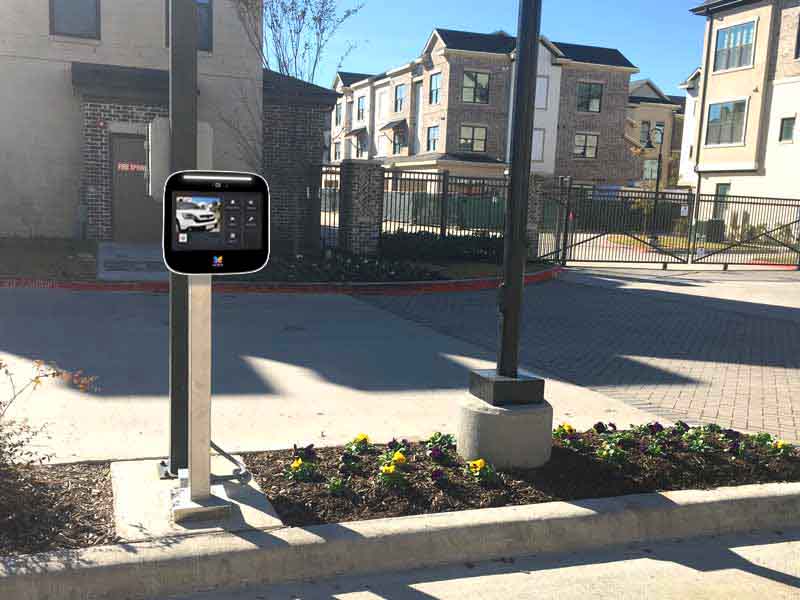 Takeaways
The best gate intercom system with a camera is ButterflyMX.
Gate intercoms with cameras work by allowing residents and visitors access to and from gated communities, parking lots, and driveway gates.
The best gate intercom will improve security, prevent tailgating, facilitate deliveries, and stop solicitors.
Gated properties offer the security tenants seek, but they pose the challenge of ensuring seamless property access. Are you looking for a better way to manage access at your gated community, apartment, or commercial building? You will need a gate intercom system with a camera. Video gate systems ensure maximum security and convenience for both tenants and property staff. Our guide will help you find the right system for your property.
In this post, we review the top three gate intercoms with a camera, how they work, and why you should invest in one.
Read on to learn:
What are the top wireless gate intercom systems with cameras to buy?
Traditional wired gate intercoms are too expensive and difficult to install. And audio-only intercoms don't provide the much-needed video capabilities that elevate the property access experience. That's why the best solution is a wireless gate intercom system with a camera. However, the best gate intercom access control system will depend on your unique property.
The top three gate intercoms with a camera are:
ButterflyMX video intercom
The best gate intercom is a multipurpose access control system. It integrates with other security systems, features cloud technology that automatically updates, provides video communication, and also features date-and time-stamped recordings of entry events that are stored in the cloud. Residents can use their mobile devices as a gate opener to remotely open gates. The ButterflyMX vehicle access control and wireless intercom systems also allows residents to grant remote access for guests and visitors from their cell phones. Their video intercoms only require an internet connection from within your property. Lastly, this video intercom features an IP65 weather rating that allows it to withstand acclimate weather.
GBF Wireless Video Door Phone
This wireless gate intercom features can control up to two door release locks per system. It allows cell phones to be used in place of gate openers in order for residents to gain access. This device's video camera can operate in low-light settings. Video storage lasts approximately one week. While a useful and powerful wireless gate access control system, this device doesn't seem to indicate that it can handle the volume associated with larger multifamily residences.
2N IP Force 1-Button Intercom System
This device features a 1280×960 resolution camera that also has night vision. It has a durable weather rating that is ideal for outdoor use. Numerous PIN codes can be programmed into the system. This device can take snapshots of a door entry event and email them to the owner. Additionally, the 2N gate intercom may have trouble with a high-volume residence that features multiple tenants.

What is a gate intercom system with a camera?
A gate intercom system with a camera is a modern gate entry system that allows tenants and visitors to communicate through video instead of just audio. You can install a gate intercom with a camera at any type of gate, whether for cars or pedestrian access. In addition to video calling, the intercom lets tenants open the door for visitors remotely.
A front gate intercom system with a camera transmits video footage when a visitor calls a tenant.
Depending on the system, that could be a one-way or two-way video call:
One-way video calling. When only the gate intercom base station (the device installed at the gate for visitors to use) has a camera. One-way video calling means tenants can see visitors, but visitors cannot see tenants.
Two-way video calling. When both the base station and the substations (the devices installed throughout the property for tenants to use) have cameras. Two-way video calling means tenants and visitors can see each other during a video call.
How gate intercom systems with a camera work
Gate intercom systems with cameras are easy for both visitors and tenants to use.
Here's how a multi-tenant video gate intercom works:
Find and call a tenant. Visitors search for a tenant in the intercom directory. They call the tenant by pressing a button. This sends a signal to the correct tenant's intercom substation and initiates a video call.
Answer the visitor's call. The tenant can choose to answer through a video call or a regular audio call.
Open the gate for the visitor. If the tenant wants to open the gate for their visitor, they press a button on their intercom substation. This sends a signal to the intercom base station, which instructs the gate-releasing device to unlock.
Using a video gate intercom with cell phones
For maximum convenience, you may want to open your gate with a cell phone. Some electric gate intercoms with a camera empower tenants to use their smartphones as intercom substations.
When you choose a cell phone-based gate intercom, you won't have to install hardware in every unit, home, or office suite on your property. Instead, tenants download a mobile app that lets them manage access from their phones or tablets.
A smartphone-based video gate intercom is the ideal entry solution because:
An estimated 90% of Americans have a smartphone.
Smartphones have a built-in camera.
By using a smartphone gate opener, you'll avoid the hassle and expense of running wiring and installing hardware throughout your property.
Watch how ButterflyMX works:
Benefits of gate intercom systems with a camera
As the manager or owner of a gated property, you need to make sure tenants and guests can access the property without compromising safety. It requires a delicate balance of convenience and security that only a video gate intercom can provide.
Here are the top reasons why you should get a gate intercom system with a camera:
Speed up traffic flow & eliminate car stacking
There's nothing more frustrating than sitting in traffic just to gain property access. Installing a gate entry system with a camera is the best way to speed up traffic entering your property. It also eliminates car stacking, which is a backup of cars waiting to enter a facility.
A cloud-based gate intercom with a camera lets tenants open the gate for themselves and visitors with a smartphone. That means a resident arriving home can enter the property quickly without holding up traffic. They can also open the gate for visitors through a quick video call.
When they arrive, guests only have to find the tenant in the intercom directory and place a call. Even if the tenant is at the grocery store or away from their desk, they can still open the gate remotely from their smartphone. Plus, gate guards won't have to waste time calling the tenant's unit and waiting for them to answer. As a result, cars can get through the gate much faster, reducing car stacking at the entrance.
Improve property security
Do you want to ensure the utmost security at your gated community or apartment building? If so, invest in a gate intercom system with a camera that lets residents see visitors before granting them access.
An audio-only gate intercom doesn't offer the same heightened level of security that a video gate intercom provides. Any unauthorized person trying to enter the premises could claim to be a courier or service provider over the phone. Without the addition of video footage, you can't be completely sure that visitors are who they say they are.
Prevent tailgating
One of the most prevalent security concerns for gated communities and HOAs is tailgating. Tailgating is when an unauthorized person enters a gated property without permission by closely following an authorized person through the gate before it closes.
Also known as piggybacking, tailgating is a security breach that property owners and managers must take seriously. One way to reduce tailgating is to install a gate intercom with a camera.
The faster that cars can proceed through the gate, the less likely a car is to tailgate them. Because video gate intercoms speed up the flow of traffic, they ensure smooth and quick procession through the gate to help reduce tailgating.
Additionally, gate intercom systems with a camera like ButterflyMX take time- and date-stamped photos every time someone uses the intercom to enter the property. This entry log is a great security feature. If you see a suspicious or unrecognized person on the property, you can check the audit trail in your dashboard.
Limit solicitors
Have you ever answered your door expecting to see a friend or neighbor only to find a solicitor hoping to sell you something? No one likes uninvited visitors.
Since video gate intercoms have built-in cameras, residents and property staff can thoroughly vet visitors and prevent unwanted solicitors from entering the property. Anyone who places a call through the gate intercom will be displayed in video footage on the other end.
The tenant can either:
Immediately decline the call and deny the solicitor property access.
Answer the call with one-way video so the solicitor cannot see them.
Start a two-way video chat with the solicitor to ask why they're seeking property access.
Facilitate deliveries
Anyone who lives or works in a gated property understands the frustration of finding a "Sorry we missed you" note from a delivery driver. Because the gate is locked, delivering packages to gated communities often results in failed deliveries, stolen packages, and frustrated tenants.
To ensure deliveries, invest in a wireless video gate intercom. When tenants can receive video calls and open the gate remotely, they can grant property access to delivery people even when they aren't home. Getting the courier through the front gate is often the biggest challenge for gated community deliveries, but a wireless gate intercom with a camera makes it simple.
Revamp or eliminate the third shift
If you have 24/7 gate attendant coverage, you could spend less and improve security by investing in a gate intercom system with a camera.
Since visitors are rare after hours, the attendant covering the late-night third shift probably doesn't assist many guests. As such, the time they spend waiting for guests could be better spent elsewhere.
With a video gate intercom system, you can revamp the third shift by providing roaming security instead of front gate coverage. Your employee can ensure maximum safety by roaming the property and focusing on other security-related tasks. That's a much better use of time than staying in the guard station. Late-night visitors can use the gate intercom to gain property access on their own, or they can press a button on the intercom that routes calls to the roaming security guard.
Alternatively, you can eliminate the third shift altogether, which could save tens of thousands of dollars annually. A gate intercom system with a camera like ButterflyMX provides safe and reliable gate access control even without a gate attendant from midnight to 5:00 a.m.