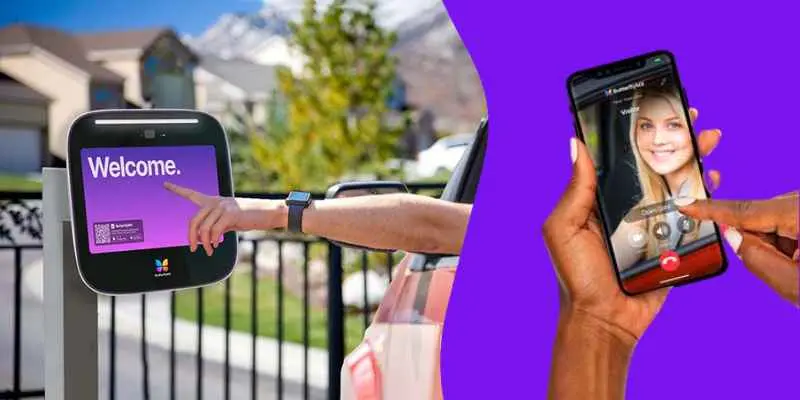 From gated communities to parking garages, any property entrance with a gate requires a system to manage access. We're here to help you find the best gate intercom system to manage access to your gated property.
Offering security and convenience, gate intercom systems are a necessary investment. But with so many options out there, how do you choose the right one? The right choice depends on your unique property and your priorities. Perhaps wireless installation is important, you'd like to remotely manage the system, or maybe having a camera is necessary. In this guide, we outline what to consider when choosing a gate intercom system.
This guide includes:
The best gate intercom system
If you're looking for the best gate intercom, the first step is to narrow down your options. There are many intercoms to choose from, but not all of them offer the features worth investing in.
Look for a gate intercom with these four features:
Wireless
Camera with video capabilities
Smartphone-based property access
Cloud-based
Choose ButterflyMX
ButterflyMX is a feature-packed gate intercom system that empowers tenants to open gates from their smartphones. With reliable hardware and intuitive software, ButterflyMX makes it easy to manage access at gated entrances. Whether you develop or manage gated communities, you can count on ButterflyMX to keep your property secure while ensuring hassle-free access for tenants and their guests.
When you choose ButterflyMX, you'll ditch the expensive wiring and in-unit hardware required by other gate intercoms. You'll also enjoy the convenience of managing your gate intercom system from a cloud-based dashboard.
With over 20,000 five-star reviews, ButterflyMX is the intercom of choice for more than 10,000 properties.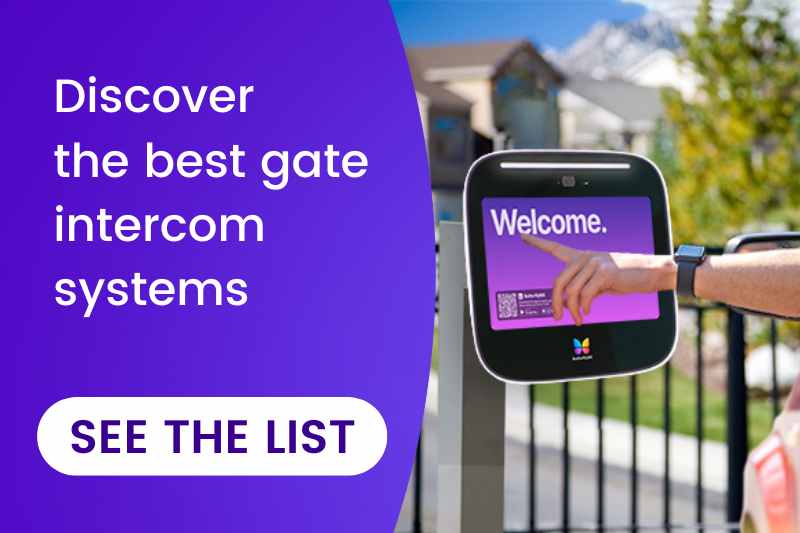 What is a gate intercom system?
A gate intercom system is a property access solution that enables tenants to speak with visitors and open the security gate for them remotely.
A gate intercom has two parts:
The base station, which is the device installed at the gate. Guests use the base station to call tenants and request property access.
Substations, which are the devices that tenants use to answer calls and open the gate remotely. Substations can be hardware installed throughout the property or tenants' own smartphones.
In addition to the base station and substations, gate entry systems require a gate unlocking mechanism that can open the gate when a tenant presses a button.
Gate intercoms are great for:
Gated communities
Commercial properties
Mixed-use buildings
Industrial properties
Parking lots and parking structures
How a gate intercom works
A gate intercom works by transmitting audio between the base station outdoors and a substation within the property. This is how a visitor at the gate talks to a specific tenant within the property.
If the gate entry system has a camera, it will also transmit video so that tenants and visitors can see each other.
When a tenant wants to open the gate for a visitor, they press a button on their substation. Pressing that button sends a signal to the gate intercom base station, which instructs the gate release mechanism to unlock.
Watch how ButterflyMX works for gated communities:
How do you program an intercom system for gates?
Every intercom system is different, but here are the steps to program most gate intercoms:
Once the intercom has been installed, ask your provider to activate it.
From your online dashboard, upload all of your tenants' information. Check to see if your gate intercom integrates with your property management system (PMS). If so, connect your PMS to the intercom to quickly upload all your tenants.
If your gate intercom has a mobile app, send your tenants instructions on how to register their smartphones with the intercom system.
Why you need a gate intercom system
Whether you own or operate an apartment building, a commercial property, or a gated community, your gated entrance requires an entry system. You need a way to keep your property secure while ensuring seamless access for tenants and authorized visitors. A front gate intercom is the best way to achieve both goals.
Other gate entry solutions fail to do it all. The traditional gate access control system with fobs or keycards gets tenants through the gate but can't facilitate access for visitors or delivery people.
You should invest in a gate intercom system to:
Empower tenants to remotely grant property access to guests
Improve security throughout your property
Prevent car stacking and help you avoid penalties for cars backed up to the street
Reduce the time your property staff spends on managing visitor access
Ensure that delivery people can access your property
In short, an intercom is a must-have amenity for gated communities and other gated properties.
How much does a gate intercom system cost?
Most gate intercom systems cost between $1,000 and $7,000 for the hardware plus the cost of installation. For some intercom systems, there may be ongoing service fees as well.
Depending on the size of your property and the number of apartments or homes, installing a gate intercom could cost a few hundred to tens of thousands of dollars. The installation cost is often the biggest expense when installing a new gate intercom system. And the type of intercom system you install affects installation costs.
If your intercom system requires substations in each apartment or home plus wiring directly from the base station, expect higher installation costs. However, if you choose a gate intercom system that uses tenants' smartphones instead of purchasing and installing substations, you'll save a lot of money on the installation. It's important to find a certified installer in your area who will give you an accurate and transparent price to install your gate intercom.
In addition to installation costs, you may have to pay service fees to get features such as live video, a mobile app, integrations with your access control and property management software, and ongoing updates. These fees depend on the provider and range from $250 to $1,000 per month.
9 things to consider when choosing a gate intercom system:
1. Gate location
If you're planning to install a gate intercom system, first you need to consider the gate's location on your property. Is the gate located at the end of a long driveway, a mile away from the other side of the community? Or is the gate at the entrance of a parking lot, separate from the main building?
Location matters when installing an intercom because it affects wiring and installation costs. The more wiring you have to lay and the further those wires have to extend, the more your system will cost to install.
2. Wired vs. wireless gate intercom system
Like other forms of technology — from telephones and printers to speakers and headphones — intercoms can be wired or wireless. The best gate intercom system is wired for some functions, but wireless for others.
When to go wireless
Gone are the days when you have to install intercom hardware in every unit on your property. Nowadays, most residents have a smartphone that can take the place of in-unit intercom hardware. Using smartphones as intercom substations spare you the hassle and expense of wiring your gate intercom system to hardware in every unit.
A wireless gate intercom is ideal for gated communities and detached parking structures because you don't have to lay wiring to cover the long distances between the gate and each condo, house, or apartment.
Long-range wireless gate intercoms
If your gate is particularly far from the building(s) on your property, make sure you purchase a long-range wireless gate intercom. Otherwise, the system may not work well and could leave residents or visitors frustrated. Smartphone-based gate intercom systems with a mobile app can accommodate these long distances.
When to choose wiring
While you'll save money by choosing a wireless gate intercom system that doesn't require wiring to in-unit hardware, you'll avoid frustration by choosing one with a wired internet connection.
Gate intercoms with a direct internet connection perform better and are more reliable. By wiring directly to the internet, you'll prevent cellular or WiFi connectivity issues. The last thing you'd want is a line of cars stuck waiting to enter your property because your WiFi gate intercom can't connect to the internet.
Choose a gate intercom that only requires three connections:
Power
Internet
Gate opener
3. Gate intercoms that work with a cell phone
96% of Americans own a cell phone — which means it's time to ditch your gate intercom with in-unit hardware and replace it with a system that residents can use with their cell phones.
What's more, 81% of Americans own a smartphone. As smartphone ownership continues to grow, the best choice is an intercom with a smartphone gate opener. Choose an intercom that lets residents open the gate with a smartphone.
A smart video intercom for a gate lets tenants:
Open the gate from anywhere with their smartphone
Remotely grant property access for service providers, like dog walkers, cleaners, and maintenance workers
See who's at the gate before granting property access
Open the gate for delivery drivers and couriers (property managers can also give couriers unique delivery PINs for easy property access)
Ditch annoying keys, fobs, and keycards for a completely keyless entry experience.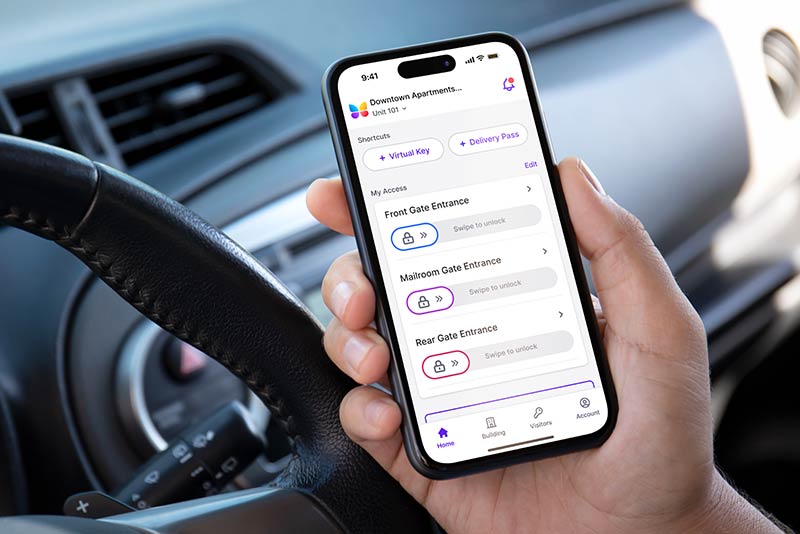 Reduce car stacking & tailgating with a cell phone gate intercom
Perhaps the greatest benefit of a smartphone-based gate intercom system is reducing wait times to enter your gated community. Car stacking is a significant problem for gated communities, so you need a solution to get residents and visitors through the gate efficiently.
Gate intercoms with a mobile app reduce car stacking by:
Letting residents enter the property quickly with their smartphones. Residents arriving home won't have to fumble for a fob or keycard while driving. Instead, they can open the gate using the intercom's mobile app.
Speeding up the visitor entry process. When guests arrive at your front gate, they can quickly gain access either with a virtual key issued by the tenant or by calling the tenant through the video gate intercom.
Getting couriers through the gate quickly. Smart video gate intercom systems let property admins issue unique delivery PINs to each delivery service. Couriers can enter their PIN code on the intercom for quick access.
As an added benefit, a smartphone gate intercom will also help prevent tailgating at your property. Tailgating — when an unauthorized vehicle follows a resident through the gate while it remains open — is a serious security concern, so it's worth the effort to curtail this practice.
4. Gate intercom system with camera
When choosing a gate intercom system, you have two options: a traditional telephone entry system or a modern gate intercom system with a camera. If you have a gate intercom with a camera, tenants and visitors can video chat.
Telephone-based intercoms rely on an analog signal that cannot handle the bandwidth of video transfer. In contrast, a gate intercom with a camera is an IP intercom that can accommodate the data load of video transfer.
Video gate intercom systems offer benefits including:
Improved security: Security is a top priority for gated communities. Residents want to know that anyone entering the property has been vetted and authorized. Video gate intercoms let you see who is at the gate before granting them property access.
A property access audit trail: Gate intercoms with cameras can take a time- and date-stamped photo every time someone uses the system. This serves as an audit trail, which property staff can review as needed.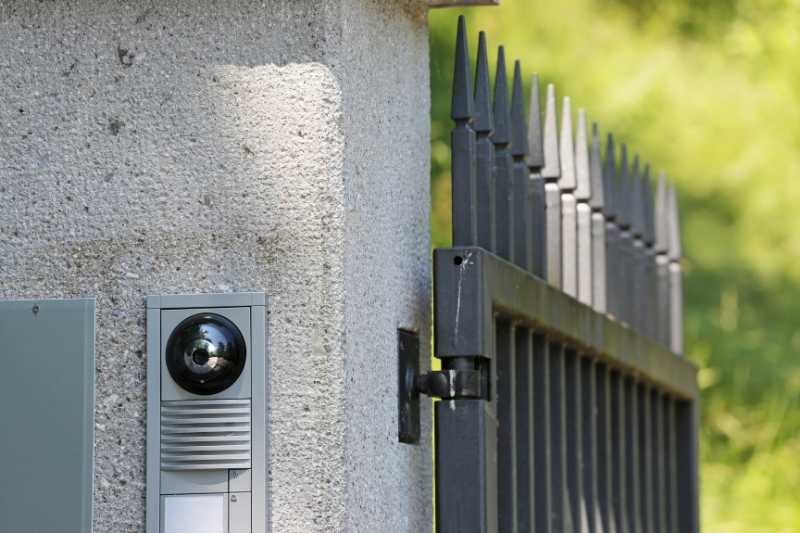 5. Cloud-based gate intercom system
If an intercom is cloud-based, that means you can manage the system remotely. Instead of going onsite or downloading software, you can manage the intercom system from anywhere using a mobile device or computer.
Cloud-based gate intercom systems are ideal for busy property managers who need to manage and update the system anytime, anywhere.
A gate intercom with remote management lets property managers:
Update the resident directory from anywhere
Manage resident access and permissions without going onsite
Remotely issue single-use PINs and virtual keys to maintenance professionals, couriers, and other service providers who need temporary access
View an audit trail of all gate entries
6. Accommodating all residents or tenants
Before selecting a gate intercom system, consider how many people it needs to serve. Do you manage a large gated community with hundreds of residents? Do you own a commercial building with a gated parking structure that serves multiple businesses?
Make sure the gate intercom you buy can accommodate everyone who lives or works on the property. Some multi-tenant intercoms limit the number of end-users. Check with the intercom provider to see whether their product meets your needs.
7. Front desk vs. multi-tenant gate intercom
When a visitor uses your gate intercom, do you want the system to call the specified tenant directly? Or should all calls go to a front desk or leasing office? If you want guests to speak with residents directly, choose a multi-tenant gate intercom.
Multi-tenant gate intercoms are more convenient because:
Residents can see and speak directly with their visitors, saving time and reducing car stacking at the entrance
Property staff doesn't have to man the system 24/7
Property staff doesn't have to field calls from service providers and couriers
8. Hardware and installation budget
At the end of the day, your budget dictates which gate intercom you'll purchase. Before buying a gate entry system, consider the cost of hardware and installation.
Gate intercom hardware pricing varies from brand to brand. On average, expect to spend between $1,000 – $7,000 on the outdoor hardware. Intercoms with touchscreen interfaces cost more than basic telephone entry systems with keypads, but they also add curb appeal and provide a better user experience.
Installation costs are nearly impossible to estimate without a quote from a professional.
The cost of your gate intercom installation depends on several factors, such as:
The size of your property
The location of your gate
The complexity of the installation
The system's wiring requirements
Pro-tip: Save money by choosing a smartphone gate intercom without in-unit hardware. Gate intercoms with in-unit hardware cost more because you have to pay not only for the hardware but also for a professional to install it.
9. Brand reputation
The last factor to consider when choosing a gate intercom is the company's reputation and reliability. You're investing in an important system, so don't skimp on quality.
Make sure the company you purchase from has a strong track record of selling reliable, durable, high-quality products. Read online reviews left by other customers and ask around your network for recommendations from other real estate professionals.
You'll also want to make sure the company provides excellent customer service. Determine whether the company provides live email or phone support. If the company is not based in the U.S., do they offer any customer support at all? Your best bet is to purchase from a brand that offers live customer support in the same timezone as you. That way, you'll always get your questions answered and your issues resolved in a timely manner.