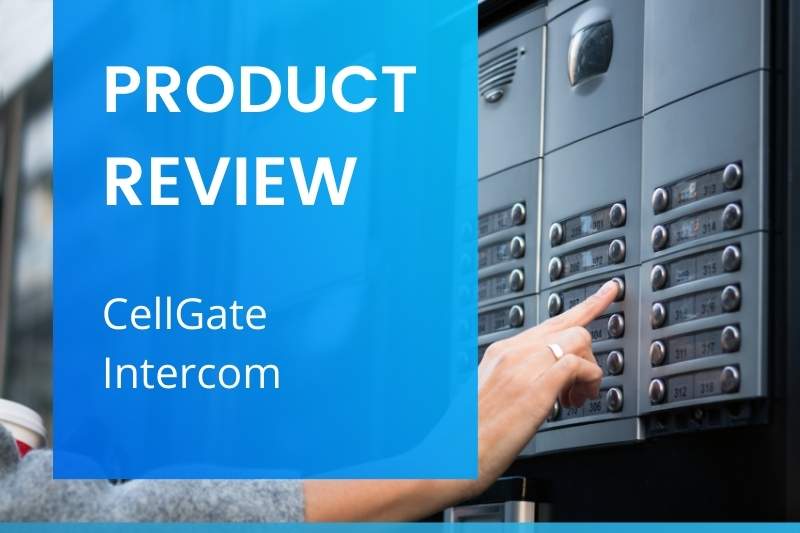 Every property needs an access control solution to maintain security. And for front entryways, there's no better solution than an intercom system. One intercom provider you might be considering is CellGate — specifically, the CellGate Watchman line of intercoms with cameras.
But does Cellgate offer the best gate intercom out there? This review covers everything you need to know about Cellgate Watchman intercoms and how they stack up.
This post covers: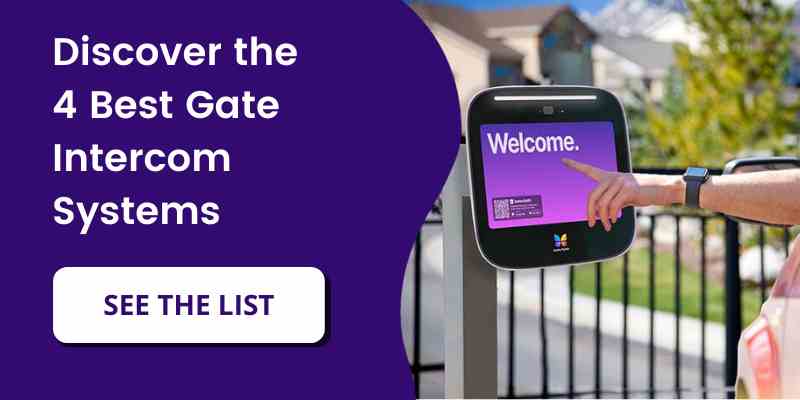 About CellGate
Based in Texas, CellGate is a security company known for its cellular-based access control and monitoring products. Though the company offers three main product lines that serve different purposes, all of its products rely on cellular networks for communication.
CellGate's three product lines include:
Watchman: A self-proclaimed virtual security guard consisting of video and telephone-based access control systems for doors and gates.
Unify: An access control solution without any video or voice communication capabilities. Includes keypad and fob/RFID-powered readers.
CellCam: A property monitoring system that allows you to review live, scheduled, or on-demand photos of triggering events.
All systems sold by Cellgate share three components: hardware, a smartphone app, and the TrueCloud web-based dashboard.
Additionally, you can purchase add-on products, including:
Hardware mounting kits
Solar kit
Watch how ButterflyMX works:
Overview of CellGate Watchman intercoms
CellGate's Watchman line is a line of cellular and internet-based telephone entry and streaming video access control solutions.
Products in the Watchman line include:
Watchman W410: Cellgate's simplest telephone entry solution that includes a keypad, voice communication, and photo capture capabilities.
Watchman W450: A step up from the W410, the Watchman W450 is a telephone entry system that operates on a cellular LTE network. It also offers live streaming one-way video (in other words, tenants can see visitors, but visitors can't see tenants).
Watchman W480: The W480 is a one-way video intercom with an 8" touchscreen that operates on either a cellular LTE network or with an ethernet connection. It also has a built-in card reader and RFID reader.
Watchman W461: The W461 is essentially the same system as the W480, except it has a 7.5" touchscreen and is just 1 inch in depth.
Watchman WXL: Cellgate's WXL model is a video intercom with an 11" touchscreen.
Features
In this review, we'll look at the Watchman product line as a whole, covering specific features that may differ based on the model selected. If you're considering a Cellgate gate intercom, you'll want to carefully assess each model to determine which may be right for your property.
CellGate Watchman intercoms vary slightly by model, but may include the following features:
Built-in camera: All Cellgate Watchman intercoms include a built-in camera. However, it appears that none of Cellgate's intercoms offer two-way video calling, instead offering just one-way video streaming.
Cellular and internet-based: Compatible with cellular networks such as Verizon and AT&T. Certain models can also accommodate hard-wired internet connections.
Optional additional cameras: You may opt to install additional CellGate external cameras for added security. The number of external cameras you can add per system depends on which Watchman model you install. All cameras come with a 32GB SD card to store footage.
WXP Wiegand Expansion Panel: Cellgate intercoms integrate with the WXP Wiegand Expansion Panel so you can expand access control to other areas.
Mobile app: Tenants can download the CellGate mobile app for iOS/Android to control access from their smartphones.
Voice Mail Intelligence (VMI): The Cellgate intercom system ignores a call when it reaches voicemail and then continues to the next number in the call group.
Security log: Every access event is logged and tracked in the Watchman portal to maintain security.
CellGate pricing
There are several costs to consider when purchasing a Cellgate Watchman intercom system, which include the hardware, installation, monthly service fees, and any additional equipment. It's difficult to provide exact pricing as Cellgate's costs rely on a number of factors such as the intercom model, any additional features, and the location where it's being installed.
Below are Cellgate's pricing options:
Hardware: The intercom hardware ranges from $2000 to $4000 depending on the model and its features.
Monthly service fees: service fees are based on whether you want voice only or photos too.

Voice only: $40 to $400 per month
Voice and photos: $100 to $1,000 per month (depending on the number of apartment units at your property).

Installation: Installing the Cellgate intercom requires power, networking, and cabling. Your installation costs will depend highly on the location where the system is being installed and the wiring available at that location. Generally, installation costs can range from $1,500 to $7,500.
Additional equipment: your Cellgate intercom system may require additional equipment such as a cellular internet connection, Wiegand expansion kit, or external camera.

Cellular internet connection: $50 to $150 per month
Wiegand expansion kit: $12 to $100 per month
External camera: $400 to $800 per camera (not including the wiring and installation).
Pros & cons
Pros:
Smartphone app: Smartphone-based access control adds convenience for tenants and streamlines visitor management.
External camera integrations: If security is a high priority, you can opt to add additional cameras to better monitor the entry area.
Web-based dashboard: Cellgate's TrueCloud dashboard may streamline the process of managing the intercom system.
Cons:
Potentially limited coverage: Cellular networks may be limited to AT&T and Verizon, making it incompatible if different providers are used.
Not a lot of set-up information: There isn't much information or clarity on how easy or quick it is to install and set up Watchman, especially for multi-tenant buildings.
No pricing mentioned: Lack of pricing information available on the website can make it harder to decide if it's the right choice from the get-go.
One-way video calling: The Watchman video intercoms may be limited to just one-way video calls, which means visitors can't see tenants during a video call.
Limited integrations: Watchman intercoms may only integrate with other Cellgate products, like CellCam cameras. Cellgate doesn't appear to integrate with other providers of products like smart locks and property management software.
No virtual keys for visitors and delivery carriers: Tenants may not be able to simplify access for guests and couriers beyond unlocking the door for them during an intercom call.
Poor mobile app reviews: The CellGate app only gets a 2-star rating in the App Store and a 2.4-star rating in the Google Play store (as of June 2022).
Comparison of CellGate intercoms with ButterflyMX video intercoms
Watchman intercoms by Cellgate may be an acceptable access control solution for single-family homes and certain multi-tenant properties. However, when compared against options such as ButterflyMX, they may not hold their own.
The ButterflyMX smart video intercom offers the same features and many more with a proven track record of success illustrated by more than 7,000 five-star reviews. When you install a ButterflyMX intercom to control access at your front door or gate, you can rest assured that your property is secure without hindering access for tenants, visitors, and delivery carriers.
The reliability and security that come with ButterflyMX products make it the better option for apartments, gated communities, and commercial properties.

Cellgate Watchman vs. ButterflyMX
A CellGate intercom is a step up from having no entry system at all, but its lack of two-way video calling, limited integrations, and lack of visitor and courier access solutions may make it a less-than-ideal solution for multi-tenant properties.
In contrast, ButterflyMX's video intercom streamlines the access experience for everyone, adding convenience for tenants and saving time for property staff.
What's more, ButterflyMX offers other access control devices that integrate seamlessly with the intercom. So, staff can manage access into and throughout their properties with just one provider. ButterflyMX even integrates with other third-party access control and smart lock providers so that you can control various systems within one user-friendly platform.
| Feature | ButterflyMX | CellGate |
| --- | --- | --- |
| Built-in camera | Yes | Yes |
| Mobile app & smartphone-based access | Yes | Yes |
| Virtual keys | Yes | No |
| Integrations with third-party smart locks & access control devices | Yes | No |
| Integrations with property management software | Yes | No |
| Voice commands using Alexa and Siri | Yes | No |
| Managed delivery solutions | Yes | No |
| Two-way video calls | Yes | No |
Takeaways
The CellGate Watchman line is a series of intercom products designed for single-family homes, gated communities, and commercial properties.
Cellgate Watchman intercoms vary from simple telephone entry systems with cameras to touchscreen video intercoms.
Cellgate intercoms may lack important features like delivery PINs, virtual keys, and property management software integrations.
Pricing is unknown for Cellgate Watchman intercom hardware and software.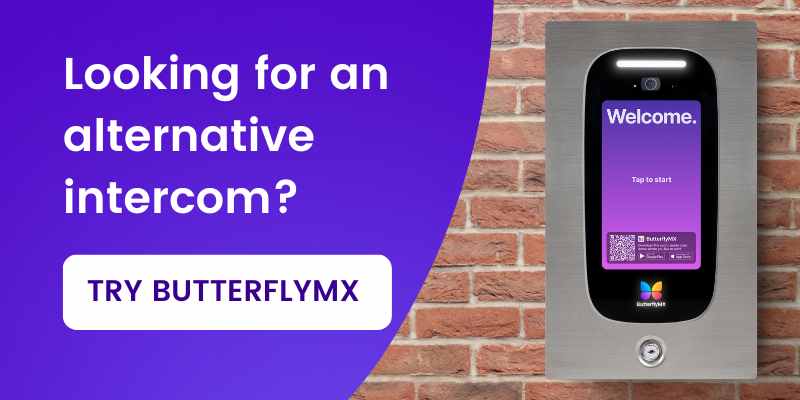 Disclaimer: ButterflyMX provides these blog posts to help our customers and potential customers make the right business decisions for them. Our blog posts are based on the information we have available to us at the time of writing.