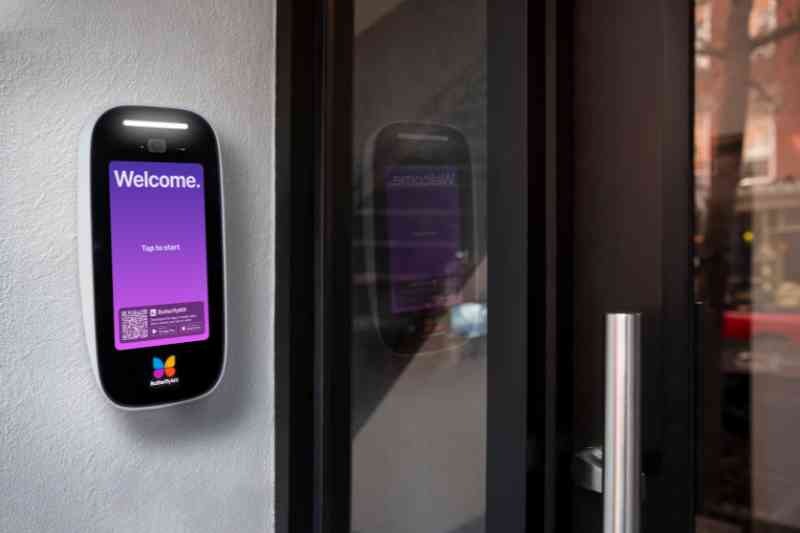 Any building with visitors — whether commercial or residential — needs a way to manage property access. One of the oldest types of visitor management systems is the telephone entry system.
For over a century, telephone entry systems have been used to manage visitor access into all kinds of buildings, from single-family homes to luxury high-rise apartments. But what are telephone entry systems, and what's the best option for your building?
Read on to learn more about telephone entry systems and discover how they work. We also explain why an alternative apartment entry system may be better for your building.
This post will cover: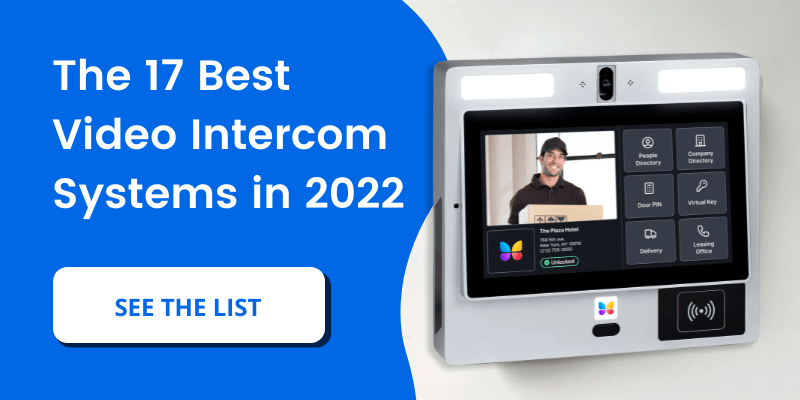 What is a telephone entry system?
A telephone entry system is an electronic device that enables communication and property access between building residents and their visitors. As the name suggests, a telephone entry system operates via a telephone line. The system also requires hardware installed at the entryway of the property and a telephone to receive the calls. Each entry phone system has a microphone and speaker, allowing tenants to speak with their visitors before granting them access to the property.
Telephone entry systems are commonly installed at doors or gates to provide access to tenants, guests, and delivery people.
You may find a telephone entry system installed at:
Apartment building entry doors
Main gates at gated communities
Parking structure entrances
Student housing entrances
Senior living facilities
Commercial buildings
Mixed-use buildings (retail/commercial and residential)
The first telephone entry systems
First patented by the Kellogg Switch Board Company in 1884, shortly after Alexander Graham Bell's invention of the telephone, telephone entry systems have remained largely the same over the last century.
At the time, the entry phone system marked an important turning point in the history of the apartment entry system. It was a vast improvement from early speaking tube systems, which could only accommodate short distances and were difficult to install.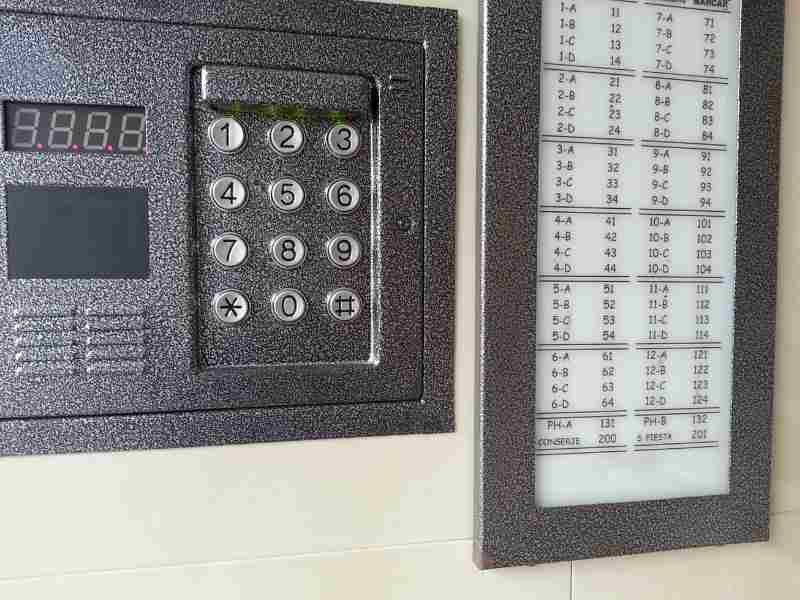 After the invention of the smartphone, telephone entry systems gave way to video intercoms. These modern entry systems add video calling and eliminate the need for in-unit hardware and building wiring.
Instead of relying on telephone lines, video intercoms wirelessly send all visitor communications to residents via smartphones. This allows residents to see and speak with their visitors no matter where they are before granting them property access.
How does a telephone entry system work?
A telephone entry system works by providing telephone communication between a visitor and a tenant in a residential or commercial building. When a visitor needs access to a building, they look up the tenant they would like to call using the telephone entry system's directory. When the visitor selects the tenant from the directory, the telephone entry system dials the resident's registered phone number. The tenant picks up the call and presses '9' to open the door for the visitor.
Watch how ButterflyMX works:
Many modern entry systems don't need in-unit hardware for residents to speak with visitors and unlock the door. In contrast, telephone entry systems require residents to register either a landline or cell phone number.
Telephone entry systems require four components:
Outdoor hardware installed at the front door, which visitors use to find and call a tenant
A door release system that unlocks the door when the resident presses '9' on their phone
Power supply
Telephone wiring and/or cellular connection
Types of telephone entry systems
Originally, telephone entry systems were designed for landline phones. But now that cellular towers are everywhere, some newer entry phone systems have started offering cellular connections.
Landline systems
The first telephone entry systems were introduced in the time before cell phones, when you had to connect your telephone to a phone jack in the wall. They were designed to let visitors alert residents of their arrival, and let residents unlock the front door without going downstairs.
When receiving a call placed through the telephone entry system, residents with landline phones answer it just like they would a normal phone call. They can hear and speak with their visitor. To unlock the door for their guest, they simply press '9.'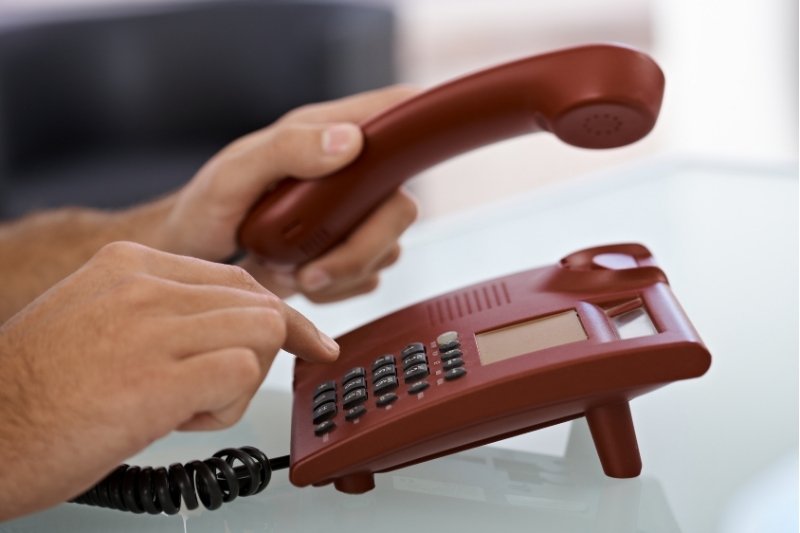 Cellular systems
Until recently, telephone entry systems required a dedicated phone line. But landline phones are dying out — as of 2019, only 40% of U.S. households had a functional landline. To adapt, many providers have started connecting their telephone entry systems through a cellular service (e.g Verizon, AT&T, T-Mobile, etc.)
However, many cellular telephone entry systems require customers to purchase and install a cellular connection box to enable cell service. And since most cellular-enabled systems aren't cloud-based, they can't offer features like video calling, delivery PINs, or a mobile app.
Telephone entry systems with cameras
These days, multifamily residents demand tech-powered apartment amenities. Recognizing that telephone entry systems cannot meet that demand, some access control providers have started adding cameras to their telephone entry systems.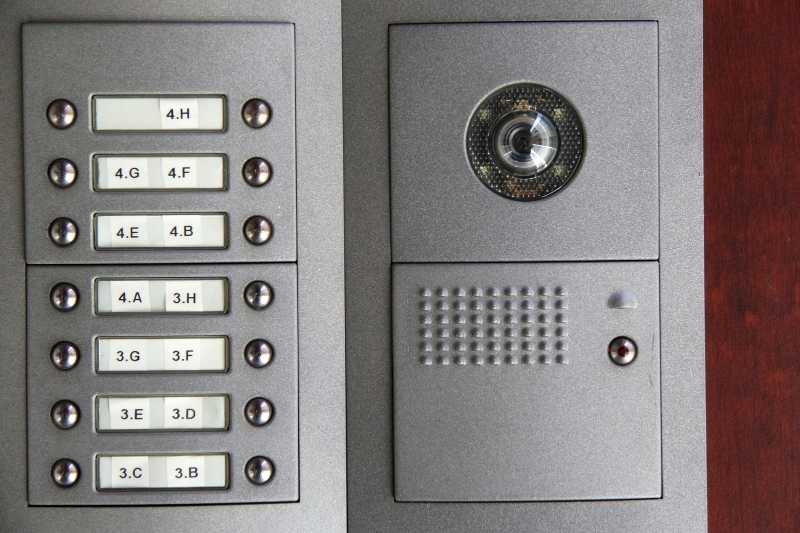 Adding a camera to a telephone entry system improves security at the building by offering residents a way to see visitors in addition to speaking with them. Some modern telephone entry systems with cameras offer in-unit hardware with screens to display video footage. Others have started developing mobile apps where residents can view video footage of visitors from their smartphones.
Three limitations of telephone entry systems
Telephone entry systems have three limitations that you should consider:
They require a telephone line to make outgoing calls. This means you'll have to pay a monthly fee for that line. It also means that if your resident has an out-of-state phone number, your telephone entry system will be making a long-distance call to that resident even though they live in your building. These costs add up quickly.
You can't manage or update a telephone entry system remotely. For example, adding a tenant to the directory requires you to go onsite and program that person into the system. The same is true if you want to remove that resident. This is an extremely time-consuming process when you factor in your average turnover rates and the time it takes to travel to each building you own or manage.
Telephone entry systems lack cameras. Since the data required to transfer video is too large for a telephone line to carry, these systems cannot have built-in cameras. As a result, residents and building staff can't see who they're letting into the building.
Thankfully, technology has improved significantly since the invention of the telephone entry system. Today, we have better entry solutions available.
Video intercom systems are the better entry solution
If you've decided to replace your apartment buzzer or you're selecting an intercom for a new development, it's wise to choose an entry system with a camera. But telephone entry systems with cameras lack the robust technology and feature-rich functionality of modern video intercom systems like ButterflyMX.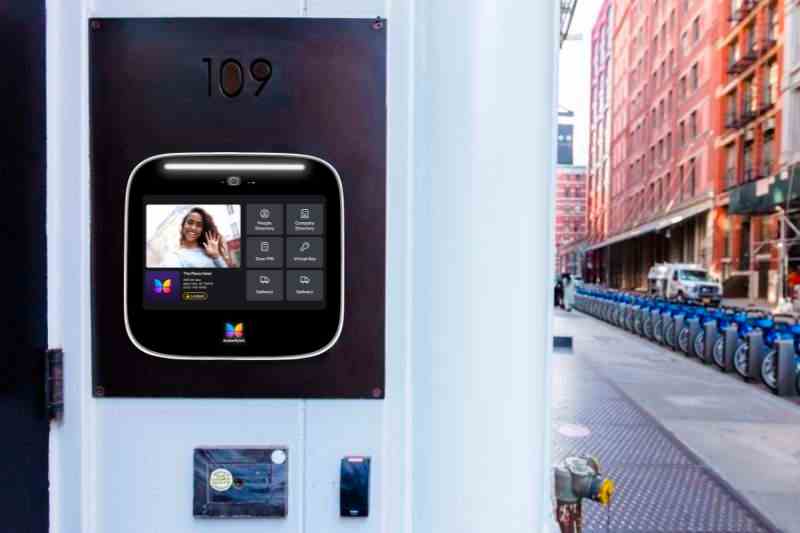 While telephone entry systems with cameras can improve security, they offer little more beyond that. You're better off with a video intercom that enhances security and convenience for both residents and property staff alike.
We recommend choosing a cloud-based video intercom because:
Most telephone entry systems with cameras only enable one-way video calling, which means residents can see visitors but visitors can't see residents.
Residents — most of whom own and regularly use smartphones — will be able to video chat with visitors and unlock the door from a convenient mobile app.
Modern systems like ButterflyMX offer features such as virtual keys for guest access and one-time or recurring delivery PINs for couriers.
Cloud-based video intercom systems offer an audit trail of every door entry event for added security.
Replace your telephone entry system
If you have a telephone entry system installed at your property, consider a replacement. ButterflyMX's smart video intercom makes property access simple. With an easy-to-use mobile app and features that improve the access experience for both residents and property staff, ButterflyMX beats out the telephone entry system.