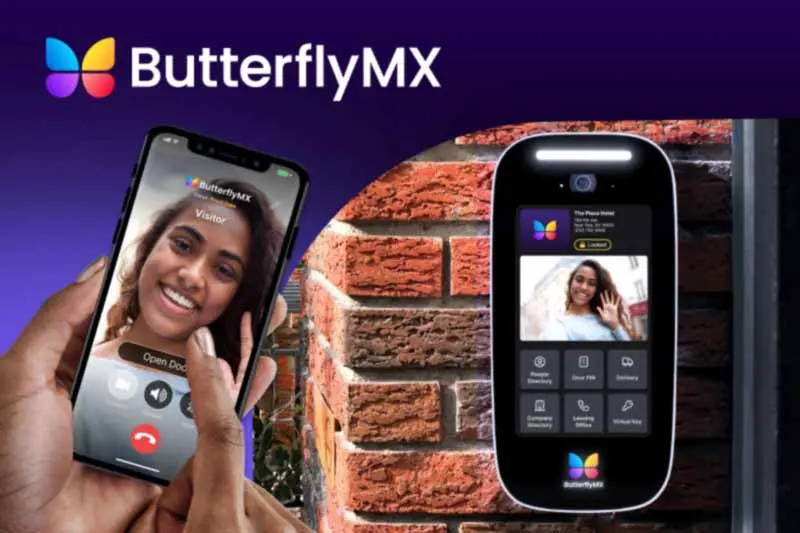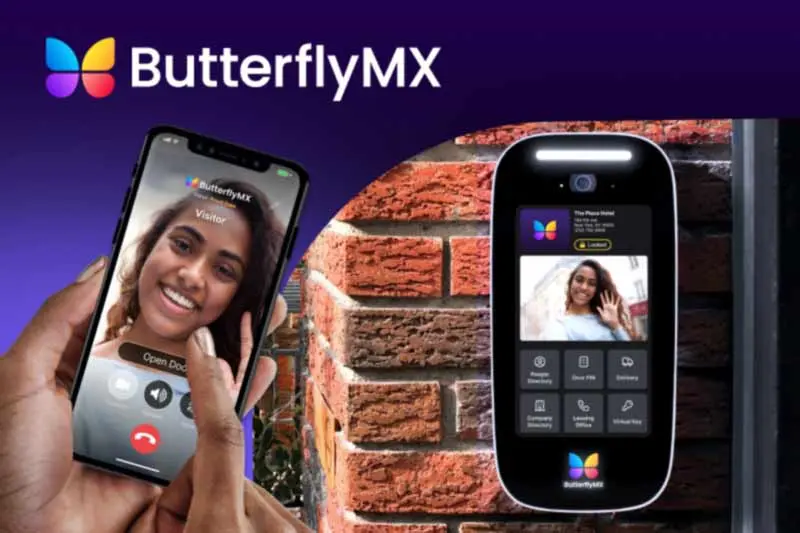 Any building with visitors needs a way to manage property access. And one of the oldest types of visitor management systems is the telephone entry system.
For over a century, these systems have been used to manage visitor access into all kinds of buildings, from single-family homes to luxury high-rise apartments. But what are these systems, and what's the best option for your building?
Read on to learn more about telephone entry systems and how they work. We also explain why an alternative apartment entry system may be better for your building.
This post covers:
What is a telephone entry system?
A telephone entry system is an electronic device that enables communication and property access between building residents and their visitors. As the name suggests, a telephone entry model operates via a telephone line. The system also requires hardware installed at the entryway of the property and a telephone to receive the calls. Each door entry phone system has a microphone and speaker, allowing tenants to speak with their visitors before granting them access to the property.
These systems are commonly installed at doors or gates to provide access to tenants, guests, and delivery people.
You may find a telephone entry system installed at:
Apartment building entry doors
Main gates at gated communities
Parking structure entrances
Student housing entrances
Senior living facilities
Commercial buildings
Mixed-use buildings (retail/commercial and residential)
Watch how ButterflyMX works:
The first telephone entry systems
First patented by the Kellogg Switch Board Company in 1884, shortly after Alexander Graham Bell's invention of the telephone, telephone entry models have remained largely the same over the last century.
At the time, the door entry phone system marked an important turning point in the history of the apartment entry system. It was a vast improvement from early speaking tube systems, which could only accommodate short distances and were difficult to install.
After the invention of the smartphone, telephone door entry systems gave way to video intercoms. These modern entry systems add video calling and eliminate the need for in-unit hardware and building wiring.
Instead of relying on telephone lines, video intercoms wirelessly send all visitor communications to residents via smartphones. This allows residents to see and speak with their visitors no matter where they are before granting them property access.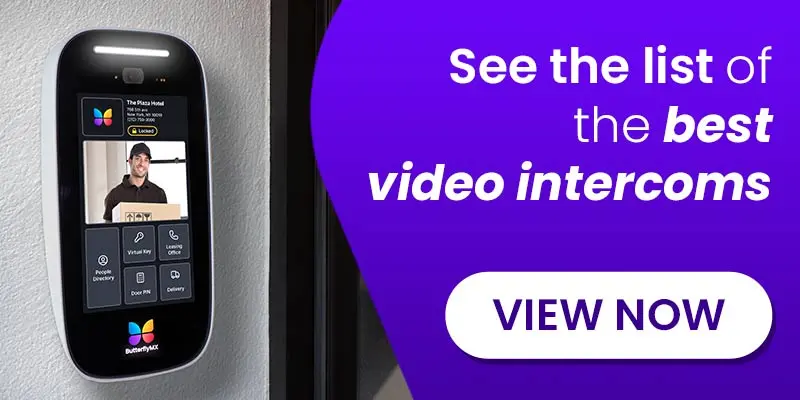 How does a telephone entry system work?
A telephone entry system works by providing telephone communication between a visitor and a tenant in a residential or commercial building. When a visitor needs access to a building, they use a system to call a tenant and request access.
With a multi-tenant telephone entry model, the visitor looks up the tenant they'd like to call using the system's directory. Alternatively, if the system is installed at a single-family home or small building, they may simply press a 'call' button associated with the correct tenant.
When the visitor has chosen who to call, the system dials the resident's registered phone number. The resident picks up the call and presses '9' on their phone to open the door for the visitor.
Many modern entry systems don't need in-unit hardware for residents to speak with visitors and unlock the door. Most of these systems require residents to register either a landline or cell phone number.
These systems require four components:
Outdoor hardware is installed at the front door or gate, which visitors use to find and call a tenant
A door release system that unlocks the door or gate when the resident presses '9' on their phone
Power supply
POTS (plain old telephone service) telephone wiring and/or cellular connection
How much does a telephone entry system cost?
These systems cost anywhere from about $1,000 to $7,000, not including the cost of installation or maintenance fees.
Hardware costs vary based on the system's functionality. For example, basic phone entry systems that lack many features and limit the number of tenants you can add may sell at the lower end of the price range. In contrast, a more modern cellular door entry solution will cost more.
Installing a telephone entry system may cost thousands of dollars since most require extensive wiring. If you're installing a system with in-unit hardware, you'll also have to factor in the cost of purchasing and installing those devices. Additionally, cellular telephone entry systems may require you to purchase and install a cellular connection box at your property.
Ultimately, even a lower-end telephone entry system can cost a lot more than you think since the installation, wiring, and hardware costs add up quickly!
Types of telephone entry systems
Originally, apartment telephone entry systems were designed for landline phones. But now that cellular towers are everywhere, some newer entry phone systems have started offering cellular connections. And other features are being added to phone entry systems as technology advances.
As a result, there are a few different types of tele entry systems.
Some of the most common types of systems include:
Landline systems
The first systems were introduced in the time before cell phones, when you had to connect your telephone to a phone jack in the wall. They were designed to let visitors alert residents of their arrival, and let residents unlock the front door without going downstairs.
When receiving a call placed through the telephone entry model, residents with landline phones answer it just like they would a normal phone call. They can hear and speak with their visitor. To unlock the door for their guest, they simply press '9.'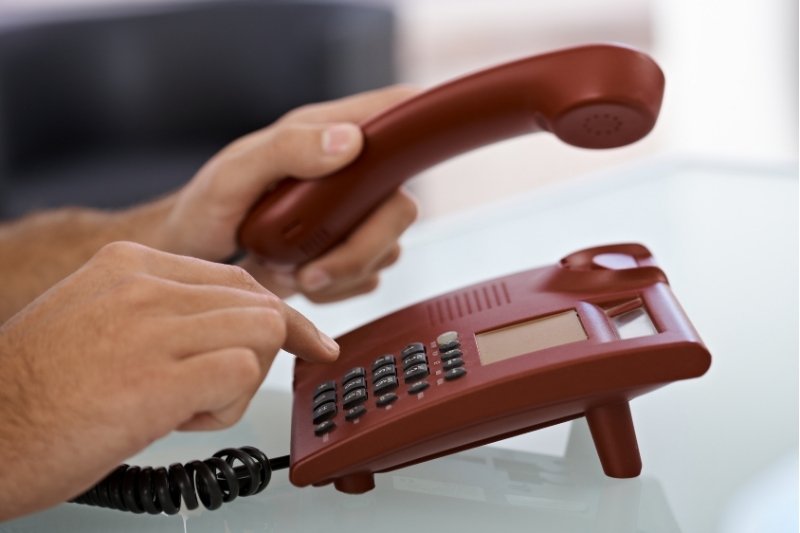 Cellular telephone entry systems
Until recently, these systems required a dedicated phone line. But landline phones are dying out — as of 2019, only 40% of U.S. households had a functional landline. To adapt, many providers have started connecting their telephone entry models through a cellular service (e.g Verizon, AT&T, T-Mobile, etc.)
However, many cellular telephone entry systems require customers to purchase and install a cellular connection box to enable cell service. And since most cellular-enabled systems aren't cloud-based, they can't offer features like video calling, delivery PINs, or a mobile app.
Telephone entry systems with cameras
These days, multifamily residents demand tech-powered apartment amenities. Recognizing that these systems can't meet that demand, some access control providers have started adding cameras to their tele entry systems.
Adding a camera to a telephone entry model improves security at the building by offering residents a way to see visitors in addition to speaking with them. Some modern telephone entry systems with cameras offer in-unit hardware with screens to display video footage. Others have started developing mobile apps where residents can view video footage of visitors from their smartphones.
Wireless telephone entry systems
A wireless telephone entry system enables communication between visitors and residents without the wiring required of traditional systems with phone lines. As such, most wireless phone entry systems operate with cellular networks.
Remember: You'll need to pay for a cellular service plan to enable calls from a wireless telephone entry system. So, you'll have to factor that monthly expense into your budget.
VoIP telephone door entry systems
A VoIP telephone entry system uses VoIP technology for voice communication rather than POTS telephone lines. VoIP stands for 'voice over internet protocol.' These systems transfer data over the internet rather than telephone wires.
VoIP phone entry systems require an internet connection and possibly TCP/IP and VoIP adaptors.
Problems with telephone entry systems
A tele entry system isn't the best solution for your property because it falls short in many ways.
Telephone entry models have a few limitations that you should consider:
They require a telephone line to make outgoing calls. This means you'll have to pay a monthly fee for that line. It also means that if your resident has an out-of-state phone number, your system will be making a long-distance call to that resident even though they live in your building. These costs add up quickly.
You can't manage a telephone entry model remotely. For example, adding a tenant to the directory requires you to go onsite and program that person into the system. The same is true if you want to remove that resident. This is a highly time-consuming process when you factor in your average turnover rate and the time it takes to travel to each building you own or manage.
Telephone entry systems lack cameras. Since the data required to transfer video is too large for a telephone line to carry, these systems cannot have built-in cameras. As a result, residents and building staff can't see who they're letting into the building.
Thankfully, technology has improved significantly since the invention of the tele entry system. Today, we have better entry solutions available.
6 best telephone entry systems
If you intend to purchase a telephone entry system, make sure you choose one worth the money.
Here are the six best telephone entry models to consider:
1. ButterflyMX
ButterflyMX is a modern take on the telephone entry system. Founded in 2014, ButterflyMX's video intercom system provides property owners, managers, and residents with a mobile app they can use to open doors, gates, and elevators.
While traditional telephone entry systems can improve security, they offer little more beyond that. You're better off with a video intercom that enhances security and convenience for both residents and property staff alike.
Further, the robust ButterflyMX video intercom system has:
RFID (Radio Frequency Identification) present in the device. As a result, the intercom is outfitted with one or more antennas that can emit radio waves and receive data back from an RFID tag.
A wide-angle camera with a 156º field-of-view that can capture the entirety of an entry event for optimal security.
Integrations with the entire ButterflyMX suite of access control products. So, access doesn't have to stop at your front door. Instead, access is simple throughout your entire property.
Is cloud-based.
5GHz WiFi.
A top-rated mobile app.
A bright LED screen in 8" and 12" models.
Vandal-resistant and weatherproof.
We recommend choosing a cloud-based video intercom because:
Most telephone entry models with cameras only enable one-way video calling, which means residents can see visitors but visitors can't see residents.
Residents — most of whom own and regularly use smartphones — will be able to video chat with visitors and unlock the door from a convenient mobile app.
Modern systems like ButterflyMX offer visitor access features such as virtual keys for guest access and delivery PINs for couriers.
Cloud-based video intercom systems offer an audit trail of every door entry event for added security.
| Feature | ButterflyMX Video Intercom | Telephone Entry System |
| --- | --- | --- |
| Built-in wide-angle camera | Yes | No |
| Mobile app | Yes | No |
| Remote system management | Yes | No |
| Cloud-based software | Yes | No |
| Video calling | Yes | No |
| Virtual keys & delivery PINs for managed visitor access | Yes | No |
| Easy installation | Yes | No |
| Audit trail of door entry events | Yes | No |
| Integrations with other technology | Yes | No |
| WiFi present in the device | Yes | No |
2. Doorking
Doorking is perhaps the most well-known telephone entry system provider in the industry. Based in Southern California, Doorking (or DKS) has been selling phone entry systems since 1948.
DKS telephone entry models have a traditional, simple design with few features or bells and whistles. These systems are installed on POTS phone lines, so they require traditional telephone wiring. However, Doorking does offer cellular telephone entry models. But to enable cellular service, you must purchase the DKS Cellular Connection Box, which is sold separately from the entry system.
Features of Doorking systems vary by model but may include:
LED tenant directory
Ability to store thousands of names and phone numbers
Programmable via PC (systems include programming software)
Tamper alert switch
Weather sealing
According to a January 2022 price sheet, Doorking systems range in price from $1,496 to $7,040 for hardware (depending on model).
Remember you must also budget for installation fees and possible service connection costs. A VoIP adapter costs $180 while cellular service connection plans range from $1,200 to $1,700.
Is Doorking right for your building?
Most Doorking entry systems may lack the features and functionality that modern renters want. For example, Doorking telephone entry systems don't have built-in cameras for video calling and may not pair with a mobile app for easy smartphone-based access.
Additionally, some Doorking models may have serious security issues. Intruders may be able to easily hack or break into the intercom to gain access. So, Doorking may not be right for your building if you want to maximize security.
Read the full Doorking telephone entry system review »
3. Kantech
Kantech is a Tyco Security Products company founded in 1986 that designs and sells various access control solutions that are ready to use right out of the box. The company's product lineup ranges from security services and software to door controllers and telephone entry systems.
The Kantech Telephone Entry System (KTES) is a basic building entry system designed for apartments, gated communities, condos, offices, and industrial properties. Visitors can call and communicate with a tenant directly through the KTES, at which point the tenant can grant or deny entry directly from a landline telephone or cell phone.
Property staff can remotely manage their building's KTES using Kantech's EntraPass software, which appears to be sold separately and may only be compatible with Windows operating systems.
Features of the Kantech telephone entry system:
Compatibility with Kantech door controllers.
Comes with a pared-down version of EntraPass management software. So, you may have to purchase the full software package for access to all features.
Use as a stand-alone system or integrate with an existing access control system.
Vandal- and weather-resistant stainless steel casing.
One phone line supports up to five units.
4-line, 20-character LCD screen.
Directory capacity of 3,000 tenants.
Is Kantech right for your building?
If you want to join the 21st century and move away from old systems that rely on telephone lines, you may not want to purchase a Kantech telephone entry system. One telephone line only supports up to five units, and cellular networks are expensive.
For most buildings, it may be more cost-effective and secure to invest in a smartphone-based intercom that pairs with a mobile app instead of a Kantech system.
Read the full Kantech telephone entry system review »
4. Mircom
Founded by Tony Falbo in 1991 and based in Canada, Mircom is a security and building solutions provider that offers a variety of TCP/IP ready, auto-dial, and NSL (no subscriber line) telephone entry models.
Mircom's telephone entry system product lineup includes:
Paper directory systems
Hands-free electronic directory models
Slim-line models
Video telephone access system
NSL telephone access kits (for buildings without a dedicated phone line or that don't want to pay for a dedicated phone line)
Designed for apartments, condos, gated communities, offices, and industrial sites, Mircom phone entry systems are basic property entry solutions.
Mircom system features:
Option to add key card access and elevator controls
Electronic or paper directory, depending on the model
Programmable via the built-in keypad or with a computer via optional TX3 configuration software
Require a dedicated phone line (for NSL configuration, you'll need additional hardware such as relay cards and relay cabinets)
Mircom telephone entry system pricing doesn't appear to be available on the company's website, so you may have to contact them to request a quote.
Is Mircom right for your building?
Mircom systems with paper directories may not be right for modern buildings that have off-site staff or want to automate tasks.
Additionally, Mircom tele entry systems require property admins to manually update the system on-site or download software to a single computer to make changes. This can be tedious for busy property managers, so instead of a Mircom phone entry solution, you may want to consider a cloud-based intercom that you can update remotely.
Read the full Mircom telephone entry system review »
5. Linear
Founded in 1961, Linear is a well-known access control solutions provider based in Carlsbad, California. The company is part of the Nortek Control family of brands, offering a variety of products including door operators, access control devices, and telephone entry systems.
Linear offers four models of systems:
AE-100 commercial single-door system
EP-736 EntryPro touchscreen system
EP-436 EntryPro networked telephone system
EP-402 EntryPro two-door stand-alone system
Linear telephone entry systems can be programmed locally using the system's keypad. But remote management and programming vary by model. For example, the AE-100 can only be programmed remotely via a touch-tone telephone. But the EP-402 may be fully browser-managed.
Features of Linear tele entry systems:
Built-in keypad on all models
Electronic directory with navigation buttons (plus one touchscreen model)
Number of doors supported varies by model (1-, 2-, or 36-door models)
Most basic model allows up to 125 tenants; other models may have greater directory capacity
Accessories sold separately, including add-on camera, metal trim rings, and pedestal mounts.
Is Linear right for your building?
Linear telephone entry models may not be the right solution for your building if you want a modern, future-proof system.
Linear phone entry systems require visitors to use outdated hardware with a tedious keypad and navigation buttons to find a tenant in the directory. Additionally, residents may not be able to use a smartphone app to remotely manage access for their guests.
Read the full Linear telephone entry system review »
6. Select Engineered Systems
Select Engineered Systems (better known as SES) develops and offers cost-effective, scalable access control solutions. The company was founded in 1976 but incorporated as Select Engineered Systems in 1980, and is today based in Florida.
SES offers a variety of products, including help communication systems, card entry systems, building communication systems, and digital keypads. However, they primarily focus on tele entry systems.
Select Engineered Systems offers two system models: the TEC1 basic system and the TEC2 series.
SES telephone entry system features:
2-, 4-, or 10-line LCD display
Five tenant directory capacities: 50, 125, 250, 500, or 995
Two-year limited warranty
SELCOM software can be used to enter data, create databases, configure access control parameters, and set timed access schedules.
Is Select Engineered Systems right for your building?
Although SES has been around since the 70s, its products may, unfortunately, reflect that era. Select Engineered Systems telephone entry models may be too outdated for modern buildings, especially since they have small display screens and no cloud-based software. Both of these factors may lead to a poor user experience for visitors, residents, and property staff alike.
Read the full Select Engineered Systems review »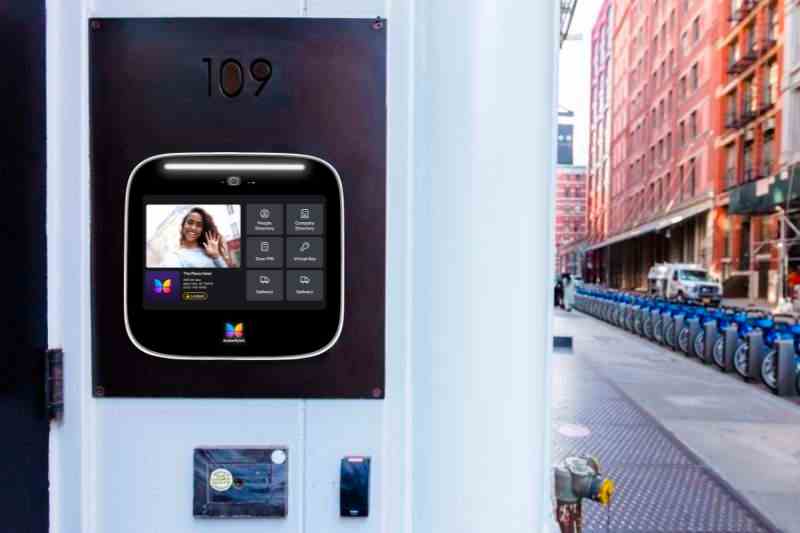 Replace your telephone entry system
If you have a telephone entry system installed at your property, consider replacing it with the ButterflyMX smart video intercom.
ButterflyMX's video intercom makes property access simple. With an easy-to-use mobile app and features that improve the access experience for both residents and property staff, ButterflyMX beats out the telephone entry system by a mile.