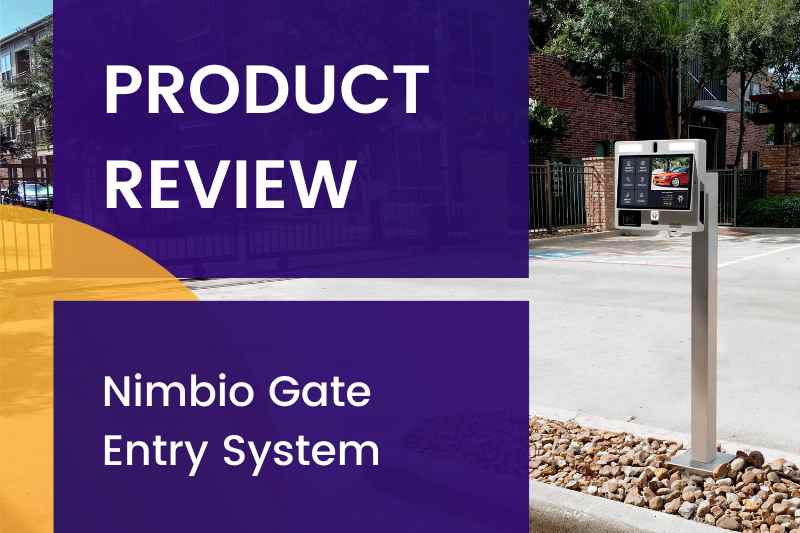 Key takeaways
Nimbio may not be a complete entry system; instead, it's a gate access device that installs on top of an existing intercom, call box, or telephone entry system.
Nimbio is a new company with limited customers & reviews. The company has only been selling its Cellular Keyless Entry System nationwide since 2021.
They may not offer solutions for package management, elevators, interior spaces, or other entryways.
If you're looking for a solution to control access to your gated property, you may be looking for a gate access system such as Nimbio. But is Nimbio the best gate entry system out there?
In this review, we'll explain how the Nimbio cellular gate entry system works and go over its features, pros and cons, and pricing. Finally, we'll explore a potential alternative to their gate entry system and help you choose which access control system you should purchase.
This review covers:
About Nimbio
Nimbio is a tech start-up based in Las Vegas, Nevada. The company began selling its flagship access control product for gated entrances in the Las Vegas area in 2018. Then, in February 2021, Nimbio announced its nationwide rollout.
Nimbio appears to sell directly to consumers, allowing property owners, managers, and developers to purchase the gate entry system directly. The company may also offer a network of installers who can handle the hardware installation process.
Overview of the Nimbio gate entry system
Nimbio's gate access system — formally known as the Nimbio Cellular Keyless Entry System — is a device that installs over or in addition to a call box, gate buzzer, or intercom system to enable smartphone-based access.
This gate access system is designed for buildings and gated communities that already have an intercom or call box but want to enable residents to remotely unlock the gate from their smartphones. By allowing remote control for gated communities, Nimbio may add convenience for residents who want to open the gate for themselves using a smartphone or remotely grant access to their visitors.
How to install Nimbio
Nimbio provides installation instructions on its website. You can also access Nimbio wiring diagrams, cut sheets, and other documentation from the company's website.
Additionally, the company encourages prospective customers to contact them and set up an appointment with one of their installation experts. The company claims that installation can take less than an hour.
Keep in mind that Nimbio can only be installed at properties that have an existing electronic lock or gate operator. If you don't have an existing automatic opener in place, you may want to consider a different gate entry system.
Watch how ButterflyMX controls access at gated properties:
How does Nimbio work?
Nimbio works by enhancing existing gate entry solutions by enabling remote, smartphone-based access. Essentially, the product tries to turn old intercoms and call boxes into 'smart' solutions.
Here's how Nimbio works:
Install the cellular entry box, which connects to Nimbio's servers via a cellular network.
Add residents to the system via the Nimbio app.
Residents use the mobile app on their smartphones to unlock the gate or door. When a resident requests to open the door or gate, the Nimbio server sends a signal to the device at your property instructing it to unlock. Then, the server sends a success message to the resident to confirm entry approval.
So, Nimbio is primarily a system designed to enable residents to unlock doors and gates for themselves with their smartphones.
However, it does also offer a digital key solution so that residents can grant access to authorized visitors. From within the mobile app, residents can create Shared Keys — which are unique single-use or recurring PIN codes — and send them to their trusted guests.
Features
Requires an existing intercom or call box: Nimbio must be installed on top of an existing entry system at a gate with an electric lock. Communities that no longer want to use their old call box may opt to disconnect the intercom's directory and give service providers, delivery carriers, and emergency services a 4-digit access code instead.
Master Keys and Shared Keys: Any user with a Master Key has the ability to create Shared Keys and receives notifications when a Shared Key is used. There are two types of Shared Keys: "Family Keys" that work 24/7 and "Doorbell Keys" which require the person who created the key to verify the visitor's access request.
Uses cellular network: Nimbio's hardware connects to Nimbio servers via a cellular network. So, the product doesn't require any direct internet wiring, which could result in an unstable connection or unreliable service.
Mobile app: The Nimbio app allows residents to remotely unlock the gate with their smartphones. They also use the app to manage digital keys for guests and review entry activities.
Requires smartphones: As of 2023, Nimbio may only work with smartphones. So, residents who don't have a smartphone may not be able to use the system.
Scheduled gate hold open: Administrators can schedule times to keep the gate open or unlocked on a recurring basis.
Activity history log: In the "History" tab of the mobile app, users can review a log of all access events.
Compatible with existing access control credentials: When you install the Nimbio keyless gate access device on top of your existing access control system, residents can still use their old fobs, key cards, and clickers.
Link multiple gates: If you have more than one gated entrance, you can link multiple access points with a single key.
Nimbio pricing
Nimbio costs $300 for the hardware as of February 2023. You can purchase the cellular keyless entry system online from the company's website.
However, keep in mind that you'll need to pay a monthly subscription fee for software and usage. Nimbio's pricing for the monthly fee is based on the number of gates on the property and the number of residents using the system. This monthly software fee is not publically available on their website — you must request a quote.
You'll also have to factor in Nimbio installation costs, which could range anywhere from a few hundred to a few thousand dollars.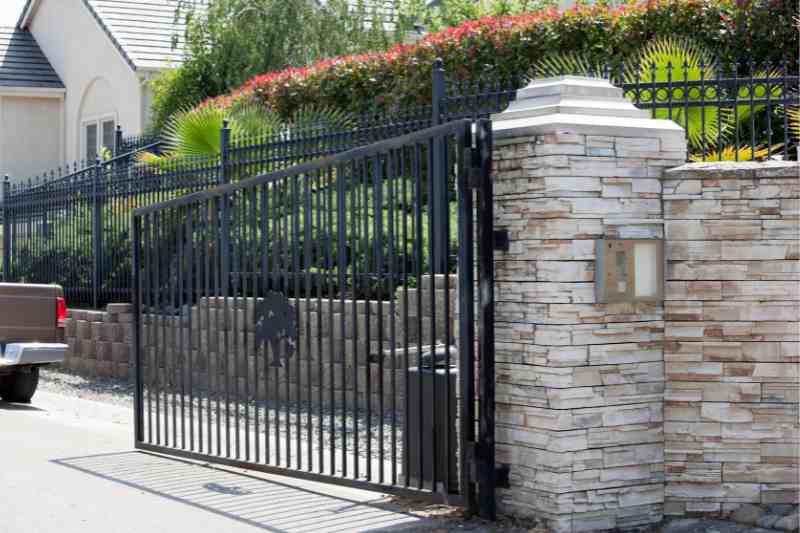 Pros & cons
Pros:
May eliminate the need for shared PIN codes: With Nimbio, residents can send unique digital keys to their guests, which eliminates the need to give out an unsafe shared access code.
Unlock doors and gates with a smartphone: Since most people have a smartphone, it can be convenient for residents to gain access using their phones.
Cons:
New company: Nimbio has only been around for a few years and has only recently started selling nationwide. Purchasing their product could be risky if the company goes out of business. Additionally, the company may be small and lack robust customer support or reliable hardware and software.
Requires an existing entry system: Because Nimbio is designed to install on top of existing intercoms or call boxes, it may not be the complete entry solution you're seeking.
No camera: Nimbio doesn't include a camera, so the system doesn't take a photo of each entry. Additionally, guests can't video call a resident, so residents can't visually confirm each visitor's identity.
No way for visitors to request access: Nimbio doesn't inherently provide any sort of access request tools for visitors. So, only pre-planned visitors can use Nimbio to gain access using a digital key that a resident sends them in advance.
No delivery solutions: Nimbio may not offer access solutions specifically designed for delivery carriers, which could result in missed deliveries and stolen packages.
No integrations: Nimbio may not integrate with other technologies you're already using, such as access control systems and property management software.
Nimbio vs. ButterflyMX
When shopping for a gate entry system, you want a solution that's convenient and easy to use yet secure and durable. If you're choosing between Nimbio and ButterflyMX, choose ButterflyMX. Overall, ButterflyMX offers the best and most comprehensive gate access control system on the market for apartments, condos, commercial buildings, and even industrial facilities.
Unfortunately, Nimbio may not be a holistic access solution because it must be installed over an existing entry system. In contrast, ButterflyMX offers an all-in-one unified property access solution.
If you install Nimbio at your gated entrance, you may lack viable solutions to easily grant access to visitors, delivery carriers, and service providers. This could result in a poor resident experience. But with ButterflyMX, authorized visitors always have a way to easily gain access, whether that's via virtual keys, delivery passes, delivery PIN codes, or video calls with residents.
Ultimately, Nimbio's only benefit may be that it allows residents to unlock the gate with their smartphones. But ButterflyMX offers this and much more! Additionally, residents without a smartphone can still use ButterflyMX with their landline or non-smart cell phone.
ButterflyMX offers multiple great solutions to control access to gated entrances:
Video gate intercom: Our gate intercom system has a camera, which enables visitors to video call residents to request access. In turn, residents can visually confirm their visitors before granting access. The intercom also takes a photo of each entry event for added security.
Vehicle reader and vehicle stickers: Our vehicle access control system consists of a sleek reader that scans vehicle stickers placed on each tenant's windshield. This enables seamless, hands-free entry for residents.
Keypads and card readers: For gated entrances that visitors don't use, you can install a ButterflyMX keypad or mullion reader. Keypads accept fobs, cards, and PIN codes, while the mullion reader accepts fobs and cards.
Best of all: Residents can use the ButterflyMX mobile app on their smartphones (or other smart devices, like Apple Watches and tablets) to remotely unlock any door or gate, no matter which ButterflyMX device is installed.
| Feature | ButterflyMX | Nimbio |
| --- | --- | --- |
| Mobile app & smartphone-based access | Yes | Yes |
| Established & stable company | Yes | No |
| Camera | Yes | No |
| Visitor management | Yes | No |
| Elevator controls | Yes | No |
| Integrations with other access control devices | Yes | No |
| Compatible with non-smartphones | Yes | No |
| Direct internet connection for maximum stability | Yes | No |
| Integrations with property management software | Yes | No |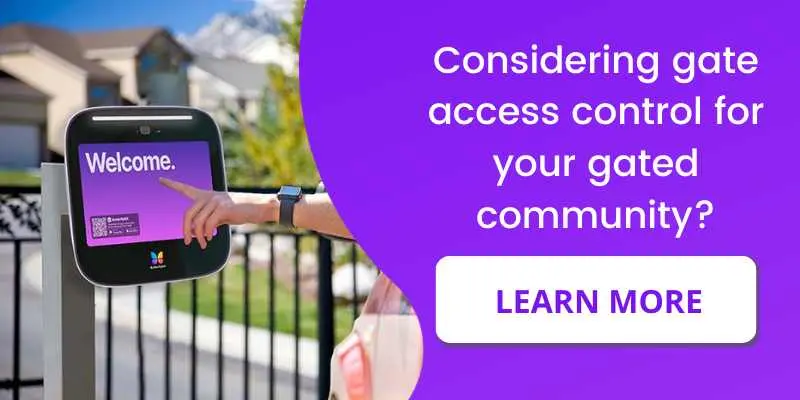 Disclaimer: ButterflyMX provides these blog posts to help our customers and potential customers make the right business decisions for them. Our blog posts are based on the information we have available to us at the time of writing.