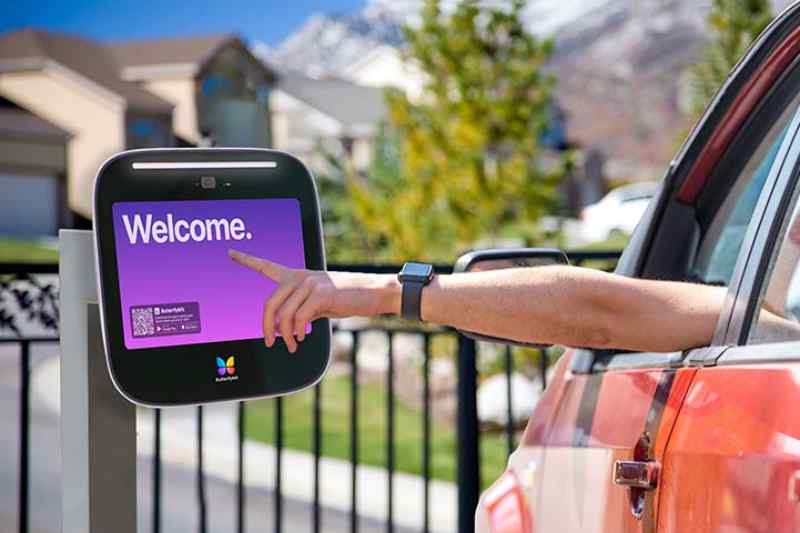 All kinds of properties — from multifamily housing to commercial office buildings — use gates to maintain security. But where you have a gate, you need a way to make sure the right people can get through. You need gated community access control.
There are various ways to manage entry at your gated properties, from gate intercom systems to RFID readers. But how do you choose the right gate entry system for your property? Read on to learn more about managing access at gated properties and various gate access control systems.
In this post, we explain: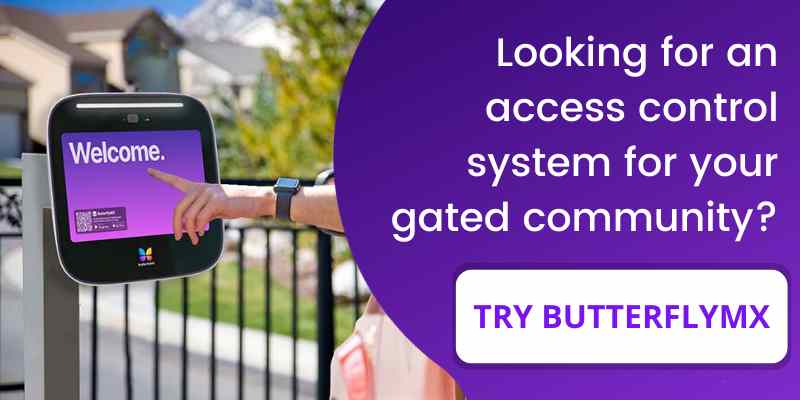 Best gate access control system
No matter your gate's location or access requirements, the best gate access control system is ButterflyMX.
ButterflyMX offers multiple solutions ideal for controlling access at gates:
Video intercom
Vehicle reader & stickers

Complete resident and visitor access solution for any gated entrance.
Unlock the gate from anywhere with a smartphone.
Visitors find & contact residents via the intercom's user-friendly directory.
Two-way video calling.
Ensures seamless access for authorized visitors and delivery carriers.
Accepts PIN codes, virtual keys, mobile app entry, delivery passes, Apple Watch entry, and voice commands.

Solution for gated vehicle entrances, including parking areas, garages, and community entrances.
Access credentials are small stickers placed on the windshields of tenants' vehicles.
Enables fast, hands-free gate entry.

Keypad
Card/fob reader

Ideal for pedestrian gates and gates to shared spaces or amenities, like gyms and pools.
Accepts resident PIN codes as well as fobs/cards.
Also accepts virtual keys for easy visitor access.
Requires minimal wiring.

Alternative solution to keypad.
Also ideal for pedestrian gates and gates to shared spaces or amenities, like gyms and pools.
Accepts key fobs and key cards.
Requires minimal wiring.
In contrast to systems which simply install over an existing intercom, ButterflyMX is a complete gate entry system that simplifies access for residents, visitors, delivery carriers, and property staff alike.
While most access control systems fail to manage guest access, ButterflyMX gate intercoms make it easy to grant visitors access to your gated entrance. Tenants can open the gate for visitors remotely, which saves time for property staff. With an intercom installed at your gate, you won't need a 24/7 gate attendant or a designated staff member to handle guest access requests.
Additionally, ButterflyMX makes it easy for tenants to grant themselves access, too. Whichever ButterflyMX device you choose to install, tenants will always have multiple ways to open the gate.
What is gate access control?
Gate access control is managing access into and out of a gated property. It's how you ensure that tenants and authorized visitors can enter your property while restricting access to unauthorized people. Controlling access at your gate keeps your property secure and your tenants safe.
Whether for an apartment, an HOA, a gated community, or a commercial building, managing access at a gate requires a gate access control system. You can install a gate access system at any entrance, whether for pedestrians or cars. There are several types of access control systems designed for gated entrances.
Components of a gate access control system
A gate access system has three main components:
A gate opener
An electronic or magnetic lock
Credentials that tenants use to enter the property
Some access control systems for gates also include a way for visitors to request property access.
Wired vs. wireless gate access control systems
A gate access control system can either be wired or wireless. Most property owners and managers find wireless systems to be easier and more affordable to install.
Many entry gates are located hundreds or even thousands of feet away from the property to which they control access. As a result, installing a wired access control system requires an equally large amount of wiring to connect the hardware at the gate to the system's control panel. In contrast, a wireless gate access system can operate without that physical wiring. So, you'll save time and money by going wireless.
How gate access control systems work
There are many types of gate access control systems, but they all work by reviewing the access credentials and then sending a signal to the security gate to open.
Anyone authorized to enter a property — like tenants and building staff — receives a credential. That credential could be a fob, keycard, fingerprint, sensor placed in their vehicle, smartphone, or one of many other devices. When an authorized person approaches the gate, they use their credential to prove their identity.
After scanning a credential, the access control system cross-references it with its database. If the credential is a match, the system instructs the gate opener to grant access.
Watch how ButterflyMX's gate access control system works:
How do gate openers work?
A gate opener works by interpreting signals sent by the gate access control system. When the system verifies someone's credentials and grants them access, it sends an electronic signal to the gate opener.
There are two main types of gate openers:
Swinging arm gate opener. Mechanically pushes or pulls the gate open and closed.
Sliding gate opener. Uses a motor and gears to push the gate to one side along a track.
Gate opening systems require a power supply. In most cases, you connect the gate opener to your property's power system. Some gate openers have a backup power supply — for example, a backup battery or solar power — to remain operational even if the power goes out.
Many systems also have a safety sensor to prevent the gate from closing on objects, cars, or people. The sensor detects when there's an object in the way and instructs the gate opener to reopen.
How to install gate access control
Gate access control installation requires at least two connections: a power supply and a gate opener. Some access gate systems also need an internet connection.
First, determine where and how you will mount the access control system. You may need to cut a hole in a wall near the gate or install a pedestal. Once you have the wiring and the placement, then fix the system's hardware into the wall or onto the pedestal.
Pro tip: Hire a certified installer who will install the system properly without voiding your warranty. A certified installer can also give you an accurate quote before getting started.
Why you need gate access control
Now that you know how gate control systems work, you might wonder whether you should invest in one. Access control is a crucial amenity for any gated property.
Here are four reasons why you should install a gate access system:
Secure the property. Controlled gate access reduces crime, prevents unauthorized visitors, and helps property staff track who's entering and exiting the property.
Peace of mind for tenants. Both residential and commercial tenants prioritize safety. Having a gate access control system will make tenants feel safer, which improves the tenant experience and makes them more likely to renew their leases. Controlled gate access at multifamily communities also adds protection for children playing outside and pets that escape from the house.
Convenience. When you have a gate access system, your tenants don't have to request access from a gate attendant or staff member. Instead, they can open the gate using their credentials.
Increase property value. Multifamily properties secured by a gate rent and sell for more than those without a gate. In fact, one study showed that residential properties in gated communities are valued at approximately $30,000 higher than non-gated properties.
Types of gate access control systems
We've covered the importance of controlling access at gated entrances, but now you have to choose an access control system for your gate. You have a few different options to choose from.
The six most common types of gate access control systems are:
1. Gate intercom systems
A gate intercom system is the best type of access control system for gated communities. Not only does a gate intercom allow tenants to grant themselves access, but they can also grant access to guests.
Through a gate intercom system, visitors can call and talk to tenants. Tenants can then open the gate for their visitors remotely.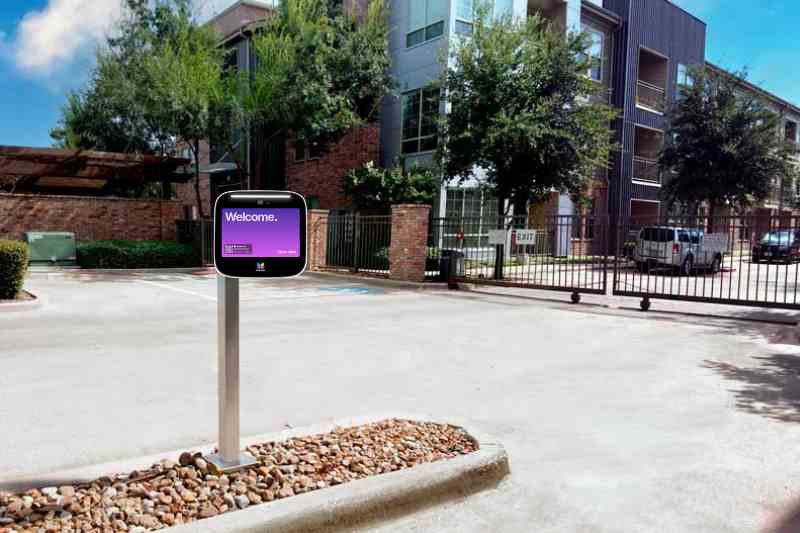 If you want a gate entry system with a camera, a modern gate intercom is the way to go. Some modern gate intercoms have a built-in camera that enables video calling between tenants and visitors. A video gate access control system also improves security by letting tenants see who's at the entrance before opening it for them. Plus, the system may take a time- and date-stamped photo every time someone enters the property. Staff can review this audit trail at any time for added security.
To achieve the best entry experience for your tenants, choose a smartphone-based gate intercom with a mobile app. These systems allow tenants to open the gate for themselves and their guests right from their smartphones.
Finally, you can streamline operations for your property staff by choosing a cloud-based gate intercom. A cloud-based system allows staff to manage the intercom directory and update access permissions remotely.
2. Telephone entry systems
A telephone entry system for a gate is a form of access control that also lets visitors request access. Similar to gate intercom systems, telephone entry systems allow tenants to open the door remotely for guests. To do so, they press '9' on their phone when a visitor calls to request access.
However, gate telephone entry systems lack the features that make gate intercoms so convenient for tenants and staff.
Here are the downsides to a telephone entry system:
The only way for tenants to let themselves in through a telephone entry system is to enter a PIN code.
Not all telephone entry systems work with cell phones.
They don't have a built-in camera, so tenants can't see who's requesting access.
You have to pay for a telephone line to make outgoing calls.
You can't update the system remotely — you have to go onsite.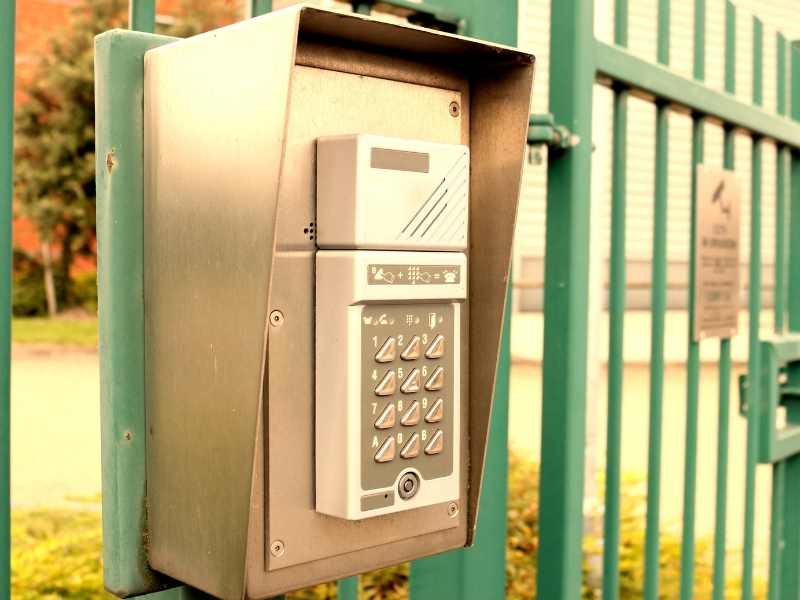 3. RFID gate access control systems
RFID stands for "radio-frequency identification." It's a type of technology that uses a scanner to read data stored within an RFID tag via radio waves. This technology is frequently used in access control systems.
Most RFID access control systems use keycards or fobs. Each tenant receives one of these registered devices, which they use to gain property access. An RFID access control system has a database of every card or fob registered with the system. When someone scans their fob at the gate, the system checks to see if that fob is registered. If it is, the system grants access and opens the gate.
RFID systems are effective at restricting access to unauthorized people. However, the downside to using RFID gate access control is keeping track of the physical devices needed to grant access.
First, tenants must have the card or fob with them at all times. If they forget or lose the device, they lose property access. Second, property staff has to purchase, issue, and keep track of all those devices. If a tenant loses their fob, staff must go through the trouble of reissuing a new one.
4. Keypads
Keypads are one of the most simplistic kinds of access control systems for gates. Rather than using a physical device to request property access, tenants use a designated code or PIN. They enter that PIN on the keypad device, which checks its database to see if that PIN code is registered. If the code is valid, the system opens the gate.
Keypad gate access control systems can save time and money for property staff, who won't have to issue physical fobs or cards to every tenant. However, tenants may forget their PIN. And unless the keypad also pairs with a mobile app for smartphone-based access, there's no backup entry method.
Plus, keypads are often small and may be difficult for tenants to use from their vehicles. As such, they may be better for pedestrian access control. On top of that, keypads don't offer a way for visitors to request access from tenants.
Watch how ButterflyMX delivery PINs work at your gated community: 
5. Vehicle detection systems
Vehicle detection systems can control access at gated driveways, parking garages, and other car entry points. When installed at vehicle access control gates, vehicle detection systems ensure that only authorized cars can enter the property.
There are two different vehicle detection systems:
Placing a proximity card inside each vehicle. Register proximity cards with the detection system and put one in each tenant's car. When the system's sensor recognizes a proximity card, it triggers the gate to open.
Automatic Number-Plate Recognition (ANPR). This uses optical character recognition to scan each vehicle's license plate. If the plate matches one registered with the ANPR system, the gate opens.
Pro tip: If a vehicle detection system is too expensive for your gated community, you can use an access system that's connected to your residents' smartphones. This way, they can quickly enter your community and reduce wait times at the entry gate.
6. Cell phone gate access systems
Cellular gate entry systems let tenants open the gate with a cell phone. Most cell phone gate access systems rely on Bluetooth.
Here's how a Bluetooth cell phone gate entry system works:
Install a Bluetooth access control reader at the gate
Tenants download the system's mobile app to their smartphones
When a tenant approaches the gate, they tap a button in the mobile app to open the gate
The main drawback to using a Bluetooth gate access control system is that the tenant's device must be close enough to the reader for the signal to reach (typically within 30 feet). That means tenants can't open the gate for guests or service providers when they aren't home.
If you're interested in a smartphone gate opener, you should choose a gate intercom system instead. That way, tenants can open the gate from their cell phones no matter where they are. They'll enjoy the completely keyless entry experience!
Factors to consider when choosing a gate access control system
With so many types of gate access control, how do you choose one for your gated property?
First, you should consider whether you need a residential gate access system or one for a commercial property. From there, consider how many people work or live in the building. Choose a system that can accommodate that many tenants.
You should also consider the location of your gate. First, if your gate is located far from the building, you must consider the system's wiring requirements. Additionally, will your gate access system be installed outside?
Outdoor gate access control
Since the gate where you must control access is probably outside, you'll need a system that can withstand the elements. So for outdoor gate access control, choose a weatherproof system with an IP65 rating. This ensures that the system will hold up in sun, rain, snow, and wind.