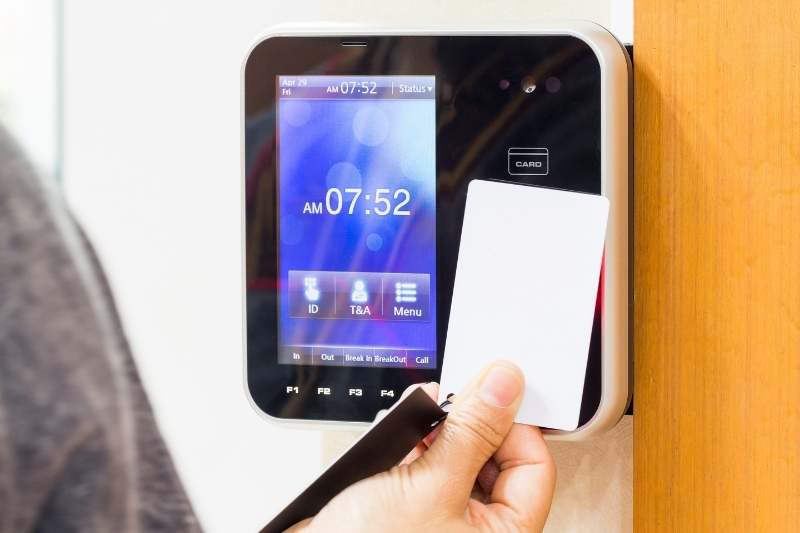 For as long as we've had doors and gates, we've had the need to control who goes in and out of them. Properties today have to manage access for tenants, visitors, and deliveries. Traditional access control systems allow tenant access, but they're difficult to manage and expensive to maintain. So that's why you need a cloud-based access control system.
Cloud-based systems are a great way to solve today's modern access challenges. What's more, when paired with a video intercom, you can grant seamless property access to tenants and visitors alike! Read on to learn more about cloud-based access control and the best systems on the market today.
This post covers:
What is cloud-based access control?
Cloud-based access control enables you to remotely control and manage doors and gates via an internet-connected device. The system allows administrators to determine who can (and can't) open doors into and throughout a building.
Property admins manage access through an online portal. Typically, residents, visitors, deliveries, and building staff gain access by holding an authenticated fob, mobile phone, card, or bracelet up to a reader outside the door, gate, or elevator they want to enter.
Cloud-based access control systems differ from traditional systems because the cloud hosts the software — the brains controlling the hardware — instead of a server at the property itself. By hosting that software in the cloud, building owners and managers enjoy added convenience, security, and affordability.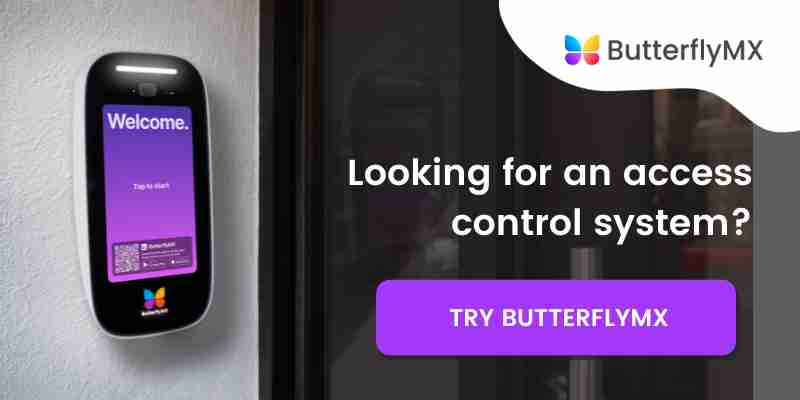 How cloud-based access control systems work
A cloud-based access control system works by storing data in the cloud rather than an on-site server. As a result, you can access your system's data and make changes to user permissions using any device with an internet connection.
Cloud-based systems can also undergo routine software updates remotely. As such, your system automatically updates when the access control company releases a new version of the software.
Traditional access control systems require you to download software or physically go on-site to update the system. In other words, you'd have to be at the building just to add or remove a tenant from your access control system.
Using cloud-based access control is more affordable because you don't have to purchase and maintain a server on your property. In addition, many cloud-based access control systems are also wireless — allowing you to eliminate the need to purchase and install expensive wiring throughout your property.
Watch how the ButterflyMX cloud-based access control system works:
12 best cloud-based access control systems
Whether you're seeking cloud-based access for an apartment or an office building, you want the best system. Below, we review the top 12 cloud-based access control manufacturers on the market.
1. ButterflyMX
ButterflyMX offers a unified property access solution that balances security and convenience. With ButterflyMX's cloud-based access control system, tenants can effortlessly manage building-wide access from their smartphones, grant access to visitors, and use a variety of other credentials and entry methods to navigate their buildings. And property staff enjoy the convenience of managing the system from anywhere using ButterflyMX's powerful web-based dashboard.
Choose between a fob/card reader or a keypad for entryways into and within your property. Or, for vehicle access points like garages and front gates, consider ButterflyMX's vehicle reader.
ButterflyMX's cloud-based access control system consists of:
Access controller: A sleek yet powerful cloud-based controller that empowers property staff to manage the access control system remotely.
Mullion reader: A slim and unobtrusive card and fob reader.
Keypad: A classic keypad device with numeric buttons for tenants to enter PIN code credentials — though it conveniently also reads fobs and cards.
Vehicle reader: This system pairs with windshield tags, which tenants place in their vehicles. Then, when they approach the gate or entry point, the vehicle reader automatically scans their tag and grants hands-free access.
No matter which reader you choose, all of ButterflyMX's products pair with their mobile app for smartphone-based access. So, tenants can swipe to open any door or gate from the ButterflyMX app.
And best of all, ButterflyMX's access system connects seamlessly with the company's other products.
So, complement your ButterflyMX access control system with their:
Video intercom, ideal for controlling access to front doors and gates and managing visitor access.
Elevator controls to securely manage floor access for visitors.
Key locker, which stores physical keys or fobs in secure compartments to provide access for service providers, self-guided tours, and more.
Smart locks — ButterflyMX integrates with more than 80 smart lock models, including locks from Schlage, Yale, August, and more.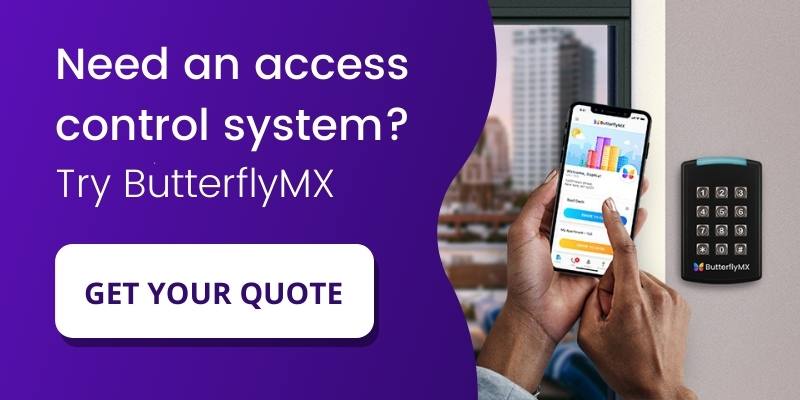 2. ProdataKey
ProdataKey (PDK) is a cloud-based access control system that's all about "anytime, anywhere, any device" when it comes to managing door access. With high-quality hardware and software, PDK empowers you to manage your property's entrances from a smartphone or any other internet-connected device. Additionally, the system's backup batteries keep it working in the event of a power outage.
PDK's hardware line-up includes:
Cloud Node: The main system panel.
Control panels: Controllers designed for doors and gates, and indoor and outdoor use.
Readers: Various readers designed for smartphone use, keypad access, and more.
Credentials: Offering cards, fobs, and even sticker and wristband options.
PDK also integrates with ButterflyMX's video intercom system, which is specifically designed to enable safe and seamless visitor access at multifamily and commercial properties. This integration ensures that whenever you add, update, or delete tenants within ProdataKey's system, the data is automatically updated within ButterflyMX. So, you'll save the time and hassle of maintaining two databases.
ProdataKey pricing
The cost of ProdataKey single-door and multi-door access control hardware isn't listed on the company's website. So, contact PDK for a custom quote.
However, third-party websites list pricing for some PDK hardware:
Access control panel: $1100
Single-door controllers: $500 – $600
Eight-door controllers: $1500
Two-door kits: $2100 – $2300
Read the full ProdataKey access control review »
3. Kisi
Kisi may be a great option for properties of any size or industry. Its cloud-based access control system offers flexible solutions for doors into and within your building. Door readers grant tenants property access using their mobile device, fob, or key card.
What's more, Kisi's open API allows for integrations with other solutions such as your CRM or G-Suite directory. This means all of your tenants will be automatically added to your Kisi system. Plus, they'll also be updated in real time when you update your employee roster.
Kisi pricing
Kisi doesn't list costs on its website. Instead, you have to contact Kisi's sales team for a quote. However, third parties list Kisi hardware prices as follows:
Reader Pro: $599
Reader Pro Outdoor: $699
Controller Pro: $899
Read the full Kisi access control review »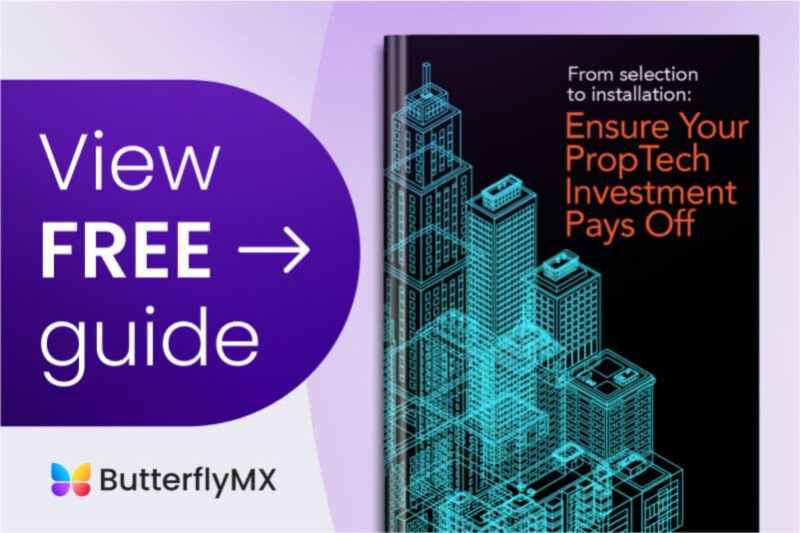 4. Brivo
Brivo offers a state-of-the-art door entry system with solutions that fit a variety of needs. Whether you have a large or small property, Brivo may accommodate your access control needs.
Brivo's cloud-based system has multiple platform options to accommodate a single site, enterprise, or multi-building complex. You can remotely manage access and credentials from a smartphone or other internet-connected device.
Additionally, Brivo offers a full suite of facility safety features including:
Tenant and visitor reporting.
Personnel control.
Mobile usage to get a better understanding of how people are using the systems.
Brivo also features energy usage monitoring, which keeps track of thermostats and lighting for additional cost-saving opportunities.
Brivo pricing
The price of Brivo access control products is unavailable on the company's website. But you can request a quote by contacting Brivo's sales team.
However, some sources list Brivo pricing as such:
Hardware: About $900 – $1200 per door
Software:

$13.50/door for the first two doors
$7.50/door for the next 8 doors
$3.50/door for all doors after that
Read the full Brivo access control review »
5. Openpath
Openpath is designed to address your access needs with a focus on keyless entry. It also takes security to a higher level with features that may not be found in other cloud-based access control systems. Openpath empowers users to open doors with a smartphone, enabling a completely hands-free entry experience.
In addition to controlling and managing property access from your smartphone, you can connect Openpath with certain security systems. So, in the event of a fire or break-in, the system may notify your emergency monitoring provider.
Lastly, Openpath's system allows you to schedule access to specific zones within a building. With this feature, it's easy to enable zoned access to service providers such as a cleaning person.
Openpath pricing
Openpath offers a tiered pricing model but doesn't list exact costs on its website. You must reach out to Openpath to request a quote.
Read the full Openpath access control review »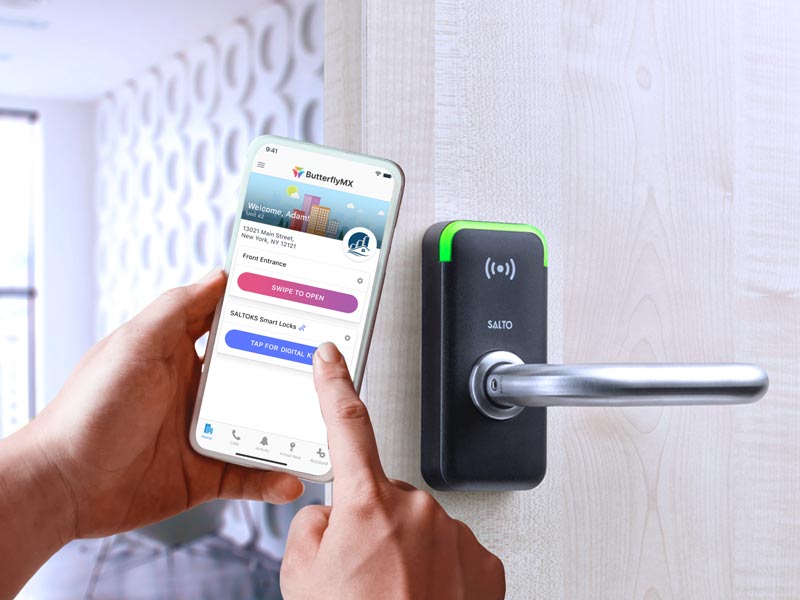 6. SALTO KS
SALTO KS is a proptech provider offering mobile access solutions for multifamily, commercial, hospitality, and retail.
Its cloud-based software lets property owners and operators manage every aspect of their building's access experience. Through the SALTO KS mobile app and web-based dashboard, building admins can assign roles to users, adjust access permissions, track entry events, and more. Meanwhile, tenants of SALTO buildings can open doors from their smartphones and send digital keys to guests.
SALTO KS offers a few physical access options, including:
Smart locks: SALTO offers a wide range of smart locks. All locks are wireless and compatible with most ANSI mortise locks and tubular latches.
Wall Reader: For doors where a smart lock won't fit or isn't needed, you can instead install a Wall Reader. SALTO's Wall Reader can be purchased with or without a keypad for users to enter a PIN.
Tags: SALTO's Tag is an RFID key fob, designed as a form of secondary access in addition to smartphone-based access through the app.
SALTO KS pricing
The company's website does not list any SALTO KS pricing. To find the cost of SALTO KS cloud-based access control software and hardware, you must contact the company.
Read the full SALTO KS review »
7. Genetec
Genetec started as a video monitoring system in 1997. But now, it's a leading provider of security and access control solutions.
Genetec Synergis is the company's IP access control system. It supports a variety of access control hardware. Additionally, it integrates with various door controllers, locks, and PoE devices.
The Synergis line includes:
Synergis Cloud Link: A PoE device that supports non-proprietary access control hardware and wiring.
Synergis SaaS edition: Genetec's Access Control as a Service is software that can help you reduce costs and invest in less hardware.
Genetec pricing
Genetec doesn't list pricing on its website. Additionally, pricing depends on the solution and hardware you buy. So, reach out to Genetec to request a quote.
Read the full Genetec review »
8. STANLEY Security
STANLEY Security is a well-known company that offers security, access, alarm, and surveillance solutions. Its cloud-based access control system empowers building owners and operators to remotely manage access. As a result, managers can add or revoke access from anywhere.
Features include:
Identity management.
Remote location management from a web browser.
Event validation with video in real-time.
You can also integrate your STANLEY cloud access control system with your CCTV or video security system.
STANLEY Security pricing
STANLEY doesn't list pricing for its access control solutions online. However, you can contact the company to request a demo and a quote.
Read the full STANLEY Security review »
9. LenelS2
LenelS2 is the company behind S2 access control systems. The company's Netbox line of access control systems is designed to centralize credential-based access control, intruder detection, and S2 or third-party video applications.
S2 access control systems are web-based, so admins can manage the system from any web browser. S2 also offers two cloud-based software options: Cumulus and Elements. By opting for one of these services, you can host your access control system data on the cloud rather than onsite.
S2's access control systems are scalable and designed to function effectively for small businesses and Fortune 500 companies alike.
S2 pricing
S2 doesn't list pricing on its website, but third parties estimate the cost of an S2 access control system to be roughly $1000 per door. Of course, that doesn't cover installation costs. To get a quote, reach out to LenelS2 via their website.
Read the full LenelS2 review »
10. Verkada
Founded in 2012, Verkada started as a video security camera company but has evolved into an access control manufacturer. Today, the company sells a variety of products, including video surveillance solutions, alarm systems, and air quality sensors.
Verkada access control products may operate with cloud-based software, eliminating the need for an on-site server. As of 2023, it appears that Verkada's only access control reader is the AD32 door reader.
Verkada's door reader may accept the following credentials:
Smartphones
Bluetooth
Proximity cards
The company also offers three different access controllers: the AC41 controls up to 4 doors, the AC62 controls up to 16 doors, and the AX11 controls up to 10 doors plus elevators.
Verkada pricing
Verkada doesn't publish product pricing on its website. Ultimately, pricing depends on which access controller you opt for. So, reach out to Verkada to request a quote.
Read the full Verkada review »
11. Avigilon
Established in 2004, Avigilon is a security company that offers software that can be integrated into many existing access control hardware.
Avigilon operates on a cloud-based platform, meaning the system can be managed remotely.
Products offered by Avigilon include:
Video analytics
Surveillance cameras
Access control software
Avigilon pricing
Avigilon doesn't publish pricing. However, you can contact their sales team for a quote.
Read the full Avigilon review »
12. Gatewise
Founded in 2017, Gatewise is a mobile-based access control system designed for multifamily properties.
Gatewise integrates with a handful of property management systems, including Entrata, Yardi, and Resman.
Features of Gatewise include:
Lifetime warranty of hardware.
Robust technical support.
An online management portal.
Gatewise pricing
Gatewise costs $199 per month. However, if you pay for one year upfront, you'll receive one month for free. Further, if you pay for two years upfront, you'll receive three months for free.
Read the full Gatewise review »
Pair your cloud-based access control system with a video intercom
If you've decided to invest in cloud-based access control, you're taking an important step toward simplifying property access. The next step is to add an IP video intercom for visitor management and delivery access.
Together, a video intercom and a cloud-based access control system ensure that anyone who needs access to your property can gain it. Choose systems that integrate with each other to enjoy automatic updates between devices.