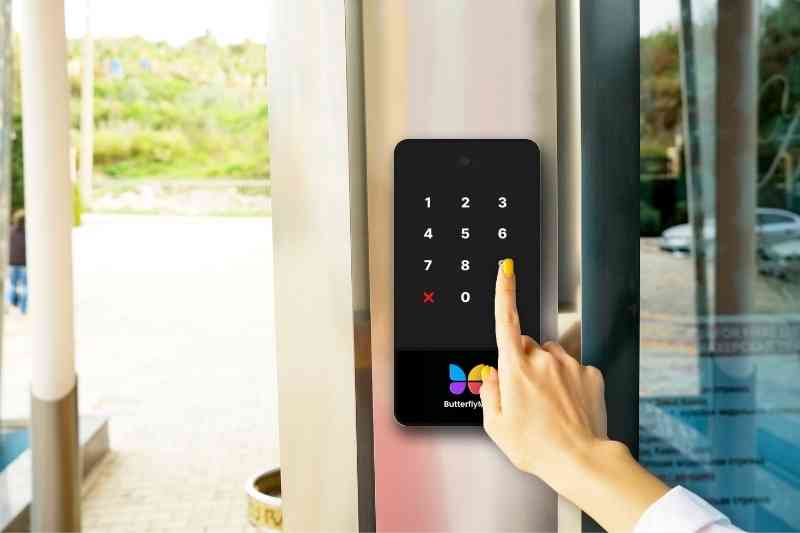 Key Takeaways
A keypad is a keyless access control system that lets you control who can and cannot enter a building or room.
ButterflyMX is the best keypad access control system on the market.
To use a keypad door entry system, tenants punch in a numeric code instead of using a physical key.
There are many different ways to control access at your door or gate, including RFID, mobile access, and cloud-based access control.
From garages to storage closets to amenity spaces, your building has a lot of entrances to which you must control access. It can feel overwhelming to manage who has access to which spaces and at what times. A keypad access control system is one solution.
Keypads are access control devices that let users enter a PIN code to enter a building or room. If you're seeking a way to control access into or within your building, consider keypads.
Read on to learn more about keypad access control and how to choose the best keypad for your apartment or commercial building.
This post covers:
What is keypad access control?
A keypad is a keyless access control system that lets you control who can and cannot enter a building or room. Keypads have numbered buttons (or a touchscreen interface with numbers), which allow authorized users to enter a numeric PIN code to gain access. Keypad entry systems empower you to keep doors and gates locked while ensuring simple access for authorized tenants and visitors.
A keypad can be used as a standalone, single-door access control system, or you can integrate it with other systems. For example, you can integrate keypads at amenity doors with a video intercom system at the building's entrance. That way, a resident can access both areas by entering the same PIN code.
5 keypad entry systems to consider
So, you've decided you want to invest in a keypad access control system. Now, it's time to pick from the hundreds of choices on the market. Fortunately, we've narrowed down the five best keypad systems available to help you make the best choice in no time!
Here are the top five keypad entry systems to look into:
1. ButterflyMX keypad
The ButterflyMX keypad is a keypad that works in tandem with the entire family of ButterflyMX access control products. It connects directly to the ButterflyMX cloud controller, allowing for remote system management.
To maximize convenience, residents can unlock the door or gate with three different methods:
PIN code. Each tenant has their own unique PIN, but they can also give temporary PINs to visitors. Property managers can edit or revoke these temporary credentials at any time, from anywhere.
Mobile app. ButterflyMX has a highly-rated mobile app that empowers users to enter doors, gates, and amenity spaces with ease. They can simply use the swipe-to-open button on the mobile device or use two-way video calling to request access.
Key card or fob. For the resident who prefers physical fobs and key cards, they can continue to use them. Like other systems, they simply need to hold the card or fob to the keypad reader, and they'll be let in.
Other products in the ButterflyMX ecosystem include:
Video intercom. The ButterflyMX video intercom comes with a bright LED screen and wide-angle camera. Visitors can easily find the intercom and use the two-way video call feature to request access.
Vehicle access control. ButterflyMX's vehicle access control system streamlines any gated entry. Residents only have to place a windshield sticker on their vehicle, drive up to the reader, and the gate will automatically open. Or, visitors can use the intercom to request access, which tenants can grant remotely from their smartphone.
2. HFeng door access control system
The HFeng door access control system is a waterproof, IP65-rated outdoor keypad solution.
The system can support up to 2,000 users, who can use the keypad with RFID key cards, fobs, or PIN codes.
Unfortunately, the system doesn't connect to the internet, meaning it cannot create an easily accessible audit trail. This may reduce resident satisfaction if break-ins or theft occur.
3. August WiFi smart lock and smart keypad
The August WiFi smart lock and smart keypad is a single-unit access solution that transforms any deadbolt into a smart lock. Residents can unlock the door from a smartphone or smartwatch or by entering a PIN code directly on the keypad.
While this solution is a great fix for individual units, if you want to provide building-wide keypad access control, it's best to integrate this smart lock with a larger access control solution.
4. Securitron digital access keypad
Securitron's digital access keypad operates with Wiegand output. So, it depends on a Wiegand wire that has special magnetic properties.
Their keypad is tamper-resistant and can be flush-mounted to any surface for a clean look. Additionally, Securitron offers several mounting boxes that offer different protections. As a result, you can choose the specific setup you want to cater to your preferences.
5. Schlage access control keypad
The Schlage access control connected keypads are magnetic door locks with a keypad that allows users to lock their doors either manually with a key or via smartphone.
Like the August WiFi smart lock and smart keypad, however, the Schlage-connected keypad works best with individual units or single-family homes. So, if you're looking to protect access for a multifamily or commercial property, it's best to integrate the Schlage keypad with a larger, property-wide access control solution.
Where must access control systems be installed?
Keypads are a great solution to control access to many kinds of rooms and buildings. Because they're small, they fit at most doors and gates. With minimal wiring, keypads are also easy and affordable to install.
Install keypads at:
Auxiliary entrances
Amenity spaces, like pools, gyms, and rooftops
Gated HOA entrances
Storage closets or staff-only areas
Garages
Warehouse entrances
Self-storage facilities
Office buildings or suites
Pro tip: If you need to control access at an exterior entrance, be sure to choose a waterproof keypad. Outdoor security keypads are IP65-rated to withstand the weather.
Watch how the ButterflyMX keypad works:
Keypad access control system price
Keypad access control systems cost $400 to $1,500 per device. This includes the cost of hardware, wiring, and installation.
Keypad installation is usually easy and affordable because there are minimal wires. However, pricing can vary depending on your building's infrastructure and the installer you hire.
Keypad door locks
Keypad access control comes in two primary forms: a standalone keypad device or a keypad door lock.
Standalone keypad devices are small units of hardware that you install near a door. To grant access, they must be connected to a separate door release device and a power supply.
In contrast, a keypad door lock contains the numeric buttonpad as well as the locking hardware and controls. Most keypad locks are battery-powered — so you have to change their batteries periodically.
Keypad door locks are most commonly found on apartment unit doors, where only a few people need access. Standalone keypad devices are better for shared spaces, like apartment amenities and offices.
Keypads for gates
Keypads aren't just for interior doors. You can also install a keypad entry system for gates.
Gate entry keypads can help you control access at gated entrances for both pedestrian and vehicle traffic. They offer a simple way for tenants to access securely locked properties. Consider installing a gate keypad access control system at a gated community or office complex.
However, keep in mind that keypads are best suited for gates where primarily authorized tenants are entering. If visitors frequently use the entrance, you're better off with a gate intercom.
How does a keypad work?
To use a keypad door entry system, tenants punch in a numeric code instead of using a physical key. When an authorized code is entered, the door lock releases and grants entry.
At a minimum, all keypads require a power source. Depending on the type of keypad you have, it may also require an internet connection.
To program the keypad, property staff use a web-based dashboard. From this dashboard, staff can update the tenant directory, assign PIN codes, and adjust access permissions. However, if the keypad isn't cloud-based, staff must go onsite and manually update it or download software to their computer to remotely program it.
Keypads compared to other access control systems
There are many different ways to control access at your door or gate. Keypads are just one common form of access control — there are many other systems to choose from.
Let's compare keypads to three other access control systems:
1. RFID access control
RFID access control systems use RFID (radio frequency Identification) technology to scan credentials and grant access.
Instead of entering a PIN code, users hold their key card or fob up to the RFID access control reader. The reader scans the fob, which then releases the door lock.
Keypads are more convenient than RFID access control systems because they don't require tenants to carry around a card or fob. Residents can enter a keypad-controlled room without carrying fobs or keys — which they can easily lose or forget.
That said, there are some RFID keypads and card keypads that offer both card/fob access and typical PIN code access.
2. Mobile access control systems
Mobile access control systems are those that allow users to gain access using their smartphones. These systems generally operate via WiFi, Bluetooth, or near-field communication (NFC).
Keypads can actually be a form of mobile access control because some keypads let tenants open the door from a mobile app. These smartphone-based keypads provide two simple ways to open doors: swiping to open on a phone or entering a PIN code. Keypads with a mobile app enable a hands-free access experience.
3. Cloud-based access control systems
A cloud-based access control system is one that stores data in the cloud instead of an onsite server. With a cloud-based access control system, you can remotely control and manage doors and gates via a device connected to the internet.
Keypads can be cloud-based. Cloud-based door access keypads allow property owners and managers to update their tenant directory and manage access permissions from a web-based dashboard. As a result, you can manage the entire system from anywhere.
However, if your keypad isn't cloud-based, you won't be able to update the system or manage access from a web browser or app. Keypads that aren't cloud-based must be managed onsite or from software you download to your computer.
How to choose a keypad access control system
If you're interested in keypad access control for your residential or commercial building, you should invest in a reliable, durable device with features that enhance security and convenience.
Here are the top four features to look for when purchasing a keypad:
1. Visitor access solution
Most keypads only provide access for registered tenants and staff. But in many cases, tenants' guests need to access the building or room, too. That's why you should look for a keypad with a visitor access solution.
The easiest way to manage visitor access with a keypad is to choose one with a virtual key system. Virtual keys are unique codes that residents can send to visitors in advance. When a visitor arrives at the keypad-controlled entrance, they enter the code on their virtual key to gain access.
2. Integrations with other systems
Perhaps the best part of investing in proptech is that all your building's technology can work together. Integrations between proptech systems save time and money. So, choose a keypad that integrates with other technology you're already using, like your property management system and smart locks.
Integrating your keypad with your property management software will sync the two platforms. That means any updates you make to your rent roll in your PMS will automatically reflect in the keypad system. As a result, you'll save hours of time on tedious tasks.
If your building has smart locks on unit doors, make sure your keypad integrates with them. By integrating the keypad with your apartment smart locks, your residents can use one app to enter amenity spaces and their apartment units. You'll spare residents the hassle of downloading and opening multiple apps to navigate the building.
3. Mobile app
Keypads with a mobile app allow tenants to open doors or gates with their smartphones. In addition to entering a PIN code, users can gain access by swiping to open the door from the mobile app.
Installing smartphone-based keypads throughout your building brings unbeatable convenience and improves the resident experience. Your tenants will have the ability to quickly gain access and move through your building with ease. They'll even be able to open keypad-controlled doors remotely for guests.
4. Cloud-based
Choose a keypad with cloud-based software. This way, you can update your tenant directory and manage access permissions from anywhere with an internet connection. All you have to do is log into a web-based dashboard from your phone, tablet, or computer to manage the system.
You'll also save money on installation, maintenance, and energy bills by choosing a cloud-based access control system instead of maintaining an onsite server.
The best keypad access control solution
If you're interested in keypad access control, choose the ButterflyMX keypad.
ButterflyMX's keypad features a sleek design, a small footprint, and a seamless connection with the entire line of ButterflyMX access control products.
Able to withstand temperatures from -40 to 140 degrees Fahrenheit and up to 95% humidity, the ButterflyMX keypad is rated for both indoor and outdoor use. And from the highly rated mobile app, your tenants can easily open keypad-controlled doors as a secondary form of entry.
The ButterflyMX keypad is one component of a truly simple and convenient property access system. Pair the keypad with our video intercom and elevator controls to create a seamless access experience throughout your building.