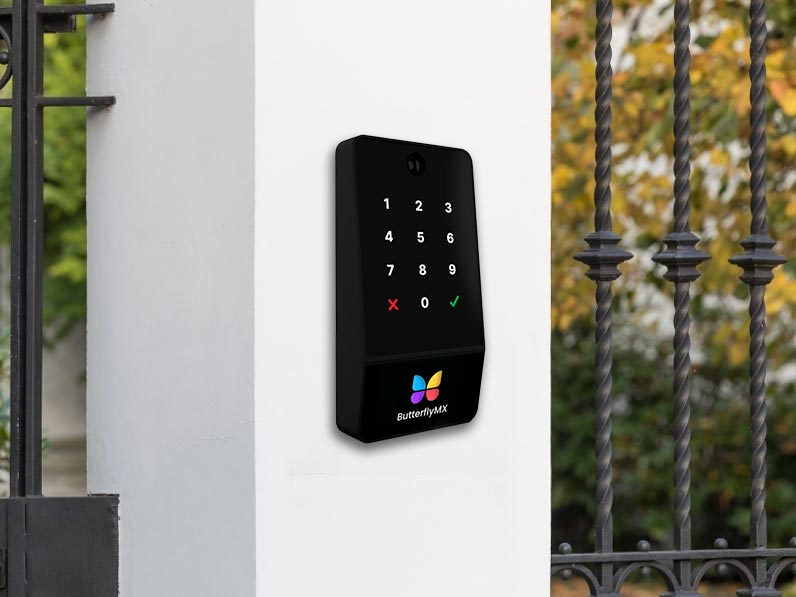 When you manage tenants who have chosen to live or work in a gated property, you already know that security is one of their highest priorities. Your job is to ensure security without hindering their access to the property. And one solution to achieve that is to control access with gate keypads.
In this post, we explain what a gate keypad is and how it works. Then, we go over some of the criteria you should use to choose a gate keypad.
This post covers: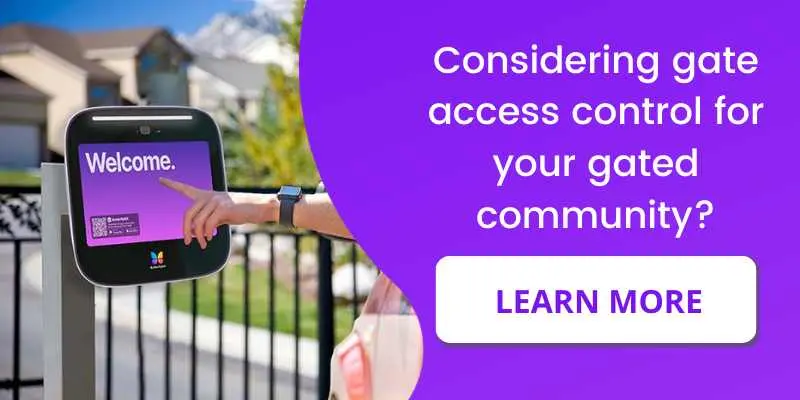 What is a gate keypad?
A gate keypad is a security device that opens a motorized gate when users input the correct PIN code. Users input this code by tapping the numbers on the keypad's face. Since gated entrances are generally outside, most gate code boxes are approved for outdoor use. Look for a keypad with an IP65 rating to ensure it's protected from all types of weather.
Gate keypads are a popular entry system among property managers and owners who want to restrict access to a given area, but provide authorized tenants a simple way in. Keypads can be found on gates that manage access for apartments, HOA communities, commercial offices, or industrial complexes.
A gate keypad access control system includes:
Electric gate keypad. The keypad device will be installed on or near the gate it controls. Some gate keypads can also integrate with other access control hardware on the property, like video intercoms.
Gate release. The gate release is motorized, allowing the gate to slide or swing open after receiving the correct signals from the keypad.
Watch how to use the ButterflyMX for your gates:
How does a gate keypad work?
A gate keypad works by verifying that a resident has entered an authorized PIN, then sending an electric signal to the gate keypad lock, which opens and allows the resident to enter the property.
While punching in a PIN code is easy for residents, your staff will also have to manage the gate code box system. Staff can manage access permissions, update tenant directories, and assign PIN codes as necessary.
The way staff manages a keypad entry system differs depending on the kind of technology powering your keypad. For example, you can configure a modern cloud-based keypad from any laptop or smartphone. In contrast, older legacy keypads require you to go onsite or download software to manage the system.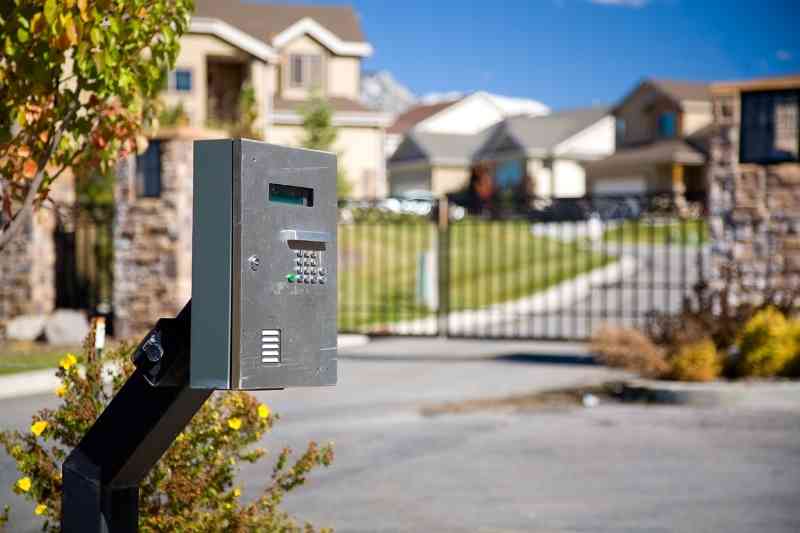 Gate keypad wiring
A keypad entry system for gates can use different wiring methods to send signals to the gate release. Wireless gate keypads can use the internet, cell networks, or radio frequencies called spectrum to perform this communication.
In contrast, a wired gate keypad communicates with the gate release over a wired connection. So, you'll have to physically connect the keypad device to the gate opener.
It's important to note, however, that even wireless gate keypads still require wiring for an internet connection and power supply.
Choosing the best gate keypad
Now that you know what a gate keypad is and how it works, you might wonder which code box will best fulfill your needs.
The best gate keypads offer these four features: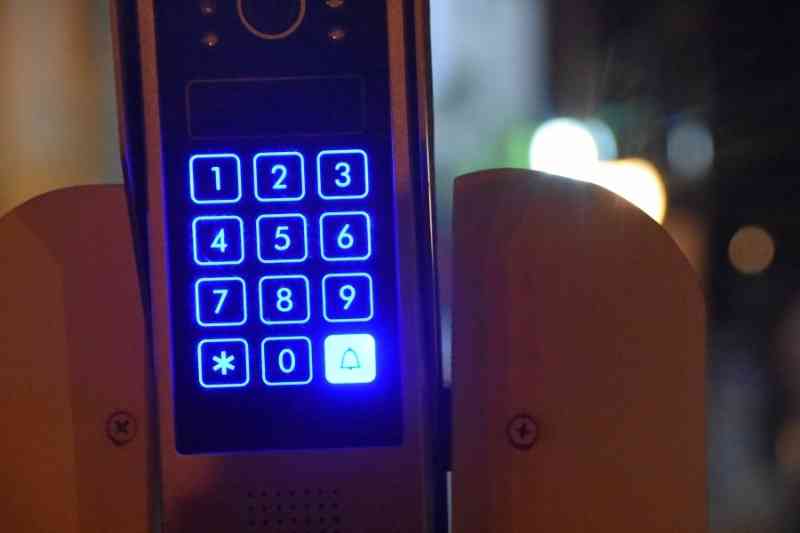 1. Cloud-based
Cloud-based keypad systems can be managed from anywhere you have an internet connection. This allows property staff to more easily add or remove tenants and update permissions for existing tenants.
And using the cloud, residents have more control over how they interact with keypads. Residents can update their PIN codes themselves, as well as easily send virtual keys to visitors to make sure access is a breeze for all involved.
2. Integrations with other access control systems
There's a good chance that you want to control access at other entryways on your property beyond just the gated entrances. After a resident uses the gate keypad entry system to enter the property, they still have to get into the building itself. Your gated community might also need to manage access to secured areas like rooftop terraces, gyms, or parking garages.
For both residents and property managers, it's better to have one interconnected experience rather than several disjointed access systems. The best gate keypads integrate with other access control systems and devices.
3. Accommodations for delivery couriers
Whether you manage a residential or commercial property, you'll have to deal with a constant stream of delivery couriers. Tenants are constantly ordering food and packages online.
Deliveries are only growing, so you would do well to purchase a keypad with Delivery Pass functionality to help tenants receive their packages more easily. Tenants can create and send a single-use Delivery Pass directly to couriers so they can access your gated property effortlessly.
4. Camera
Finally, choose a gate keypad with a camera.
Gate intercom keypads with cameras enhance property security by taking a photo every time someone passes through the gate. This way, residents and staff can see who's coming and going from the property. And in the event that something happens on the property, staff can review an audit trail of time- and date-stamped photos to see who was on the property at the time.
Additionally, having a keypad with a camera enables visitors to gain access using virtual keys in the form of QR codes. Visitors can hold their QR access code up to the camera, which recognizes it and then grants access.
ButterflyMX gate keypad
The ButterflyMX keypad for gates offers cloud-based software, integrations, delivery access solutions, and more.
ButterflyMX's unique unified access control solution empowers you to manage access for every kind of space. While keypads are an excellent way to control access at your gate, you may want to augment your keypad system with another entry solution that allows visitors to request access. That's where the ButterflyMX video intercom comes in, giving guests the ability to video call a tenant and request property access.
Alternatively, you can also consider the ButterflyMX vehicle access reader, which scans windshield tags in residents' cars to seamlessly grant access.
And we don't just offer powerful access control hardware — our software integrations with other property management services save time for staff, freeing them up to focus on the resident experience.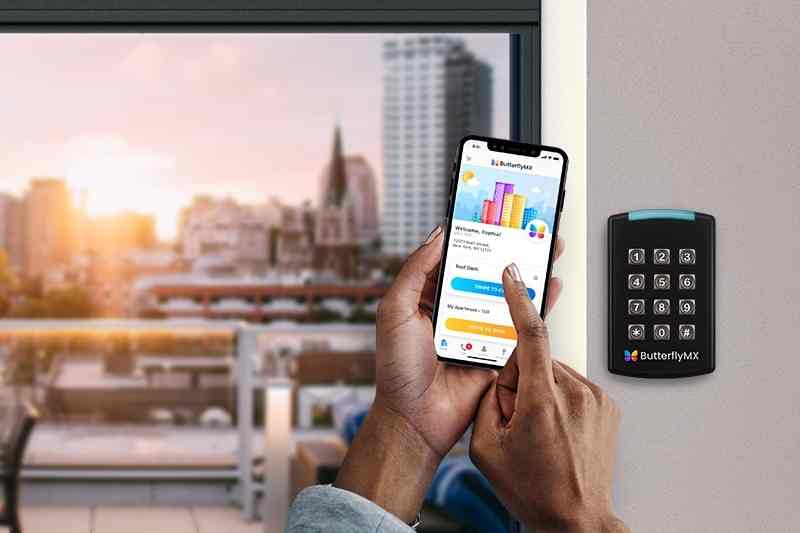 Takeaways
Gate keypads are a great way to manage access to a gated property without having to hand out physical credentials, like keys or fobs. However, when you're looking for a keypad, remember that there are several things you need to keep in mind before you make your final decision.
Factors like integrations with other software and hardware as well as cloud-based capabilities will make the difference between simplifying and complicating the access experience for your tenants. For the best access solution, choose ButterflyMX.