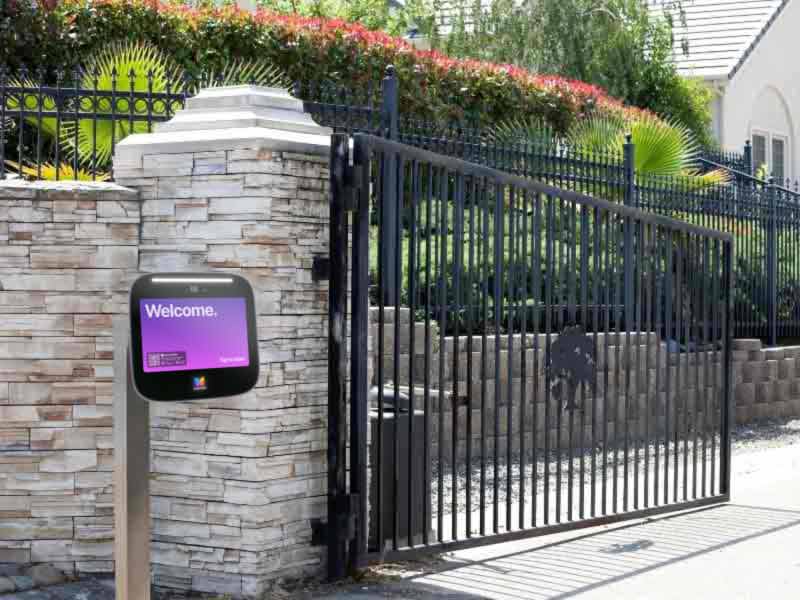 If you're installing a security gate to control access at your property, the options can feel endless. Choosing the right type of gate is an important decision. So, how do you know which gate is the best investment for your gated property?
Keep reading to learn about the different types of gates, costs, and how to select the right one for your community.
This post covers:
What is a commercial security gate?
A commercial security gate is an access control solution designed to manage vehicle and pedestrian access into various types of properties. Commercial gates can be found at office complexes, apartment buildings, gated communities, and industrial facilities.
The first thing to consider when deciding on a commercial security gate is what type of property you have. As you know, traffic at an industrial property is different from an apartment building. Consider how your property intends to use a security gate.
All of these properties, however, have things in common. For example, commercial property traffic can be heavy. There are often many people coming and going throughout the day.
When choosing a security gate for your property, you'll need to consider the volume of your traffic and time of day.
Gates for multifamily housing & residential communities
Multifamily buildings, gated communities, HOAs, and apartment parking garages with gated access need a gate that's both secure and convenient to open.
So, gated communities will often install an automatic gate. An entry system, such as a gate intercom, triggers the gate opening. This way, residents can use a fob or smartphone to automatically open the gate as they come and go. Visitors can use the intercom to request access from residents.
Gates for industrial & retail properties
Commercial properties typically need a gate that's more durable and quick to open. For example, retail security gates at a warehouse need to open rapidly to allow the constant follow of trucks to pass quickly. To ensure these facilities remain secure, choose a gate made of strong and durable materials such as steel or reinforced aluminum.
Watch how ButterflyMX delivery PINs work at your gated community: 
5 common types of security gates
Even after you've considered your gate needs based on the type of property you own or manage, there are still many different types of security gates to choose from. The biggest differences come down to the size and opening mechanism for each gate.
To control access into your property, there are five main types of security gates available:
1. Swing gates
Similar to a door, a swing gate hinges open to give vehicles access. When installing an automatic swing gate, make sure to indicate where cars should stop so they aren't hit by the gate as it opens. This gate design is also easy to use manually.
Swing gates are designed specifically for vehicles, so you may need a separate option for pedestrians. Loops are often used to detect vehicles at a swing gate.
2. Slide gates
Most common at commercial sites, this gate opens by sliding to the left or right. These gates traditionally use wheels to move the gate side to side. Repairing the wheels is the most common maintenance issue on slide gates.
Several types of slide gates are available:
V groove rolling slide gates: The rolling gate opens by sliding along a track using wheels on the underside of the gate. It's not ideal for inclement weather conditions as the wheels and track can be blocked with dirt, snow, and other debris.
Cantilever slide gates: This gate also opens sideways, however, the wheels are located on gate posts instead of a ground track. Because of the enclosed track, the cantilever gate requires less frequent maintenance.
Overhead slide gates: Just like the cantilever gate, an overhead gate uses an enclosed track to move. The gate slides up on an overhead track. However, the overhead beam does limit gate height, so trucks over 16ft tall may not be able to enter.
3. Bi-folding gates
As the name suggests, a bi-folding gate is made of two panels that fold together to open. Some designs include four panels for two-way traffic. Similar to the slide gate, a bi-folding gate can move along an enclosed, ground, or overhead track depending on the design. Enclosed tracks last the longest because they aren't exposed to the elements.
The biggest benefit of a bi-folding gate is speed. These gates are generally considered the fastest to open and close, making them a great choice for high-traffic areas.
4. Vertical gates
All vertical gates open by lifting upwards on a track. This design is more space-efficient than a slide or swing gate because of its vertical movement. Vertical gates open quickly, similar to a bi-folding gate, and can accommodate various opening sizes.
There are two popular vertical gate designs:
Vertical liftgate: This gate opens by lifting directly overhead. The gate moves along columns using a track. Vehicle height is an important factor to consider when selecting a model to make sure trucks don't get stuck under the gate. Due to the look of the columns, this gate is almost exclusively used at industrial sites.
Vertical pivot gate: A pivoting gate opens by rotating 90 degrees upwards. There are no height restrictions with this gate but it does require slightly more space than a lift gate as the panel moves to the side.
5. Pedestrian gates
All of the gates we've discussed so far are designed for vehicles. But, pedestrians can still enter through a swing or slide gate in case of emergencies. If you're expecting pedestrians at your gate location, consider installing a separate pedestrian entrance.
Just like a front door, pedestrian gates can be manual or automatic and are best used in conjunction with a wireless intercom system.
The top four pedestrian gate designs are:
Pedestrian swing gate: Just like swing gates for vehicles, this gate opens on a hinge to allow people through. It takes up space on either side so the gate panel can swing.
Pedestrian accordion gate: The design of this accordion gate mirrors those used indoors for pets and children. When opened, the gate panel collapses horizontally to one side like an accordion allowing people to enter.
Pedestrian folding gate: Similar to a bi-folding gate for vehicles, the pedestrian folding security gate includes two panels that fold together to open.
Pedestrian portal: Chances are you call these "turnstiles." Seen on subways, the pedestrian portal design spins to admit one person at a time in quick succession.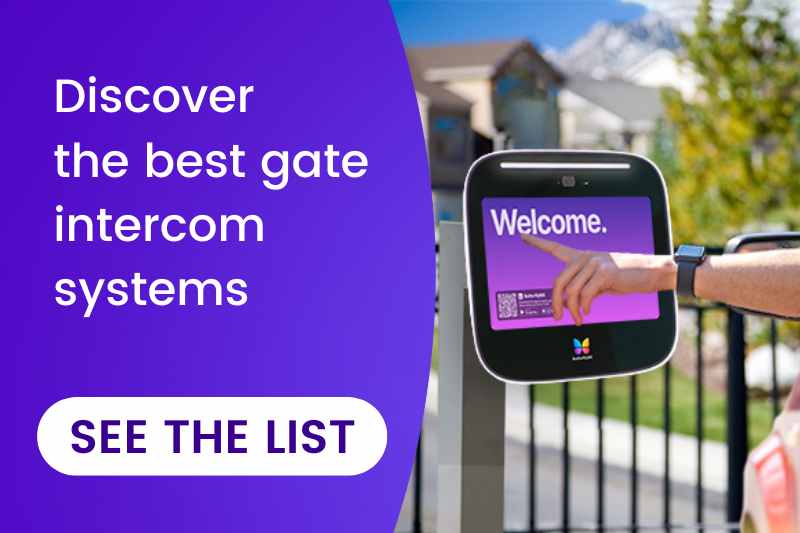 What is an electric gate?
An electric security gate is a gate that is powered by electricity to open and close. Also known as automatic opening gates, electric gates do not require human assistance. An electric gate system typically consists of the barrier gate and an automatic gate operator.  Also, it can be installed at all kinds of properties, from small apartment communities to large commercial facilities like airports.
Most electric gates can also be opened manually in the case of a power outage. But, every gate is different so learn about the power options before purchasing.
Pros
Speed: Electric gates open and close faster on average than manual gates.
Lower labor costs: Automated systems don't require staff to manually operate them, which saves money.
Integrations: Many electric gates can integrate with other security solutions such as surveillance cameras and access control systems.
Con
Maintenance: Because of the additional technology involved, electric gates require more frequent maintenance.
Price: The initial cost of an automated gate system is more expensive than a manually operated gate.
Power: Many electric gates require constant access to electricity and the internet. For this reason, it may not be possible to install at some remote locations.
Just like opening a garage door, some electric gates are opened with an RFID remote. But more advanced main gate security systems use proximity sensors, smartphone apps, and cell phones to open the gate.
Watch how ButterflyMX works:
Do you need an electric gate?
An automated gate is a must-have for high-volume locations with many cars coming and going at all hours of the day. Installing an electric gate and a gate intercom with a camera is a more cost-effective alternative to staffing a gate attendant 24/7.
How much does a gate cost?
The cost of a security gate ranges from $2000 to $12000 and varies based on your location and gate materials. Some retailers include the cost of installation in the price of the gate but many do not.
Weigh your property's budget against your security needs to get a better idea of what type of security gate you should purchase.
Manual gate cost
Manual security gates have simple mechanics. They are cheap to install with just a track or hinge similar to a garage door.
On average, it costs $2500 to purchase a manual security gate. The price can get up to $4000 for more premium materials like weather-proof aluminum and an intercom system.
Electric gate cost
Automatic opening gates require additional electronics, unlike a manual gate. As a result, these gates require a larger investment to purchase and install.
An electric gate on average costs $7,000. However, plan to pay a bit more if you would like to include an intercom, keypad, and/or remote control technology.
Gate installation costs
In your research, you may come across some gates for purchase that include installation. However, for those that don't, you should budget around $1900 for installation.
Keep in mind that labor costs can vary by region. Installing a gate can range anywhere from $700 to $3000 depending on local pricing.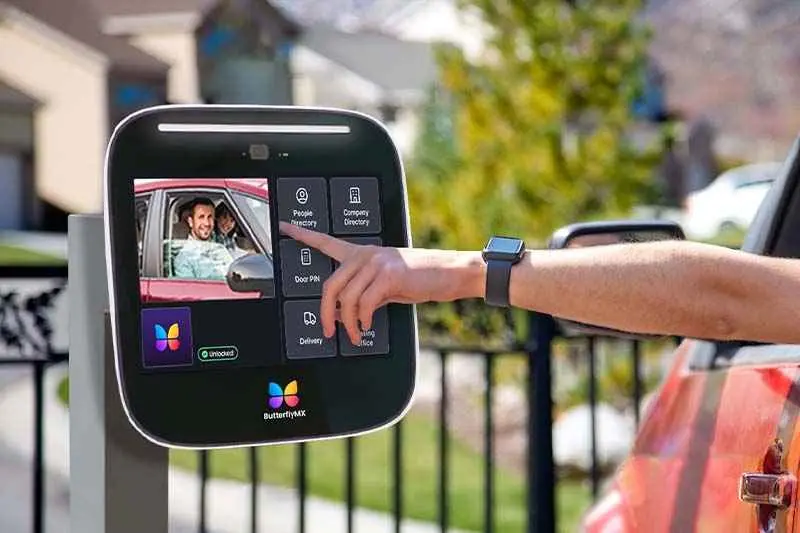 How to choose a gate
With so many options on the market, how do you choose a security gate? First, review your budget. That will give you a great starting point for what types of security gates you should consider.
Prices also vary so much between manual and automatic gates that it's important to consider all the options. Beyond price, here are other key factors to take into consideration.
Factors to consider when choosing a security gate:
Space: The size of the opening where you plan on putting the gate will impact which types of security gates you can install.
Traffic: How much vehicle or foot traffic does your gated entrance have to accommodate? High traffic warrants more durable materials.
Access control system: Include a video access control system in your gate budget to increase security. With the video component, you can visually confirm that only authorized people are entering the property.
Takeaways
Before choosing a security gate, consider the type of property you have. Commercial, residential, and industrial properties each require unique gates and access control solutions.
There are five main types of security gates: swing, slide, bi-folding, vertical, and pedestrian gates.
You can choose an electric gate or a manual gate. Electric gates are more convenient but more expensive.