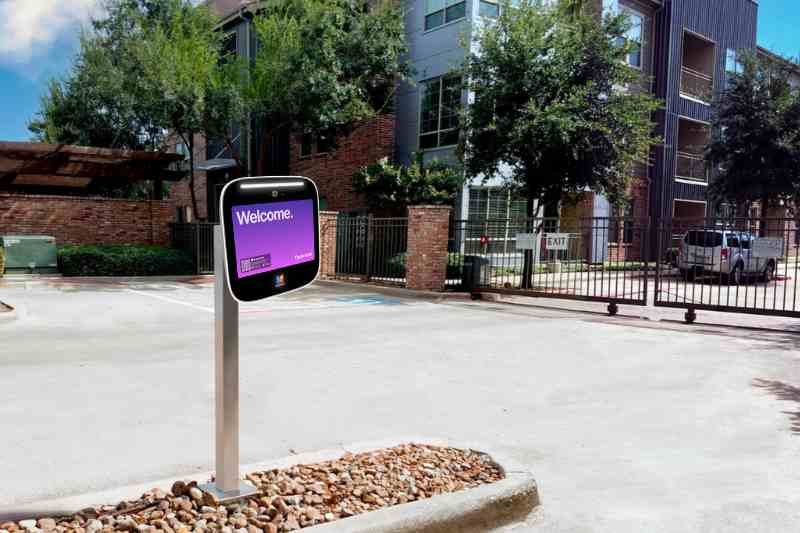 Key takeaways
Automatic gate openers are a great fit for any property and can be used on gates of every size.
Tenants use credentials, like a fob or smartphone app, which trigger motors that physically open your gate.
The three best automatic gate opener systems are vehicle recognition tag readers, keypads, and smart intercoms.
The best gate opener systems have more than one way for a tenant to open the gate.
In terms of buying a gate opener, you might look for gates from brands like VEVOR, Topens, or HySecurity
Managing a gated property comes with many security considerations, such as choosing the best gate opener access control solution that's both secure and convenient. Gated community tenants often rate safety as one of their highest priorities. So, how can you provide it without sacrificing convenience? One of the tools that can help you out is an automatic gate opener.
In this post, we list the five best automatic gate openers on the market. Then, we explain what an automatic gate opener is and how it works. Finally, we go over some credential options for your tenants to open gates automatically.
This post covers:
5 best automatic gate openers
The 5 best automatic gate openers are:
1. Mighty Mule EZGO-Solar
The Mighty Mule EZGO-Solar is designed with a maximum weight of 550 pounds and a maximum length of 16 feet.
Other features include:
10W solar
Easy, do-it-yourself installation
Functionality with many common gate materials, like wood, tube, and chain-link
Remote push-button transmitters
Best for: Property managers interested in the energy efficiency that comes with a solar gate opener.
2. HySecurity SlideSmart Slide Gate
With a maximum weight of 1,000 pounds and a maximum gate length of 40 feet, the HySecurity SlideSmart gate is ready to service properties with all sorts of needs and sizes.
Other HySecurity SlideSmart features include:
Solar panel compatibility
In-unit log of every gate-opening event
Configuring settings easily using the in-built display or by hooking the system up to your PC
Best for: Tech-forward property managers who want to start using proptech to manage their gates.
3. TDS2 Heavy Duty Dual Gate Opener
Ghost's TDS2 gates support gates that are up to 300 pounds and up to 20 feet long.
Other Ghost gate opener features include:
Tube brackets for easy installation on tubular gates
Remote, wireless gate opener transmitters with a range of up to 1,000 feet
Lifetime warranty on gearbox and motor
Best for: Residential or commercial properties that appreciate the functionality and the aesthetics of a swinging gate.
4. VEVOR Automatic Sliding Gate Opener
The VEVOR automatic sliding gate supports gates that are 3,300 pounds and up to 20 feet long.
Other VEVOR features include:
IP44 ratings for durability and outdoor use
Infrared sensors that stop the gate from closing if an obstruction is detected
Quiet gate opening designed with convenience and comfort in mind
Best for: Properties in remote or hilly areas where sliding gates are the most efficient.
Watch how ButterflyMX's gate intercom works:
5. Topens PW502 Dual Swing Gate Opener
Topens' dual-swing gate opener supports a maximum weight of 550 pounds and a maximum length of 16 feet.
The features of the PW502 include:
Installation options: Choose between pull-to-open and push-to-open
Compatibility with extra batteries and solar panels
Manual release key that allows the gate to work during power outages
Best for: Properties with a set of two gates that both swing inward.
What is an automatic gate opener?
An automatic gate opener is an electronic component in a gate access control system that unlocks and physically opens and closes a gate so that an entrant doesn't have to do it manually.
Automatic gate openers operate via a credential, like a:
Fob
Remote control
Key card
PIN code entered into a keypad
Smartphone/mobile app
Identification sticker on a car
Automatic gate openers are useful for gated properties of all sizes. For instance, you might install a remote gate opener on a smaller gate meant exclusively for pedestrian use. Or, your property might host a lot of car traffic, necessitating an electric gate opener for driveways.
Whatever the case, an automatic gate opener will save your tenants time and energy.
How much is an automatic gate motor?
Depending on the type of motor you want and the type of gate on your property, an automatic gate motor can cost anywhere from $500 to $6,000.
We recommend you contact an installer and get your property surveyed to learn more.
An automatic gate system has three components:
Credential reader. Tenants present a credential to the access reader to verify their identity.
Control panel. The control panel is the central hub of the automatic gate. While the credential reader scans a tenant's credential, the control panel verifies the data. Then, it instructs the gate's motors to move.
Gate motor. Gates with automatic openers require motors that physically slide or swing the gate open. These auto-gate motors activate to open and close the gate after receiving signals from the control panel.
How do automatic gate openers work?
Automatic gate openers work by reading a resident's credential. Then, the control panel signals the gate motors to activate, which use gears to swing or slide open the gate. As a result, the gate opens without a tenant having to physically open it themselves.
There are two main types of gates:
Sliding gate. A sliding gate moves side to side along a track. If motorized, a small gear is added to the gate's track to automate the process.
Swinging gate. A swinging gate swings outwards or inwards, much like how a door would. However, gates usually swing inwards so that they don't hit vehicles or pedestrians when they enter.
You have a few options when it comes to motorizing an automatic swing gate opener. You can install a rotating arm that mechanically pushes and pulls your gate open. Alternatively, you can install an underground motor that's less visible. Underground motors are more expensive, but you might find them more aesthetically pleasing.
Can you make an existing gate automatic?
Yes, you can easily add motors to an existing gate and make it automatic.
How are electric gates powered?
You can choose between a variety of power sources for an automatic gate opener. Solar, battery, and electronic systems are all popular options. You might pick one power source over another based on your property's needs, budget, and layout.
For example:
If you want to save money, you might install a solar-powered gate opener. This way, you'll reduce your property's electricity bills — and you'll be fighting climate change, while you're at it. Just remember to install a battery backup for rainy days!
Types of automatic gate opener systems
The type of automatic gate opener system you should choose depends on your property's needs and the gate access credential method you want. Automatic gate openers use all kinds of credential systems to verify tenants' identities. But above all, you know your property best, and only you can choose the best option for your gated community.
So, which automatic gate opener is best?
The best automatic gate openers facilitate a convenient access experience for tenants while enhancing security for your property.
The three best kinds of electric gate openers for driveways are:
1. Vehicle recognition tag reader
A vehicle recognition tag is a small sticker that a tenant places on their dashboard. Your gate's credential reader scans it when tenants approach the gate. The best part is that tenants can simply stay inside their cars, which is convenient for nighttime or bad weather situations — and a time-saver in any case.
Although these stickers are convenient for tenants, an automatic gate opener that depends entirely on them has no way to detect or let in visitors. So, your best bet is to use vehicle recognition tags in conjunction with another system.
2. Keypad
Automatic gate openers with keypads are great because you don't have to pass out physical credentials. As such, you don't need to keep track of them whenever a tenant moves in or out, or distribute new ones when tenants lose them.
For example, installing a ButterflyMX keypad at your gate will allow tenants to open the gate from their smartphones. What's more, it lets tenants issue PIN codes to their guests so they can let themselves in. Tenants can set these PINs to expire or only work at certain times or on certain days, maximizing convenience and flexibility.
3. Smart intercom
When it comes to managing gate access, the best option is installing a smart intercom that lets tenants open gates with their smartphones.
With a smart gate opener, tenants simply have to swipe on their phones to open the gate. Best of all, because the system is smartphone-based, tenants can open gates from wherever they have an internet connection, even when they're not on the property.
Smart intercoms also support other ways of opening gates:
Voice commands via Siri or Alexa
Haptic/3D touch on apps from the homescreen
Tapping on smartwatches that are compatible with the intercom app
What's more, smart intercoms connect to WiFi. so they can integrate with other internet-powered proptech devices that your building uses.