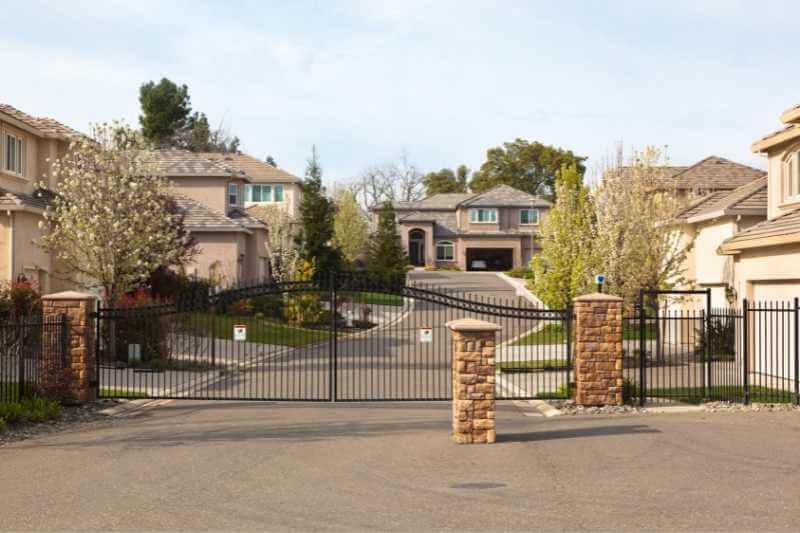 Gated communities offer greater security than traditional multifamily properties, but it often comes at the cost of convenience. For that reason, many look to smart gate openers as a solution.
Finding a suitable smart gate opener can be tricky when there are many options available. This guide details everything you need to know about smart gate openers.
In this post, we cover:
What is a smart gate opener?
A smart gate opener, also known as a smartphone gate opener, is a device that opens a gate automatically when it receives credentials from a smart device.
Smart gate openers consist of three components:
Gate motor: A gate motor is what physically opens and closes your gate automatically. It may slide or swing open. For your gate to work with your smartphone, a gate motor is required.
Smart controller: The smart controller enables your gate motor to receive signals from smartphones to open and close. It's installed directly onto the gate motor control panel.
Mobile app: Lastly, a mobile app is needed for residents to open and close the gate remotely. It acts as the credentials for the gate to verify.
Traditional gate openers require credentials from a remote, card, or fob. But these types of credentials can easily be lost or copied. Plus, fumbling for a card or fob while approaching the gate is inconvenient.
With a smart gate opener, residents instead use their smartphones to gain entry to the property. This way, residents are less likely to lose their credentials. It also makes the process of entering the gate faster and more convenient.
See how a ButterflyMX gate intercom system works:
How do you make a smart gate opener?
You can make a smart gate opener by installing a smart controller onto your gate motor. Smart controllers are easy to install because they require no special equipment or expert knowledge. The wiring is connected to the motor control panel using a screwdriver. A power cord plugged into an outlet supplies power. Once installed, the controller enables residents to open the gate using the smartphone app.
How do smart gate openers work?
Smart gate openers work by connecting a gate to a smartphone, so it opens and closes automatically.
Here's a step-by-step overview of how smart gate openers work:
First, a resident at the gate opens the smartphone app.
Next, the resident taps the app's button to activate the smart gate opener.
The app sends a signal — via WiFi, Bluetooth, or cellular signals — to the gate release.
Finally, the gate motor slides or swings open the gate for the resident to enter.
Types of smart gate openers
There are two types of smart gate openers:
Smart sliding gate opener: More suitable for wider access points, smart sliding gate openers take up less space, so you don't need room for them to open outward or inward. On the other hand, sliding gates are more expensive because they require more parts to operate.
Smart swing gate opener: As a budget-friendly option, smart swing gate openers operate with fewer parts. If you have room for the gate to open inward or outward, it proves to be a safer option because of fewer moving parts.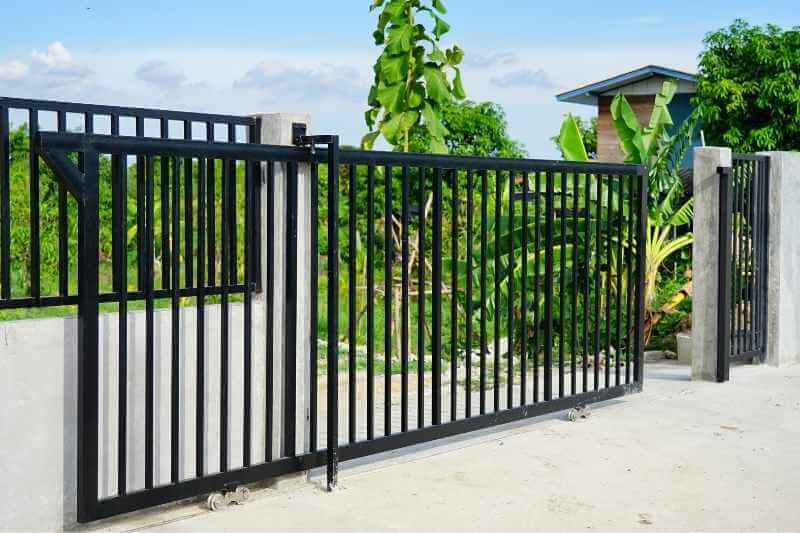 Pros & cons of smart gate openers
Smart gate openers improve the resident experience in gated communities, but they also have their problems. Knowing what smart gate openers provide — both good and bad — can help you decide what best suits your property.
Pros of smart gate openers
Installing a smart gate opener for your property is extremely beneficial for residents. It not only makes accessing the property easier but also increases safety and security.
A smart gate opener provides the following benefits:
Peace of mind: Property owners and managers can have peace of mind knowing their community has higher security measures in place. You no longer have to worry about residents losing credentials or being unable to access the community.
Greater security: Since you no longer have to issue cards, fobs, or codes to your residents, you can increase the security of the property. These types of devices are easily lost or copied for intruders to use. But a smart gate opener eliminates that threat by putting the credentials on residents' phones.
Convenience: Traditional credentials take more time to access a property and can easily be lost. Smart gate openers make it convenient for residents to enter the community. Residents no longer have to sit at the gate to scan or input their credentials, and they're less likely to lose their phones.
Ease of use: Implementing a smart gate opener is intuitive. The vast majority of Americans have a smartphone, making the switch to smartphone-based gate access easy.
Cons of smart gate openers
While smart gate openers offer plenty of benefits, they may not be the best solution for your gated property.
Major drawbacks of smart gate openers include:
Single-family focus: Unfortunately, smart gate openers are best suited for single-family homes rather than multifamily properties. As a result, your smart gate opener will lack many features that a gate access system should have.
No video feature: Some smart gate openers offer video integration but require separate hardware. In turn, you'll spend more on installation and hardware.
No alternative entry methods: Lastly, smart gate openers have no alternative forms of entry. Meaning if a resident loses their phone or it dies, they won't be able to access the community. Implementing a system with multiple entry methods helps residents have peace of mind.
What is the best smart gate opener?
The best smart gate opener isn't a gate opener at all. Rather, it's a smart gate intercom system.
A smart gate intercom system is a comprehensive property access solution. It allows residents to access the community with their phones but is also packed with a variety of other features.
The gate intercom base station is located at the gated entrance. It connects directly to the internet and the gate motor. Upon receiving a signal from a resident's phone, the intercom will initiate the gate to open. Ideally, the right gate intercom system will also have alternative entry methods in the event that a resident's phone is lost or dead.
Additionally, you should consider a gate intercom system with a camera that offers video capabilities. A video feed lets residents see who they're letting inside, whether it's friends, family, delivery drivers, or service providers. Above all, video capabilities make the property more secure.
If you want a solution with all of the features mentioned above and more, the ButterflyMX gate intercom is the best option.
Why ButterflyMX is a better alternative
The ButterflyMX gate intercom system is the better alternative to a smart gate opener because it includes a vast range of features.
The ButterflyMX gate intercom includes the following:
Smartphone access: Your residents can access the property using the ButterflyMX app. They can also grant access wherever they are to visitors, delivery drivers, and service providers.
Video calling: Residents can see who they're speaking to when visitors request access. This feature adds an extra layer to the security and safety of your property. So, you and residents can have peace of mind when letting in a guest.
IP65 rating: The ButterflyMX gate intercom system has been tested to withstand weather of all types. The system's casing prevents any dust or moisture from entering as well.
Delivery PINs: Set up recurring delivery PINs for couriers like USPS, FedEx, and UPS. That way, delivery drivers have no issue accessing the property and delivering packages to residents.
Multiple entry methods: If your residents' phone has died or been lost, they can use a personalized PIN code to access the property instead.
Audit trail: Every entry into the community is logged by storing a date- and time-stamped photo.
Cloud-based: ButterflyMX gate intercoms are cloud-based, meaning no onsite server is needed. Everything is stored in the cloud and accessible from anywhere using the ButterflyMX OS.
Wireless: Unlike old intercoms, the ButterflyMX gate intercom is wireless. It doesn't require any in-unit hardware or property-wide wiring.