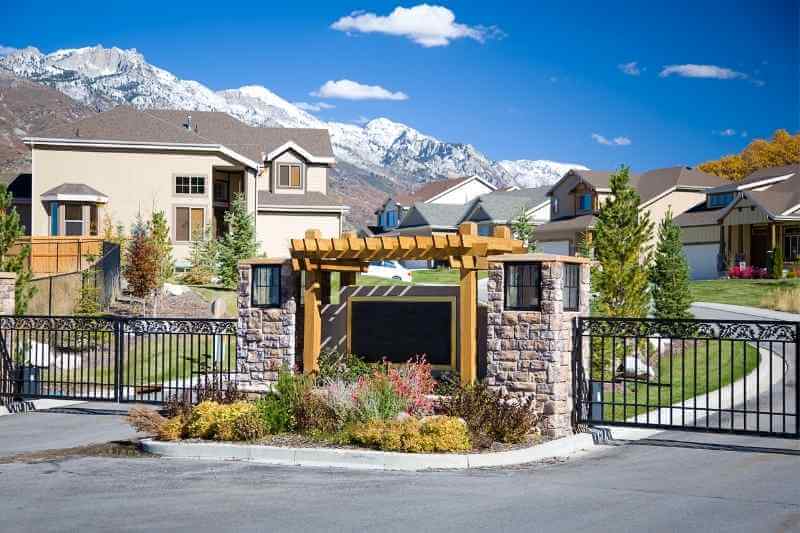 Key takeaways
WiFi gate openers allow users to control and open gates from their smartphones and rely on wireless internet connectivity.
The most robust gate openers offer easy installation, accommodate many users, and have a camera for security.
However, gate openers are designed for single-family homes and often fail to accommodate multi-tenant gated communities.
The ButterflyMX gate intercom is a more reliable alternative to WiFi gate openers.
With minimal wiring and no in-unit hardware, ButterflyMX provides optimal convenience and safety.
Are you looking to improve convenience and safety at your gated property? By installing a gate opener, you retain control of who can and can't access your property. But how can you guarantee this security without compromising convenience? One access control device you may consider is a WiFi gate opener.
In this blog, we explain what WiFi gate openers are and how they work. Then, we go over the benefits and drawbacks of WiFi gate openers and share a simpler, more secure alternative.
This post covers:
Top 4 WiFi gate openers
With so many WiFi gate openers on the market, how do you narrow down your choices? We've rounded up the four best WiFi gate openers.
The top four WiFi gate opener options are:
1. Remootio
The Remootio gate opener allows you to control and monitor your gate from anywhere using your smartphone. Additionally, Remootio allows you to automatically close and lock the gate at certain times during the day.
Pros:
Remootio can be set up with just a pair of cables, making installation easy.
256-bit end-to-end encryption protects your WiFi connection.
No external hub is needed. Instead, it's all built into the base station.
Cons:
The system may not be compatible with multi-tenant gated properties.
2. iSmartgate
The iSmartgate is unique because it creates its own WiFi field, though it can be connected to your WiFi network. Additionally, no data is stored in the cloud, which protects your residents' information.
Pros:
Universal home integration makes the system user-friendly.
The base station is waterproof.
The iSmartgate WiFi gate opener has a camera, increasing security.
Cons:
Use is intended for just one gate. If your property has multiple entrances, you'll need to invest in several base stations.
The first 10 users are free, but more than that will cost extra.
3. Mighty Mule
The Mighty Mule Smart Gate Opener uses WiFi to control and monitor all types of gates. This means it's not limited to slide gates, but swing gates as well. If your property has multiple gate types, this could be useful.
Pros:
Control many types of gates, including transforming manual swing gates into automatic gates.
Their smart WiFi gate opener comes with a camera, optimizing your security.
This smart gate opener is do-it-yourself, meaning you'll save money on installation fees.
Cons:
Their WiFi gate opener caters to rural properties, such as farms and ranches.
Mighty Mule caters to properties with just one gate and one household of users, rather than a populous gated community or apartment.
4. Ghost Controls
The Ghost Controls WiFi gate opener is fit for modern properties with unique needs. You can set the system up yourself or pay an installation fee. Additionally, Ghost Controls is among the leading gate automation solutions, ensuring a smooth experience for you.
Pros:
Multiple options, including heavy-duty, architectural, and their ghost pro series.
Their solar option guarantees the gate battery never needs replacing.
Ghost Controls caters primarily to gated communities rather than single-family homes.
Cons:
No camera means security breaches can't be investigated.
Installation fees can add up if you invest in multiple gate openers.
What is a WiFi gate opener?
A WiFi gate opener is a property access device that allows you to control and monitor gates from your smartphone. Because they don't require any wiring, WiFi gate openers are a convenient gate opening system.
Additionally, WiFi gate openers are a good fit for many types of gates. For example, you may own a parking garage, creating the need for a gate opener for driveways. Or, you may want to install a gate opener at a smaller gate meant for pedestrian use.
In either case, a WiFi gate opener saves your tenants time, energy, and frustration. And it does this all while increasing security at your property.
WiFi gate openers consist of 3 components:
Base station. This device is stationed by your gate and controls the gate motor. All base stations come with a credential reader. Meanwhile, the best WiFi gate opener base stations have a camera, microphone, speaker, and keypad.
Smartphone app. Instead of installing wiring throughout your property, residents download an app to their smartphones. What's more, with the best WiFi gate opener apps, residents can send temporary QR or PIN codes to guests for easy access.
Gate motor. Automatic gate openers activate motors to open or close the gate. Your gate must have a motor before investing in a WiFi gate opener. Otherwise, the opener will not function properly.
How do WiFi gate openers work?
WiFi gate openers work by connecting with a user's smartphone so they can automatically unlock and open a gate. This prevents the need for someone to open the gate manually. In just three simple steps, tenants can open the gate from the comfort of their vehicles.
Three steps to use a WiFi gate opener:
When at the gate, a resident opens their gate opener smartphone app.
Then, they tap or swipe their smartphones and signal the gate to open. The app connects to the gate's WiFi connection to signal the gate release mechanism.
The electric gate motor swings or slides the gate open. Finally, the resident enters your property — without needing to leave their car!
How do you connect WiFi to a gate?
WiFi gate openers rely on an internet connection, which makes them convenient to install because they don't require wiring. However, larger properties may require a WiFi extender. This device extends the WiFi signal, allowing it to reach from your property to your gate.
So, consider the size of your property when installing a WiFi gate opener to ensure a seamless wireless connection.
Watch how ButterflyMX's gate intercom works:
What to consider before purchasing a WiFi gate opener
Whether you own or manage the property, your primary concern must be safety and security. And every gate entry system provides different security benefits. But increased security should be just one of many benefits provided by your gate opener.
Here are the top features to seek from a WiFi gate opener:
Easy installation
The best WiFi gate openers allow for simple do-it-yourself installation. In fact, you may be able to set up your WiFi gate opener in just a few hours. This way, you save money on installation costs and time contacting installers.
But remember: Double-check the installation requirements of each gate opener to ensure you can set up the system yourself. Otherwise, you may find yourself hiring an installer last minute, costing you money and temporarily disrupting gate access.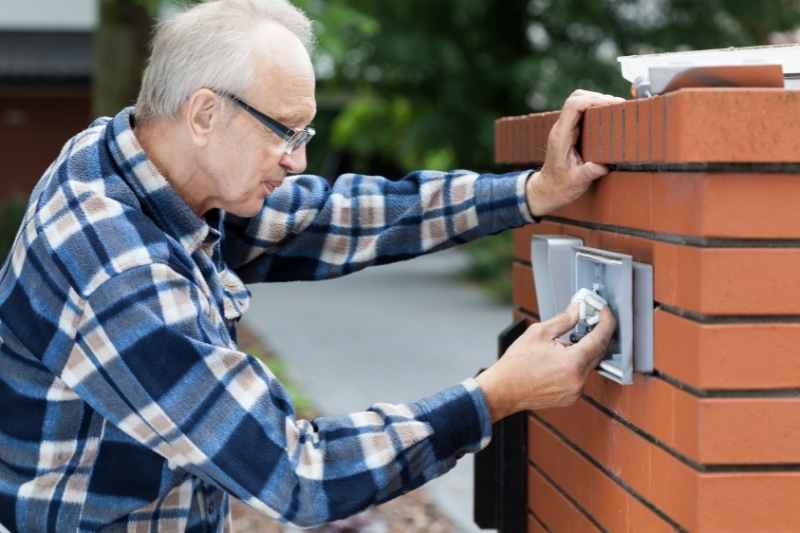 WiFi gate opener with a camera
Are you worried about crime in your gated community? Installing a gate opener with a camera is a great way to deter potential offenders.
Additionally, a camera helps you prevent liability issues by keeping date- and time-stamped photos and videos of incidents.
What's more, certain WiFi gate openers with a camera allow tenants to see who's at the gate. So, they can concretely identify guests before granting them access.
Unlimited users
Nearly all WiFi gate openers allow several users. However, you must ensure the gate opener you choose can accommodate every resident in your gated community.
If you purchase a WiFi gate opener meant for a single-family home, you may have to pay extra fees to accommodate your tenants. Consequently, you may find yourself purchasing several base stations to accommodate all of your residents.
Gate type compatibility
The type of gate at your property is one of the first things you must consider when looking for a WiFi gate opener. For example, erroneously purchasing a WiFi sliding gate opener for your property's swing gate is a mistake that could cost you thousands of dollars.
Here are the most common types of gates for property access:
Swing
Sliding
Pedestrian
Parking garage
Drawbacks of WiFi gate openers
While WiFi gate openers may allow you to modernize your property's access control, there are some drawbacks to consider.
Some drawbacks of WiFi gate openers include:
Designed for single-family. Many WiFi gate openers are created with single-family homes in mind. As a result, they aren't compatible with large gated communities or even with multi-unit parking garages.
Compatibility. Additionally, WiFi gate openers are often designed to connect with platforms such as Google Home, Amazon Alexa, and SmartThings. This furthers their compatibility with single-family homes rather than with gated communities.
Weatherproofing. While some WiFi gate openers are self-described as weatherproof, they may not be IP65 rated.
Open your gate with ButterflyMX
While WiFi gate openers are convenient to install and provide security, there is a more reliable option. So, invest in a robust gate opener intercom with all the features you need in a high-end gate opener system.
ButterflyMX is the best gate intercom system for residential properties. The video intercom system provides the best features of WiFi gate openers — and more.
Benefits of the ButterflyMX gate video intercom system include:
Direct internet connection. The ButterflyMX gate intercom system has a direct internet connection, which ensures more reliable and stable internet than WiFi systems.
Wireless and no in-unit hardware. When you install the ButterflyMX gate intercom, you won't have to install hardware in every unit throughout the property. You also won't have to run wiring from the gate all the way to the building.
Smartphone access. The ButterflyMX app offers entrants an excellent user experience when opening gates for themselves and guests.
Tenant directory. Guests can search for a resident's information to guarantee they call the correct person.
Video chatting. ButterflyMX offers two-way video calling so both tenants and visitors can hear and see each other. This way, residents can verify guest identities before granting access.
IP65 rating. ButterflyMX video intercoms are guaranteed to withstand extreme temperatures and rain.
Gate activity logging. The video intercom captures date- and time-stamped photos of all entry activity.
Virtual keys. Your tenants can remotely grant access to their visitors with virtual keys. Then, guests can scan these virtual keys at the intercom to enter the property.
Multiple entry methods. If a resident doesn't have their cell phone with them, or if their phone is dead, they can still enter your property via a PIN code.