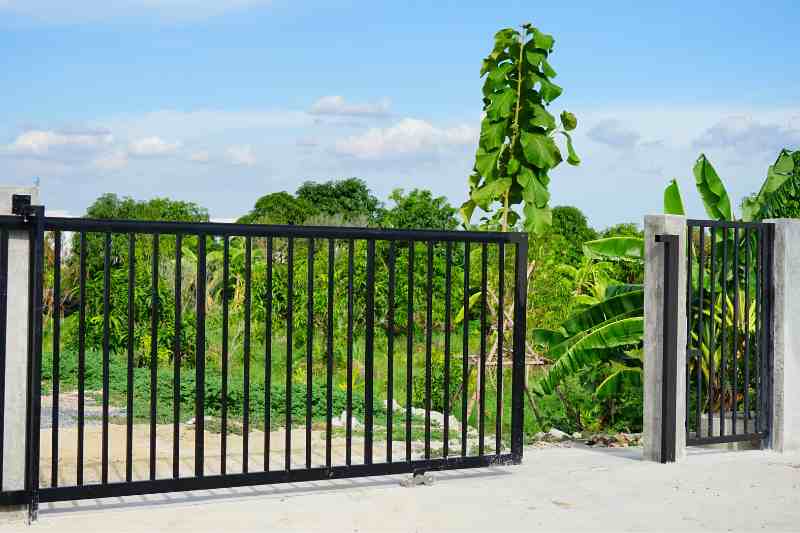 Key takeaways
Pair your sliding gate opener with the ButterflyMX video intercom for the best gate access control system across commercial and multifamily properties.
A sliding gate opener automates the process of opening and closing the gate for fast and secure access.
Sliding gate openers use a power source that stems from solar-powered AC or DC electricity-powered motors.
Sliding gate openers are great for multifamily apartments, gated communities, commercial buildings, and gated industrial properties.
Streamlining access to your property begins at your front gate. One way to streamline access is with a sliding gate opener. These automate the process of opening and closing your gate for fast yet secure access to your property.
Read on to learn what a sliding gate opener is and if they're a worthy investment. Next, explore the best-sliding gate openers on the market. Finally, discover the best gate access control system for residential and commercial properties.
In this post, we cover:
The 4 best sliding gate openers to buy
Are you looking for an electric gate opener that will automatically open your sliding gate? Several models on the market offer a variety of unique features for your property.
Here's our round-up of the best-sliding gate openers on the market:
1. LiftMaster
LiftMaster sliding gate operators are a safe, simple, and secure solution for commercial and residential properties.
A LiftMaster sliding gate opener offers:
Heavy-duty construction. LiftMaster automatic gate openers are great for high-traffic areas — offering options that can support gates up to 5500 lbs.
Advanced safety features. LiftMaster automatic gate openers offer state-of-the-art security features like motion detection sensors and obstruction detection.
Smooth and quiet technology. Advanced noise reduction technology makes this opener great for residential properties.
Price: Ranges from $1,179 to $3,340, depending on the model.
2. Ghost Controls Heavy Duty Solar Automatic Gate Opener Kit
Ghost Controls offers the top-rated DIY solar automatic sliding gate operator — making it the most sustainable option on this list.
The Ghost Controls solar sliding gate opener features:
Solar-powered. Ghost Controls offers a solar-powered sliding gate opener, so there's no need for electricity or extensive wiring.
Exceptional range. With a range of up to 1,000 feet, the Ghost Controls remote can operate up to two different gates.
Party mode feature. Ghost Control's 'party mode' capabilities allow you to disable the auto-close feature and keep the gate open for delivery couriers, service providers, and visitors.
Price: $629
3. ALEKO Heavy-Duty Sliding Gate Opener
ALEKO offers a range of premium sliding gate opener kits that elevate security at an affordable price point.
An ALEKO gate opener offers:
Easy setup. ALEKO sliding gate kits come with everything you need for easy installation, including a remote control, electric sliding gate motor, and mounting hardware.
Durable construction. The ALEKO sliding gate operator is built to handle up to 1,000 feet of aluminum or iron gates weighing up to 2,500 lbs each.
Anti-theft protection feature. The ALEKO sliding gate has a programmable keypad and an automatic timer-to-close for added convenience and security.
Price: $749
4. CO-Z Automatic Sliding Gate Opener
CO-Z automatic gate operators offer security, convenience, and peace of mind for residential properties and businesses.
The CO-Z automatic sliding gate operator features:
Affordable. CO-Z gate openers are all less than $500, with the most affordable option priced at just under $200.
Offers solar options. CO-Z solar-powered gate opener kits are an eco-conscious solution for sustainable buildings.
Quality construction. CO-Z electric gate openers are constructed from high-quality aluminum alloy with corrosion-resistant copper motors.
Price: $199
What is the best gate access control system?
ButterflyMX is the best gate access control system for commercial, residential, and industrial buildings.
ButterflyMX gate access control products include:
Vehicle readers and windshield tags. The ButterflyMX vehicle reader automatically reads a vehicle's windshield tag for convenient hands-free access. What's more, vehicle readers are durable, weatherproof, and easy to install. You can also track who enters your gates.
Video intercoms. Video intercoms empower visitors to request gate access via a two-way call. As a result, residents know exactly who they're letting in, and they can grant access to visitors from anywhere.
Keypads and card readers. If your gate only provides access to authorized tenants and staff, you may want to use a simpler solution, like a ButterflyMX keypad or card reader.
More features to expect from ButterflyMX intercoms include:
Modern design that's inviting, and instantly improves the aesthetic of your gated community or property.
Two size choices include an 8" inch screen or a 12-inch LED screen.
A 156-degree wide-angle camera that captures the full scope of visitors and surrounding views.
A highly-rated smartphone app that empowers users to simply swipe-to-open when they approach the gate.
5GHz WiFi.
RFID for users who prefer key fobs and key cards to apps.
Weatherproof and vandal-resistant
What is a sliding gate opener?
A sliding gate opener is a device that automatically opens and closes your gate with the touch of a button. When a user presents an authorized credential, an automatic gate opener instructs a gate to slide into and out of place, allowing drivers to enter the premises.
With an automatic gate operator, users don't have to manually open and close the gate. As a result, sliding gate openers help to significantly reduce wait times and vehicle pile-ups at your gated community.
How do sliding gate openers work?
Sliding gates move across a driveway or opening and are secured to a solid post. While old-school sliding gates may have been manual, most modern sliding gate operators are powered by a motor connected to a power supply that automatically opens and closes your gate.
There are several types of motors on the market:
AC motors. AC motors are ideal for commercial use because they're optimized to open heavy gates that are used every day.
DC motors. DC motors are energy-efficient and aren't as loud as AC motors — making them great for gated residential properties.
Solar motors. Powered by solar energy for electricity, solar gate openers are the most cost-effective and sustainable option. The motor itself features a solar panel.
What are the benefits of automatic sliding gate openers?
The advantage of sliding automatic gate openers is that:
Larger vehicles can enter your property more easily thanks to slide gates that automatically open.
You won't have a need for in-person slide gate operators.
Visitors need a gate opener to access your property, ensuring that only authorized people have access.
An automated system with adjustable auto close capabilities won't accidentally close on vehicles and people, unlike a manually operated gate.
Sliding gate openers can also be integrated with other technology, such as access control systems and video cameras.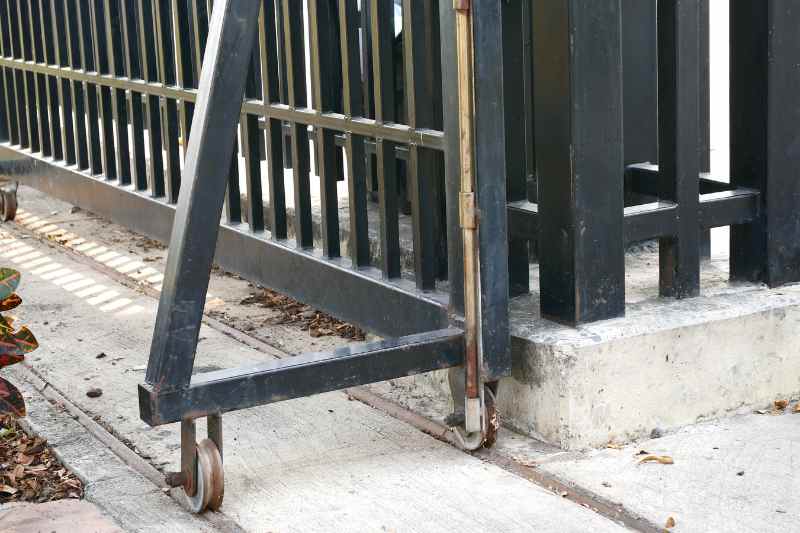 What should you consider before buying a sliding gate opener?
There are a number of factors that determine the best automatic gate opener for your sliding gate.
You should consider:
A loop detector. This is a safety feature that detects whether something is blocking the gate, preventing it from closing on the vehicle, person, or object.
Gate size. The length of your gate will determine whether a sliding gate opener even makes sense for your property. If you have a longer gate, you will need a system that features a longer chain or even an extra chain.
Daily users. You'll want to account for a high-end sliding gate opener if your property sees a high number of daily users. A high-end sliding gate opener will feature an electric gate opener and stable power source that is less likely to burn out from repeated use.
Discover how ButterflyMX works:
Types of sliding gate openers
So, you're interested in investing in an automatic sliding gate opener. Well, they're a convenient, cost-effective, and secure solution. But what are the types of sliding gate openers, and where can you install them?
Automatic gate openers can be installed at many property types, including:
Multifamily apartments. A residential gate opener can be installed at the front of a large multifamily parking garage to ensure that only credentialed drivers can enter.
Gated communities. A sliding electric gate opener is the perfect solution for gated communities. Install a gate opener at each entry point to ensure only authorized residents, guests, and staff can enter.
Commercial office spaces. A sliding motorized gate can modernize access to your commercial office, shared coworking space, or multi-use building. By installing a sliding gate in your parking garage, only authorized drivers can park in the secure areas. Other drivers, including retail guests, have access just to first-level guests parking.
Industrial facilities. Industrial facilities often need a secure gate access control system to restrict access for unauthorized individuals. In this case, a heavy-duty gate opener is great.
What is the price for an electric sliding gate?
Commercial automatic gate openers typically cost anywhere from $400 to $5,000 for the hardware itself.
Additionally, installation costs can range anywhere from $1,500 to $3,000, depending on the size of the project.