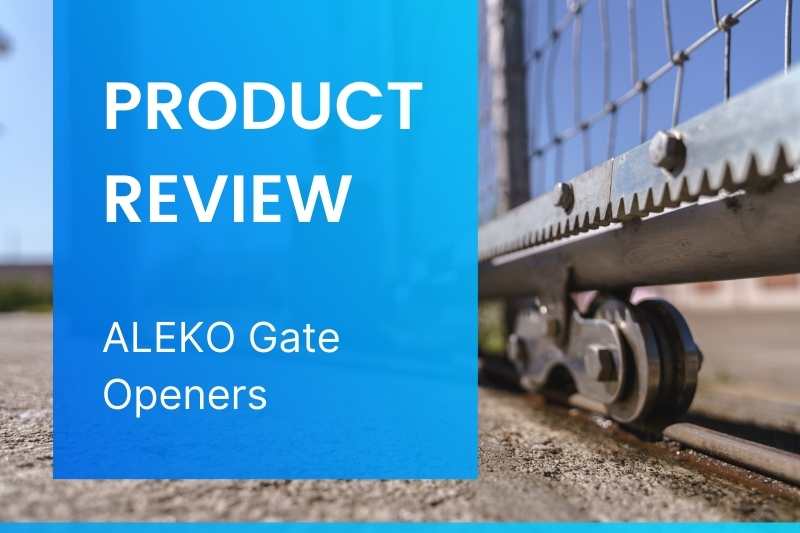 Americans are accustomed to convenience, and there's nothing like the convenience of a gate opener giving them easy entry to their homes, offices, and other properties. Automatic gate openers increase security and enhance the tenant experience of residential and commercial properties alike.
There are many gate openers available on the market, but here we'll hone in on ALEKO gate openers. Read on to learn about ALEKO gate opener features, pricing, pros and cons, and alternatives.
This post covers:
About ALEKO
ALEKO began in 2005 as a small family-owned business making and selling gates in their local community. And in just over 15 years, they have expanded their business to serve customers in the United States, Canada, and other countries worldwide. Their product line has diversified to steel driveway gates, chicken coops, inflatable boats, tools, and more.
ALEKO boasts of giving the same small-business customer care as they did when they first opened and ensuring that all customers are satisfied with their purchases.
Watch how to use ButterflyMX to open gates:
Overview of ALEKO gate openers
ALEKO offers several different types of gate openers to suit most needs. Generally, their gate openers fall into one of two categories: sliding and dual openers.
Sliding gate openers:
AC1400 – with Accessory Kit – ACC3: This chain-driven opener is perfect for most applications and includes a 120V AC ¾ HP motor providing exceptional starting torque and continuous operation. It will open gates weighing up to 1,400 lbs. or 40 feet in length.
AC2700 – with Accessory Kit ACC4: This model is similar to the AC1400 but includes a 120V AC ¾ HP motor, which increases starting torque and the capacity to open gates weighing up to 2,700 lbs. or 40 feet in length.
AR900 – Solar Kit 60W: This solar-powered opener is gear rack driven with exceptional starting torque and continuous operation to cover most applications. Its 120V AC/DC 1/2 HP motor will open gates up to 900 lbs. or 30 feet in length.
Swing gate openers:
AS1200 AC/DC – with Accessory Kit ACC4: This dual swing opener can be used in both commercial and residential applications. A 24V DC motor drives the opener. It can open gates up to 1320 lbs. and up to 20 feet in length.
AS1200 AC/DC – with Solar Kit 60W: This dual swing solar-powered opener also has a 24V DC motor. It can open gates up to 1320 lbs. and up to 20 feet in length. A utility backup battery is available for purchase in prolonged inclement weather.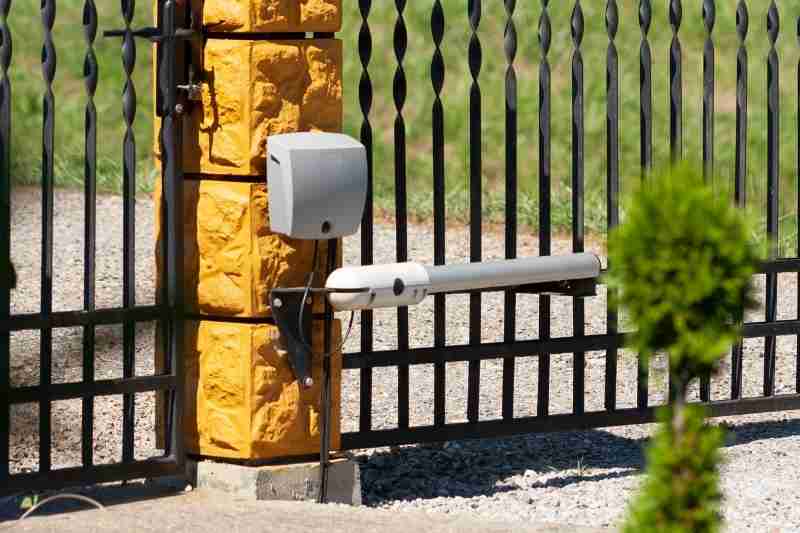 Features
ALEKO gate opening systems come with all the features one would expect. Some of the standard features are listed below but vary somewhat between models.
Access your gates through remote control or keypad.
Smooth and soft start and stop function — no jerky starts and stops.
Emergency release key in case of power failure. Easy disengagement to open manually.
Dual/Single gate running mode so you can choose between opening one gate on the left or right or both gates together on swing models.
Stop/reverse in case of obstruction during gate opening/closing. In other words, the gate will immediately stop and reverse when it comes in contact with any obstacle.
The motor opening force can be programmed, which means you can adjust the open/close operation speed.
ALEKO offers a variety of credentials and readers, including key fobs, cards, keypads, and wireless push-button remotes.
ALEKO gate opener pricing
ALEKO gate opener pricing ranges from $299 to $1,159 depending on the model you purchase. Additional accessories, such as credentials and backup batteries for solar-powered gate openers, can be purchased separately.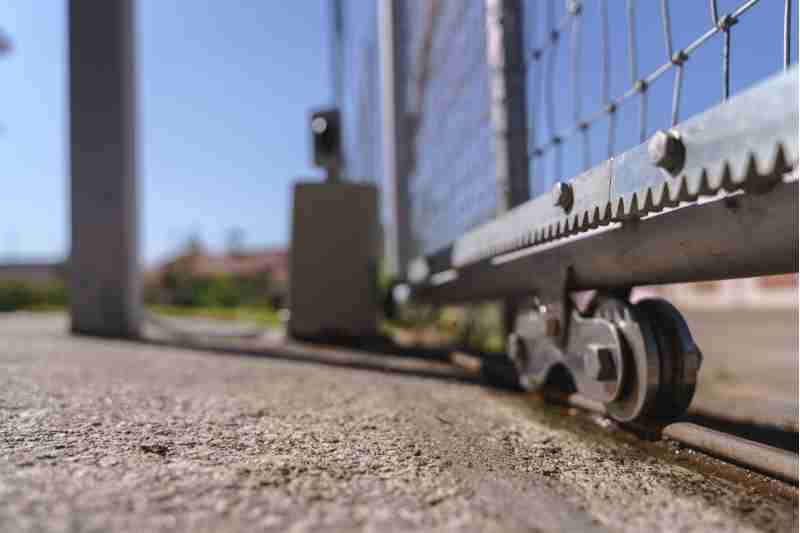 Pros & cons
Pros:
Easy to install and use
Quiet while operating
Powerful motors
Safety sensor
Soft start and stop mechanism
Cons:
Gear track is not included.
No WiFi gate opener models.
Backup battery for solar-powered gate openers costs extra.
May not work well during heavy rain.
Most accessories must be purchased at an additional cost.
May not be ideal for multi-tenant properties.
No solution to open gates with a cell phone.
ALEKO doesn't sell gate access control systems.
Comparison of ALEKO with ButterflyMX
ALEKO automatic gate openers may be better than manual gate operation, but they also may fall short of being a comprehensive, convenient, and secure gate access management solution. In contrast, ButterflyMX takes gate access to the next level by offering tenants, staff, and visitors a first-class entry experience.
While ALEKO provides the standard keypad or fob entry solution designed solely for tenants, ButterflyMX offers a tech-forward video intercom entry system that is easy to use and offers a way for visitors to request property access.
With an ALEKO gate opener, tenants can unlock the gate for themselves, but property staff must manually program and distribute credentials. Even worse, when visitors need to enter the property, they have no way of requesting access. But with the ButterflyMX video gate intercom system, visitors can video call tenants, who can then easily unlock the gate with their smartphones after visually confirming who's requesting access. Moreover, tenants at gated properties with ButterflyMX can send a digital access code to their visitors in advance, allowing simplified access for authorized visitors.
Finally, deliveries are made simple with a ButterflyMX gate intercom. Delivery carriers can easily request property access at the gate or use an authorized delivery PIN code to unlock it. In contrast, delivery carriers may struggle to gain access to a property with an ALEKO gate opener.
ALEKO vs. ButterflyMX
ALEKO automatic gate openers may simplify access at single-family homes. But if you're looking for a comprehensive gate access solution for a multi-tenant property, consider the ButterflyMX gate intercom instead.
| Feature | ButterflyMX gate intercom | ALEKO gate opener |
| --- | --- | --- |
| Log of entry events | Yes | No |
| Built-in camera | Yes | No |
| Video calling | Yes | No |
| Cloud-based software | Yes | No |
| Visitor management | Yes | No |
| Mobile app & smartphone-based access | Yes | No |
| Delivery PINs and Passes | Yes | No |
Takeaways
ALEKO sells a variety of gate openers for sliding and swinging gates.
An ALEKO gate opener only allows authorized tenants to automatically unlock the gate — there are no visitor management capabilities.
An ALEKO gate opener may work for a single-family home but may not be recommended for multi-tenant properties.
To control gate access at a multi-unit property, consider a video gate intercom system like ButterflyMX.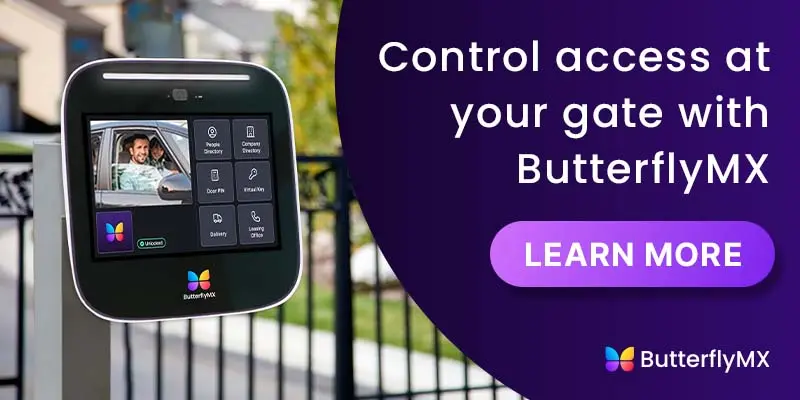 Disclaimer: ButterflyMX provides these blog posts to help our customers and potential customers make the right business decisions for them. Our blog posts are based on the information we have available to us at the time of writing.