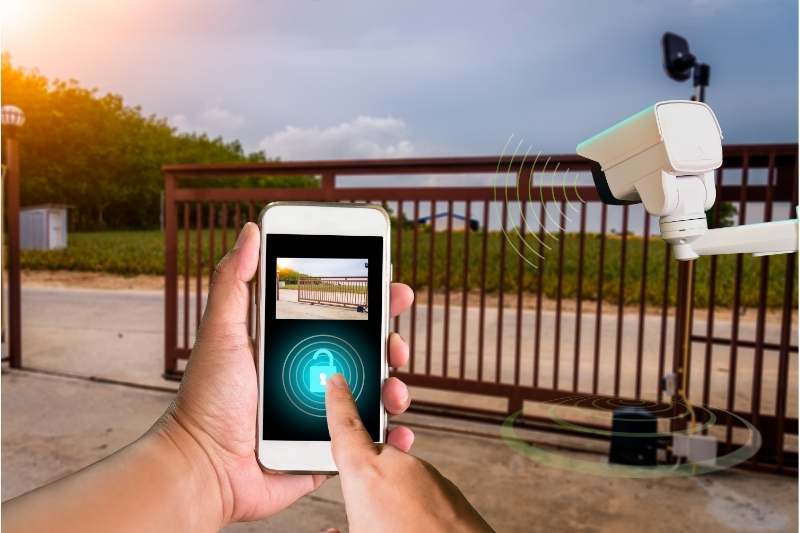 Key takeaways
Smartphone gate openers allow users to open gates by swiping or tapping their phones.
Smartphone gate openers are powered by mobile apps.
IP intercom systems are the best type of smartphone gate opener.
Choose a smartphone gate opener with a camera that's fast and intuitive to use, cloud-based, and features wireless connectivity.
The best smartphone gate opener is the ButterflyMX video intercom system. It maximizes usefulness for both tenants and their guests with a host of safety and convenience features.
When updating your gated community's access control system, consider a modern access option, like a smartphone gate opener. In a world where most residential and commercial tenants have the latest Apple or Android products, using a cell phone to open the gate makes sense. However, smartphone capability is far from the only feature you should look for in a gate access control system.
In this guide, we go over what a smartphone gate opener is and how it works. Then, we discuss how apps for smartphone gate openers work. Lastly, we go over the top features to seek in a smart gate opener and share the best product on the market.
This post covers:
The best smartphone gate opener
ButterflyMX is the best gate intercom system with a smartphone gate opener. Their video intercom system has all the features you want in a high-end smartphone gate opener and more.
Benefits of the ButterflyMX video intercom system include:
Smartphone access. With its highly-rated app, ButterflyMX offers tenants the best user experience when opening gates for themselves and guests.
Two-way video calling. Both tenants and visitors can see and hear each other when video calling. This allows residents to verify the identities of guests before letting them in.
Virtual keys for guests. Tenants can give their visitors remote access with virtual keys. And trusted guests can enter the property by scanning these virtual keys at the intercom.
Tenant directory. Visitors can look up a tenant's information to ensure they're contacting the right person.
IP65 rating. ButterflyMX video intercoms can endure rain and drastic temperature changes.
Gate entry logging. The intercom captures time- and date-stamped photo and video trails of every entry activity. This feature is useful for deterring crime and catching possible culprits.
The ButterflyMX intercom also supports alternative entry methods for residents and guests. For instance, if their cell phone is dead or not with them, they can still enter the property via a PIN code.
What is a smartphone gate opener?
A smartphone gate opener is a system that automatically unlocks and opens a gate after an authorized user swipes or taps on a smartphone app. This system is found on both residential and commercial gated properties.
The three components of a smartphone gate opener system:
Base station. This is the main device stationed by the gate that controls its release mechanism. It comes with a camera, microphone, speaker, and keypad. The base station is what visitors use to request gate entry.
Smartphone app. This app acts as a substation. Instead of installing in-unit hardware throughout the property, residents simply download an app on their smartphones. And with this app, residents can open the gate for themselves or guests. They can also send temporary QR or PIN codes to guests or delivery couriers through the app.
Gate release mechanism. This opens and closes the gate by releasing or activating electronic locks. After the gate is unlocked, it opens by sliding along an electric track or swinging open.
Given the minimum amount of hardware involved, smartphone gate opener systems are incredibly easy to install and manage.
Can you open a gate with your phone?
Yes, with a smartphone gate opener system, you can unlock your property's gate from your phone. All you need to do is download the mobile app that corresponds with the gate opener system on your property. With over 294 million smartphone users in the United States, it's paramount that tenants can open and control gates with smartphones.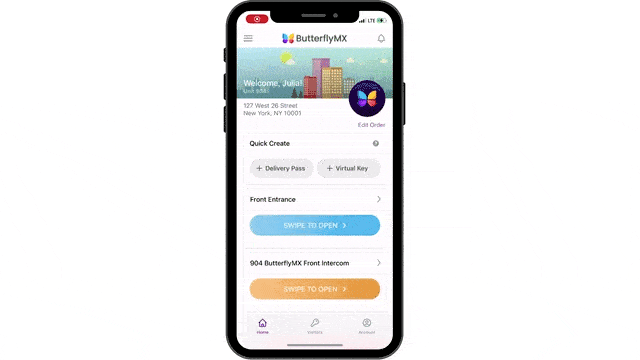 Types of smartphone gate opener systems
There are various types of remote gate openers with smartphone capabilities. The option you choose depends on your gated community's structure and age.
The three most common forms of smartphone gate opener systems are:
Telephone entry systems. Tenants can use their smartphones to receive calls from guests at the gate and grant them access. When residents receive a call, they simply press '9' on the dial pad to open the gate.
Internet Protocol (IP) intercom systems. As one of the most efficient entry systems, IP intercoms are powered by the internet, allowing them to send signals between smartphones and the base station. Tenant information can be uploaded to the intercom's directory, allowing guests to contact them and request access.
Gate access control systems. Tenants gain gate access by scanning their credentials on Bluetooth readers or through mobile apps. However, there is no efficient way to allow remote access to guests and delivery personnel because they won't be registered with a building's directory system.
How do smartphone gate openers work?
Smartphone gate openers work by using smartphone signals to trigger the gate open. The process is different for tenants and visitors.
How tenants open gates for themselves with smartphones:
When at the gate, a tenant opens the mobile app downloaded onto their phone.
From there, they usually swipe or tap their smartphones to signal the gate to open. The app sends an electronic signal to the gate release mechanism. The entire process is keyless.
The gate motors swing or slide the gate open, and the resident enters the property.
How tenants open gates for guests with their phones:
When a guest arrives, they contact the tenant through the video intercom system at the gate.
The tenant answers the call through their app and then remotely grant the guest access through the app.
As an alternative method, tenants can send guests a temporary QR or PIN code through the mobile app. Then, the guest can let themselves in by entering the code on the intercom.
Is there an app for gate openers?
Yes, there are compatible gate opener apps for iPhone and Android phones. Each gate opener system comes with its own app. After installing the system, instruct tenants to download the correct app to open gates with a cell phone app.
How do I connect my phone to a gate?
Phones wirelessly connect to the smartphone gate opener system through Bluetooth or WiFi. After that, the property manager or owner can grant unique access codes to tenants and staff. Once authorized tenants and staff download the mobile app, they'll enjoy opening the gate with their phones.
Some smartphone gate openers utilize Bluetooth technology for connecting to smartphones. Bluetooth gate opener apps don't require WiFi. Although this is good for quick connectivity, it's not the most secure option for your gated community. That's because Bluetooth connectivity doesn't establish an internet connection, so you can't remotely monitor gate entry activities.
How do I get WiFi to a gate?
Depending on the size of your property, you may need a WiFi extender. A WiFi extender repeats your building's WiFi signal, extending its reach from your property to the gate.
Most smartphone gate openers have a pretty big range and don't require a WiFi extender. Regardless, always keep the size of your property in mind when establishing a wireless connection for your smartphone gate opener.
Watch how ButterflyMX works:
4 features to seek in smartphone gate openers
Your primary concern for your gated community should always be safety and security. Smartphone compatibility shouldn't be the sole feature of the gate entry system you choose. Instead, it should be one of many benefits.
When it comes to a smartphone gate opener, the top four features to seek are:
1. A smart gate opener with a camera
A camera is a major deterrent to crime. It also helps you solve liability issues and determine culprits should an incident happen at your gated community.
A smartphone gate opener with a camera usually means tenants can see who's at the gate and communicate with guests visually. As a result, both tenants and staff have peace of mind knowing only authorized guests enter the property.
2. Fast and intuitive entry
You need a system that is easy for everybody to use and operates quickly. This is necessary to ensure that residents in their cars are not forming dangerous tailgating lines that extend outside your property. As such, choose a system with multiple ways to open the gate, giving tenants maximum convenience.
The best cell phone-controlled gate openers provide multiple entry methods, such as:
Open by voice. Tell Siri or Alexa to open the gate hands-free using voice commands.
Swipe to open. Tap or swipe the mobile app to activate the gate opener.
3D or haptic touch. 3D/haptic touch works by allowing a user to use the app's features just by holding a finger down on the app widget on their phone's home screen. However, this feature is exclusive to iPhones.
3. Cloud-based management
A cloud-based system allows credentials and building information to be stored in the cloud. Cloud-based management for gate access empowers your building staff to manage and monitor gate entry activities remotely. What's more, a cloud-based system can also store audit trails of every entry activity, which lets staff view them from wherever there's internet access.
4. Wireless connectivity
Wireless connectivity ensures that tenants can seamlessly connect to your gate's base system. It also cuts down on installation time and costs — you don't need to run wires throughout your property to individual units. Maintenance is also significantly easier with a wireless system due to remote management and automatic updates.