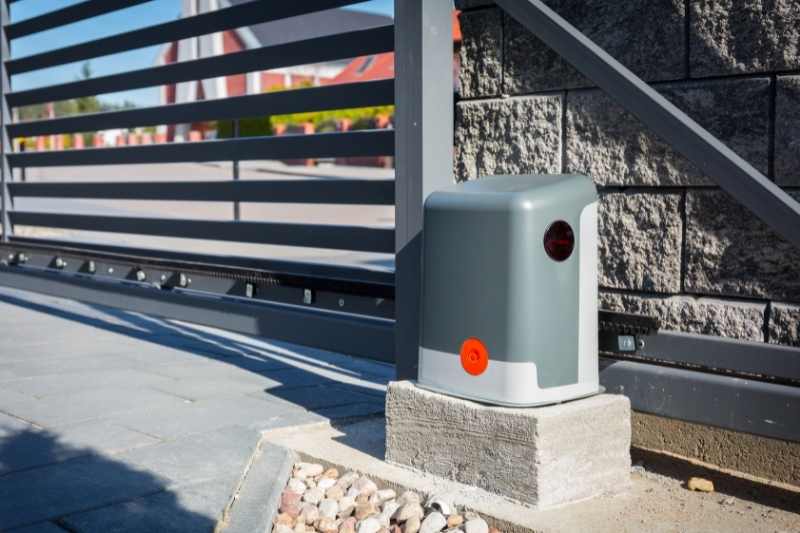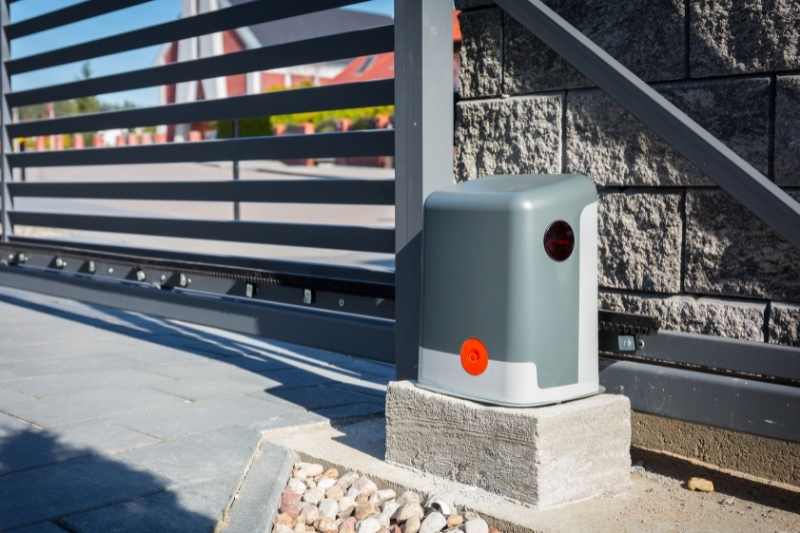 Key takeaways
The ButterflyMX gate video intercom is the quintessential gate opening system that allows your tenants, employees, and even guests to access the property.
Gate openers work by using a power source to automatically unlock and open a gate, eliminating the need for someone to manually open the gate themselves.
The different types of gate openers include swing gates, dual swing gates, slide gates, and barrier arms.
Three things to consider when choosing a gate opener system are gate type, power source, and frequency of use.
A gate opener, also known as a gate operator, adds convenience and security to any property, from single-family homes to multi-tenant gated communities. By installing a commercial gate intercom system, you maintain control over who can access your property while sparing tenants the hassle of manually opening the gate.
Gate openers vary widely, from simple motorized, solar-powered devices to more advanced gate intercom systems. Read this guide to learn all about gate operators, how they work, and how to choose the best one for your property.
This guide covers: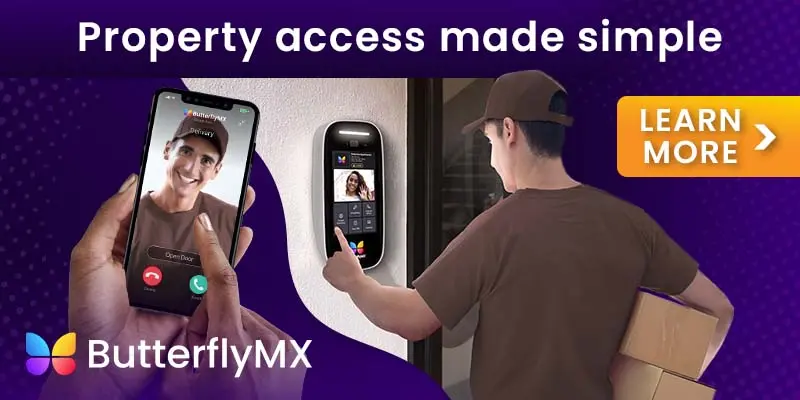 Which gate opener is the best?
The best commercial gate openers include:
1. ButterflyMX
The ButterflyMX vehicle access control system is the best gate-opening system on the market. It allows your tenants, employees, and even guests to access the property. Tenants and employees can easily grant themselves access to the property at the gate using their smartphones or a unique PIN code.
On the other hand, visitors can use the built-in directory on the LED screen to request access from the person they're visiting. Then, the authorized user will receive a video call on their smartphone from the guest. From their phone, the user can see a wide-angle 156º video of and speak to the visitor before granting them access remotely. Once access is granted, the intercom signals the gate to unlock, allowing the visitor to enter.
The ButterflyMX gate opener is a robust gate opener system, but it's only one product in an entire suite of access control solutions — the only comprehensive access control solution on the market. What's more, it's weatherproof and vandal-resistant thanks to cast aluminum.
ButterflyMX is also known for a wide range of other access control products, such as:
Vehicle readers and windshield tags
Apartment intercoms
Elevator controls
Keypads
Fob and card readers
2. LiftMaster
Owned by the Chamberlain Group, LiftMaster is an access control solutions provider that has been serving homes and businesses for over 50 years. LiftMaster is perhaps best known for its line of garage door openers, but the company also sells WiFi gate operators and accessories for both residential and commercial properties.
There are two types of LiftMaster gate openers: swing gate operators and slide gate operators.
The company also sells various accessories, such as:
Proximity remote controls
Keyless entry devices
MyQ control panels, which enable smartphone-based gate operation
3. Mighty Mule
As part of the Nortek Security & Control (NSC) family, Mighty Mule is a professional-grade gate opener provider. Beyond gate openers, the company also offers driveway alarm systems.
Mighty Mule gate openers are a popular choice for both commercial and residential properties, though the company primarily serves homes, ranches, and industrial properties.
Mighty Mule offers both smart gate operators and remote-powered automatic gate operators. Their remote-controlled gate openers work for both swinging and sliding gates. However, Mighty Mule smart gate openers only work for swing gates. Their smart gate openers may also require the MMS100 Wireless Connectivity System, which enables communication up to ½ mile from the property's wireless router.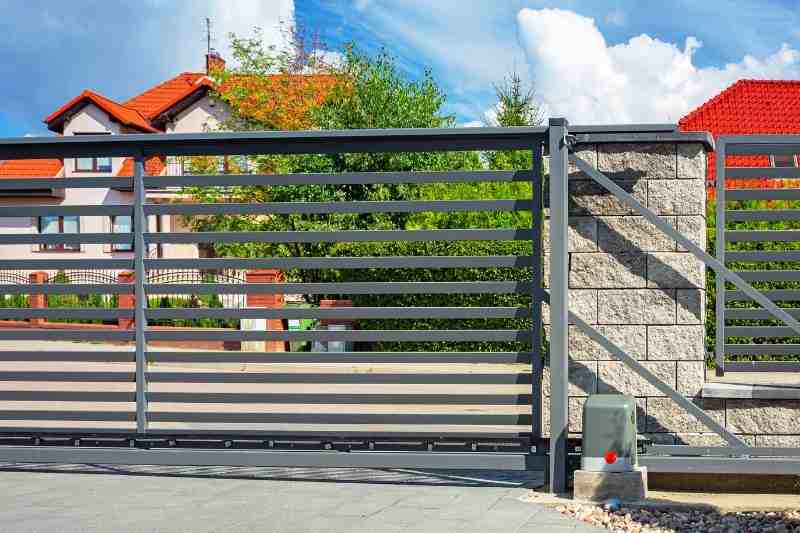 4. Ghost Controls
Ghost Controls designs and manufactures a variety of products for the gate automation market in North America. Their gate openers and accessories are low voltage (DC power) and solar optimized for properties without access to AC power. They may require low maintenance and minimal installation knowledge.
Ghost Controls' automatic gate openers are designed for swing gates and sold in kits, so you may purchase all the components you need in one kit. However, additional accessories are sold separately, including remotes, keypads, and solar panel kits.
5. ALEKO
ALEKO Products was established in 2005 as a small, family-owned business. Since then, the company has grown and now serves the United States, Canada, and other countries around the world.
ALEKO's wide range of products includes:
Driveway gates
Pedestrian gates
Fencing
Gate openers for swing and sliding gates
Solar panels
Retractable awnings
Drywall sanders
ALEKO offers openers for dual- and single-swing gates, as well as solar-powered swing gate openers. For sliding gates, you can purchase a basic or a heavy-duty gate opener. Additional accessories — such as key cards, remote controls, exit wand sensors, and keypads — are sold separately.
How does a gate opener work?
Gate openers work by using a power source to automatically unlock and open a gate, preventing the need for someone to manually open the gate themselves.
Automatic gate openers are usually powered by one of the following:
Alternating current (AC) power
Solar power
Batteries
Gate openers depend on signals sent by a user's access credential to determine when to open. When activated, the credential's signal notifies the gate opening system to push or pull the gate open. Then, the gate closes after a vehicle passes through.
Can I use my phone as a gate opener?
Drivers can use their phones to open a gate when the gate opener is paired with a modern access control system like ButterflyMX.
Fob or remote. Many gate opener systems come with small fobs or remotes. When you press a button on the remote, it sends a signal to the gate opener to unlock, often via Bluetooth.
Keypad. Some systems unlock when a user enters an authorized PIN code into a keypad device.
Smartphone app. Smart gate operators allow users to unlock and open the gate with their cell phones via a mobile app.
Vehicle recognition tags. Some systems scan tags or stickers placed on or in a vehicle. When the system detects an authorized tag, it unlocks.
Watch how the ButterflyMX gate intercom works:
What are the different types of gate openers and systems?
Solar and electric are the two different types of gate systems.
A solar gate opener is powered by sunlight. It operates with a solar-powered battery that collects and stores energy from the sun to power the system. Conversely, commercial electric gate openers are powered by electricity, usually AC power.
Solar and electric gates differ in many ways:
| Electric Gate Openers | Solar Gate Openers |
| --- | --- |
| Can open the gate unlimited times per day | Limited gate opens depending on battery level |
| Won't function in the event of a power outage | Can still function during a power outage |
| Requires wiring | Doesn't require wiring |
| Pay for electrical power | Power the opener for free with sunlight |
Types of gate openers
Gate openers operate in many different ways, but the most common include:
Swing gate. Opening inward or outward, commercial swing gate openers are one of the most common options. However, these systems require enough space for the gate to open, so they may not be ideal for certain properties.
Dual swing gate. Swing gates consist of two doors perforated at the center. Commercial dual swing gate openers are designed to open both doors simultaneously. These types of gates don't require as much room as a traditional swing gate since they are shorter.
Slide gate. For properties that can't have a swing gate, commercial sliding gate openers are a great alternative. These gates slide left or right on a set of wheels or a track.
Barrier arm. While barrier arms are not necessarily gates, they do serve as a security measure to prevent cars from moving forward. As the simplest form of a gate, barrier arms are adequate security features for gated communities, parking garages, and businesses.
How do I choose an automatic gate opener and system?
Three things to consider when choosing a gate opener system are gate type, power source, and frequency of use:
Gate type. Consider the size of the gate needed to control pedestrian access or vehicle access. Based on the type of access, you can figure out where you'll need room for your gate to slide or swing open.
Power source. If your installation location has access to AC power, you can choose an electric gate opener. However, an installation point without electricity available could require running wire to the entrance.
Frequency of use. How often will people need to open the gate? High-traffic residential living properties require a heavier, more durable system than commercial properties.