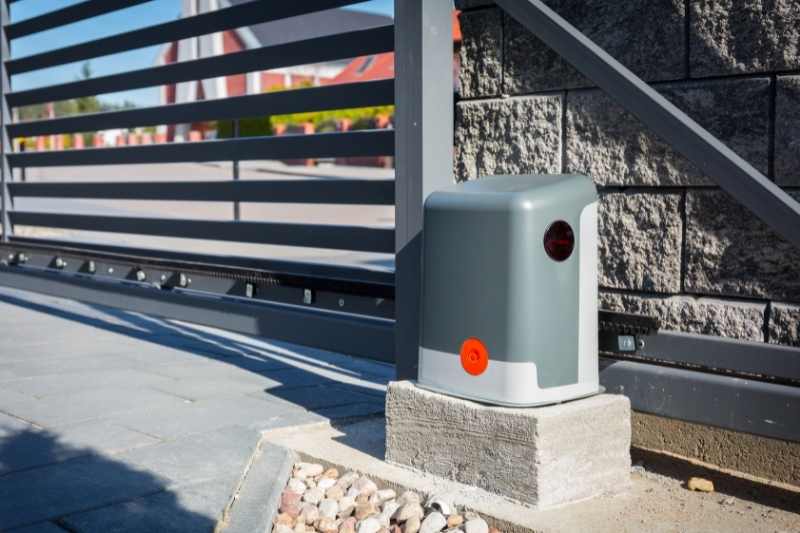 A gate opener adds convenience and security to any property, from single-family homes to multi-tenant gated communities. By installing a gate opening system, you maintain control over who can access your property while sparing tenants the hassle of manually opening the gate.
Gate openers vary widely, from simple motorized, solar-powered devices to more advanced gate intercom systems. Read this guide to learn all about gate openers, how they work, and how you can choose the best one for your property.
This guide covers: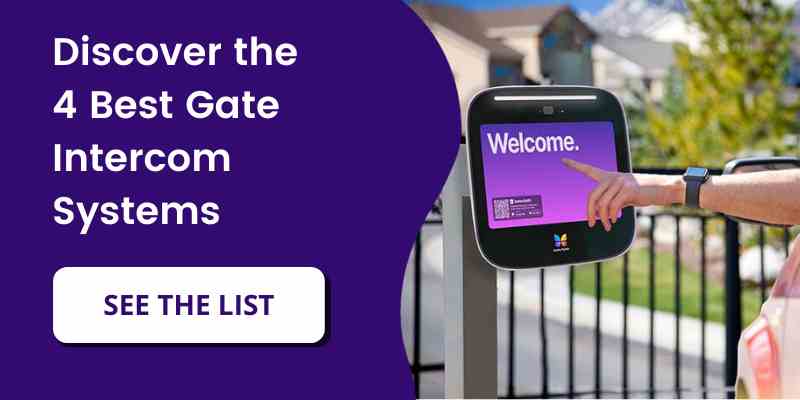 What is a gate opener?
A gate opener is a device or system that automatically unlocks and opens a gate after receiving instructions from an authorized user.
Automatic gate openers control access at gated entrances, allowing you to keep your gate locked while providing an easy way for authorized people to enter the property. They also add convenience by sparing you the hassle of manually opening and closing a gate. So, for example, a resident entering their property never has to get out of the car to push the gate open.
You can install a gate opener at virtually any type of gate, including small pedestrian gates and large vehicle gates. They're used in every kind of real estate, from single-family homes to sprawling gated communities.
Generally, most automatic gate opener systems consist of these parts:
Control box or panel
Motor to push or pull the gate open and closed
Credentials for users to open the gate
Gate locks (electronic or magnetic)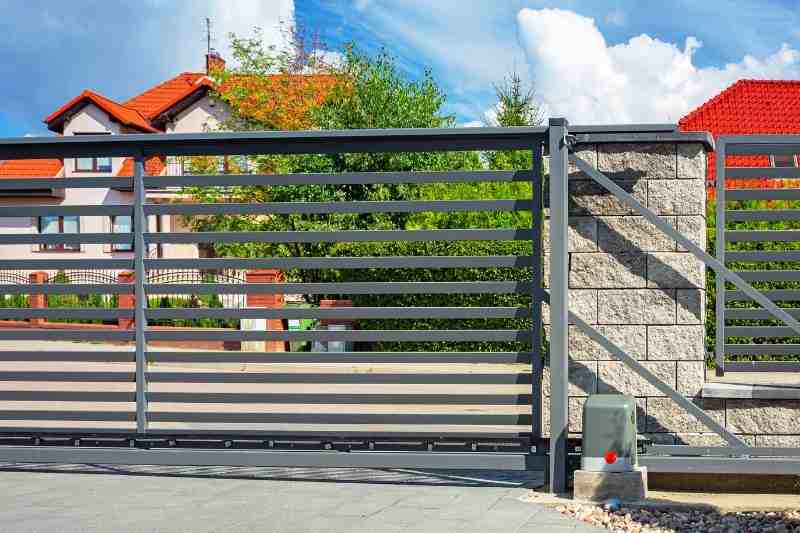 How does a gate opener work?
Gate openers work by using a power source to automatically unlock and open a gate, preventing the need for someone to manually open the gate themselves.
Automatic gate openers are usually powered by one of the following:
Alternating current (AC) power
Solar power
Batteries
In some cases, a gate opener might use two or more types of power sources to keep it operating in a power outage or under other circumstances.
Gate openers depend on signals sent by a user's access credential to determine when to open and close. When activated, the credential's signal notifies the gate opening system to push or pull the gate open.
There are many ways to operate a gate opener, including:
Fob or remote. Many gate opener systems come with small fobs or remotes. When you press a button on the remote, it sends a signal to the gate opener to unlock, often via Bluetooth. 
Keypad. Some systems unlock when a user enters an authorized PIN code into a keypad device.
Smartphone app. Smart gate openers allow users to unlock and open the gate with their cell phones via a mobile app.
Vehicle recognition tags. Some systems scan tags or stickers placed on or in a vehicle. When the system detects an authorized tag, it unlocks.
Watch how the ButterflyMX gate intercom works:
Solar vs. electric gate openers
Most gate opening systems fall into one of two categories: solar-powered or electric.
| Electric Gate Openers | Solar Gate Openers |
| --- | --- |
| Can open the gate unlimited times per day | Limited gate opens depending on battery level |
| Won't function in the event of a power outage | Can still function during a power outage |
| Requires wiring | Doesn't require wiring |
| Pay for electrical power | Power the opener for free with sunlight |
Solar gate openers
A solar gate opener is powered by sunlight. It operates with a solar-powered battery that collects and stores energy from the sun to power the system.
Solar-powered gate openers generally require about eight hours of sunlight per day to keep the battery charged. However, a solar opener can still work on cloudy days and at night because the sunlight it does collect during the day keeps the battery charged.
That said, keep in mind that the average solar opener can only operate 8-10 times each day. So, if your gate will be opened more frequently than that, you'll need an additional power source or an electric opener.
You can expect a solar gate opener to last you at least a decade. And if you purchase a particularly durable system and maintain it properly, expect 25+ years of reliable use.
Electric gate openers
Electric gate openers are perhaps the most popular type of automatic opening system. They're powered by electricity, usually AC power.
If you opt for an electric gate opener, you should make sure it has a backup battery. Otherwise, your gate could get stuck open or closed in the event of a power outage.
Electric openers require wiring to connect the system to electrical power. If you don't currently have an AC power source near the gate, you'll need to purchase and lay wiring.
Ultimately, electric gate openers for driveways, parking areas, community entrances, and other gated entryways are generally the most effective solution. However, they may be cost-prohibitive or unfeasible for properties that don't have convenient access to AC power near the gate.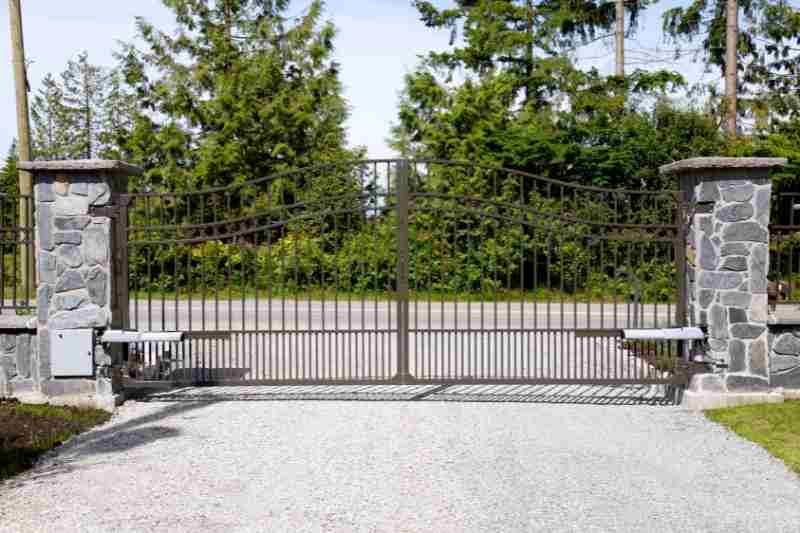 What to consider when buying an automatic gate opener
If you're shopping for a gate opening system, you need to make sure you purchase the right kind.
Here are three things to consider:
1. Gate type
The type of gate at your entryway is the first thing to consider when buying an automatic gate opener.
Is it a small gate controlling pedestrian access, or a large gate controlling vehicle access? And does your gate swing open or slide open?
These are just some of the questions to ask yourself before purchasing a system.
Swing gate opener
A swing gate opens outward or inward to allow entry, similar to how you push or pull a regular door to open it. They tend to require less maintenance than sliding gates, and they're usually cheaper, too. However, they do require more space to operate than sliding gates.
Swing gate openers tend to work on a ring gear formula. First, the gear turns onto a drive shaft. Then, the drive shaft uses a universal joint to pull an arm attached to the gate, which opens it.
Keep in mind that if your gate is especially large or heavy, you may need a heavy-duty swing gate opener.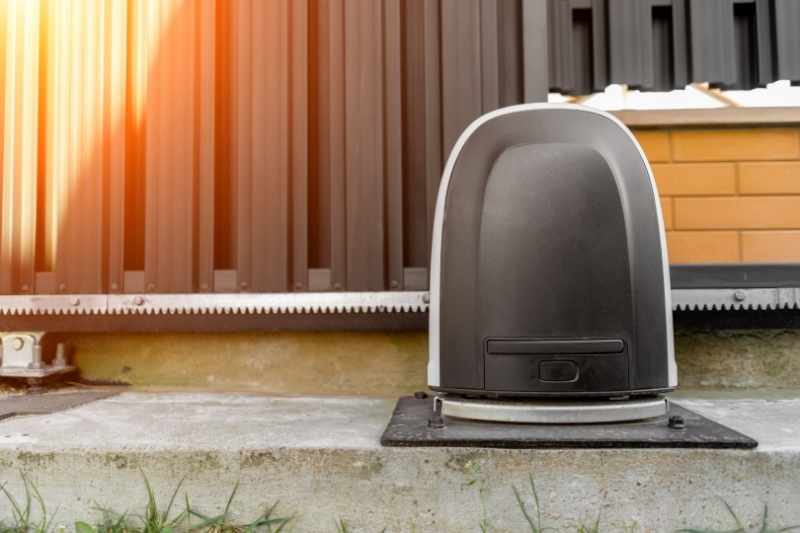 Sliding gate opener
Sliding gates move from side to side along a track to allow entry. They require less space than swing gates but tend to be more expensive and may require more frequent maintenance.
Generally, automatic sliding gate openers use a cog and teeth action attached to the gate. You'll need a guide track or roller guides for the system to work properly.
2. Power source
Every automatic gate opener needs a power source. So, consider what power source is feasible at your property.
If your installation location has access to AC power, you can choose an electric gate opener that plugs into your electrical main. And if the installation point doesn't currently have electricity available, consider how costly and difficult it would be to run wiring to the entrance. Depending on the location of your gate, this may or may not be feasible.
If you don't have AC power access, you can instead opt for a solar-powered gate opener.
3. Frequency of use
You'll need an automatic gate opener that can withstand and accommodate the traffic at your property.
Ask yourself: How often will people need to open the gate?
If you need a gate opener for a single-family home, you can opt for a less durable system because the opener will only be used a few times per day.
However, if you're installing one in a gated apartment community with hundreds of tenants, you should opt for a more heavy-duty opening system.
Also, consider the speed at which the system opens the gate. A particularly slow opener probably isn't the best option for a large gated community where people are coming and going all day long. Otherwise, people might experience car stacking and long wait times to enter the community.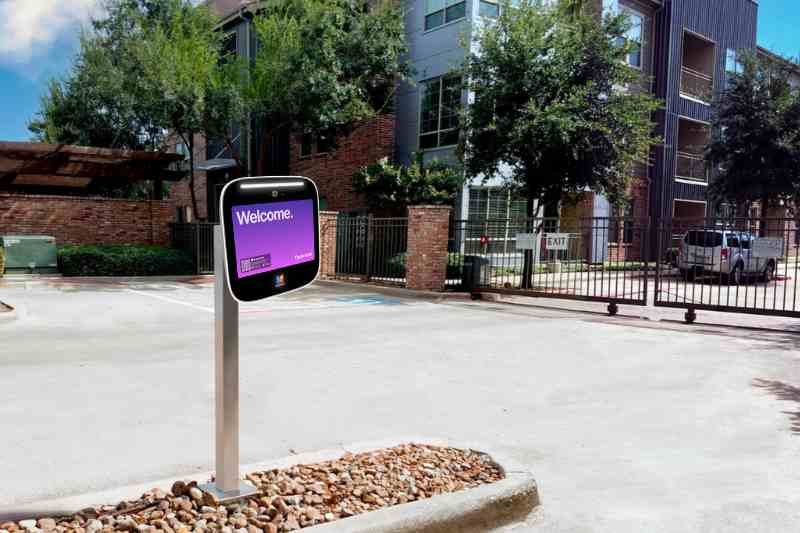 How much is a new gate opener?
A new gate opener costs anywhere from $250 to $7,000.
Ultimately, the price of an automatic gate opener varies depending on the technology that powers it. For example, a solar-powered opener designed for single-family homes may only cost a few hundred dollars. In contrast, a smartphone-based gate intercom designed for multi-tenant properties will cost a few thousand dollars.
If you don't already have a gate installed, you'll also have to consider the cost of the gate itself. Automatic gates cost anywhere from $200 to $4,000. The gate's material is the biggest factor in its cost.
And finally, remember to consider the cost of installing the gate opener. Installation prices vary depending on the region and the person or company you hire. So, ask for a quote from multiple installers before hiring one.
Gate opener installation
After buying a gate opening system, you'll need to install it!
Installing a gate opener can take a couple of hours or a few days, depending on the type of system you purchased.
Installing an automatic gate opener requires:
Setting up the main control panel. This includes connecting all required wires for power, internet, etc.
Attaching the gate opening arm. Your system will have physical hardware that physically pushes or pulls the gate. This hardware must be attached to the gate, then connected to the control box.
Programming credentials. Whether your system uses gate opener remotes, key fobs, or a smartphone app as credentials, you'll need to set them up and assign credentials to each tenant.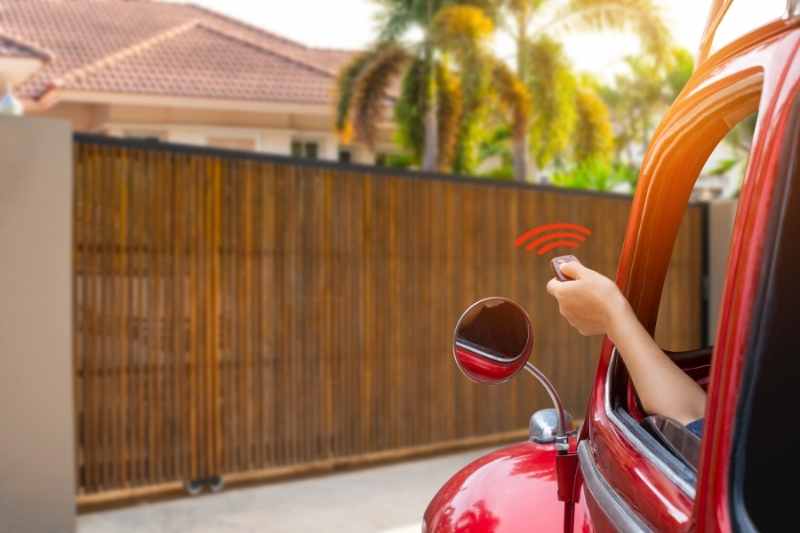 4 best gate openers
Whether you need a gate opener for a residential or commercial property, you'll want to choose a trusted brand that offers a reliable product. Below, we explore some of the best gate openers on the market.
The best gate openers include:
1. LiftMaster
Owned by the Chamberlain Group, LiftMaster is an access control solutions provider that has been serving homes and businesses for over 50 years. LiftMaster is perhaps best known for its line of garage door openers, but the company also sells intercoms and other access control devices for both residential and commercial properties.
There are two types of LiftMaster gate openers: swing gate operators and slide gate operators.
The company also sells various accessories, such as:
Proximity remote controls
Keyless entry devices
MyQ control panels, which enable smartphone-based gate operation
Read the full LiftMaster review »
2. Mighty Mule
As part of the Nortek Security & Control (NSC) family, Mighty Mule is a professional-grade gate opener provider. Beyond gate openers, the company also offers driveway alarm systems.
Mighty Mule gate openers are a popular choice for both commercial and residential properties, though the company primarily serves homes, ranches, and industrial properties.
Mighty Mule offers both smart gate openers and remote-powered automatic gate openers. Their remote-controlled gate openers work for both swinging and sliding gates. However, Mighty Mule smart gate openers only work for swing gates. Their smart gate openers may also require the MMS100 Wireless Connectivity System, which enables communication up to ½ mile from the property's wireless router.
Mighty Mule gate opener pricing isn't available on the company's website, so you'll have to contact them or find a local retailer for more information.
Read the full Mighty Mule review »
3. Ghost Controls
Ghost Controls designs and manufactures a variety of products for the gate automation market in North America. Their gate openers and accessories are low voltage (DC power) and solar optimized for properties without access to AC power. They may require low maintenance and minimal installation knowledge.
Ghost Controls' automatic gate openers are designed for swing gates and sold in kits, so you may purchase all the components you need in one kit. However, additional accessories are sold separately, including remotes, keypads, and solar panel kits.
Ghost Controls lists pricing for all its products on its website. Their automatic gate opener kits range from $500 to $1,100. However, you can also find and purchase from a local dealer in your area.
Read the full Ghost Controls review »
4. ALEKO
ALEKO Products was established in 2005 as a small, family-owned business. Since then, the company has grown and now serves the United States, Canada, and other countries around the world.
ALEKO's wide range of products includes:
Driveway gates
Pedestrian gates
Fencing
Gate openers for swing and sliding gates
Solar panels
Retractable awnings
Drywall sanders
ALEKO offers openers for dual- and single-swing gates, as well as solar-powered swing gate openers. For sliding gates, you can purchase a basic or a heavy-duty gate opener. Additional accessories — such as key cards, remote controls, exit wand sensors, and keypads — are sold separately.
ALEKO gate opener pricing ranges from $299 to $1,159 depending on the model you purchase.
Read the full ALEKO gate opener review »
Which automatic gate opener is best?
The best automatic gate opener is a smart gate opener with electrical power. Smart gate openers allow users to unlock the gate with their smartphones. Most systems pair with a mobile app that tenants download.
Keep in mind that smart gate openers require an internet connection, either WiFi or a wired ethernet connection. WiFi gate openers are convenient to install because they don't require wiring for internet access, but they're also less reliable.
Tenants tend to prefer smart gate opening systems because:
They can open the gate with just their smartphones
There's no need to carry around a key or fob
They're less likely to lose or forget their phones than their keys
Before purchasing a smart gate opener, you should read reviews of the system's mobile app. If the app is buggy or unreliable, then tenants will have a terrible experience. So, choose a smart gate opening system with an effective and highly rated app.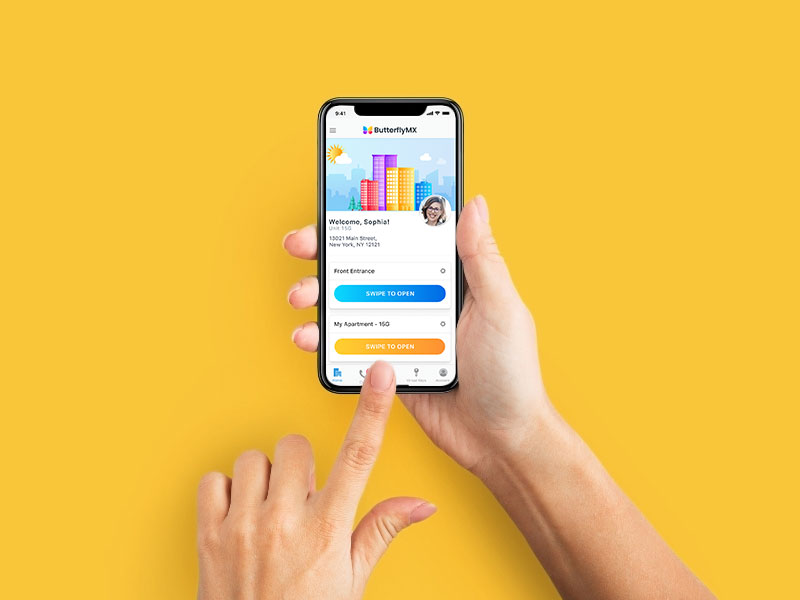 Video intercoms as a gate opener
A standalone automatic gate opener is a vast improvement for a single-family home. But if you need an opening device for a gated community, apartment complex, or commercial property, you should invest in a video gate intercom.
Video intercoms for gates improve the property access experience because they allow tenants to easily gain access while providing a way for visitors to request access.
A video gate intercom consists of:
Intercom hardware: The intercom hardware installed at your gated entrance is called the base station. This hardware has a tenant directory, camera, microphone, and speaker so that visitors can contact tenants to request access. When a tenant presents a credential or instructs the gate to unlock, the intercom hardware sends a signal to the gate release.
Wiring: Ideally, your video gate intercom only needs three wired connections: power, gate strike, and internet. The system should otherwise operate wirelessly.
Electric or magnetic gate lock: Your gate needs a locking device, either magnetic or electric.
Gate release device: The gate release is the component that actually instructs the locking device to unlock.
User credentials: The best gate intercoms use tenants' smartphones with a mobile app as credentials. But you should choose a system that also accepts PIN codes as a credential.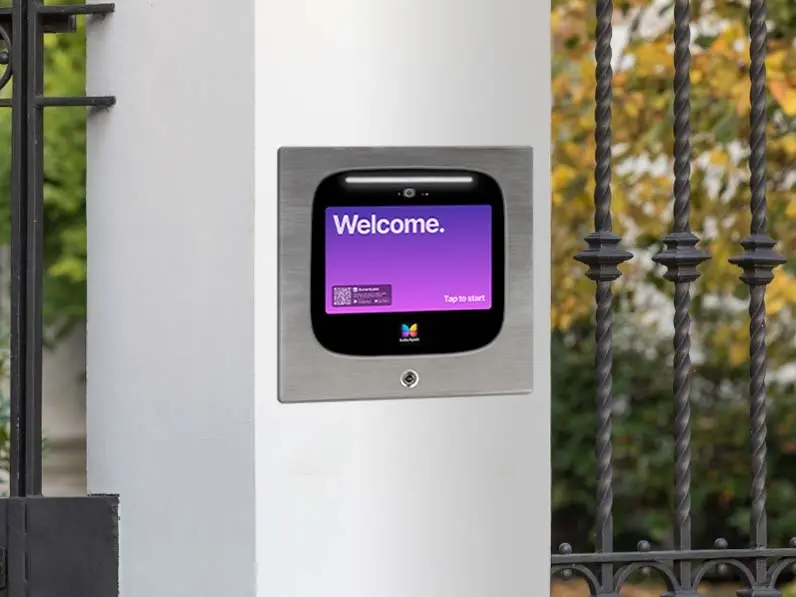 Takeaways
A gate opener is a device or system that physically pushes or pulls a gate open, eliminating the need for a person to manually open it.
Gate openers operate with electrical power (usually AC power), solar power, or battery power.
Expect to pay anywhere from a few hundred to several thousand dollars for a gate opening system. The more durable and feature-rich a system is, the more it will cost.
Smart gate openers are the best solution because they pair with a mobile app, enabling users to open the gate with a cell phone.
If you need a solution to control property access and open your gate, opt for a gate intercom with a camera.