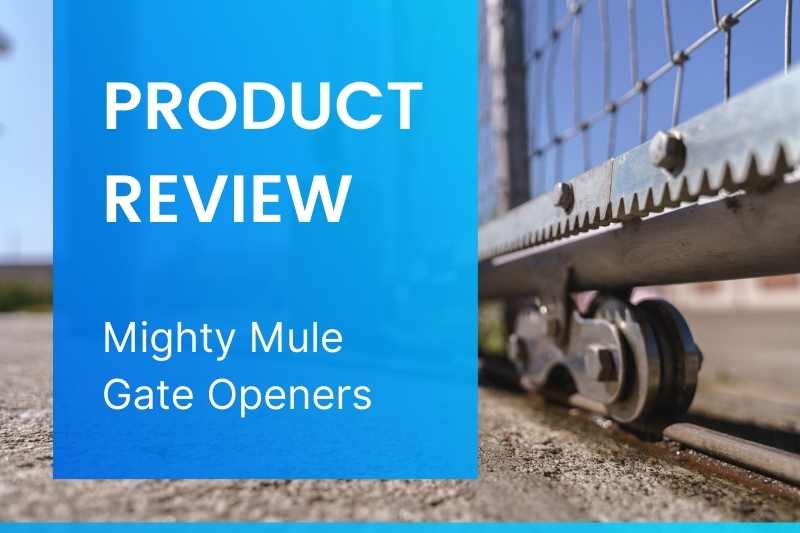 Gate openers are an important feature for gated residential and commercial properties, but how do you choose the best gate opener for your needs? There are many factors to consider when selecting a gate opening system.
Mighty Mule offers a variety of automatic gate openers, but are they the best option available? In this review, we take a closer look at Mighty Mule gate openers, examining their features, pricing, pros and cons, and alternatives.
This post covers:
About Mighty Mule
Founded in 1987, Mighty Mule is a company that specializes in automatic gate openers. The company is part of the Nortek Security & Control (NSC) family, which specializes in commercial and residential security, home automation, access control, and personal safety solutions. It's unclear where the company is headquartered.
Mighty Mule products encourage a DIY approach and are generally sold in kits that include everything you'll need to install the products yourself. They are allegedly designed to be easy to install, requiring no electrical work or welding.
In addition to gate openers, Mighty Mule offers:
Gate locks
Wireless driveway alarms
Vehicle sensors
Watch how to use ButterflyMX to open gates:
Overview of Mighty Mule gate openers
There are two primary kinds of Mighty Mule gate openers: traditional automatic openers and smart gate openers. The company claims that its gate openers are reliable, offering fast open and close speeds and soft start and stop.
Mighty Mule gate openers are primarily designed for:
Mighty Mule has five automatic gate opener models:
MM272: A dual swing gate opener designed for gates up to 12 feet long and up to 300 lbs. It's solar-capable with the Mighty Mule 10-watt solar panel (sold separately).
MM271: A single swing gate opener that requires a 12-volt automotive or marine type battery that produces at least 250 cold cranking amps (CCA). It's solar capable and accommodates gates up to 12 feet long and up to 300 lbs.
MM-SL2000B: A solar-compatible, single slide gate opener featuring obstruction sending, auto closing, and gate sequencing. Accommodates gates up to 1000 lbs.
MM-LPS13: A solar-compatible, single slide gate opener with a heavy-duty control board that includes adjustable obstruction sensing and auto-close settings. Features inherent battery back up and accommodates gates up to 650 lbs.
MM-SL2200B: A dual slide gate opener that must be purchased with 2200B for dual gate operation. Accommodates gates up to 1000 lbs.
Mighty Mule also has two smart gate opener models:
MM571W: An opener designed for heavy-duty single swing gates with a 14-second opening time. The MM571W also comes with online instructions, how-to videos, and tech support for DIY property owners looking for an easy solution.
MM572W: A smart gate opener designed for dual swing gates. It also has a 14-second opening time and additional support options to make installation and use a smooth process.
Mighty Mule's smart gate openers empower users to unlock the gate with a smartphone via the Mighty Mule mobile app.
Gate openers can also be controlled with an optional system MMS100 Wireless Connectivity System. However, the MMS100 is not included when purchasing a gate opener, so it's an optional feature.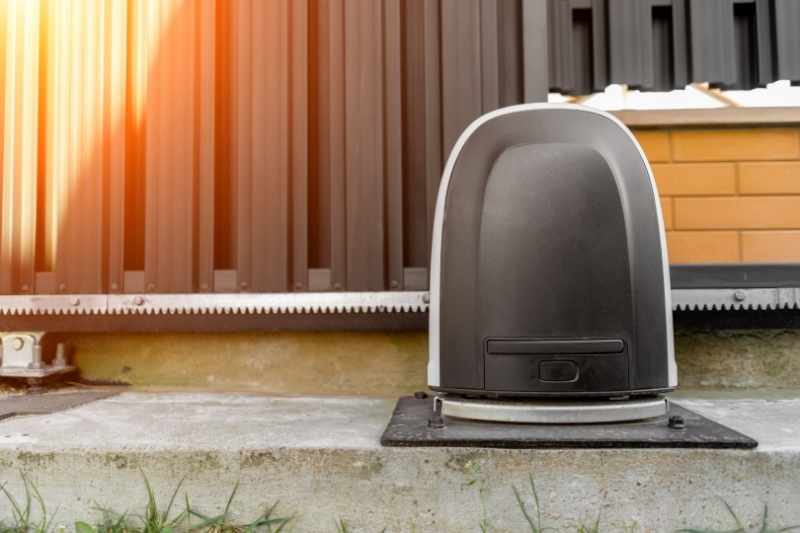 Features
12-, 18-, or 24-month warranty.
Instructional videos and how-to guides available online.
Smartphone control using the Mighty Mule mobile app, which means you can open the gate with a cell phone.
Fast open and close speeds.
Soft start and stop.
Credential options include remotes, fobs, keypads, vehicle sensors, and smartphone app.
Most models are solar-compatible
Sold in kits with everything you need for self-installation.
Mighty Mule gate opener pricing
A Mighty Mule gate opener costs between $300 and $1300 depending on which model you purchase.
All products are available through the Mighty Mule online store as well as major retailers such as Costco, Home Depot, and Amazon.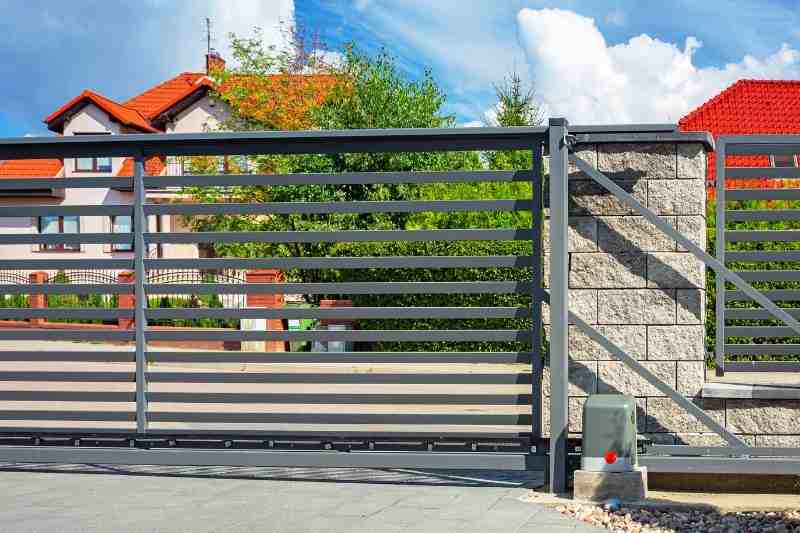 Pros & cons
Pros:
Mobile app so you can open the gate with a smartphone.
Options for all types of gates, including dual, single, swing, and slide.
Technical support available Monday – Saturday, plus online support resources and how-to videos.
Many gate openers are solar-compatible.
Cons:
To use smartphone opening capabilities, you must purchase and install the Wireless Connectivity System (MMS100), which is sold separately.
Only offers gate opening features, no gate access management solutions.
No visitor management features.
Accessories and credentials sold separately.
Not designed for multi-tenant properties.
Comparison of Mighty Mule with ButterflyMX
A Mighty Mule gate opener may be an acceptable solution for owners of single-family or single-unit gated properties. But Mighty Mule's gate openers may not offer much beyond unlocking the gate with a remote. Visitors will still be left without a way to request access, and property managers or owners will lack an effective way to manage the gate opening system.
In contrast, the ButterflyMX gate intercom is an all-in-one gate access management solution, offering multiple easy ways for tenants to unlock the gate and grant access to their visitors. Upon arriving at the gated entrance, a visitor simply video calls a tenant, who can unlock the gate for them with the tap of a button in the ButterflyMX mobile app. Tenants can also unlock the gate for themselves via their smartphone, a PIN code, or even a voice command.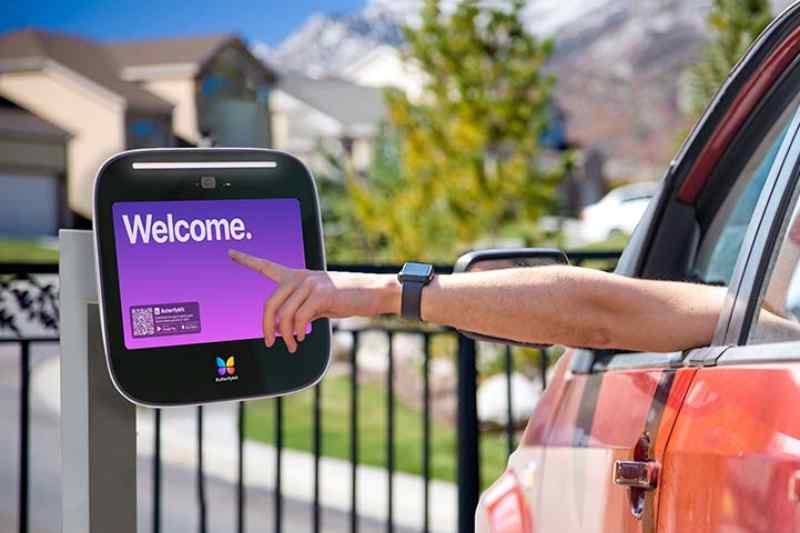 What's more, property owners and managers can easily oversee the entire gate entry system from anywhere thanks to ButterflyMX's powerful cloud-based software. From a smartphone or laptop, management can update the system, add tenants, adjust access permissions, and review a log of entry events.
Mighty Mule might be known for its reliable performance and speed when it comes to opening and closing gates but may not offer much else compared to solutions like ButterflyMX. With ButterflyMX, you'll prevent missed visitors, ensure successful deliveries, and add both convenience and security to your gated property.
Mighty Mule vs. ButterflyMX
Why install a simple gate opener when you could instead install a comprehensive gate access control system?
Mighty Mule offers simplistic gate opening devices with the added bonus of a mobile app. However, ButterflyMX is a robust gate access control solution with a wealth of smart features that increase tenant retention, save time for property managers, and add value for owners.
| Feature | ButterflyMX gate intercom | Mighty Mule gate opener |
| --- | --- | --- |
| Smartphone app | Yes | Yes |
| Visitor management features | Yes | No |
| Video calling | Yes | No |
| Cloud-based software | Yes | No |
| Touchscreen interface | Yes | No |
| Built-in camera | Yes | No |
| Delivery PINs and Passes | Yes | No |
Takeaways
Mighty Mule sells a variety of gate openers for sliding and swinging gates.
A Mighty Mule gate opener allows authorized tenants to automatically unlock the gate with a fob, remote, keypad code, or smartphone app. However, there are no visitor management capabilities.
Mighty Mule gate openers are designed primarily for single-family homes, businesses, and farms. So, they may not be effective for multi-tenant properties.
To control gate access at a multi-tenant property, consider a video gate intercom system like ButterflyMX.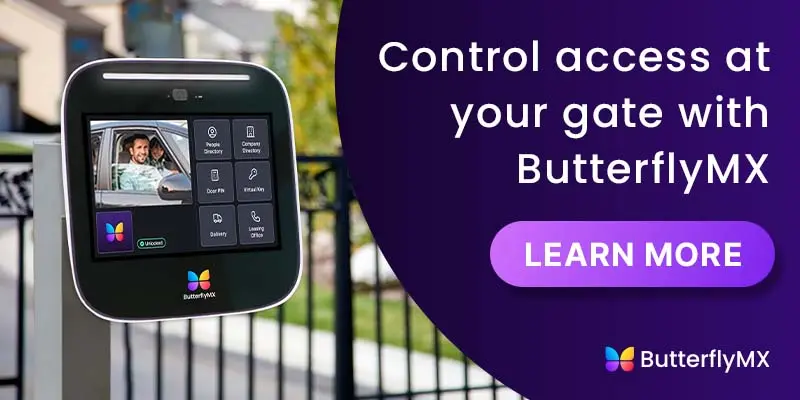 Disclaimer: ButterflyMX provides these blog posts to help our customers and potential customers make the right business decisions for them. Our blog posts are based on the information we have available to us at the time of writing.