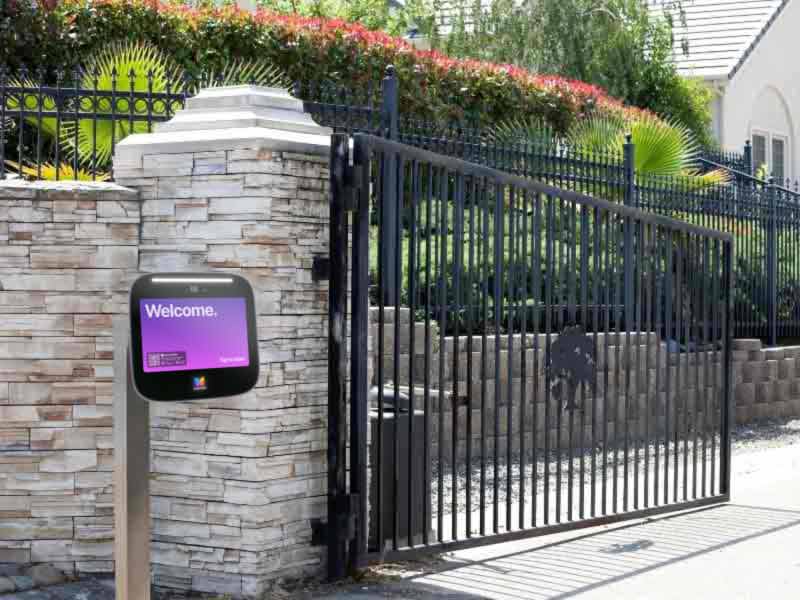 Key takeaways
The best wireless gate intercom is ButterflyMX.
A wireless gate intercom is a system that lets visitors communicate with tenants wirelessly before remote access is granted.
Wired gate intercoms require physical wiring between the base station and in-unit substations, whereas wireless gate intercoms use the internet or cellular signals.
Wireless gate intercoms work by transmitting audio and video signals from the base station at the gate to a tenant's phone.
The average cost of wireless intercoms for gates is between $1,000 to $7,000.
A wireless gate intercom system is an effective technology for securing your property while supporting convenient access for tenants or employees.
For that reason, this blog will detail everything you need to know about wireless gate intercoms, but most importantly, you'll discover the best intercom systems for gates.
Navigate this ultimate buyer's guide:
What is the best intercom system for a gate?
The best wireless gate intercoms should work seamlessly and intuitively for you, your tenants, and your property staff. All in all, the very best intercoms offer exciting new features!
The three best wireless gate intercom systems are:
Watch how ButterflyMX delivery PINs work at your gated community: 
1. ButterflyMX video intercom
The ButterflyMX video intercom is the most secure and convenient option for gated properties. Since it connects wirelessly with tenants' smartphones, the intercom is a breeze to install at any gate. An unlimited amount of tenants are able to open and manage gate access for themselves or guests right from their smartphones.
In addition, ButterflyMX integrates with the most popular property management software, access control systems, and other proptech solutions.
Features:
Use the ButterflyMX mobile app or online dashboard to edit permissions, grant access, integrate with third-party PMS, and more.
Review the detailed audit log featuring time- and date-stamped photos of every ButterflyMX entry.
Access the property with multiple types of credentials, such as the mobile app, voice assistant, PIN code, and more.
Integrate your ButterflyMX gate video intercom with third-party software and security hardware for a comprehensive security platform.
Use the video intercom alongside other ButterflyMX products, such as elevator controls, access control, and package room — all of which are manageable through a single dashboard.
Provide major couriers, like Amazon, FedEx, and USPS, with delivery PINs so they can access the property for package deliveries without needing assistance.
2. DoorBird D21DKH
The DoorBird D21DKH video door station is designed for multi-tenant and office buildings with 500 or fewer units. Capable of being connected to two doors or gates, this system is a suitable option for gated communities and properties looking to reduce installation costs. A simple PoE connection makes installing the DoorBird gate intercom system simple while providing a convenient experience for users.
Features:
Visitor entry showcases images and videos of gate entries.
One-way video calling with live audio directly to a smartphone or tablet.
180° ultra-wide camera with night vision.
Controls up to two doors, gates, or combination.
Available in multiple materials and colors.
Set action schedules to restrict access to certain times of the day or week.
3. Security Brands Ascent X2
The Security Brands Ascent X2 is a cellular multi-tenant entry system designed to control access for up to two gates or doors. By using 4G LTE cellular technology and Summit Control cloud-based software, gated properties can benefit a lot from the Ascent X2. Designed for a variety of gated properties, the Ascent X2 features a directory for up to 30 residents who can use app, text, and voice controls for access.
Features:
Supports up to 10,000 app, text, and voice users.
Rollover calling allows guests to reach up to three phone numbers per address.
Supports up to 1,000 unique keypad codes.
Accepts six different types of control methods: cellular, voice controls, PIN codes, and more.
Audit trail features detailed reports of every gate entry.
Holiday and special-event timers.
Mobile and email push notification support.
What is a wireless gate intercom?
A wireless gate intercom is an intercom that allows visitors and residents to communicate using wireless technology. Tenants can also wirelessly open the property's security gate for their visitors.
Unlike a traditional, wired system, wireless gate intercoms use the internet or radio waves to enable visitor communication and remote property access. You'll find wireless intercoms at the entrances of all kinds of properties. For instance, commercial parking lots, industrial facilities, and even residential communities use wireless gate intercoms.
There are three key components of a wireless gate intercom:
Base station: The command system of an intercom. Base stations come with speakers, microphones, and, at times, cameras. This allows guests to see and speak to their visitors before granting or denying entry. Gate intercom base stations may also include keypads or fob access systems, providing another way to enter the property.
Substations: Substations allow tenants to communicate with visitors. They are the devices installed within the building or throughout the property. Some wireless gate intercoms rely on smartphones as their substations.
Gate release mechanism: A release mechanism is a device that physically opens and closes the gate. Base stations communicate with gate release mechanisms like electronic locks or motors.
What is the difference between a call box and an intercom?
Call boxes are different from intercoms in that they are bulkier devices that support two-way audio communication.
Conversely, intercoms are sleeker, modern devices designed to support two-way communication with audio and video. Additionally, intercoms are also built to last outside in a variety of weather conditions.
How much does a wireless gate intercom cost?
A wireless gate intercom costs anywhere from $1,000 to about $7,000.
More specifically, the cost varies depending on the number of substations you need to install. To save money, find a wireless gate intercom system that relies on smartphones as their substations. This will eliminate the need to purchase and install additional hardware.
It's also important to consider the costs of necessary components. If you don't already have one, you'll need to install an electric locking system in addition to the intercom. Your intercom might also have service fees to support video, mobile apps, and integrations. So, get a quote to understand your full cost.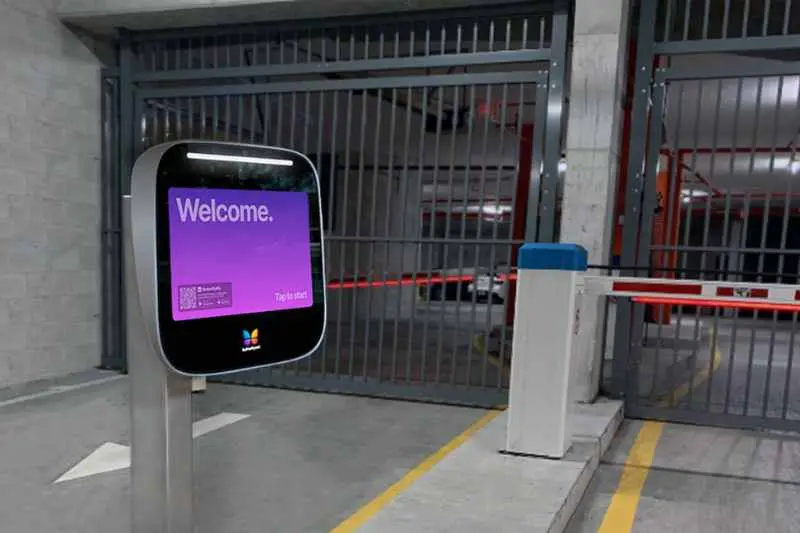 The difference between wired & wireless gate intercoms
The primary difference between wired and wireless gate intercom systems is how the base station and substations are connected.
Wired gate intercoms require you to run physical wiring between the intercom's base station and substations.
Wireless gate intercoms have base stations and substations that are connected to each other wirelessly.
In other words, a wired gate intercom requires physical copper wiring, while a wireless intercom system doesn't.
It's important to note that hardware wiring isn't the only type of wiring in a gate intercom system — there's also internet wiring.
What is the difference between hardware wiring and internet wiring?
In a gate intercom system, hardware wiring refers to the connection between the base station and the substations. Internet wiring refers to the intercom's connection to the internet.
Hardware wiring
You need a significant amount of wire to install and operate a wired gate intercom — typically more than you'd expect. If you're a multifamily operator, each apartment unit will need its own substation. And if you're a commercial property owner, every office will need its own substation, too. Purchasing and installing the wiring needed to connect the intercom with every substation adds up quickly.
A better solution is to purchase a wireless gate intercom system. They don't require a large investment in running wiring throughout the building or property from the base station to each substation.
Internet wiring
If you install an IP (Internet Protocol) gate intercom, you'll need an internet connection.
You have two options for internet wiring:
A direct internet connection via an Ethernet cable
A wireless internet connection via WiFi or a cellular connection (4G/5G)
Pro tip: We recommend wiring directly to the internet to eliminate the chances of poor WiFi gate access. External factors like weather, electrical currents, and metal objects can impact a wireless internet connection. Using an ethernet cord will ensure that your residents and staff never have to worry about internet issues.
Some gate intercoms also offer a technology called Power over Ethernet, or PoE. PoE allows ethernet cables to serve as both a power supply and an internet connection, further cutting down on your costs.
How a wireless security gate intercom system works
Wireless gate intercoms work by sending signals between a gate intercom's base station and its substations without any wiring. Wireless intercoms have different ways of sending wireless signals, such as through radio frequencies or over a WiFi or cellular network. There are also differences where substations are concerned.
However, the general process of how a wireless gate security intercom works is always the same:
A visitor interacts with the gate intercom. In most cases, a visitor uses the base station to select and call the resident they're visiting from a directory. This sends a signal to that resident's base station.
Access is approved. After that, if a resident decides to let a visitor in, they use their substation to send a signal to the gate release mechanism. If the visitor uses their own method of entry (i.e., a PIN or virtual key), the base station sends a signal directly to the release mechanism.
The intercom wirelessly signals the gate to open. Wireless gate intercoms use different technologies to wirelessly send instructions to the gate release mechanism. Some use the internet, and others use radio frequencies. No matter what's used, the end result is the same: the release mechanism opens the gate.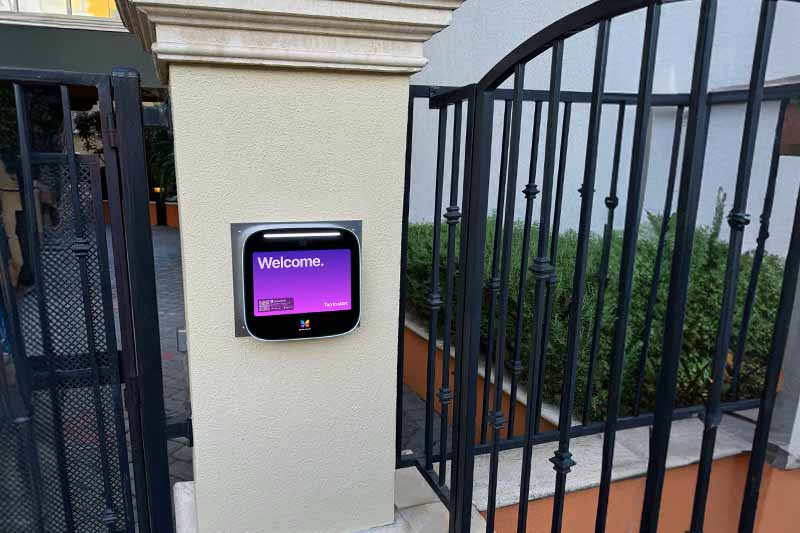 Why is a wireless gate intercom better than a wired intercom?
Wireless gate intercoms are much more versatile than wired intercoms. Most of today's wired intercoms make use of telephone lines. However, these systems offer limited functionality. The best wireless gate intercom systems harness the power of the internet to take property access control to new heights.
Benefits of wireless gate intercoms over wired intercoms include:
Cheaper installation. Installing a wired intercom means running wiring between the gate intercom and every substation. This means you may face the inconveniences of ripping up pavement or tearing down walls.
Easier maintenance. If you ever need to upgrade a wired intercom system or repair a faulty connection, you'd need to tear down walls and possibly rewire the entire system.
More features. More property managers are choosing wireless gate intercom systems with cameras for added safety and ease of use.
Convenience. Wireless intercom systems that communicate over the internet grant property access from anywhere. Plus, the lack of wiring makes waterproofing wireless gate intercoms easier.
How do I set up a wireless gate intercom system?
First, set up a wireless gate intercom system by first picking out a place near the gate suitable for the base station. Then, connect a power cable and an internet cable to your gate intercom base station.
Next, you have to connect your gate's release system with the intercom base station. This step varies depending on your gate's existing locking system. Gates that already use electronic locking systems are easier to hook up to a wireless intercom.
After your release mechanism and base station are connected, the last step is to install substations wherever you need them. On the other hand, you can skip this step entirely if you choose an intercom that allows residents to use their smartphones as gate openers.