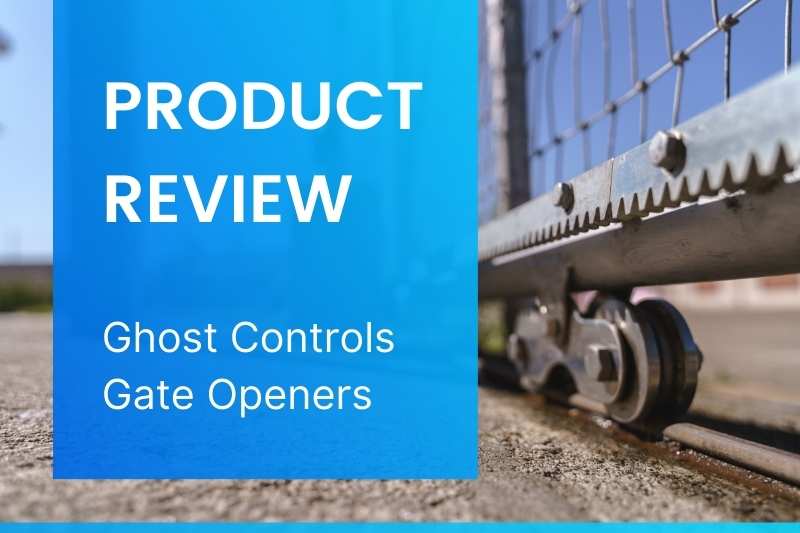 Many gated properties rely on automatic gate openers to enable seamless access at their front gates. If you're looking for a gate opener for your commercial or residential building, there are several brands and products to choose from. A Ghost Controls gate opener is one option.
Keep reading to learn more about Ghost Controls gate openers and how they work.
This review covers:
About Ghost Controls
Ghost Controls is a designer and manufacturer in the gate automation market, serving the United States and Canada. It primarily sells to residential and agricultural customers.
Ghost Controls gate openers and accessories are low-voltage and solar-optimized for environments without access to AC power. The company claims that its systems require minimal maintenance and little installation know-how for the novice installer.
The Ghost Controls management team has over 70 years of industry experience and market knowledge. Plus, the company also provides online and telephone support and stands by its products with limited lifetime warranties.
Watch how to use ButterflyMX to open gates:
Overview of Ghost Controls gate openers
Ghost Controls offers several gate opener models for various applications: Heavy Duty, Decorative, Manor, and Pro.
Here are some of their most popular ones:
TSS1 Heavy Duty Single Automatic Gate Opener Kit: This unit features a 6-foot cable, mounting hardware, 3-button remote transmitter, and a 6-foot battery harness ideal for agricultural and ranch applications.
TSS1XP Solar Heavy Duty Single Automatic Gate Opener Kit: For remote applications where electric power is limited or non-existent, such as agricultural properties and ranches. It has the same equipment as the TSS1 but with an added AXDP 10-Watt Monocrystalline Solar Panel.
DTP1 Decorative Single Automatic Gate Opener Kit: Sleek, handsome design for upscale installations. Features a 6-foot cable, mounting hardware, 5-button remote transmitter, and a 4-foot battery harness.
HDP2 Manor Series Dual Automatic Gate Opener for Column Mount Gates: This model is designed to operate gates mounted on columns. The unit includes dual arms: one arm has a 6-foot cable, and a second arm has a 50-foot cable. It also includes mounting hardware, two 5-button remote transmitters, and a 6-foot battery harness.
LSM1 GHOST PRO Series Single Automatic Gate Opener Kit: This unit includes an extra-long 10-foot battery harness.
Features
Ghost Controls offers 10 different automatic gate opener kits.
Some of the standard features are listed below but vary somewhat between models:
Smooth and quiet operation: Lack of motor noise is linked to the mechanical and electronic design quality. Ghost Controls has a proprietary maintenance-free gearbox and motor built for smooth and quiet operation.
Fast: Mechanical design coupled with a new radio frequency offers a superior range so users in a hurry experience greater convenience.
Limited lifetime warranty: The motor is one of the most critical components of a gate opener system to ensure reliability and longevity. Ghost Controls offers a limited lifetime warranty on its proprietary gear motors.
Partymode: This feature — available on the AXWK Wireless Keypad and the AXP1 5-Button Premium Remote credentials — allows you to override the auto-close setting and leave the gate open for guests and deliveries.
Long range: Ghost Controls' gate opener remotes offer a range of up to 1,000 feet.
ZombieLock: Sends feedback or status to the electronics so that in the case of a malfunction, the lock cannot damage the gate or hardware by attempting to open.
GhostCode: This feature allows authorized devices — like remote transmitters, keypads, and vehicle sensors — to activate your Ghost Controls gate opening system.
Easy installation: Audio and LED alerts provide customers with trouble-free installation and intuitive diagnostics.
Solar-optimized: Every Ghost Controls gate opener is solar-optimized, meaning they may work in areas where electricity isn't an option.
Battery operated: All gate openers are powered by batteries. You'll need a 12 v deep cycle marine/auto battery or Ghost Controls' own ABBT2 Battery Box Kit (sold separately).
Credentials: Ghost Controls sells two different types of credentials: keypads and remotes (in 3-button and 5-button models).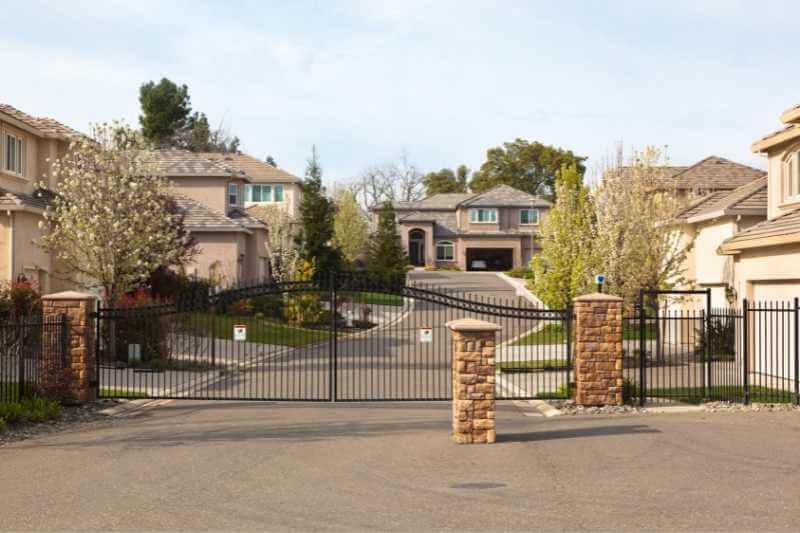 Ghost Controls gate opener pricing
The cost of a Ghost Controls gate opener ranges from approximately $500 to $1200 but varies depending on the model.
Pros & cons
Pros:
Limited lifetime warranty
Compatible with Alexa, SmartThings, and Google Assistant
Solar-optimized
Fast opening
Cons:
Requires a 12-volt battery, which you must purchase separately
No smart gate opener models
No mobile app to open the gate with a cell phone
May only support tubular-style gates
Only two credential options (keypad and remote)
No visitor management features other than the Partymode feature, which may create a security risk
Not designed for multi-tenant properties
Comparison of Ghost Controls with ButterflyMX
A Ghost Controls gate opener may help authorized tenants by automatically opening the gate when they arrive. But since their gate openers are designed primarily for single-family and agricultural properties, they may not be ideal for multi-tenant properties like gated residential communities.
What's more, Ghost Controls gate openers may not be a suitable visitor management solution. In other words, visitors can't request access using the gate opener, and tenants can't remotely unlock the gate for their visitors either.
In contrast, ButterflyMX provides a total gate access solution that Ghost Controls cannot deliver.
The ButterflyMX gate intercom is an all-in-one system to simplify access for tenants, property staff, visitors, and delivery carriers alike. It's an ideal solution for multi-tenant properties because it provides a way for visitors to request access and for tenants to unlock and open the gate for themselves.
ButterflyMX's video gate intercom has a built-in camera to enable two-way video calling, meaning tenants can visually confirm who's requesting gate access before letting them in. Guests have the added convenience of directly contacting a specific tenant at the gate by scrolling through the intercom's directory.
Best of all, ButterflyMX pairs with a mobile app and empower tenants to use their smartphones to manage gate access. With a simple swipe in the app, tenants can unlock the gate from anywhere in the world.
Ghost Controls vs. ButterflyMX
Ghost Controls gate openers spare you from manually opening the gate but don't provide the comprehensive, high-tech solution that the ButterflyMX gate intercom system offers. For a robust gate entry system, choose ButterflyMX.
| Feature | ButterflyMX gate intercom | Ghost Controls gate opener |
| --- | --- | --- |
| Built-in camera | Yes | No |
| Visitor management features | Yes | No |
| Video calling | Yes | No |
| Cloud-based software | Yes | No |
| Delivery management solution | Yes | No |
| Mobile app | Yes | No |
| Remote access management | Yes | No |
Takeaways
Ghost Controls is a manufacturer in the gate automation market, offering 10 different automatic gate opener kits.
A Ghost Controls gate opener allows users to unlock the gate with a remote or keypad code. However, there is no way for a visitor to request access.
Ghost Controls gate openers are designed primarily for single-family homes and agricultural properties, which means they may not be suited for multi-tenant properties.
To control and manage gate access seamlessly at your multi-tenant property, choose a gate intercom system like ButterflyMX.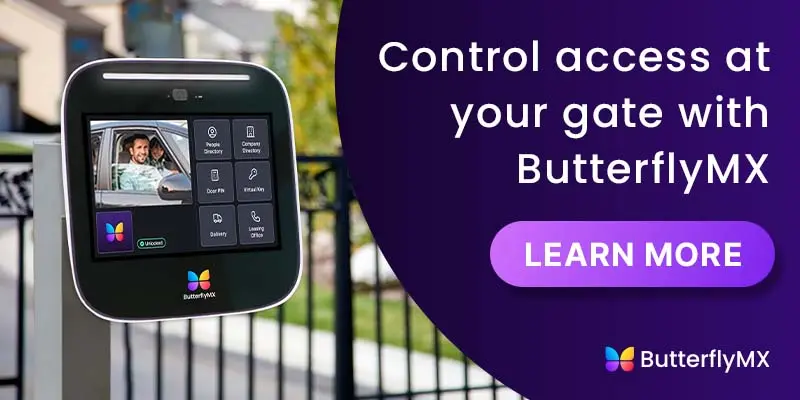 Disclaimer: ButterflyMX provides these blog posts to help our customers and potential customers make the right business decisions for them. Our blog posts are based on the information we have available to us at the time of writing.