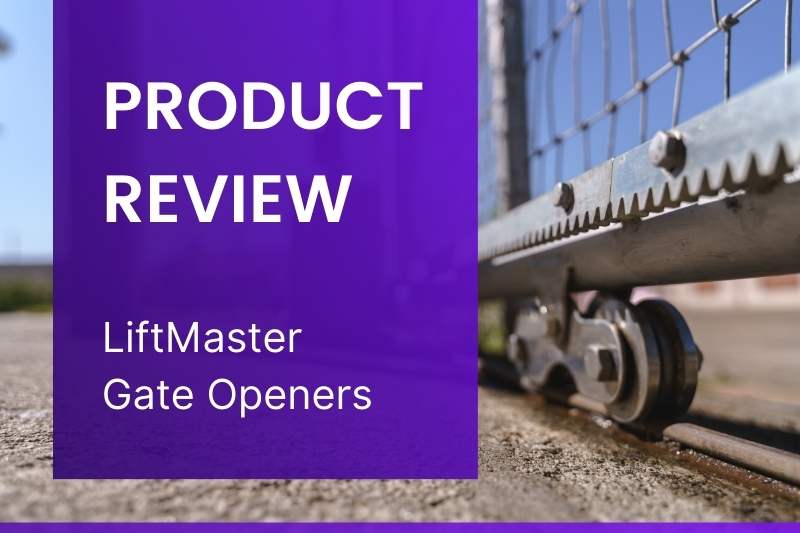 There are many ways to maintain security without compromising convenience at a gated property — and automatic gate openers are one popular solution. If you're shopping for a gate opener, you've probably heard of LiftMaster. LiftMaster gate openers are commonly installed at entrances to gated homes, condo communities, and commercial facilities.
But is a LiftMaster gate opener the right gate access control solution for your property?
Keep reading this review to learn more about LiftMaster gate operators, including their features, pros and cons, and pricing.
This review covers: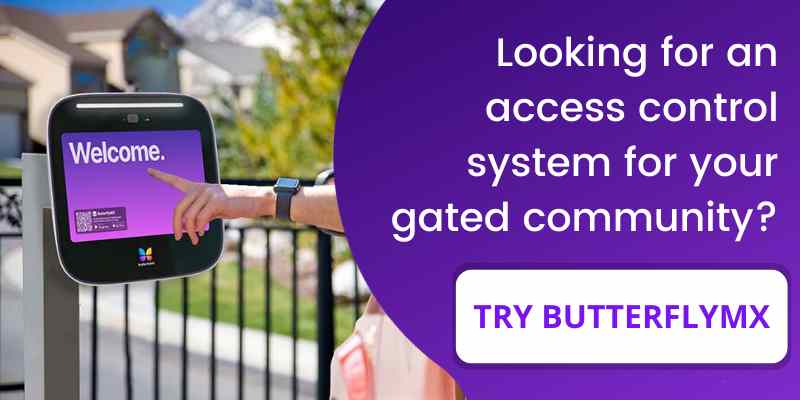 About LiftMaster
In business for over 45 years, LiftMaster manufactures garage door and automatic gate openers as well as some other access control products. A division of the Chamberlain Group that specializes in access solutions, LiftMaster maintains a nationwide network of distributors backed by the company's guarantee.
LiftMaster's most popular products are its garage and openers, which are designed for both residential and commercial applications.
However, they also sell:
Keypad access control systems
RFID access readers
Intercoms
Gate opening remotes
Garage and gate cameras
Most LiftMaster products must be purchased through an authorized dealer or from a third-party retailer.
Watch how to use ButterflyMX to open gates:
Overview of LiftMaster gate openers
LiftMaster has a variety of gate openers to fit the needs of commercial and single-family properties. They offer gate operators for both sliding and swing gates, described below.
LiftMaster sliding gate openers
Model INSL24UL: The 24VDC Continuous Duty Industrial Slide Gate Operator is rated for heavy gates up to 2200 lbs. and 70 ft. It includes a battery backup with variable speed. This model integrates easily with LiftMaster Access Control Technology. Includes start-stop technology.
Model HDSL24UL: The 24VDC Heavy-Duty Variable Speed Slide Gate Operator is rated for gates up to 75 ft. and 3,000 lbs. It offers a variable cycle speed of .5 – 1 ft./sec. Integrates with LiftMaster Access Control Technology.
Model CSL24UL: The 24VDC High-Traffic Commercial Slide Gate Operator is ideal for high-traffic and heavy-duty applications. It's rated for gates up to 50ft. and 1,500 lbs. Integrates with LiftMaster Access Control Technology.
LiftMaster swing gate openers
Model CSW200UL: The 1/2 and 1 HP AC High Traffic Commercial Swing Gate Operator is built for high-traffic applications and is ideal for large gated communities or commercial facilities. 1/2 HP rated for gates 18ft or 1,600 lbs., and 1 HP rated for gates 22ft or 2,000 lbs. Integrates with LiftMaster Access Control Technology.
Model HDSW24UL: The 24VDC Heavy-Duty Variable Speed Swing Gate Operator is ideal for heavy gates and extreme applications. Rated for gates up to 22 ft. or up to 2,800 lbs. Variable cycle speed of 13 – 36 sec for a 90-degree opening. Integrates with LiftMaster Access Control Technology.
Model CSW24UL: 2The 4VDC High-Traffic Commercial Swing Gate Operator is ideal for high-traffic, heavy-duty applications and provides battery backup when the power is down. Rated for gates up to 18ft. or 1,600 lbs. Integrates with LiftMaster Access Control Technology.
How long does a LiftMaster gate opener last?
A LiftMaster gate opener will last about 10 years on average. However, you may need to replace a part once or twice within that lifespan.
Features
LiftMaster gate opening systems are fairly straightforward and function solely to open and close gates automatically.
Features vary by model but generally include:
Models designed for both swinging and sliding gates
Mobile app (myQ) to open the gate with a smartphone and receive notifications when a gate is opened or locked
Weatherproof
Nationwide dealers
Online support articles as well as telephone and email support for homeowners, LiftMaster partners, technicians, and installers
Interactive architect selector tool is available online to help you find the right system for your project
Meet the UL 325 standard, which is the industry's highest safety requirement
Integrations with LiftMaster access control solutions
Some models include a backup battery for when the power goes out
Solar-powered gate openers are available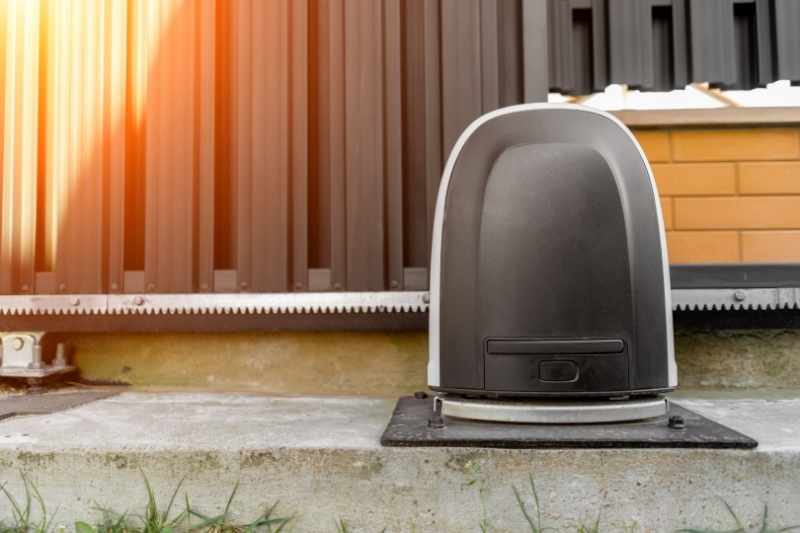 LiftMaster gate opener pricing
LiftMaster doesn't publish pricing on its website. So, you'll have to contact one of their nationwide dealers for pricing information.
Pros & cons
Pros:
Durable
Easy to install
Optional myQ Smart Control enables remote operation and notifications
Network of dealers and professional installers is available
Cons:
A LiftMaster gate opener may only handle gate opening — it may not offer any additional access management features
No visitor management solution may be available
In order to use the myQ smart access platform, you may need to purchase a separate myQ Control device
Remotes are typically sold separately
May not be the best solution for multifamily properties
May not offer a solution for delivery carrier access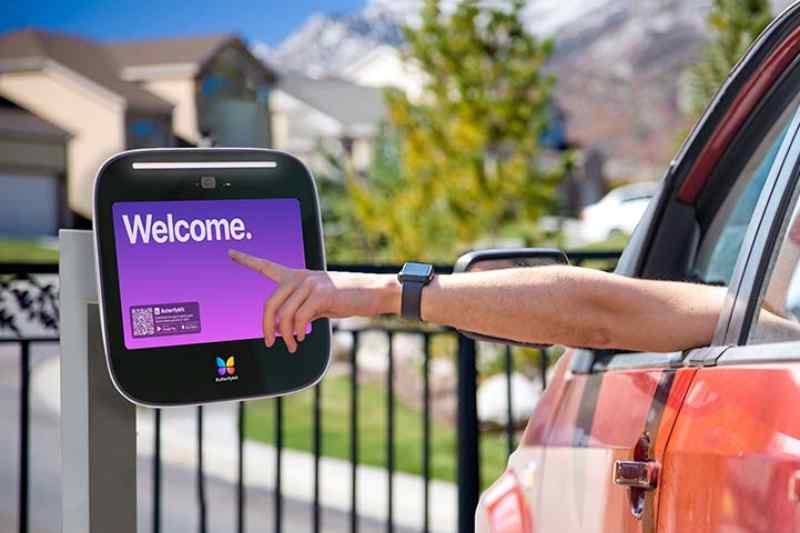 Comparison of LiftMaster with ButterflyMX
LiftMaster is a well-known company, and their gate openers may improve the gate access experience for tenants, especially in single-family homes. But their standard gate openers may not be equipped to do anything beyond physically opening and closing the gate. As a result, they may not provide any way for visitors — including tenants' friends and family, delivery carriers, and service providers — to request access or enter the property.
In contrast, ButterflyMX offers a tech-forward video gate intercom that's easy to use yet offers robust access management. It's the perfect solution for gated entryways where tenants and visitors will need access.
With the ButterflyMX video intercom system, tenants can easily unlock and open the gate using:
The ButterflyMX mobile app
A PIN code
A Siri or Alexa voice command
Their Apple Watch
And what's more, visitors can also easily request property access from tenants via video call. That way, tenants can visually confirm who's requesting access before remotely unlocking the gate.
Additionally, guests have the added convenience of using a virtual key to gain access. Tenants can send virtual keys to pre-authorized visitors and delivery people in advance for secure, managed access.
LiftMaster vs. ButterflyMX
LiftMaster gate openers may accelerate the gate entry process for registered tenants, but they do little to provide a convenient and secure access solution for visitors, delivery carriers, and service providers who need to access the property. So, to ensure a seamless access experience at gated multi-tenant properties, choose a ButterflyMX gate intercom instead.
| Feature | ButterflyMX gate intercom | LiftMaster gate opener |
| --- | --- | --- |
| Smartphone app | Yes | Yes |
| Weatherproof | Yes | Yes |
| Video calling | Yes | No |
| Visitor management features | Yes | No |
| Touchscreen interface | Yes | No |
| Built-in camera | Yes | No |
| Delivery PINs and Passes | Yes | No |
Takeaways
LiftMaster is a company that primarily sells garage and gate openers.
A LiftMaster gate opener allows authorized tenants to unlock the gate with a registered credential but may not provide any solution for visitors to request or gain access.
Some gate operators from LiftMaster pair with the company's mobile app, myQ. This enables users to open the gate with a cell phone.
Instead of using a gate opener to control gate access at your multi-tenant property, consider using a gate intercom like ButterflyMX.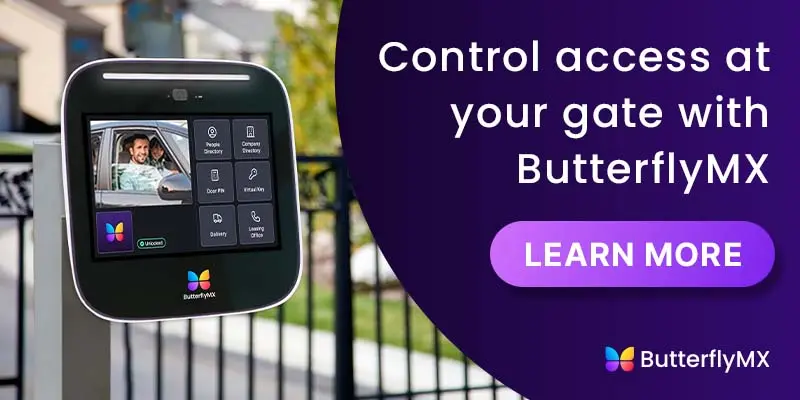 Disclaimer: ButterflyMX provides these blog posts to help our customers and potential customers make the right business decisions for them. Our blog posts are based on the information we have available to us at the time of writing.