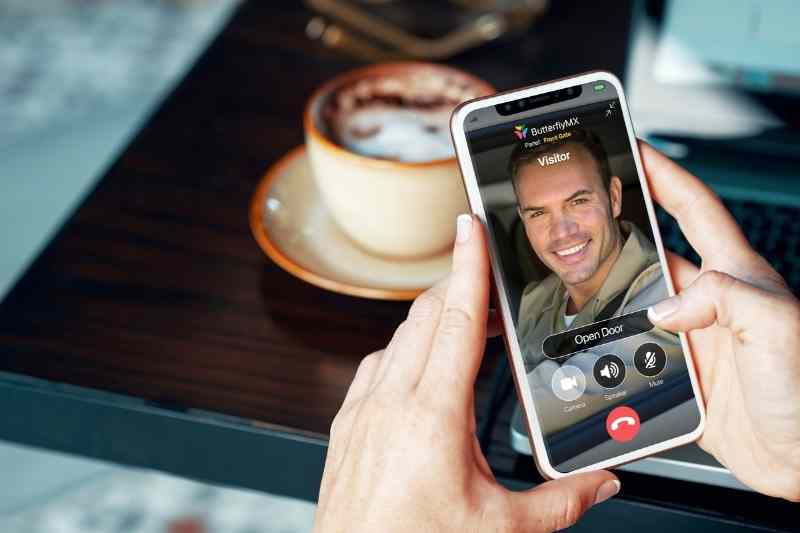 If you're a property owner or manager, you already know that an access control system is essential for facilitating a seamless entry experience, as well as maintaining security. However, with so many access control solutions available, choosing the right system for your building can be challenging.
Perhaps the most crucial decision is determining whether you want a wired or wireless system. Read on to find out why wireless access control systems are the best option and how to choose the right one for your property.
This post will cover:
What is wireless access control?
Wireless access control systems grant authorized users access to a building by using wireless electronic locks and readers.
In contrast to wired systems, wireless ones don't require installing wiring between the system's components. Instead, these systems connect to a wireless router, which enables the various components to communicate with each other. This communication is managed through software that allows property administrators to configure users' door access permissions. Such software can either be installed and managed locally or in the cloud. If the access control system is cloud-based, you can access it on any device with an internet connection, such as a computer, tablet, or smartphone.
Wireless access control systems can be installed at apartments, commercial properties, gated communities, and more. The primary benefit of wireless access control systems is that they eliminate the expenses and challenges of purchasing and installing wiring to connect all the system's components. Since wireless gate and door access controls work over the internet, they vastly reduce purchase and installation costs.
The five main components of a wireless access control system:
Access controller panel
Wireless card reader access control device that verifies credentials
Fobs, key cards, or other types of access credentials such as a smartphone
Software for property admins to manage the entire system
How wireless access control systems work
Wireless access control systems transmit data over a wireless connection instead of over traditional hardwiring. When a tenant presents their access credential to the reader, it communicates wirelessly with the access control panel to determine whether that tenant is authorized. If the tenant is authorized to enter, the access control panel sends a signal to the reader. The reader then signals the door lock to open.
Wireless access control systems operate with a variety of credentials. Many use key fobs and key cards, but others have keypads for PIN codes or fingerprint readers. Some systems even use residents' smartphones as access credentials so that residents can access the property through a mobile app.
What's more, since many of today's wireless systems are now cloud-based, building staff can manage the system remotely. As a result, staff members don't need to go on-site to update the system's access permissions.
Watch how ButterflyMX works:
Types of wireless access control systems
There are many types of wireless access control systems that manage who can access a building and when. Thus, it's impossible to define all of the types in this post. So, below we've shared the top three.
The three best types of wireless access control systems:
1. Cloud-based access control
Traditional access control systems store data on local servers typically installed in a secure room of the building. But in today's digital age, you can store and manage access permissions in the cloud. This means that property staff can manage access settings from anywhere with internet access.
What's more, cloud-based access control systems allow you to easily integrate with other property software such as property management systems (PMS). This integration ensures that any changes to the tenant rent roll in the PMS are automatically reflected in the system's access permissions.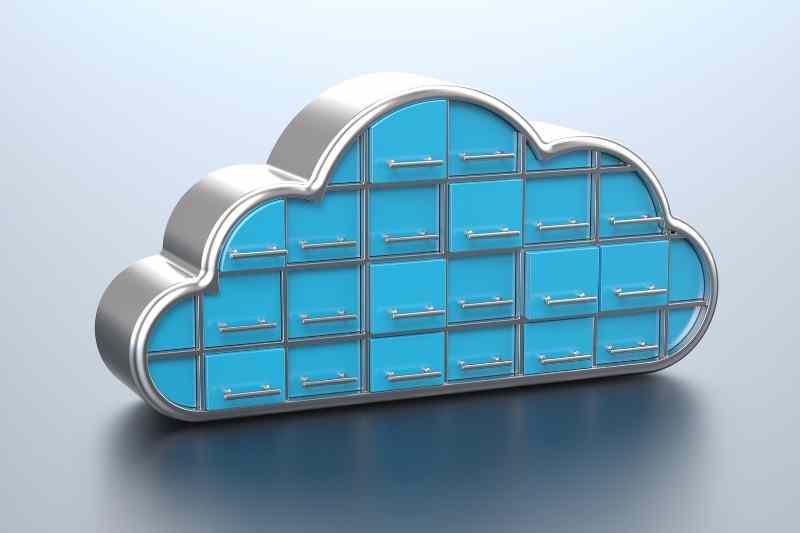 2. Mobile-based access control
Mobile-based access control systems require authorized users to download an app to open doors and gates. With a simple tap or swipe on their phones, building tenants and residents can gain entry through a smartphone-based access control system. Tenants can only open the doors to the rooms or areas they're authorized to enter.
3. IoT-based access control
IoT-based access control works with any device that is connected to the Internet of Things. Often referred to as the "intelligent door locking system," every lock, lock access controller, RFID reader, and other associated device has a unique IP address. This allows the devices to communicate with each other as well as other devices connected to the internet. IoT access control systems are accessible from anywhere in the world, as long as you have authorized credentials to access and manage them.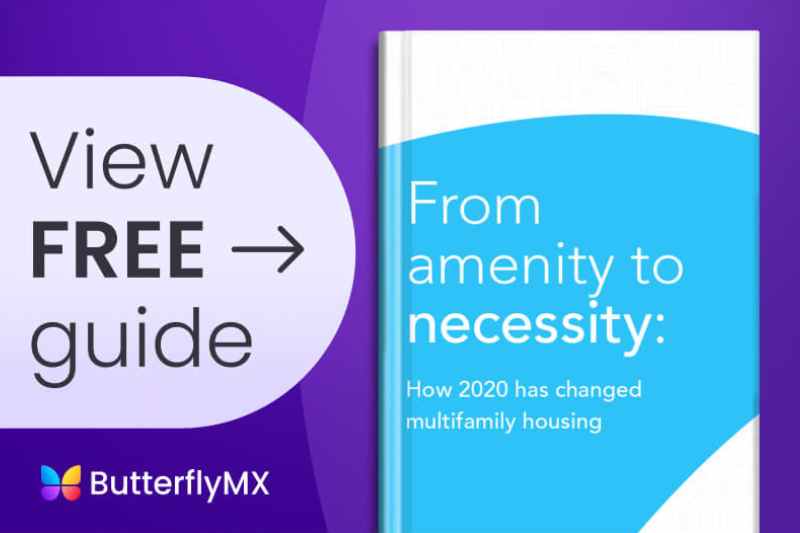 How much does a wireless access control system cost?
The industry average cost for a wireless access control system is between $1,000 to $4,000 per door. The price is largely determined by the number of access points in your property and the system you choose.
Note: This cost typically doesn't reflect the installation and ongoing system maintenance. Installation costs can range from two to five times the total hardware costs. And although maintenance costs depend on the provider and the services provided, it's common to see a 5-10% ongoing maintenance cost to maintain the equipment and/or the cloud hosting.
Ways to enable wireless access control
Once you've decided on a system for your property, it's time to install the hardware — readers, access controller, and door lock/release. The access controller should go in a secure place in the building, such as the mechanical closet. Then, you install the readers and door locks at the door of any room where you want to control, access such as offices, amenity spaces, stairwells, and maintenance closets.
There are four main ways to enable wireless connection on your access control system:
1. 900 MHz
Enabling a wireless connection via a 900 megahertz band was one of the first methods used with access control systems — before the 21st century and the advent of the internet. Some older buildings today still use this method.
Data transferred on a 900 MHz band travels very far, but only medium-sized data can be transmitted on this system. Usually, older and smaller buildings use 900 MHz wireless access control systems.
2. WiFi
WiFi is the most commonly used wireless technology today. It's found in smartphones, cameras, and smart home appliances — and yes, also in wireless access control. WiFi access control requires a WiFi network over which the system's devices communicate.  Access control systems with video and audio typically use WiFi to transmit data since their file sizes are large.
3. Bluetooth
Bluetooth is another standard method of enabling wireless connectivity. Bluetooth-enabled access control devices don't need a router or adapter to connect other devices. However, data can only travel very short distances, and the system can only transfer small amounts of data at a time. So, residents must be close to the door or gate to open it.
Connecting wirelessly via Bluetooth is ideal for access control systems paired with electric door locks that transfer tiny bits of information.
4. Zigbee & Z-wave
Unlike WiFi and Bluetooth, Zigbee and Z-wave use mesh networks, where data is sent from the hub to one device, then to another. An advantage of this wireless method is that data can reach devices that would otherwise be out of range from the wireless access control router. Data hops along a pathway created by other devices acting as a connection extender.
Access control systems on Zigbee or Z-wave networks are ideal for bigger properties with outdoor spaces that are outside the WiFi range.
Ways to open doors and gates with wireless access control
Depending on the type of wireless access control system you get, there are numerous ways that a tenant can open the door or gate. All these methods have one thing in common: They all work by reviewing credentials. If the information matches with the database, the system instructs the gate or door opener to grant access.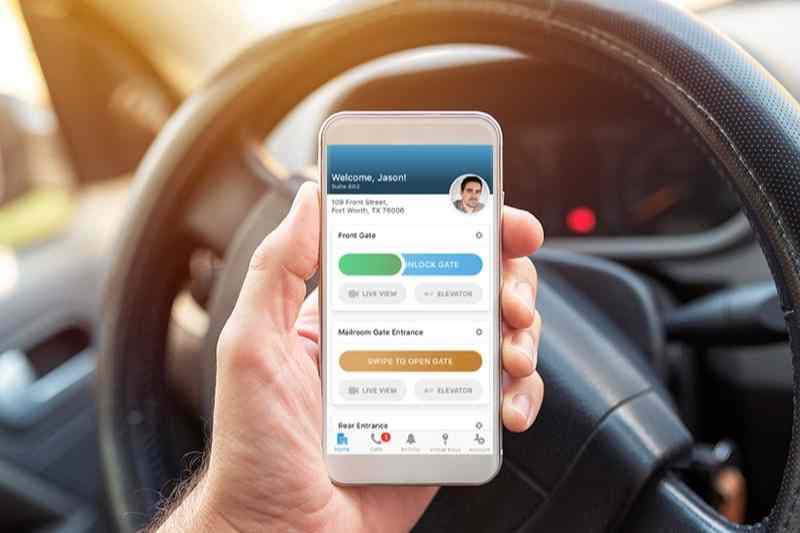 Credentials used in wireless access control systems:
NFC key card or key fob
Biometrics, like fingerprints
Smartphone or smartwatch
Additionally, many access control systems come with request-to-exit (REX) buttons for inside the building. Typically, tenants don't need to scan credentials to exit; they just press a button or trigger an infrared sensor. This sensor or button prompts the door lock to release for a specific amount of time – perhaps 30 seconds – and then automatically relocks the door when the connected sensor indicates the door is closed. This is to avoid false alarms in the audit report while still allowing the person to exit.
What makes a good wireless access control system
Access control systems have been around for a long time. With so many options to choose from, it might be daunting to even start looking for a solution. However, it's crucial to invest in a modern system that is scalable, reliable, and easy to manage.
Here are the three key features of the best wireless access control:
1. Cloud-based access control systems
A cloud-based access control system is easy to integrate with other proptech devices like a video intercom system.
Keeping tenant access credential information on the cloud — instead of an on-site server — ensures that you can update the system from anywhere. You don't have to issue new key cards or other physical credentials when a tenant's information changes, since the cloud-based system automatically updates it.
Also, since the cloud is a part of the IoT ecosystem, you can connect the access system to any device that uses the internet. That way, tenants can use any mobile device to open the door, which creates a contactless entry experience.
2. Access control systems with cameras
To maximize security, choose a wireless access control system with a camera. Having a camera built into your access control hardware empowers you and your tenants to visually verify who's entering the building. So, you can rest assured that only authorized individuals have accessed the property.
Consider installing these two wireless access control systems with a camera:
Video intercom: To manage access at the building's entrance, install a video intercom. Visitors can request access through the intercom, and then residents see and communicate with the guests before granting access.
Keypad with a camera: A keypad access control system with a camera lets you manage access within your building. You can control who has access to areas like amenity spaces and supply closets. The keypad's built-in camera takes a photo every time someone enters the room. That way, you have a convenient audit trail for added security.
3. Smartphone app-based access control systems
Nowadays, we do nearly everything on our smartphones – start car engines, order food delivery, shop for groceries, turn on and off lights, cash checks, and so much more. So, why not open doors and gates with smartphones too?
According to a recent Pew Research survey, 85% of Americans own a smartphone. Therefore, you should get a wireless access control system with a mobile app-based door release feature. This way, residents can open doors and gates with just a swipe or tap on their phones.
Choosing the best system for your building
If you've decided to invest in a wireless access control system, you're in the process of making property access simple. Go one step further and add an IP video intercom at the entrance for visitor management and delivery access.
A wireless access control system paired with a video intercom streamlines property access for everyone. You should choose systems that integrate with each other, so tenant information and access permissions are always synced between both systems. With such robust access control, anyone who needs access into and within your property will gain it without a hassle.